Cornbread Sausage Stuffing is the most delicious Thanksgiving side dish recipe. This homemade stuffing is simple, and your family will love it – this recipe is a keeper!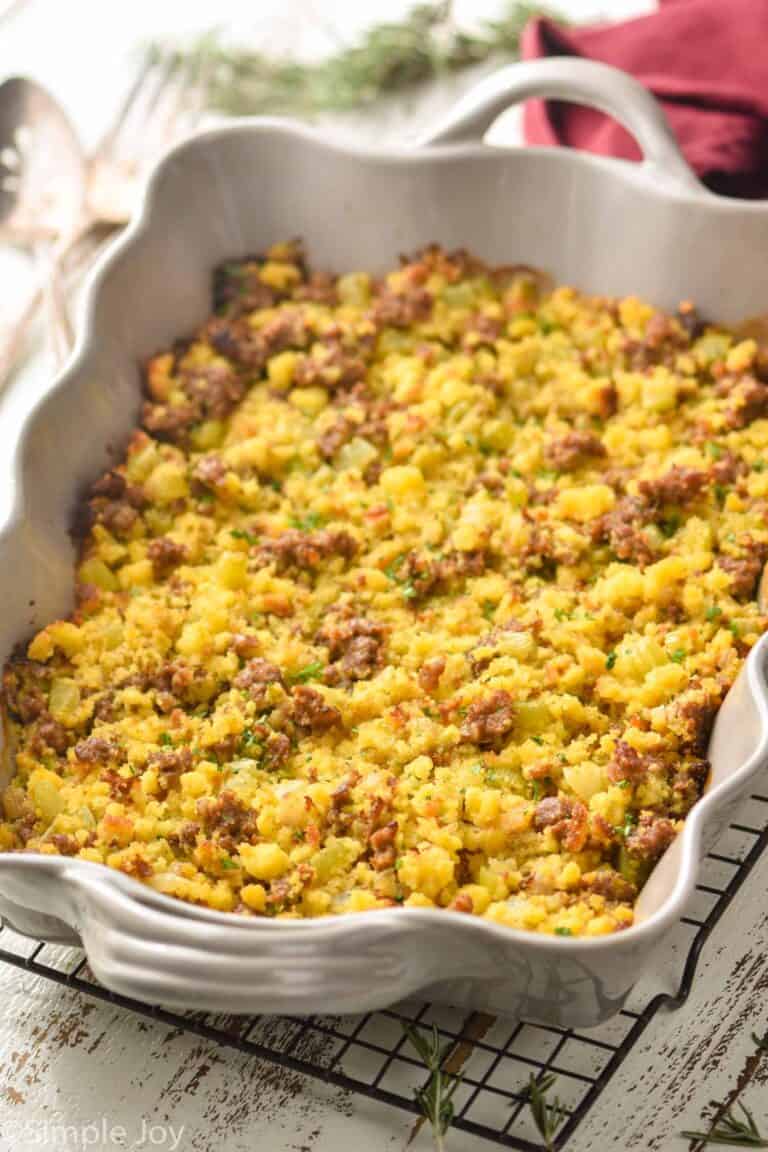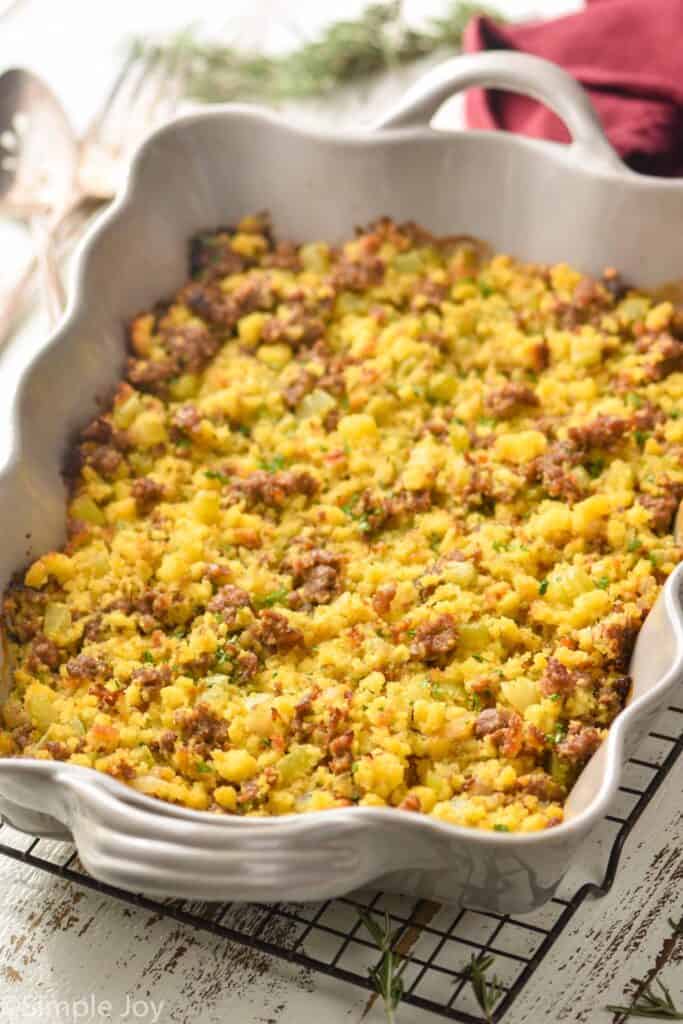 The other night my husband and I were talking about how Thanksgiving will look this year. We are disappointed that we need to keep it just our small family of five, but feel strongly that it is the right thing to do.
Nathan and I made the decision to still make a Thanksgiving spread (probably opting to go with this Turkey Breast Recipe rather than a whole bird). And he looked at me and said:
"I will make the stuffing for you, because you have to have stuffing on Thanksgiving."
And then I fell in love with him all over again.
Roses don't make swoon, guys. Stuffing does.
This Cornbread Sausage Stuffing is an easy spin on my Classic Homemade Stuffing, and it is ridiculously amazing. I'm not at all joking when I tell you that the next time we get to celebrate Thanksgiving with our full family again, I'm making both.
How to Make Cornbread Stuffing
This Cornbread Stuffing is super simple to make, yet packs such a flavor punch that it will seem like you spent hours in the kitchen. Make sure to check out the recipe card below for exact measurements and instructions. But here's all you need to do:
First, you'll need to make your cornbread. (more on that below)
Then, in a hot skillet, brown up some sausage along with celery and onions and add your seasonings along the way.
In a separate bowl, combine the sausage mixture with crumbled cornbread.
Add it all into a baking dish, pour some chicken stock over the top, then cover and bake! It really is that simple!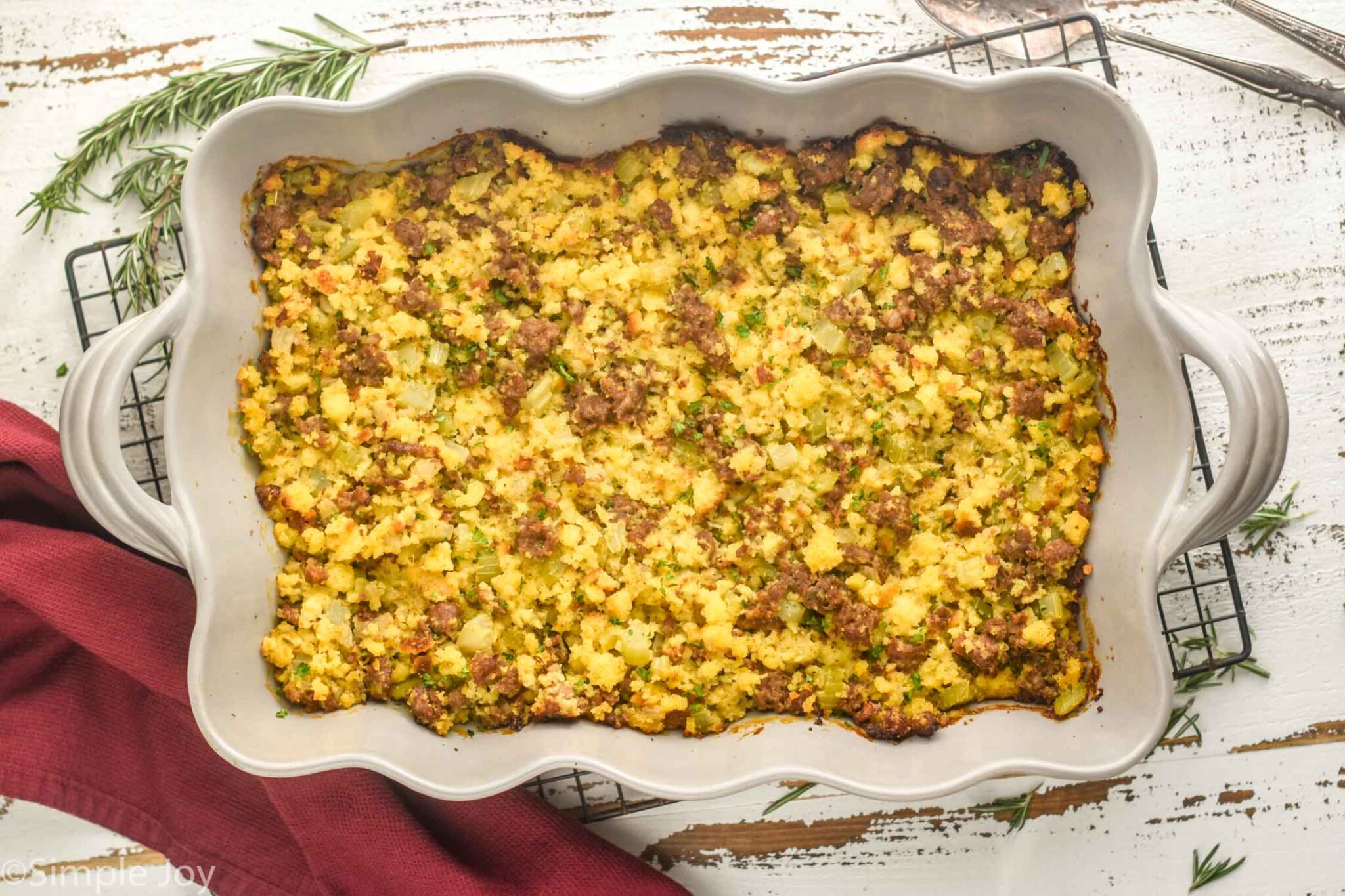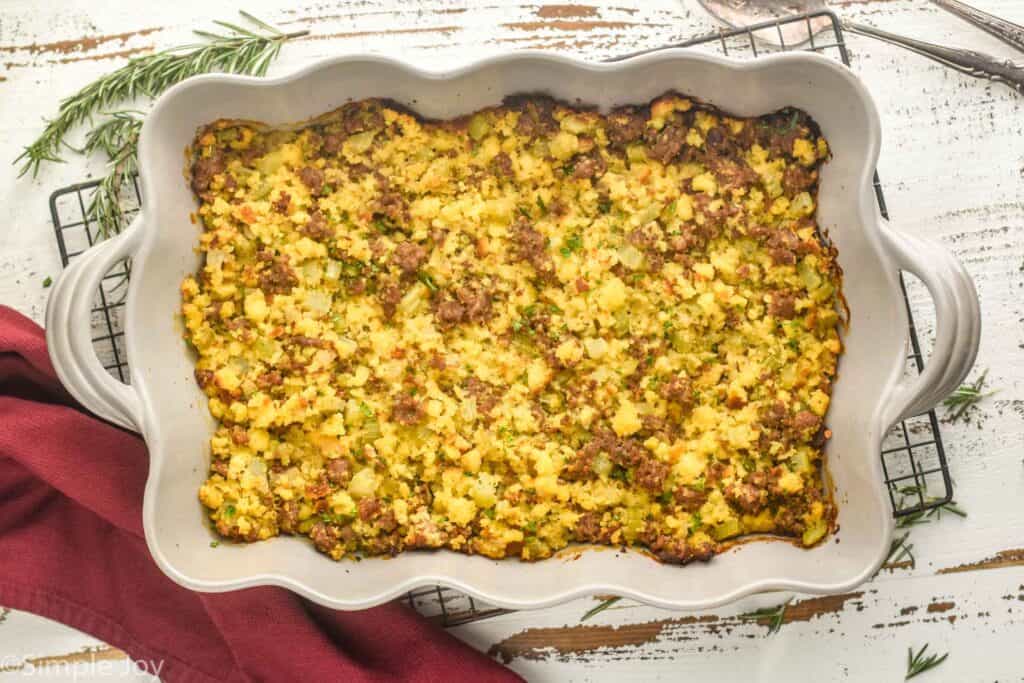 What Cornbread to Use
I happen to have a super simple Homemade Cornbread recipe that tastes absolutely scrumptious in this sausage stuffing! I promise it doesn't add a ton of time to the process and it is so delicious. You can make it the day before, and just store it covered until time to assemble your stuffing.
However, if you're really short on time, you can use any cornbread mix too. Just bake as directed on the box and then add it to this recipe.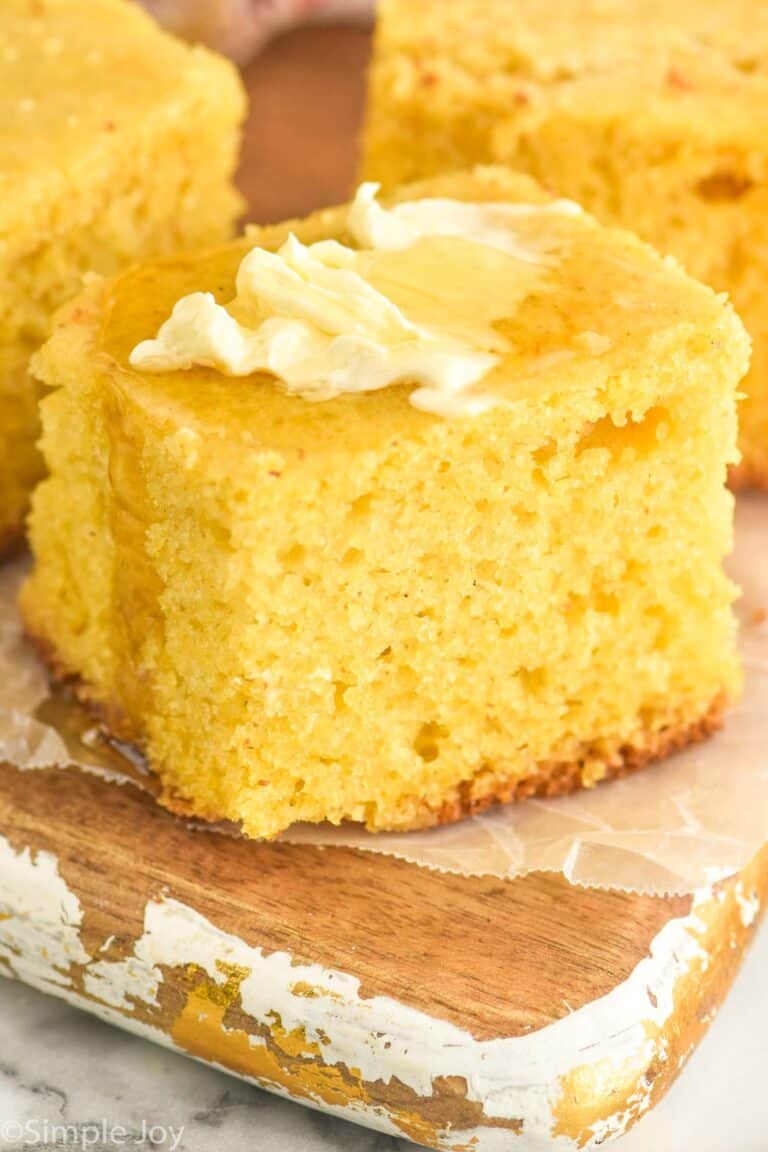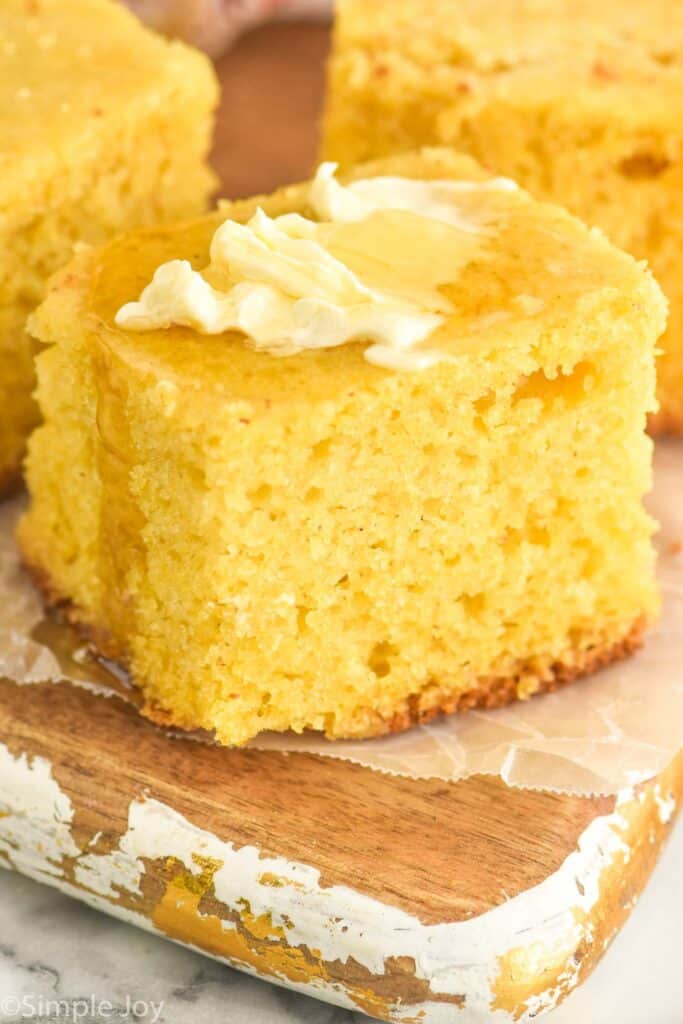 What Sausage to Use in Cornbread Stuffing
I love to use hot Italian pork sausage in this recipe. The spiciness of the pork balances out the sweetness of the cornbread and just blends so well together. You could also try:
Sweet Italian Sausage (with the casings removed)
Mild Italian Sausage
Mild or Spicy ground breakfast sausage
Pork or Turkey based sausage
Sausage Fat Content
Each type of sausage can have a different fat content, so depending on which one you use, you may not need to add extra oil to the pan before browning. If there's quite a bit of fat, drain off the excess before adding the sausage mixture to your cornbread.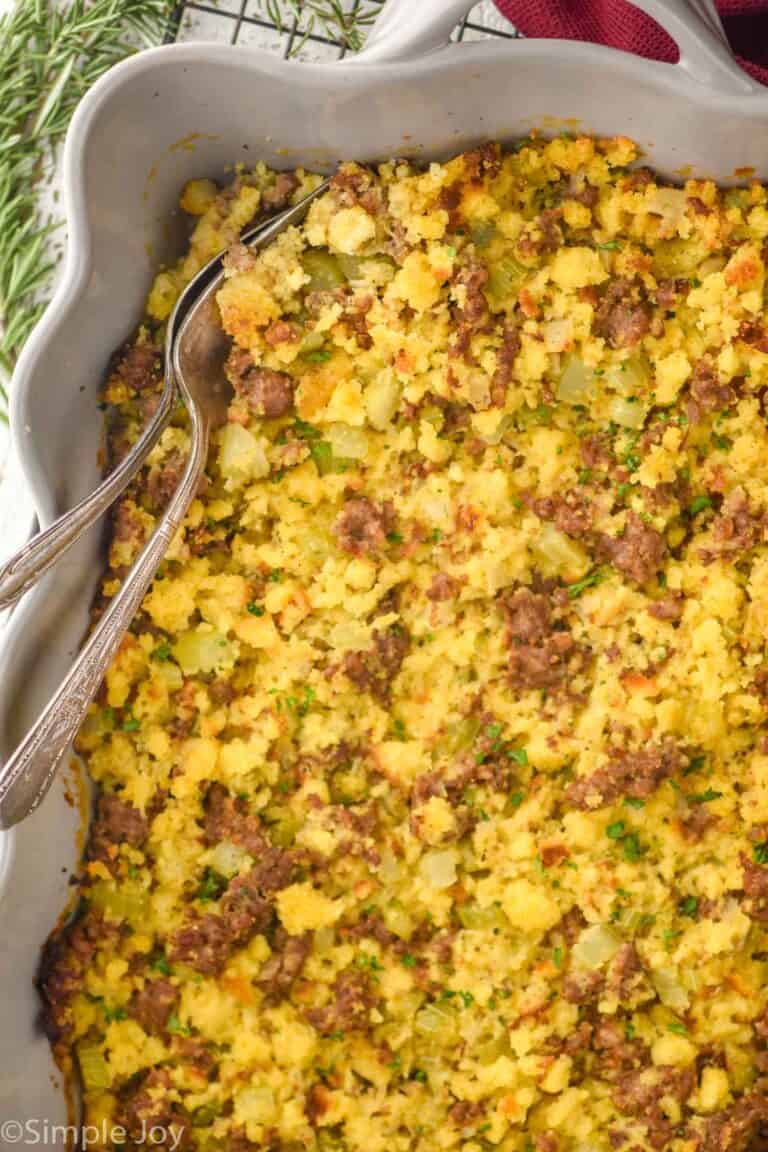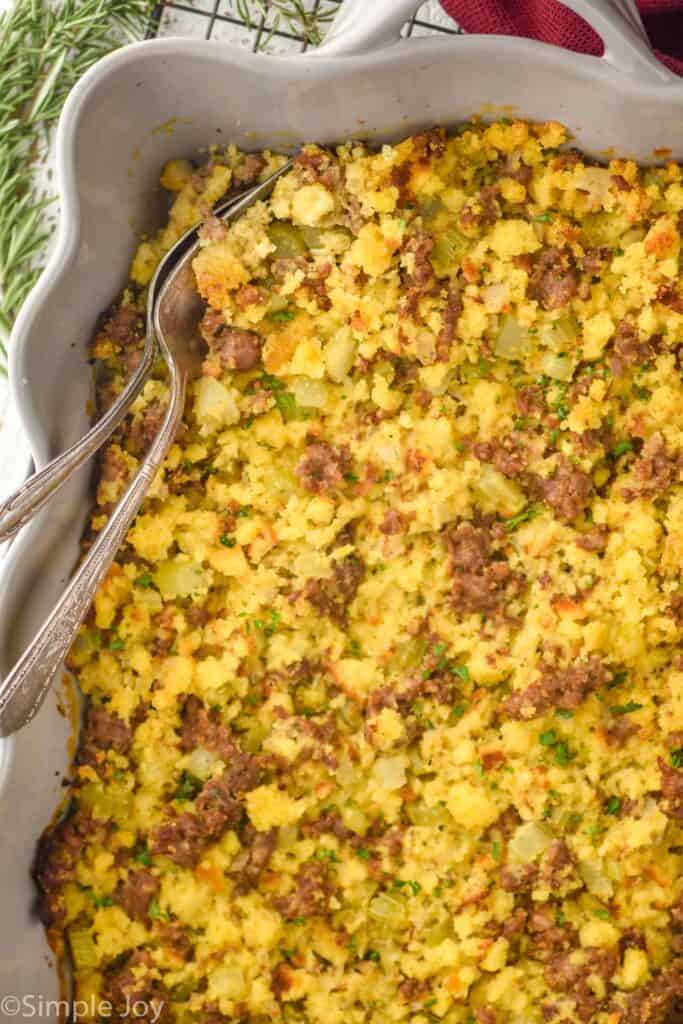 How Many Does this Serve
This Cornbread Sausage Stuffing easily serves eight hungry adults, but if you have lots of other Thanksgiving side dishes, you may find it can serve more like 10-12. You can simply double this recipe as well. It makes for delicious leftovers!
Make Ahead
Cornbread Stuffing is one of those dishes you can make ahead of time! Combine all of the ingredients the night before Thanksgiving, cover and store in the refrigerator. Then on the big day, all you have to do is pop it in the oven.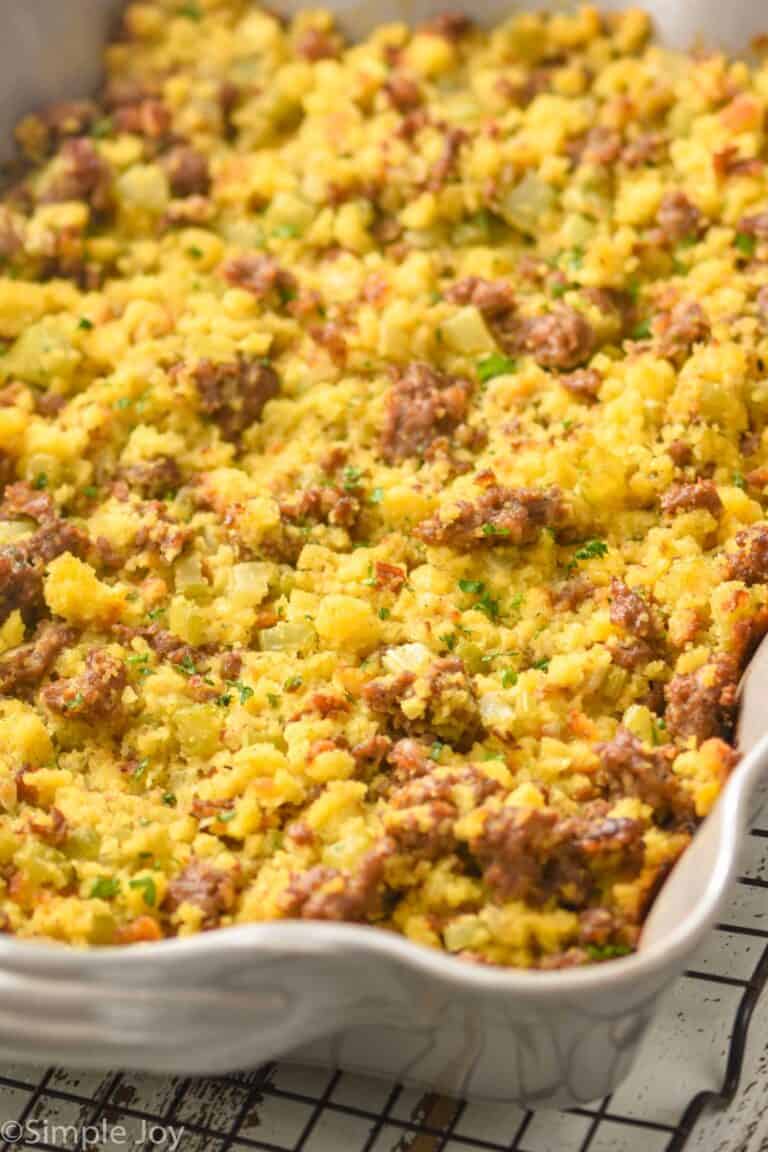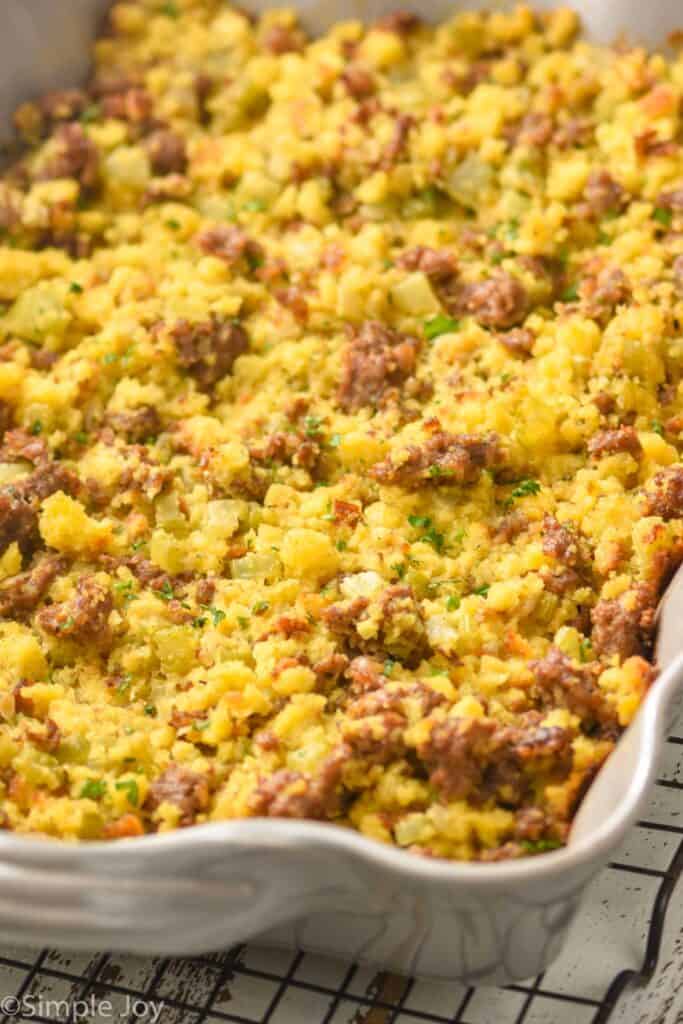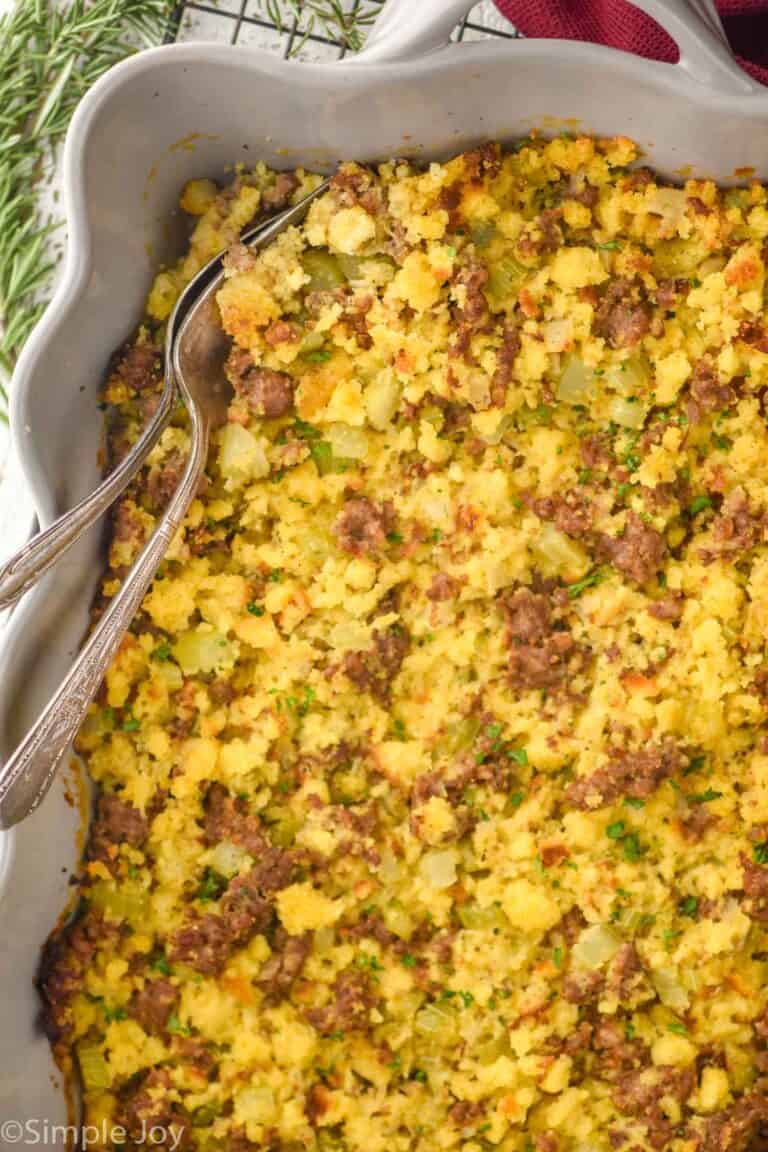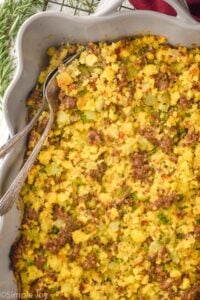 Cornbread Stuffing
Cornbread Stuffing is the most delicious Thanksgiving side dish recipe. This homemade stuffing is simple, and your family will love it – this recipe is a keeper!
Ingredients
1

tablespoon

olive oil

1

pound

sausage

cassings removed

1

medium yellow onion

diced

4

celery stalks

diced

1

teaspoon

salt

1

teaspoon

dried sage

1

teaspoon

ground dried thyme

1/4

teaspoon

black pepper

2 1/2

cups

chicken stock

5

cups

crumbled cornbread
Instructions
Spray a 9 by 13 inch baking dish with cooking spray and set aside. Preaheat your oven to 375 degrees.

In a large skillet add heat the oil. Then add in the sausage, celery, and onions. Cook breaking up the sausage. Add the dried herbs, salt, and pepper. Cook until the sausage is cooked through and the vegetables are tender, about 5 to 7 minutes. If there is excess fat in the pan, drain it at this point.

In a large bowl, combine the crumbled corn bread and sausage mixture.

Pour the stuffing mixture into the pan. Pour the chicken stock over it. Cover with foil and bake for 45 minutes.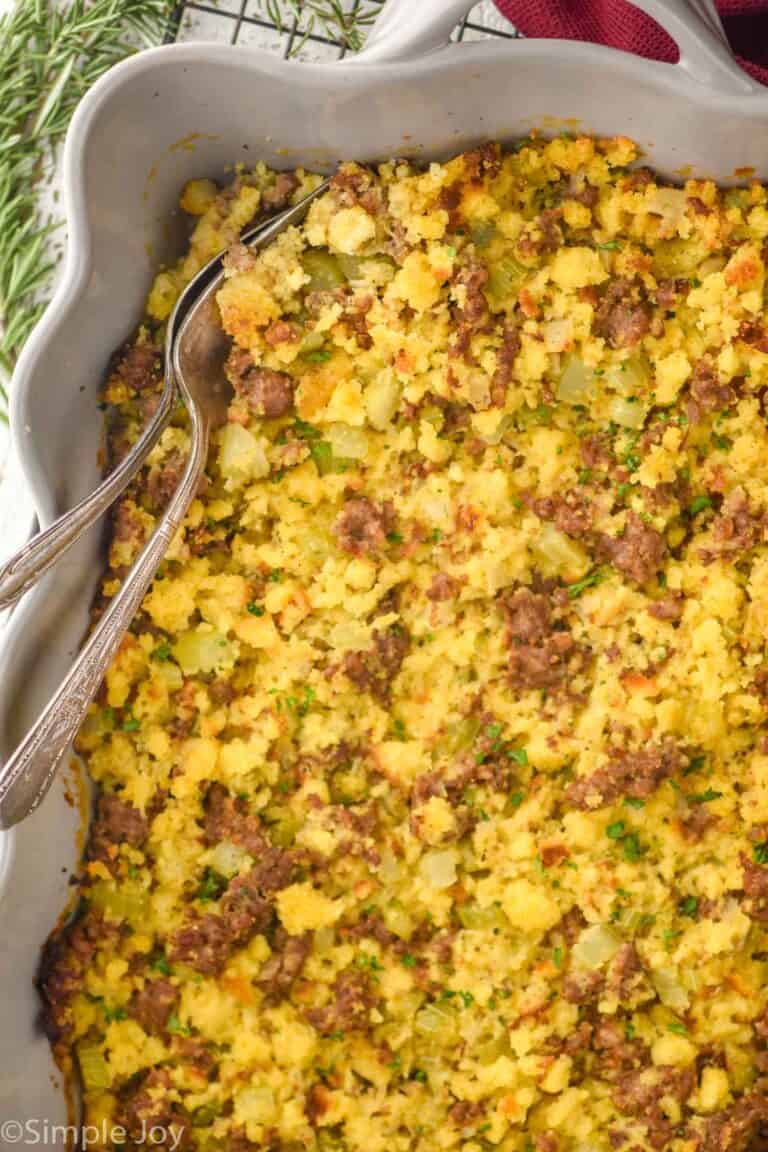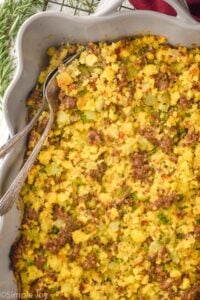 did you make this
Cornbread Stuffing
you might also like . . .