This Easy Orzo Salad is delicious and combines the perfect flavors in this Mediterranean salad. It makes such a great side dish for any BBQ or picnic!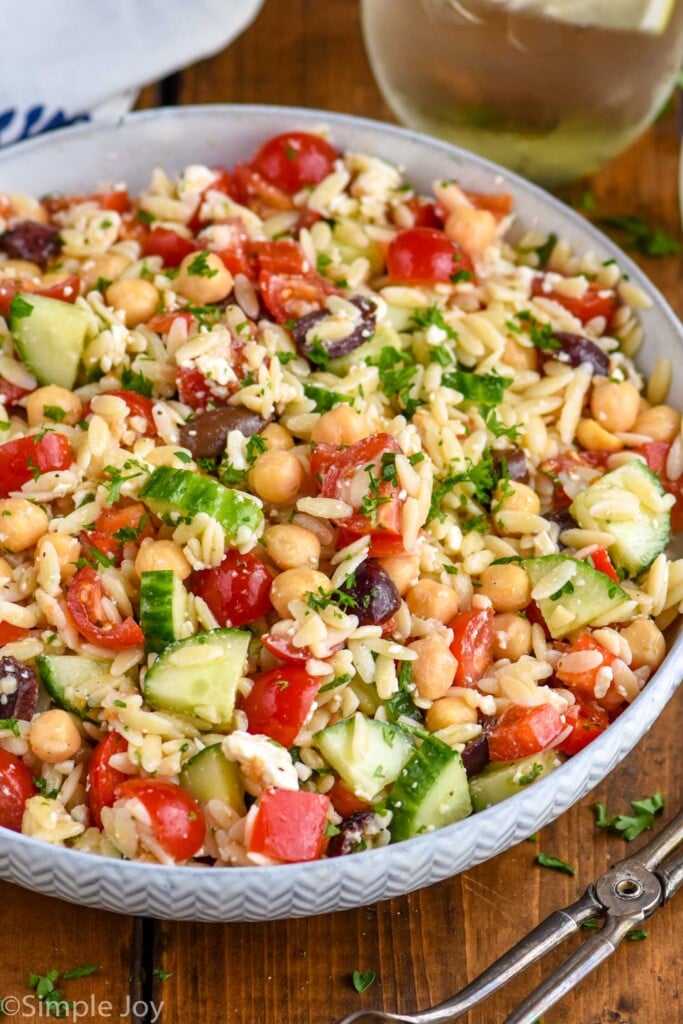 This easy Orzo Pasta Salad is perfect if you are looking for something to bring to a summer picnic. It comes together with really simple ingredients. This pasta salad would make the best side for so many recipes. You could also add some chicken or tuna to make it a healthy lunch!
How to Make Orzo Pasta Salad
This is a brief overview of how to make this easy pasta salad recipe. For the full recipe with all of the ingredients, see the recipe card at the bottom of the post.
Cook the pasta. Bring the water to a roaring boil and add a teaspoon of kosher salt. Set a timer and cook for the length of time indicated on the package. Drain the pasta and rinse with cold water.
Cut the vegetables. While the pasta is cooking, chop up the veggies. Multitasking is what makes this recipe move so quickly.
Make the dressing. This recipe has an incredibly simple dressing. There are so many other great flavors happening, that it works. If you want to jazz it up a little more add our Balsamic Dressing or Greek Dressing.
Combine all of the ingredients.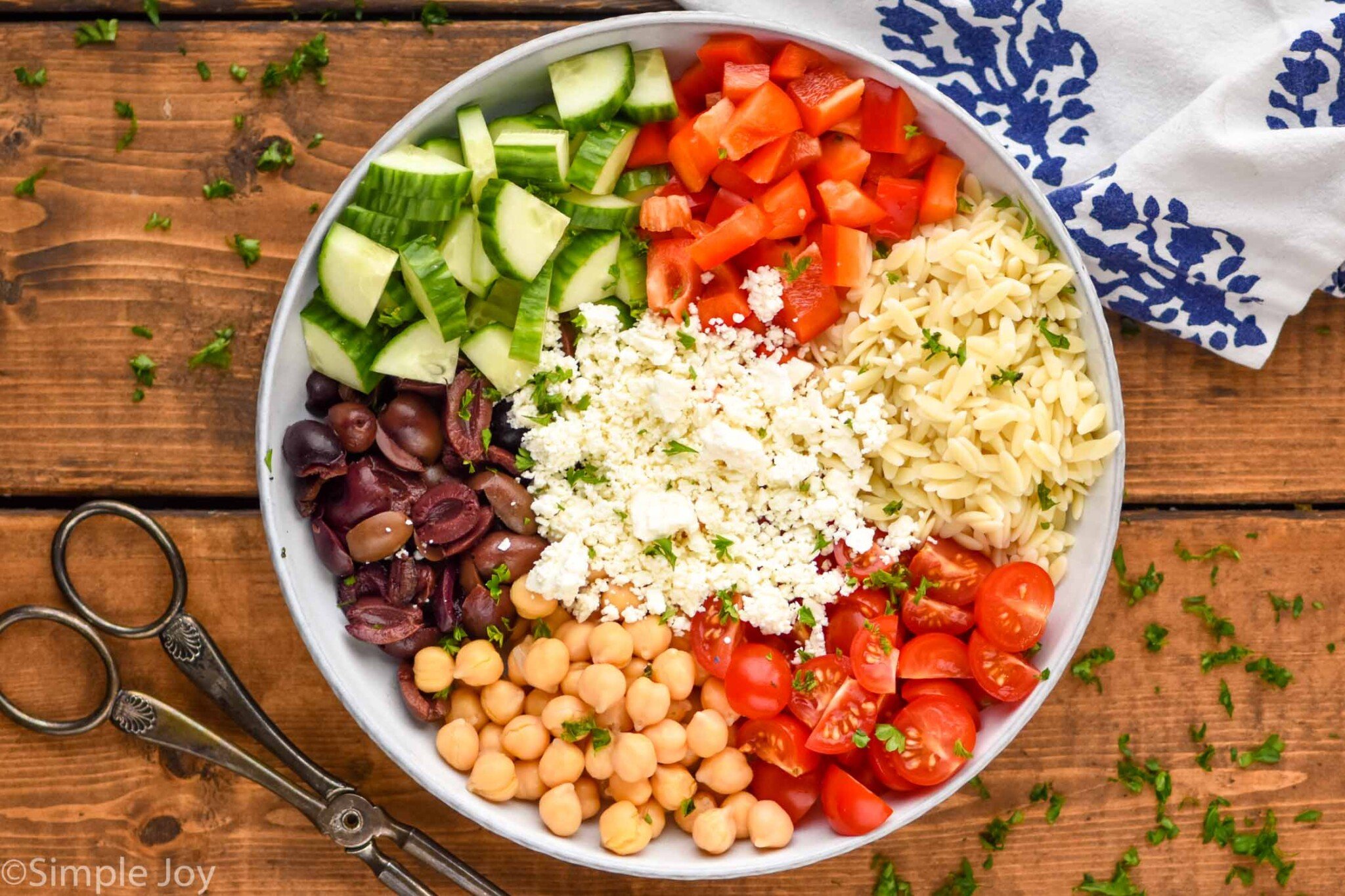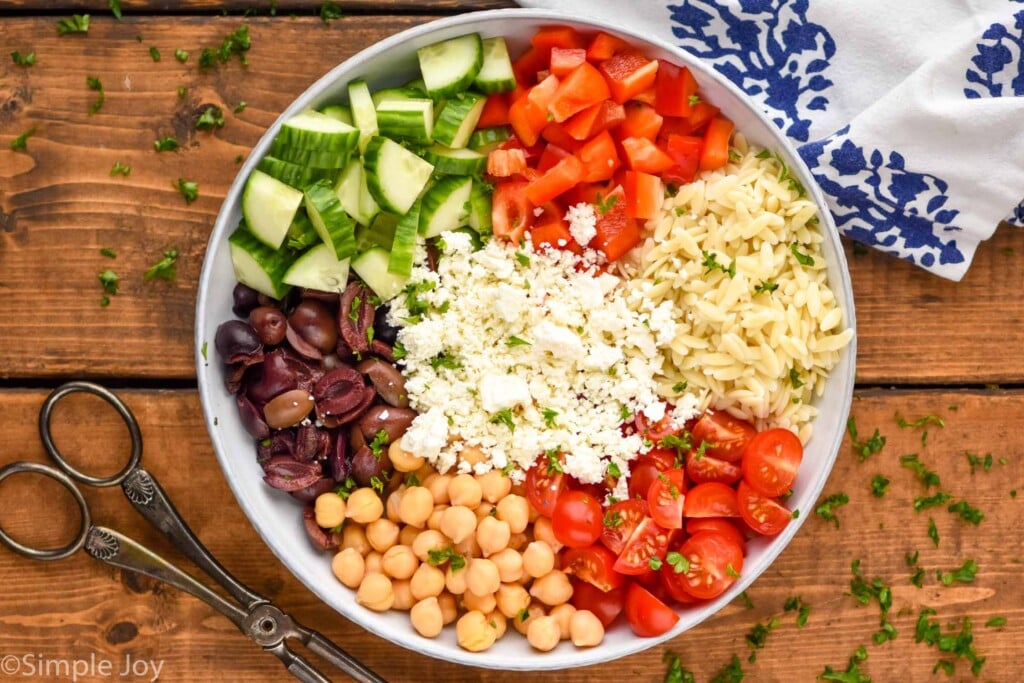 Key Ingredients for Orzo Salad
The ingredients for this orzo pasta salad are really similar to my Mediterranean Salad. I love them both!
Orzo: Read below to learn more about this fantastic pasta.
Garbanzo Beans: I love the extra texture and protein that they bring to this salad. Make sure that they are washed and drained well before adding them.
Seedless Cucumber: These are typically sold wrapped in plastic and are often labeled "English Cucumber." Generally speaking they bring a little less water to a salad, so they are my preference, but any cucumber will work.
Cherry Tomatoes: Using cherry tomatoes makes it really easy to keep all the ingredients a uniform size.
Red Bell Pepper: This brings extra veggies to the party as well as a little sweetness and a great crunch.
Kalamata Olives: These are one of my favorite parts of the salad. If you absolutely cannot do olives, you may need to tweak the recipe at the end because you will be missing some salt.
Feta Cheese: This adds the perfect flavor to the recipe. You can use low fat feta. If you plan on leaving it out, like with the olives, you will want to tweak the recipe at the end, likely adding more salt.
Fresh Parsley: This adds so much brightness and a great pop of flavor to the recipe. Read below for more information on storing parsley.
Olive Oil: If you have it, I recommend using extra virgin olive oil for this recipe. The lightness and flavor is perfect for a salad dressing.
Red Wine Vinegar: Red Wine is made from red wine, and is a great source of flavor in Mediterranean cooking. This recipe hasn't been tested with other vinegars, but if I were to try a different one, I would grab my Balsamic Vinegar first.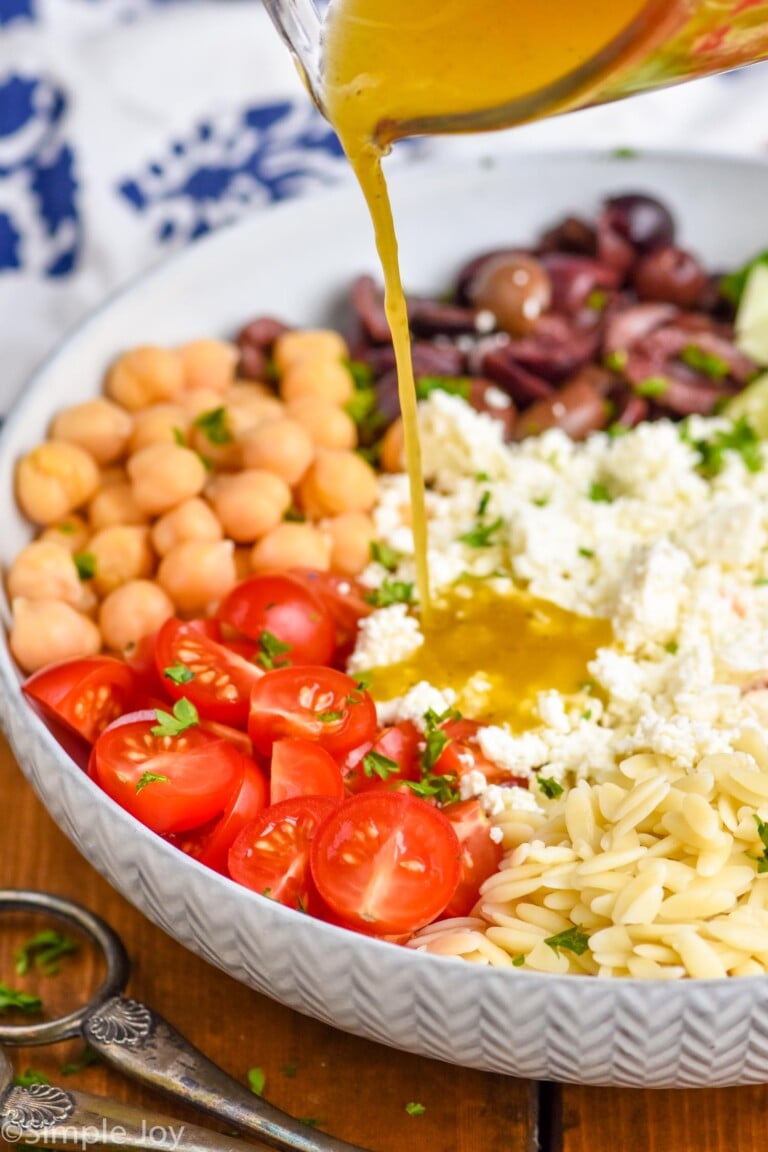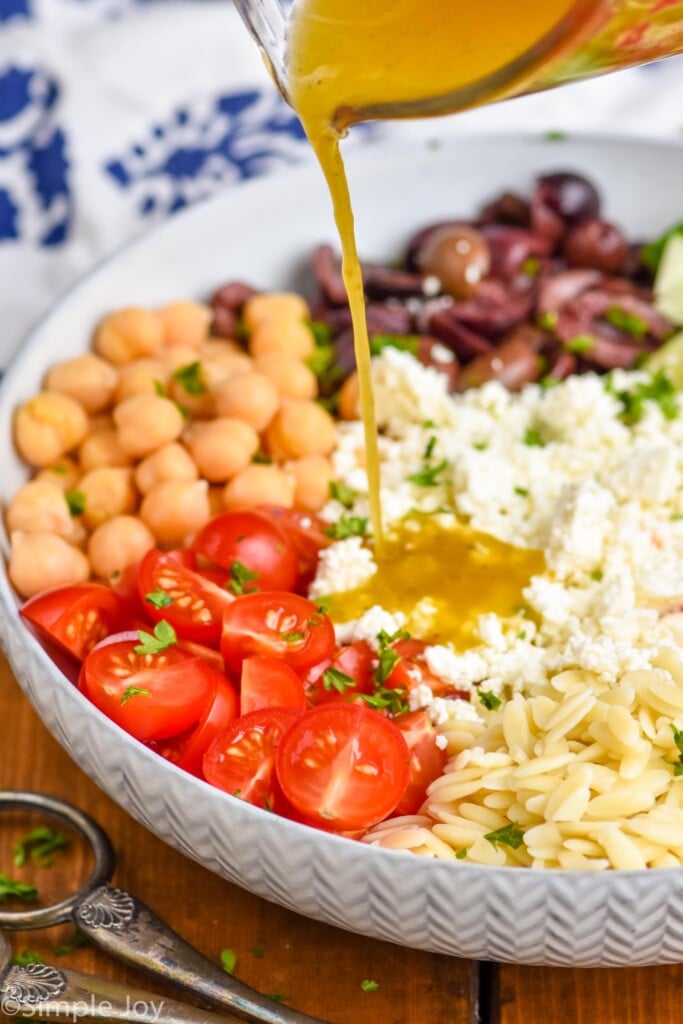 What is Orzo
Whenever I post an orzo recipe, someone asks me what it is. Orzo is a small pasta that is a little bigger than rice but made from the same flour as other pastas. In addition to it being perfect for pasta salads like this one, it is great in soup, like this Lemon Orzo Soup.
How to Cook Orzo for Pasta Salad
Like any pasta, there are a few things that help orzo turn out perfect.
Bring the water to a roaring boil. This is a really easy mistake to make, but you want the water to be at a roaring boil before the pasta hits it. We are talking really big bubbles.
Salt the water. Adding a little kosher salt to your pasta water can help pull together the whole recipe.
Cook it for the the length of the time indicated on the box. I always set a timer when I cook my pasta. This is an easy way to make sure it is el dente.
Rinse with cold water after cooking and draining. In general, this is a no-no for pasta. However, because the orzo is going in a cold pasta salad, I like to do this to cool it down and to stop it from cooking.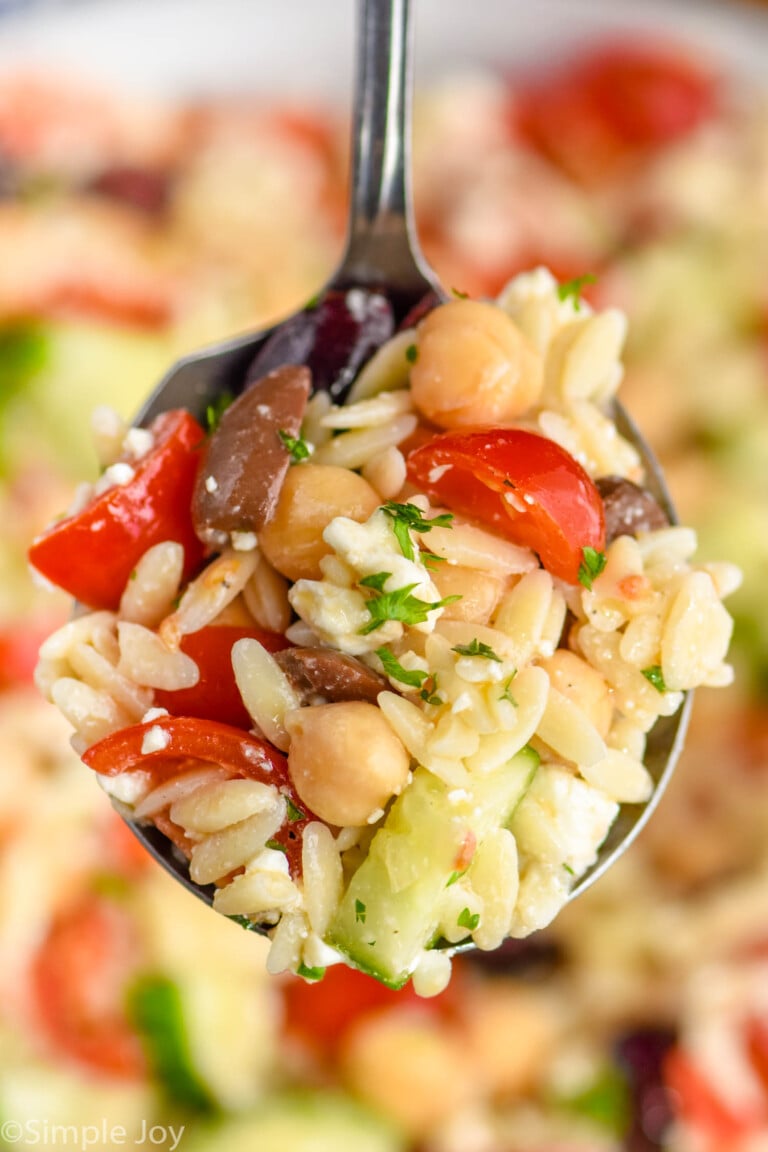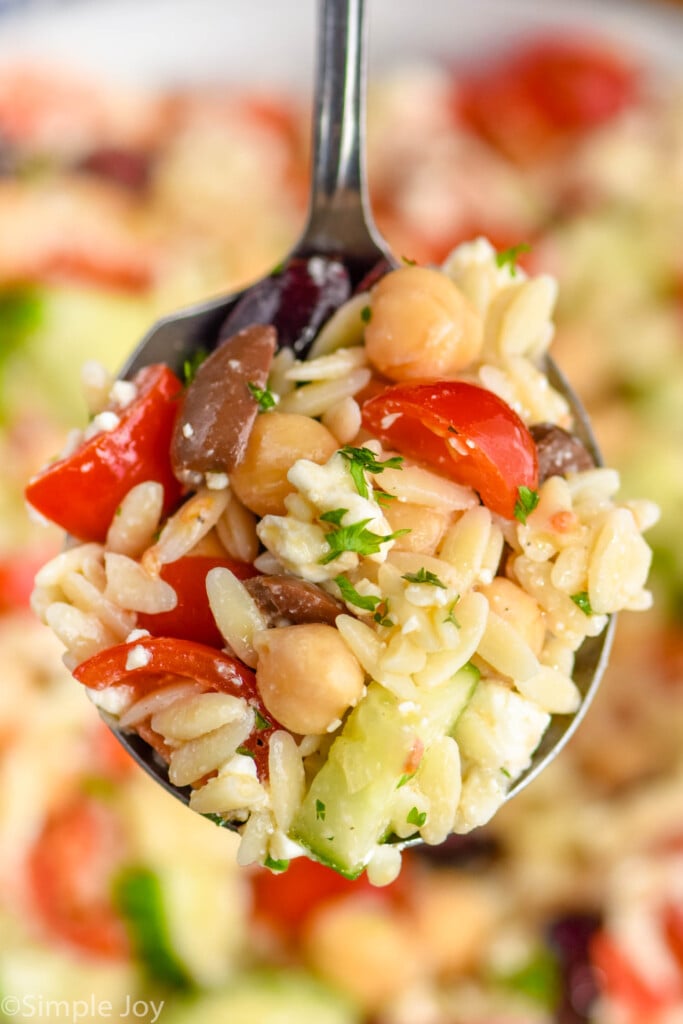 Storing Fresh Parsley
I love using fresh parsley as a garnishment to my recipes. It is also a great way to add a pop of color when I'm photographing something brown. So I always have some in my refrigerator.
To store parsley, refer to the following steps after coming home with a bunch of fresh parsley.
Pull out any wilted leaves.
Cut about an inch off the bottom of the stems.
Fill a small glass with water.
Pull out any leaves that are low on the stems and will be submerged in the water.
Cover the cup with the plastic bag you got from the grocery store.
Store in the refrigerator for up to two weeks (longer if they still look fresh), changing the water every four to five days.
Recipes Using Fresh Parsley
Making Ahead and Storing Leftovers
In general, pasta salads are not my favorite to make ahead of time. The dressing can get too absorbed by the pasta and it's not always as great the second day. That being said, this salad is almost better the next day. The dressing is so light, and the pasta so small, that it doesn't over absorb.
Leftovers of this great pasta salad can be stored for up to four days in an airtight container in the refrigerator. As always, use your best discretion when it comes to serving leftovers.
FAQ
Is orzo gluten free?
Orzo is not gluten free. Like all pastas, it is made with wheat. That said, there is gluten free orzo on the market. And if that swap is made, this becomes a gluten free dish.
Is orzo rice or pasta?
Orzo is the shape of rice, but it is a pasta.
Where do you find orzo in the grocery store?
It is located in the pasta aisle.
Can pasta salad be frozen?
I never recommend freezing pasta salad. I don't think that the recipe has the same quality after thawing.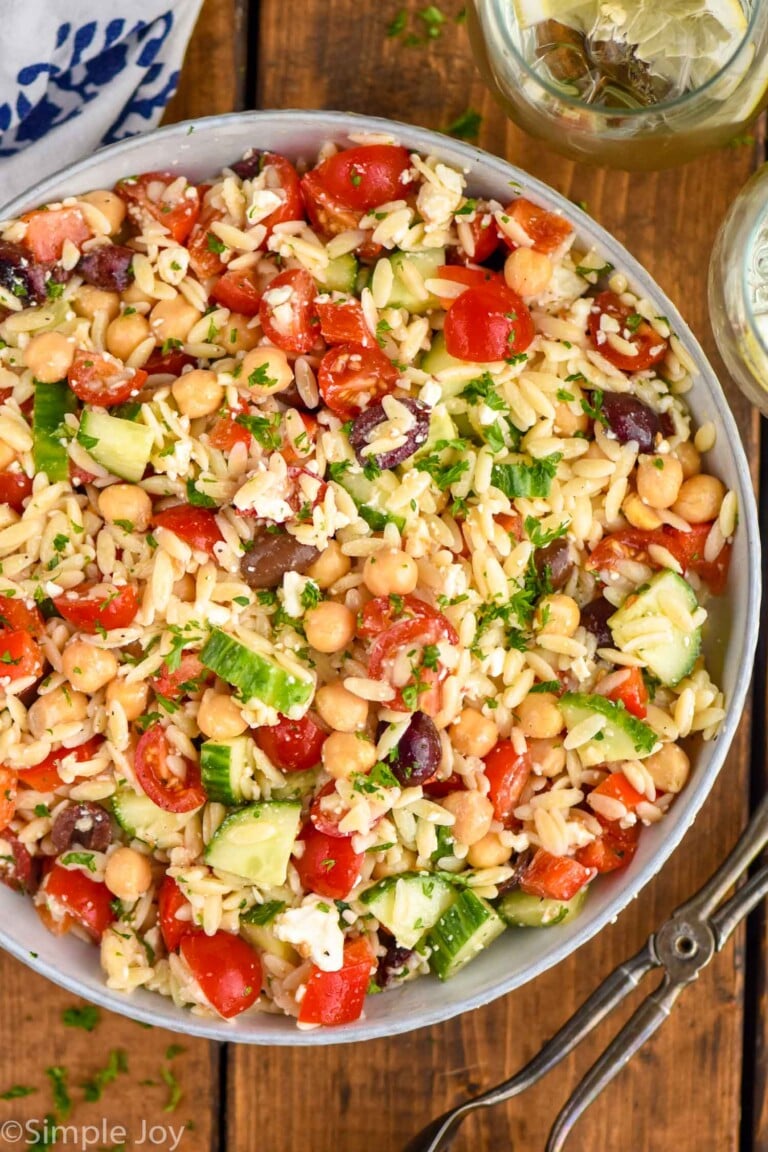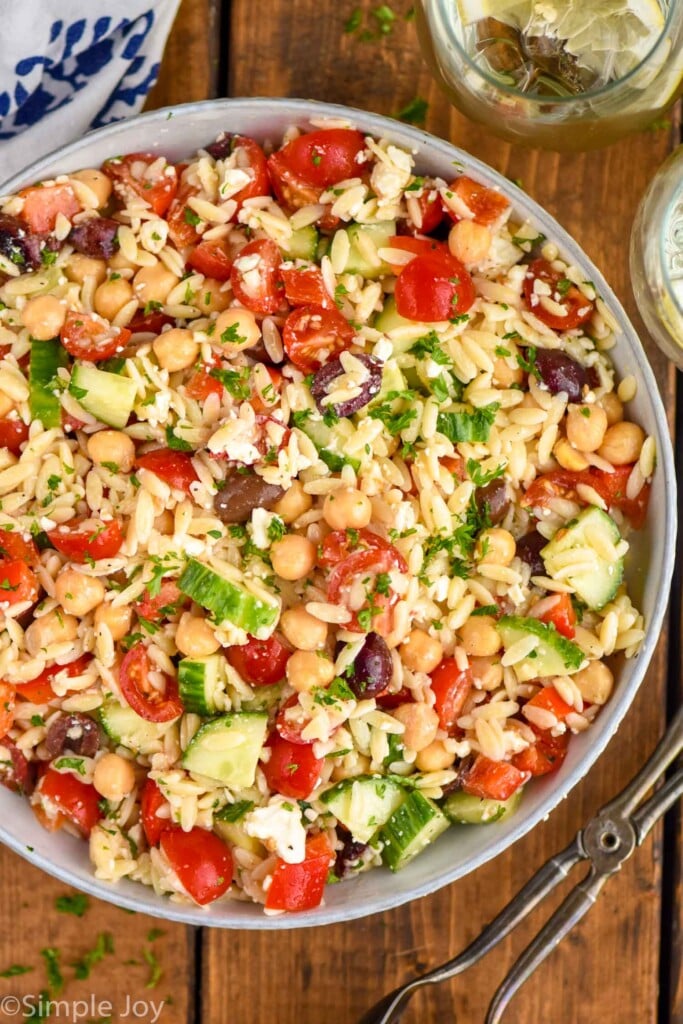 What to Pair with Orzo Pasta Salad
I love this recipe on the side of hamburgers, but there are so many great dishes to serve it with!
If you make this Orzo Pasta Salad recipe or any of my other recipes, please leave me a comment and let me know what you think.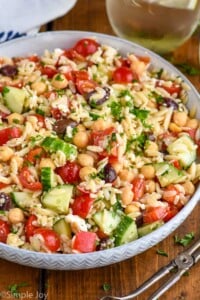 Easy Orzo Pasta Salad
This Easy Orzo Salad is delicious and combines the perfect flavors in this Mediterranean salad. It makes such a great side dish for any BBQ or picnic!
Ingredients
1

cup

orzo

cooked and drained (read more about orzo here)

15

ounces

garbanzo beans

drained and rinsed

1

seedless cucumber

diced

1

pint

cherry tomatoes

quartered

1

red pepper

diced

1/2

cup

kalamata olives

sliced

4

ounces

feta cheese

crumbled

2

tablespoons

fresh parsley

chopped

1/4

cup

olive oil

1

tablespoon

red wine vinegar

3/4

teaspoon

kosher salt

1/4

teaspoon

garlic powder

1/8

teaspoon

black pepper
Instructions
While the pasta is cooking, chop the vegetables.

Drain the cooked pasta and rinse with cold water.

In a large bowl combine the cooked pasta with the vegetables, beans, olives, parsley, and feta.

In a small bowl, whisk together the red wine vinegar, olive oil, salt, and pepper. Toss with the salad. Add more salt and pepper to taste.
Serving:
1
cup
Calories:
256
kcal
(13%)
Carbohydrates:
30
g
(10%)
Protein:
9
g
(18%)
Fat:
11
g
(17%)
Saturated Fat:
3
g
(19%)
Polyunsaturated Fat:
2
g
Monounsaturated Fat:
6
g
Cholesterol:
11
mg
(4%)
Sodium:
467
mg
(20%)
Potassium:
384
mg
(11%)
Fiber:
5
g
(21%)
Sugar:
5
g
(6%)
Vitamin A:
877
IU
(18%)
Vitamin C:
32
mg
(39%)
Calcium:
106
mg
(11%)
Iron:
2
mg
(11%)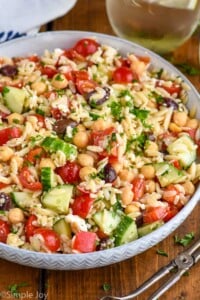 did you make this
Easy Orzo Pasta Salad