Eye Round Roast is an easy to make weekend dinner. This roast beef recipe takes very little time to prepare but the finger licking marinade makes it perfect for entertain with.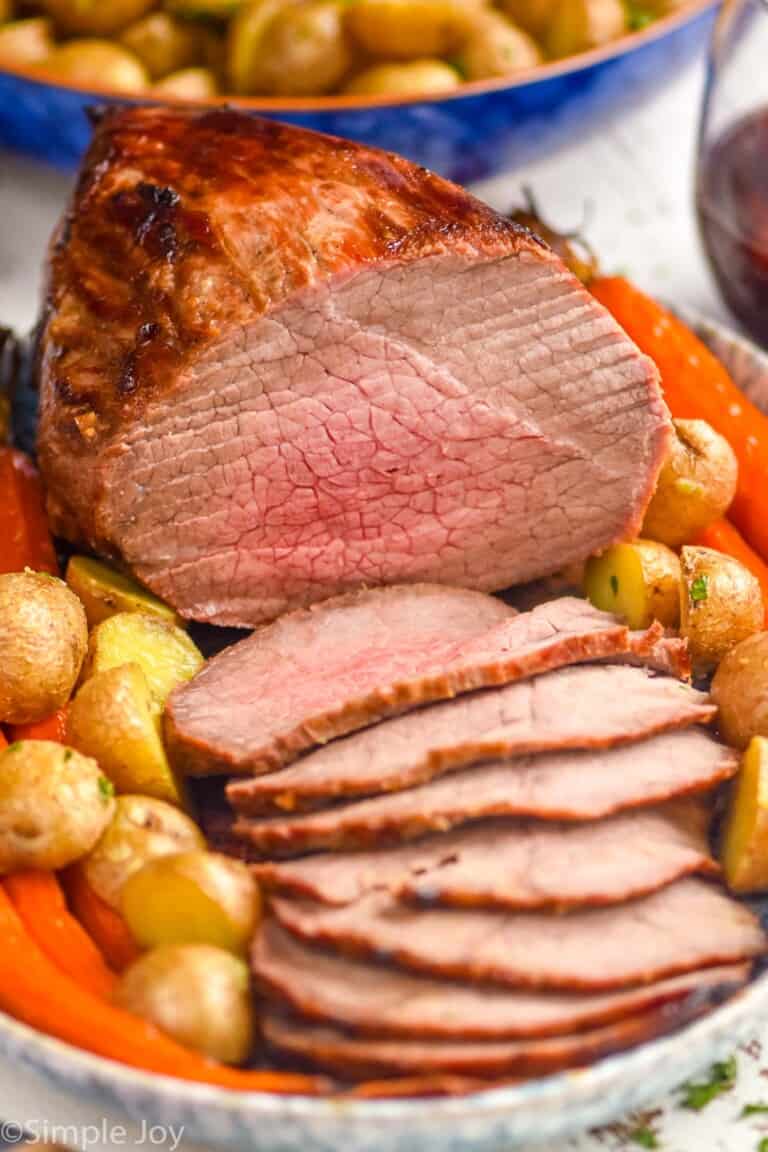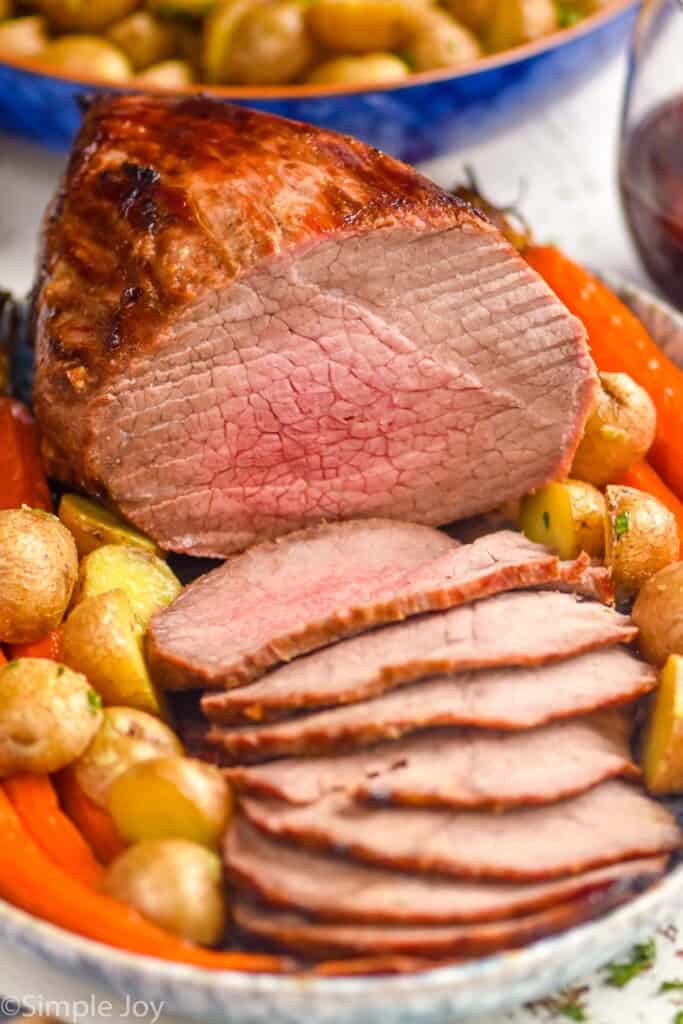 One of my kids is obsessed with roast beef. She was likely a dinosaur in a past life, because she loves a big plate of meat. We have a few roast beef recipes that are regulars in our house (you can see them below the recipe card), but we love adding to the list.
What I love about this Eye Round Roast is that it is a more budget friendly piece of meat. This also means that it needs a little time and attention to make it tender. With my simple marinade, we do that with minimal work. It leaves you with a roast that was not only easy to make, but full of delicious flavor.
Reader Review
I followed your recipe exactly as written. The roast turned out perfectly. It was very tender and full of flavor. My family absolutely loved it so your recipe is a keeper!
What is an Eye Round Roast?
Eye Round Roast is a very lean cut of beef from the round, or rear leg, of a cow. This is an economical and flavorful cut of meat. Because it is so lean, it is best enjoyed when it is braised or roasted, and only cooked to medium. In this recipe we are also going to marinate it to help tenderize it.
How to Cook Eye Round Roast
This is a brief overview of how to make this easy recipe. For the full recipe with all of the measurements, be sure to see the recipe card at the bottom of the post.
Make the marinade. Combine all of the ingredients in a measuring cup. Pour the marinade over the eye round roast in a reusable container. Cover and refrigerate for 24 hours (6 hours as an absolute minimum).
Prepare the pan. For this recipe we will use a roast pan fitted with a rack. You can read more about this method below. Alternatively, you can place a cooling rack on a baking dish.
Start the oven at a high temperature. Start the roast at 450 degrees Fahrenheit for 15 minutes. This is similar to searing a roast in a skillet before putting it in the slow cooker.
Reduce the oven temperature. After 15 minutes, reduce the oven temperature to 350 degrees Fahrenheit and bake for 1 hour or until the temperature of the meat reaches 125 degrees Fahrenheit. Use an instant read thermometer so as not to over cook your meat.
Let the meat rest. Remove the roast beef from the oven and tent loosely with aluminum foil. Let rest for 10 minutes. During that time the temperature will rise to a 135 degrees.
Slice the meat thin. Because this is such a lean cut of meat, you will enjoy it most if you slice it very thin.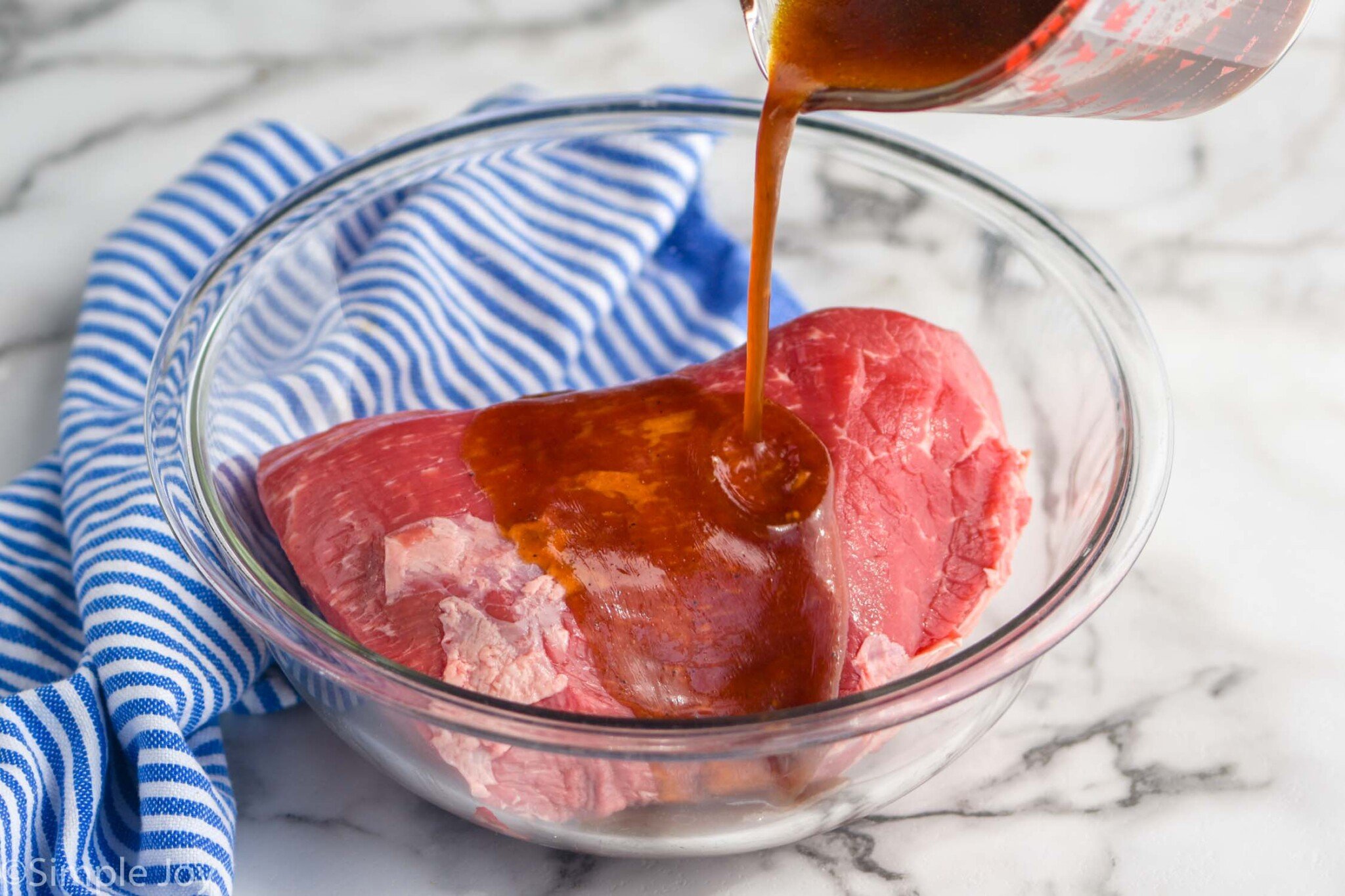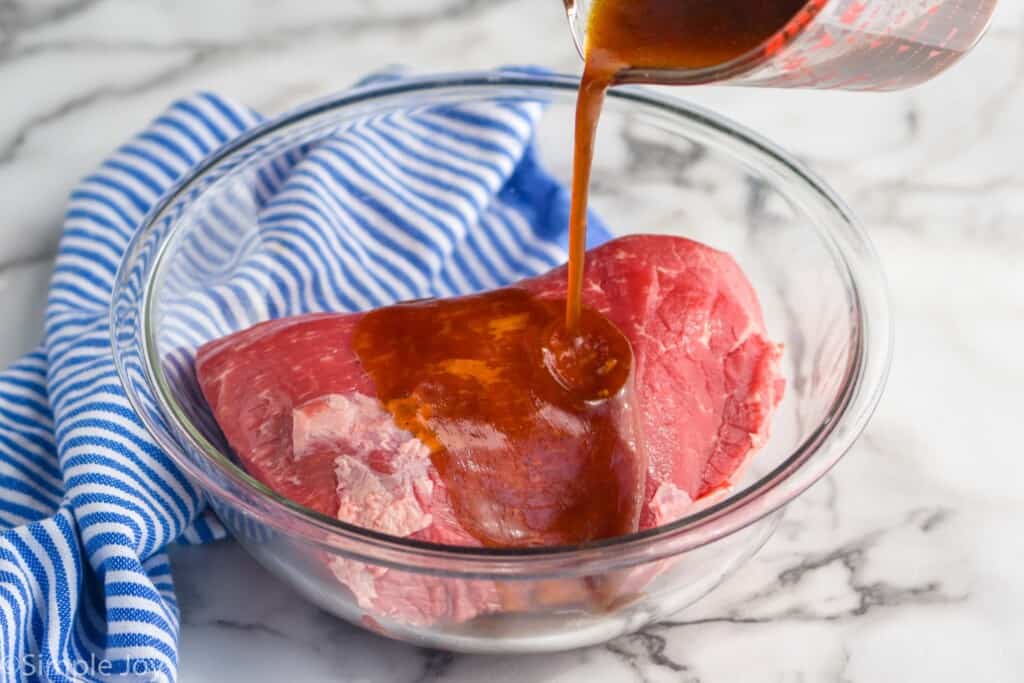 Roast Beef Marinade
This very simple roast beef marinade is the same as I use for my Steak Kabobs. It is the perfect beef tenderizer, and works so well here too.
olive oil
soy sauce
brown sugar
lemon juice
Worcestershire sauce
garlic
black pepper
Substitutions and Variations
While the ingredients listed above make for the best version of the marinade in my humble opinion, there are a few substations or variations you can make if necessary.
To lower the sugar content of the marinade, replace the brown sugar with 1/2 tablespoon of honey or 2 tablespoons of brown sugar monk fruit.
If you or someone in your family is allergic to soy, you can replace it with coconut aminos.
If you are on a low sodium diet, replace the soy sauce with low sodium soy sauce, and again only use 2 tablespoons to start. Add more only as needed for taste.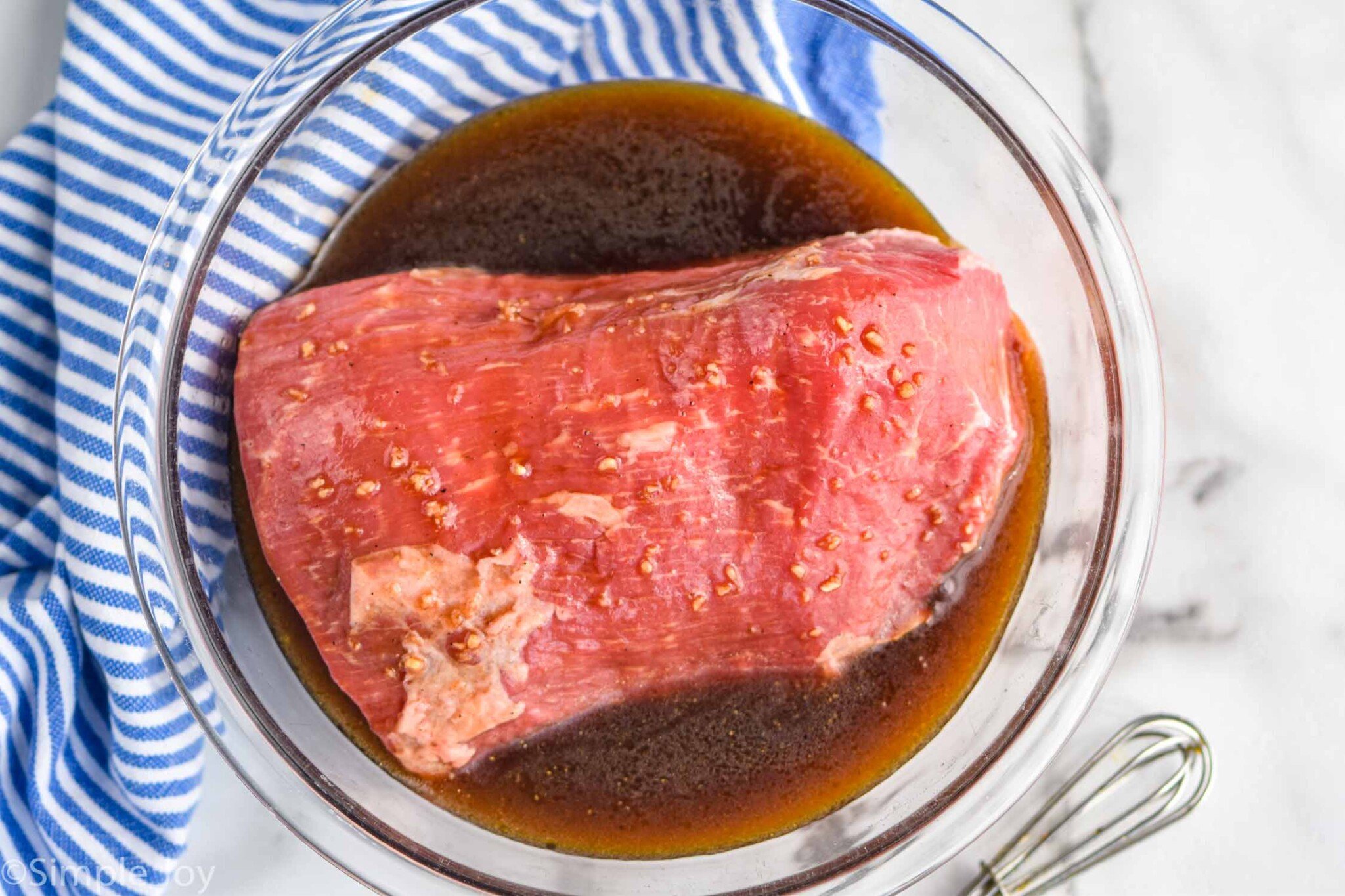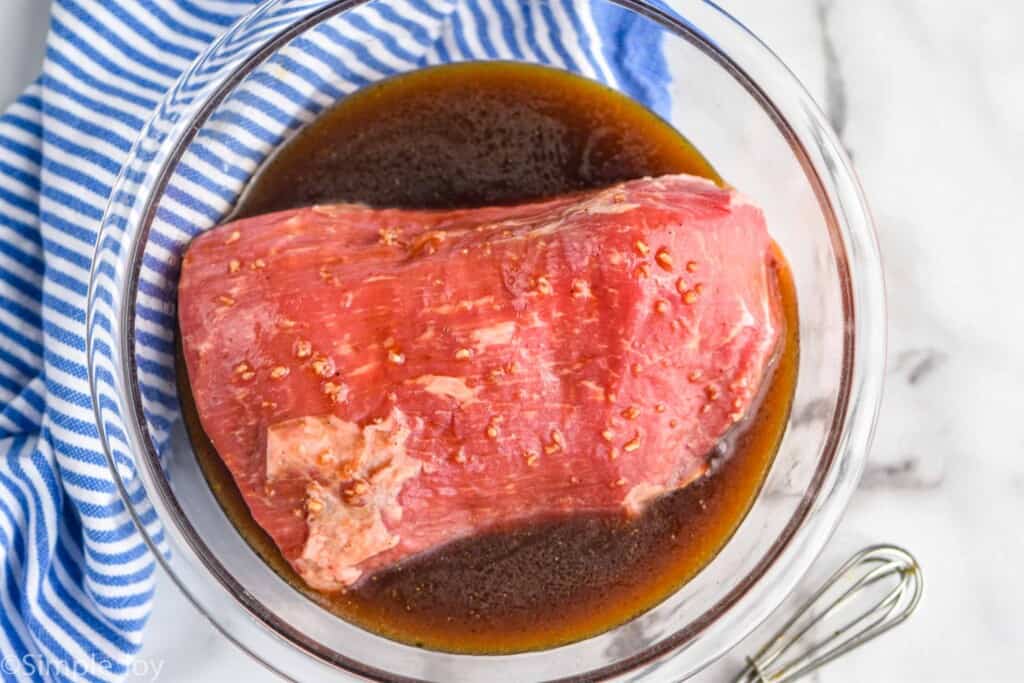 How Long to Marinate Beef
Normally, I suggest that meat should marinate for between 2 hours and 24 hours. For this recipe, given how lean the meat is, you should marinate the eye round roast for the full 24 hours. If you are short on time, you can cut this down to 6 hours, but keep in mind this will result in a tougher meat.
Cooking Roasts on a Rack
Cooking roasts on a rack is my favorite way to cook them. This allows the air to circulate around the meat and cook evenly. It is essential in this recipe. I recommend invested in a roasting pan that is fitted with a rack, it comes in handy for so many recipes.
As mentioned above, if you don't have a roasting pack with a rack, you can improvise. I've had readers tell me that placing a cooling rack – like the kind you use to cool cookies – placed on a 9 by 13 inch baking dish will work just as well.
TOP PICK
Roasting Pan with Fitted Rack
This is such a great investment if you plan on making roasts. We use it for so many of our recipes.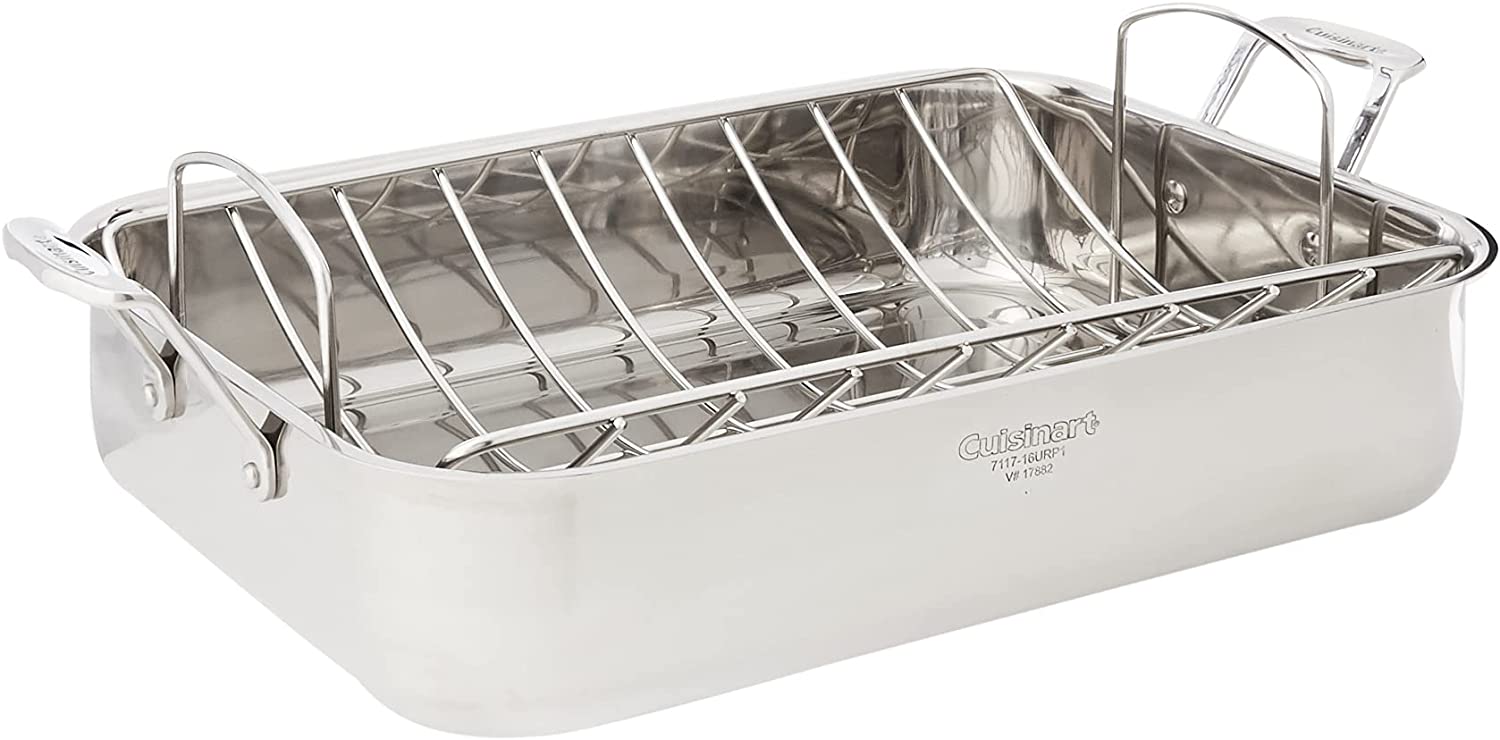 Cooking Temperature for Beef
Even if you are someone who likes your beef well done, I suggest still removing this roast from the oven when it reaches 125 degrees Fahrenheit. This cut of beef has almost no fat in it, which means that we need to take extra steps to make it tender. We are doing that in the marinating and the way we cook it. The final step is to make sure it is not over cooked. This will dry it out.
When you take the roast out of the oven at 125 degrees Fahrenheit, it will continue cooking. In the 10 minutes of resting time, it will reach 135 degrees Fahrenheit. The result will be a juicy roast. Because the sizes of roasts vary and thickness can greatly impact cooking time, I highly recommend you invest in an instant read thermometer that can be left in the roast while it bakes. This way you can base the cooking length off of temperature rather than time.
TOP PICK
Instant Read Thermometer
This amazing thermometer can be left in the meat while it is in the oven. I use it in so many of my recipes!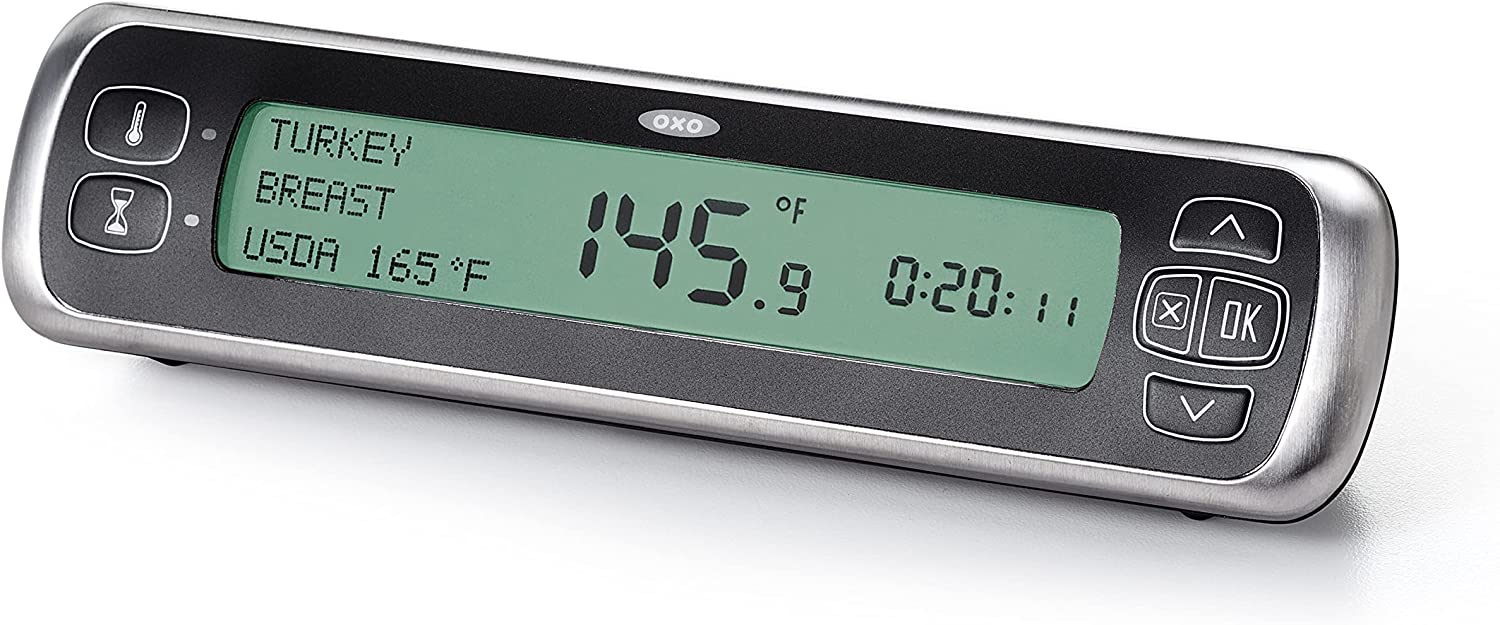 FAQ
How to tenderize eye of round roast?
The way we are tenderizing this lean cut of meat is by marinating it for 24 hours. There is salt in it from soy sauce and acid from lemon juice. Both will help make this a very tender roast recipe.
How long to cook eye of round roast?
This recipe takes 1 hour and 15 minutes to cook – 15 minutes at 450 degrees and 1 hour at 350 degrees Fahrenheit.
What temperature is eye of round roast done?
Roasts are best when they reach 130 to 135 degrees Fahrenheit. More than that and they will be overcooked and chewy. We like to pull our eye round roast out at 125 degrees Fahrenheit as there will be a bit of carry over cooking that happens when it comes out of the oven.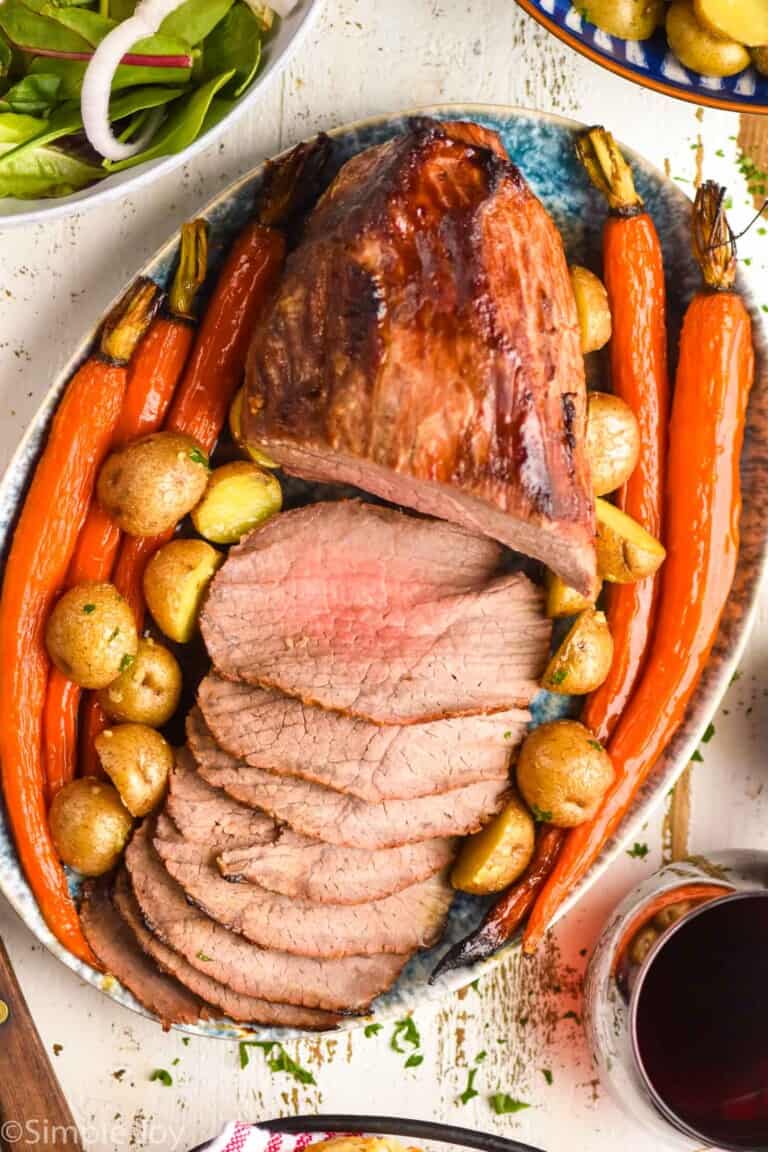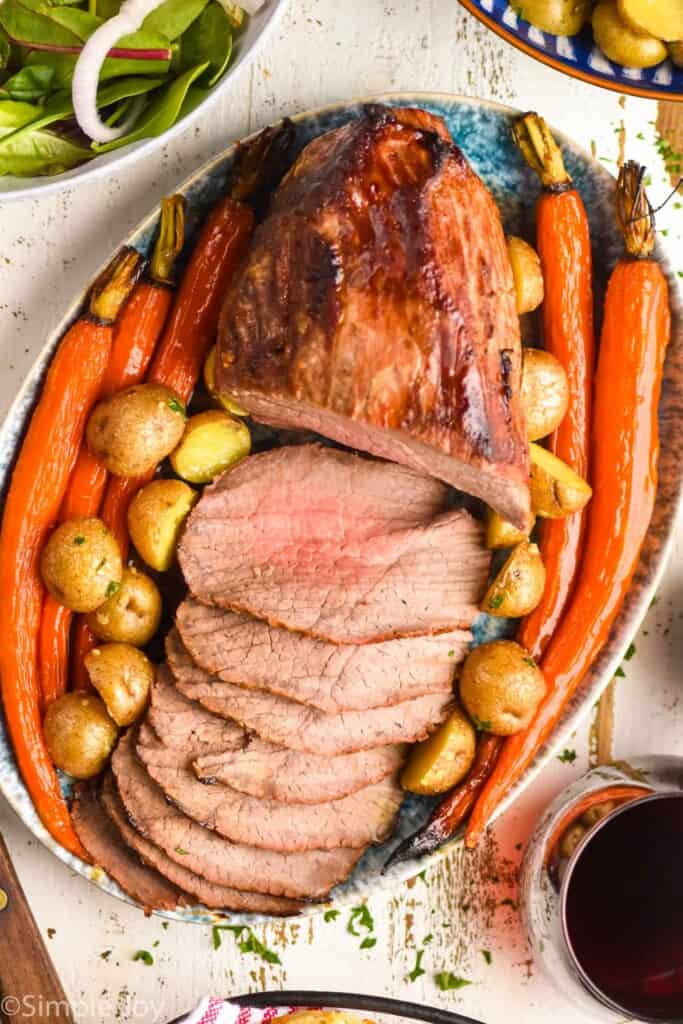 What to Serve with Eye Round Roast
If you make this Eye Round Roast recipe or any of my other recipes, please leave me a comment and let me know what you think.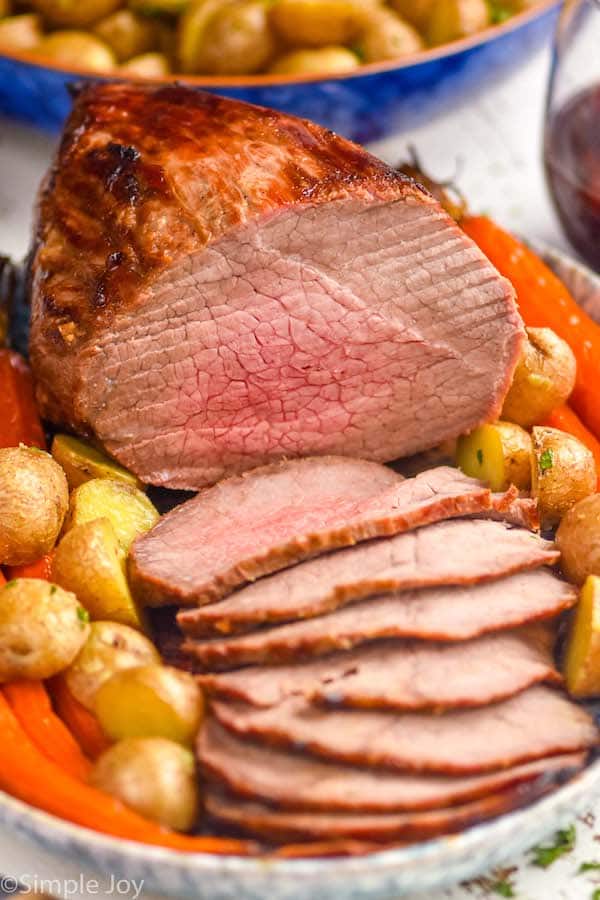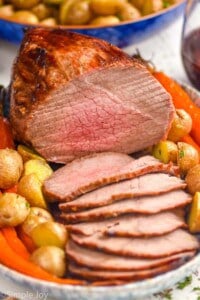 Eye Round Roast
Total:
1
day
1
hour
20
minutes
Eye Round Roast is an easy to make weekend dinner. This roast beef recipe takes very little time to prepare but the delectable marinade makes it perfect for entertain with.
Ingredients
4

pounds

eye of round roast

1/2

cup

olive oil

1/3

cup

soy sauce

1

tablespoon

brown sugar

packed

1

tablespoon

lemon juice

2

tablespoons

Worcestershire sauce

2

cloves

garlic

minced

1/4

teaspoon

black pepper
Instructions
Whisk together the olive oil, soy sauce, brown sugar, lemon juice, Worcestershire sauce, garlic, and black pepper in a mixing bowl.

Add the roast to a large ziplock bag and pour the marinade over the roast. Toss to make sure all sides are well covered. Refrigerate for 24 hours.

Preheat your oven to 450 degrees Fahrenheit. Prepare a roasting pan with a wire rack.

Place the roast on the wire rack, discarding the rest of the marinade. Roast for 15 minutes at 450 degrees Fahrenheit. Reduce the temperature of the oven to 350 degrees Fahrenheit and continue roasting until the meat registers 125 degrees Fahrenheit, about 1 hour. (I highly suggest using an instant read thermometer as cuts of this roast can vary and that will change the cooking time.)

Remove from the oven and let stand for 10 minutes before slicing. Cut in very thin slices to serve.
Calories:
480
kcal
(24%)
Carbohydrates:
2
g
(1%)
Protein:
71
g
(142%)
Fat:
19
g
(29%)
Saturated Fat:
5
g
(31%)
Polyunsaturated Fat:
1
g
Monounsaturated Fat:
11
g
Cholesterol:
184
mg
(61%)
Sodium:
555
mg
(24%)
Potassium:
1168
mg
(33%)
Fiber:
0.1
g
Sugar:
1
g
(1%)
Vitamin A:
2
IU
Vitamin C:
1
mg
(1%)
Calcium:
73
mg
(7%)
Iron:
6
mg
(33%)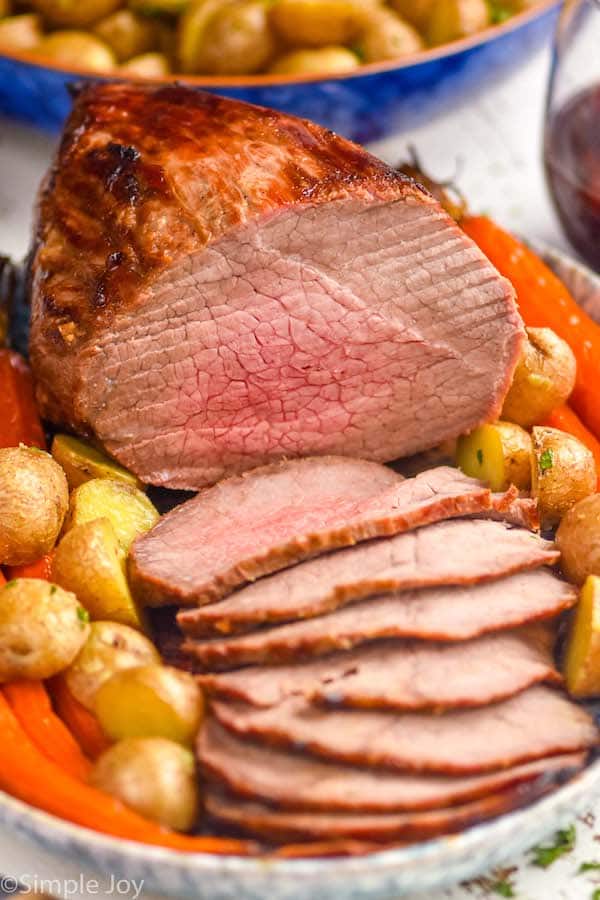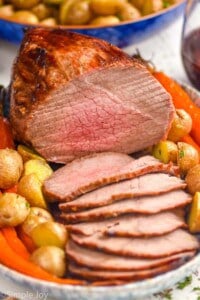 did you make this
Eye Round Roast
you might also like . . .