Chocolate Peanut Butter Brookie Pie | It's a cookie! It's a brownie! It's a pie!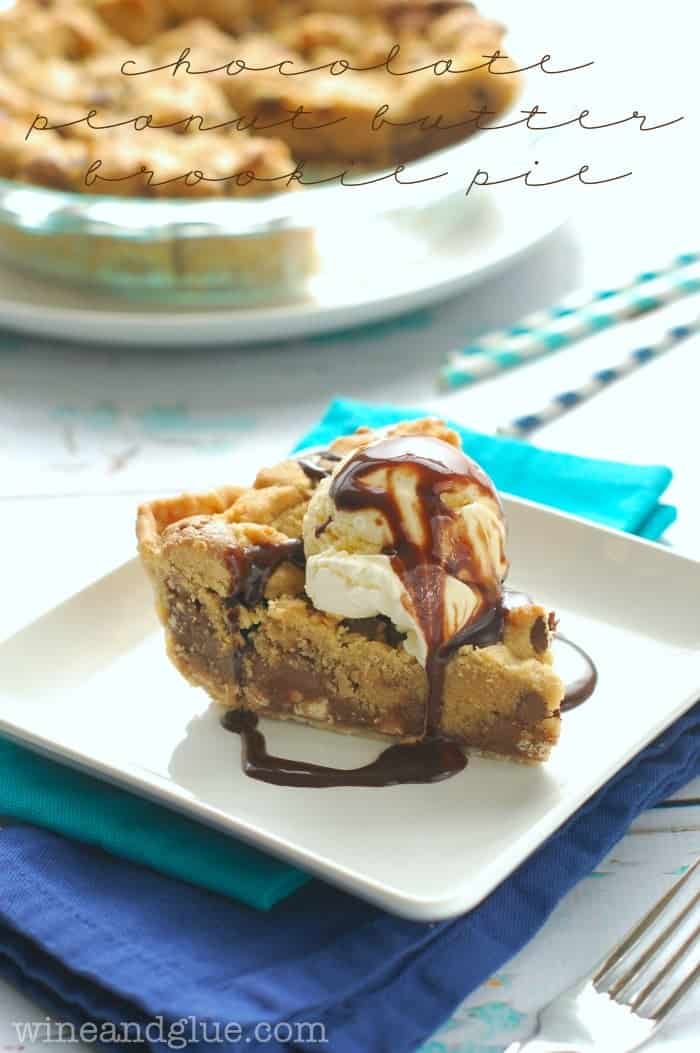 Happy Pi Day!! (You know 3.14?)
I'm kind of a weird bird academically. In college I majored in Social Work with a minor in Family Studies. It was a really good fit for me. It lead to me going to graduate school to get my masters degree in Social Work and a great job working for Milwaukee County as a Child Welfare Social Worker. (Oh man, the stories I could tell . . . )
So all my classes in college and grad school (except Statistics) were very Liberal Arts oriented. I wrote umpteen billion papers, and did tons and tons and tons of reading. My tests were mostly made up of essay questions, and the only numbers that really factored into my life were how much money I had left to buy groceries.
So when I met Nathan and he learned I was a Social Work major, he was shocked to learn that my favorite subject in high school was MATH. Loved math. I felt like I could do math homework forever. It was so wonderful, because it was all problems that had a right and a wrong answer.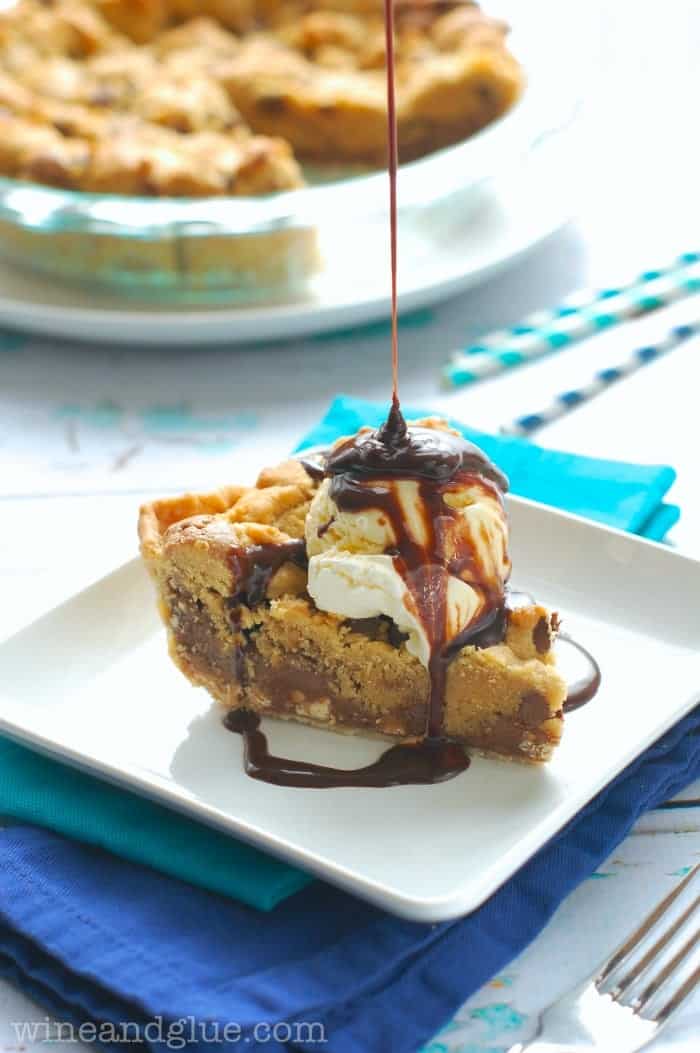 There are so few things in life that have just one right answer. And certainly none of them are in the field of Social Work. So yeah, I will always love math. Probably until the day that one of my kids needs a little help with math homework, and I realize that I have been calculator dependent for the last 15 years and I have no idea what they are talking about. :)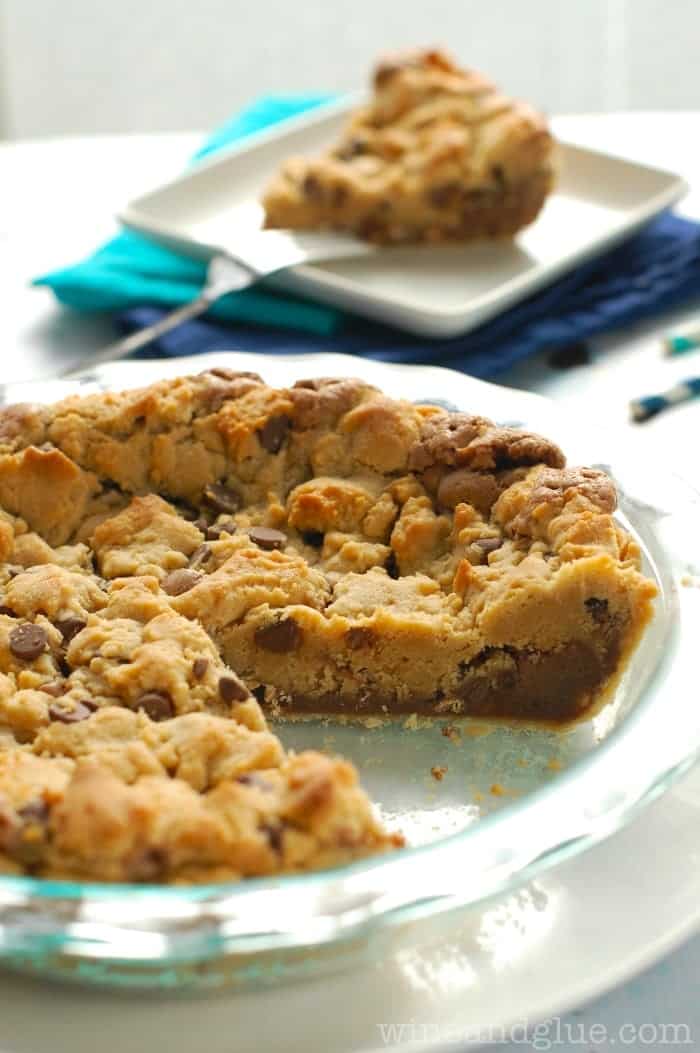 So Happy Pi Day!! I'm super excited to be celebrating with a bunch of great bloggers I know, all bringing you different kinds of pie! Make sure that you visit all of their wonderful blogs and check out all the pies that they made!
I made you this amazing Chocolate Peanut Butter Brookie Pie! Never heard of a brookie before? It's half brownie, half cookie! And I upped the ante a little by adding peanut butter chips to my brownie layer, making the cookie layer a peanut butter cookie, and shoving the whole thing in a delicious pie crust.
You guys.
I had to serve this pie an eviction notice yesterday and get it out of my house so that I didn't devour the whole thing. It is delicious on it's own, but even more amazing when topped with vanilla ice cream and drizzled with fudge sauce.
Swoon.

p style="text-align: center;">You can see all the amazing pie recipes being shared today by clicking the images below.

Updated to add: This pie is baked in a very deep pie dish. This is the one I use for all my pies. If you don't have a deep pie plate, I suggest adding less of the cookie layer (and just making cookies out of them) or putting a foil lined baking sheet under the pie plate to catch any spilling. Additionally, the brownie layer is gooey when the pie is done.
Follow me on social for more recipe ideas & inspiration!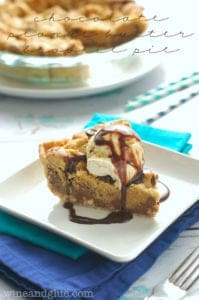 Chocolate Peanut Butter Brookie Pie
Ingredients
For Crust

1

refrigerated pie crust

I used Pillsbury

For Brownie Layer

1/2

cup

of butter

1 stick, cut up

1/2

cup

of milk chocolate chocolate chips

1

cup

sugar

2

large eggs

1

tsp

vanilla extract

1/2

tsp

baking powder

1/4

tsp

salt

2/3

cup

all purpose flour

1/2

cup

peanut butter chips

For Cookie Layer

1 1/4

cups

all purpose flour

1/2

tsp

salt

1/2

tsp

baking powder

1/2

cup

1 stick butter, softened

1/2

cup

packed light brown sugar

1/2

cup

granulated sugar

1/2

cup

creamy peanut butter

1

tsp

vanilla extract

1

egg

1/2

cup

milk chocolate chips
Instructions
Preheat the oven to 350 degrees and take your pie crust out of the refrigerator and set aside.

Start the brownie layer by melting 1/2 cup of butter (cut up) and 1/2 cup of milk chocolate chips together in the microwave. Make sure it is throughly stirred and combined. Set aside.

Whisk together the two eggs, 1 tsp of vanilla, 1 cup of sugar, 1/2 tsp baking powder, and 1/4 tsp salt until thoroughly combined. Whisk in the butter and chocolate mixture. Whisk in the 2/3 cup flour until throughly combined.

Stir in the peanut butter chips. Set the batter aside.

Start the cookie layer by whisking together 1 1/4 cup flour, 1/2 tsp salt, and 1/2 tsp baking powder.

In a separate bowl beat together 1/2 cup butter, 1/2 cup brown sugar, and 1/2 cup granulated sugar until light and fluffy, about three minutes. Beat in the 1/2 cup peanut butter until well combined. Then one at a time, beat in the egg and the teaspoon of vanilla.

Gradually beat in the flour mixture until fully combined. Stir in the 1/2 cup milk chocolate chips.

Spread the pie crust into a deep 9 inch pie plate. Pour in the brownie batter, and gently spread it so it is an even layer. Plop chunks of cookie dough on top of the brownie batter so that it is evenly distributed.

Bake for 40 minutes, turning halfway through the baking process.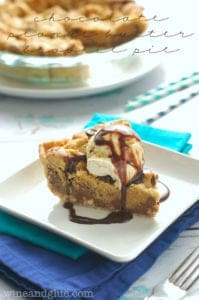 did you make this
Chocolate Peanut Butter Brookie Pie