Pickled Carrots are easy to whip up and make for a fun topping on sandwiches, nachos, and so much else.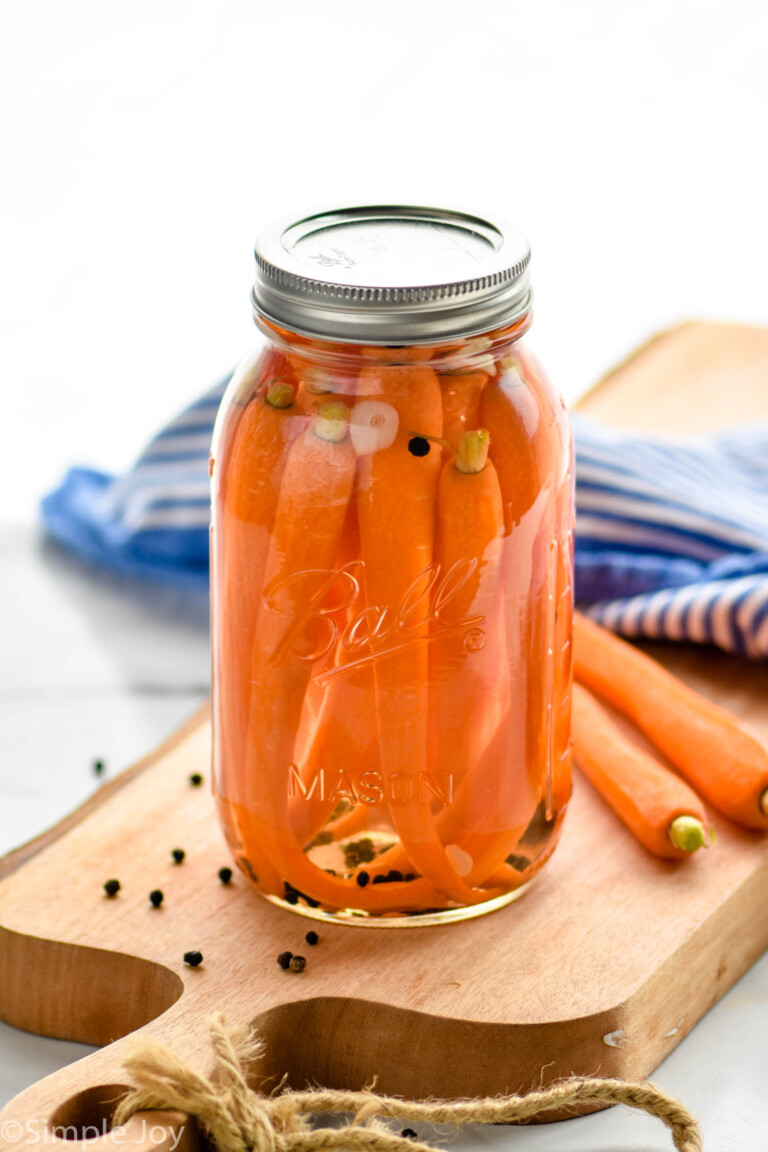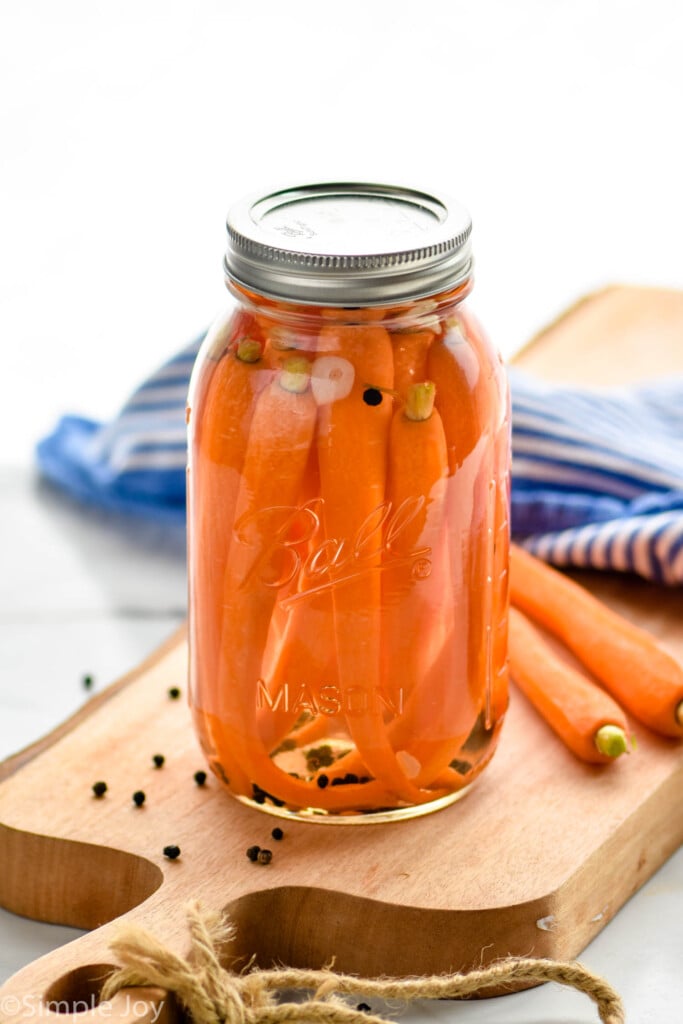 In my house we just can't get enough of of pickled . . . everything. When I made these pickled carrots, I knew that they would be well loved, and I was right. My eight year old is head over heels for these and loves to eat them straight out of the jar as a snack. Thank goodness they are so easy to make.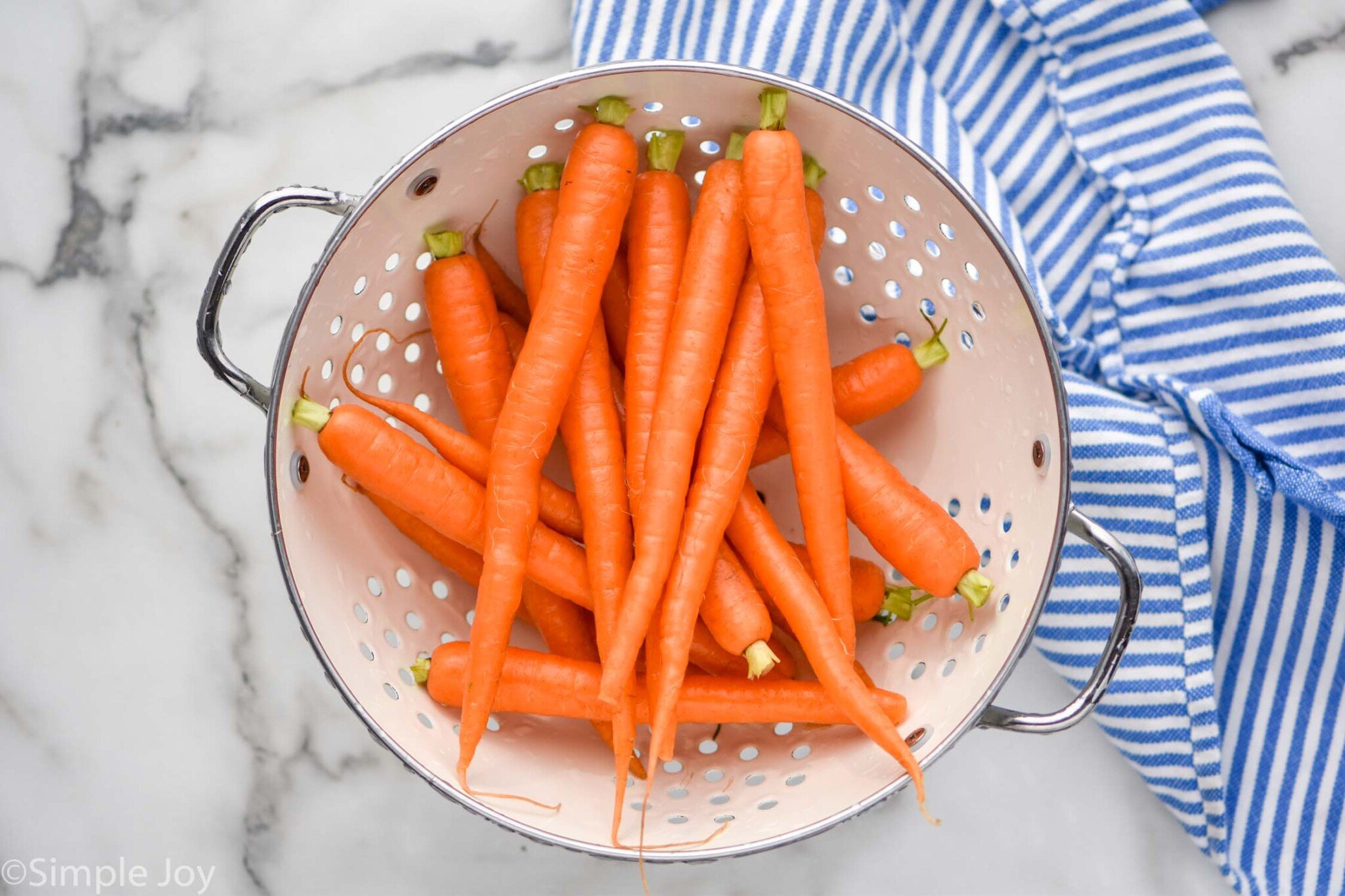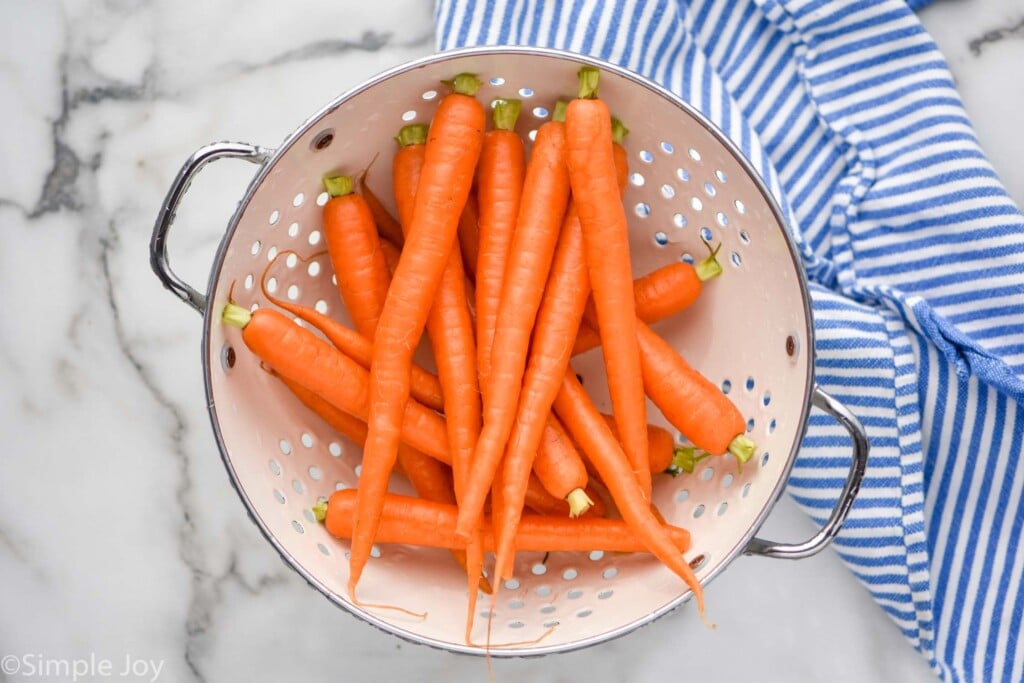 How to Pickle Carrots
Make the pickling brine. Whisk together hot water, salt, and sugar until the salt and sugar dissolve. Stir in vinegar.
Add everything to the jar. Fill the jar you are using with the carrots, garlic cloves, and peppercorns, then pour the brine over it.
Let it pickle. These taste best when you let them pickle for a few days in the refrigerator.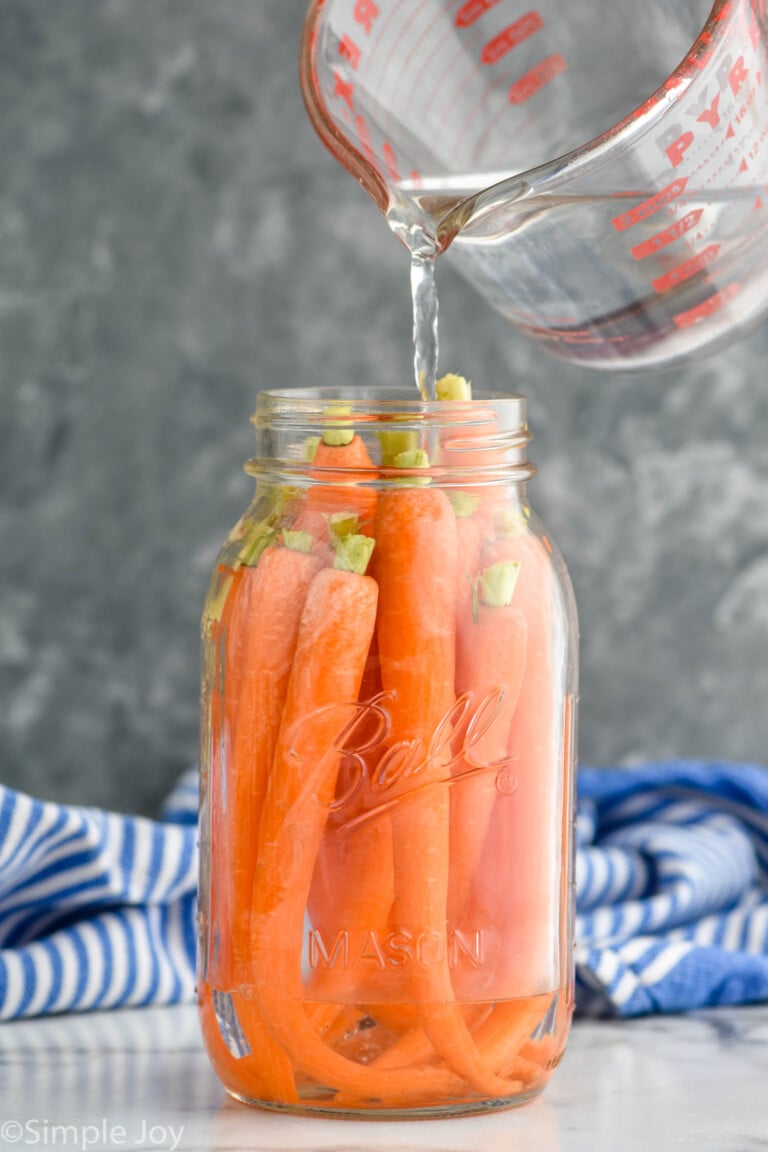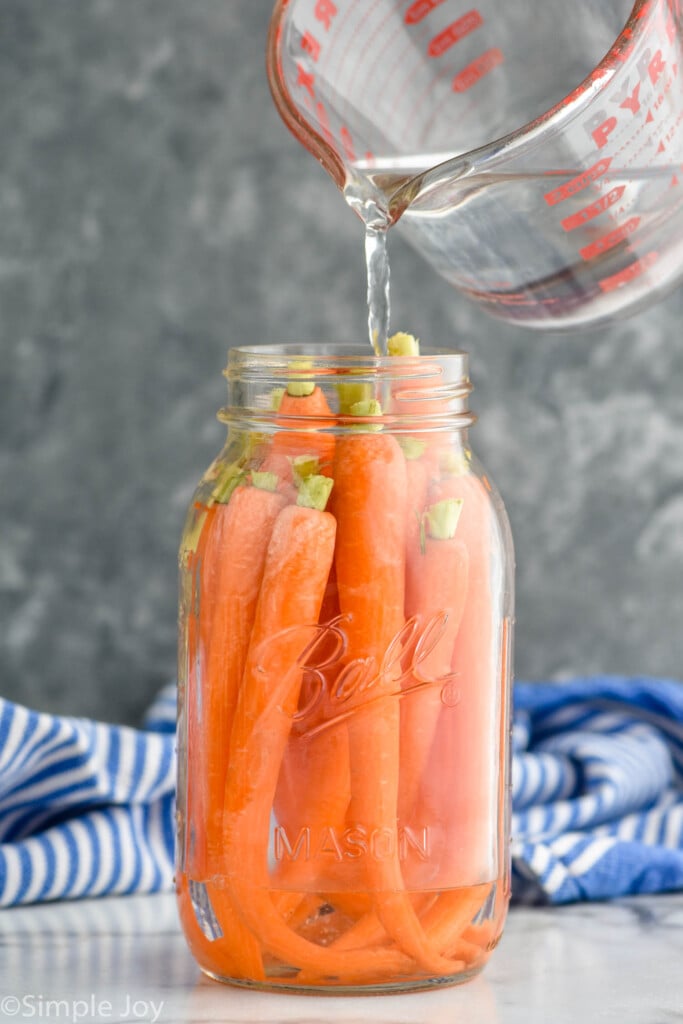 What Carrots to Use
Which type of carrot you use here depends on what you plan on using the pickled carrots for.
Whole carrots with the greens still attached are great for garnishing a Bloody Mary or snacking on. These do need to be peeled before pickling.
Large carrots that have been peeled and sliced before pickling are great for topping nachos, sandwiches, burgers, and popping on salads.
Eating Pickled Carrots
If you follow me on Instagram, you probably saw the story I posted of Piper eating the pickled carrots straight from the jar. She is obsessed. But even if you don't want them for snacking (and we do), there are a lot of great ways to eat these.
Put them on your nachos. These would be great on my Chicken Nachos, but I especially want to try them on my BBQ Chicken Nachos.
Eat them on your burgers. Whether you use our Hamburger Seasoning or my Turkey Burger recipe, these are a must when you are grilling out this summer.
Eat them with your quesadillas. You might have also seen the story of Piper's wide array of condiments with her quesadillas. In addition to salsa and sour cream, she loves pickled jalapeños and these pickled carrot slices on her quesadillas.
Put them on a charcuterie board. Not sure how to throw one together, check out my tutorial: How to Make a Charcuterie Board.
Toss them on sandwiches.
Add them to your salads.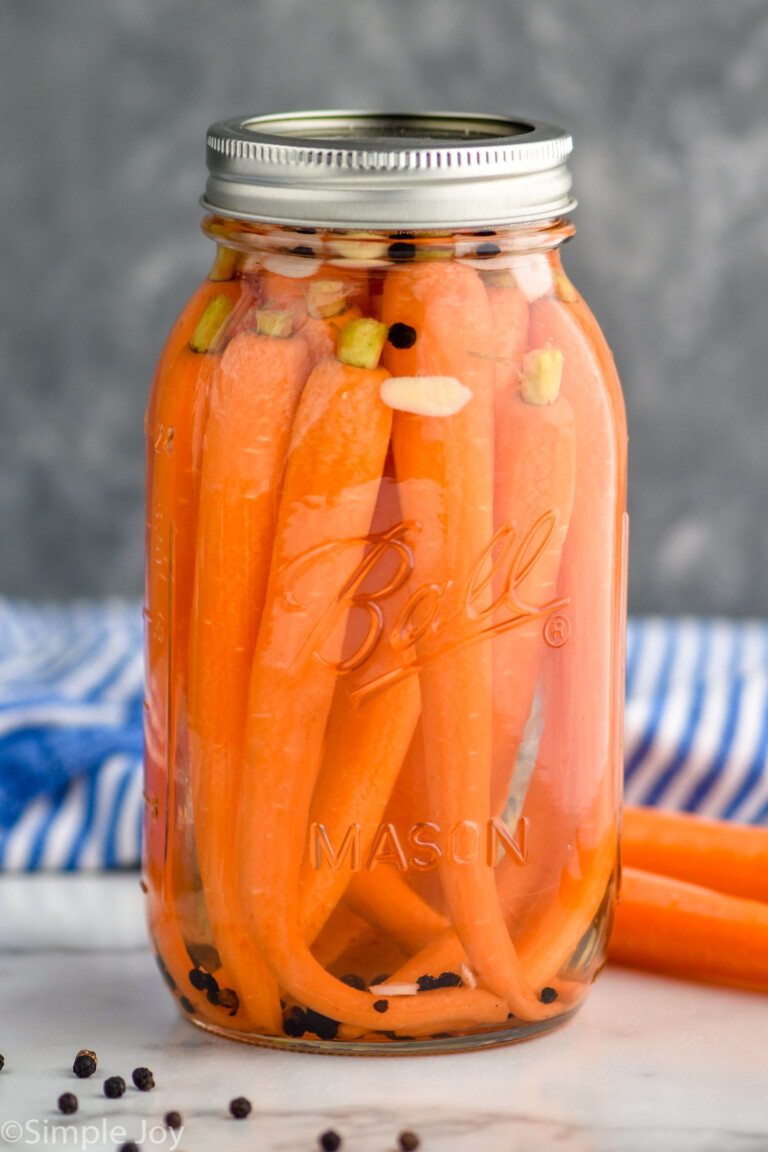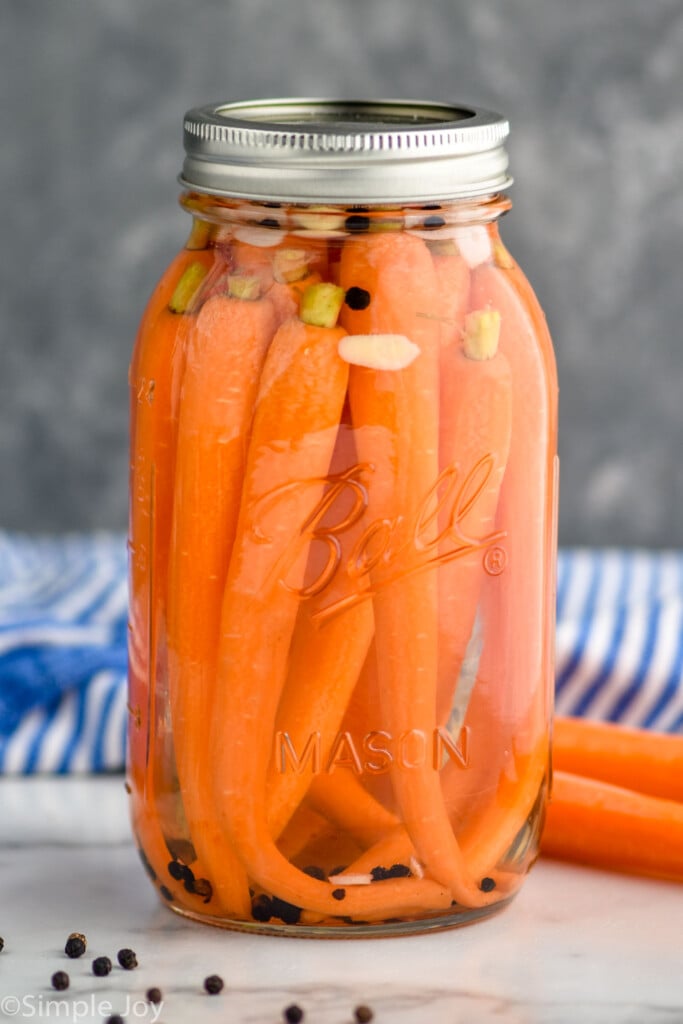 Storing Pickled Carrots
This recipe is meant to be a quick pickling recipe. It is not meant to be a shelf stable recipe to be kept in the pantry. Please store this recipe in your refrigerator. In your refrigerator, this pickled carrots recipe will last for one to three months. As with all recipes, use your best discretion when it comes to whether a recipe is still good.
Adding to this Recipe
There are so many other thing you can add to pickling recipes. I love this recipe as is, but if you want to add to it, here are a few different ideas:
Fresh or Dried Dill
Dill Seed
Crushed Red Pepper Flakes
Jalapeno Peppers
FAQ
How long do pickled carrots last?
Pickled carrots will last in your refrigerator for one to three months.
Are pickled carrots crunchy?
Yes! We love this recipe with a little crunch to it. That being said, if you would like them to not have a crunch, you can blanch the carrots. Bring a large pot of water to a boil. Boil the carrots for 3 minutes, then quickly strain and transfer to a bowl full of ice water.
Are pickled carrots healthy?
Yes! This is a healthy condiment. While there is a small amount of sugar (1 tablespoon for the whole recipe) to balance the vinegar in the brine, it isn't enough to make this an unhealthy recipe.
Should you peel carrots before pickling?
Yes! Whether you are pickling the whole small carrots or slices, you want to peel them first.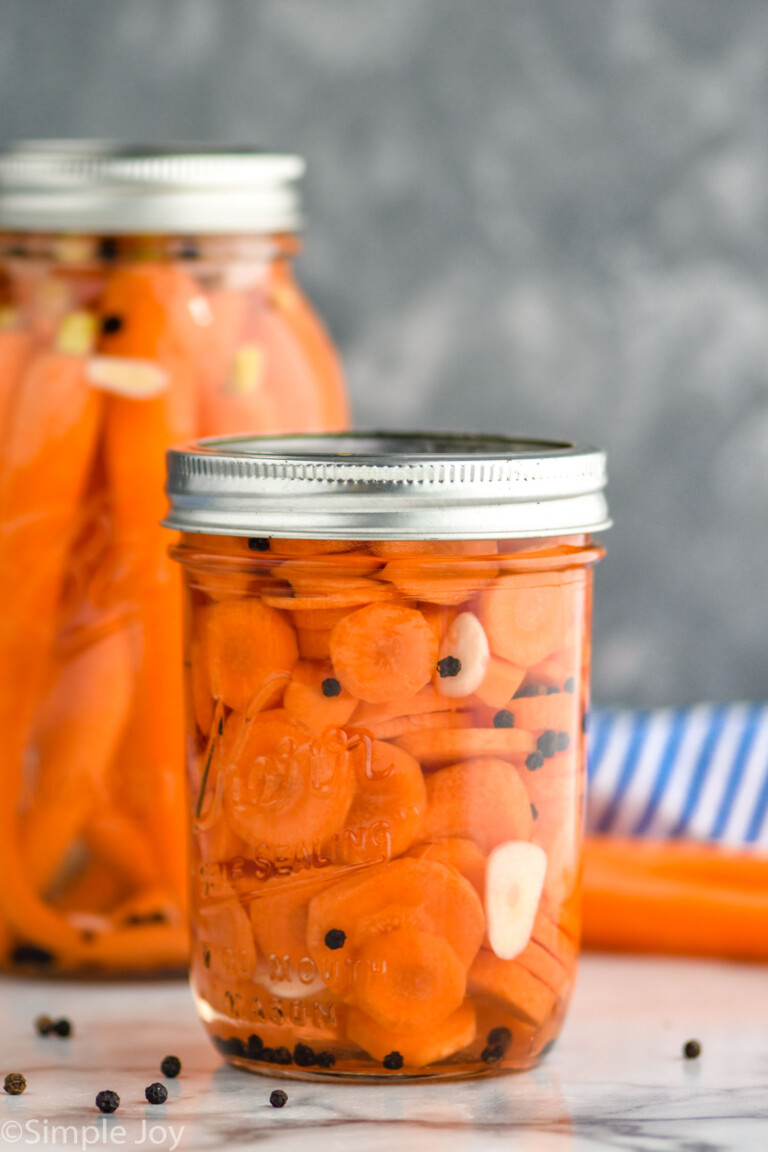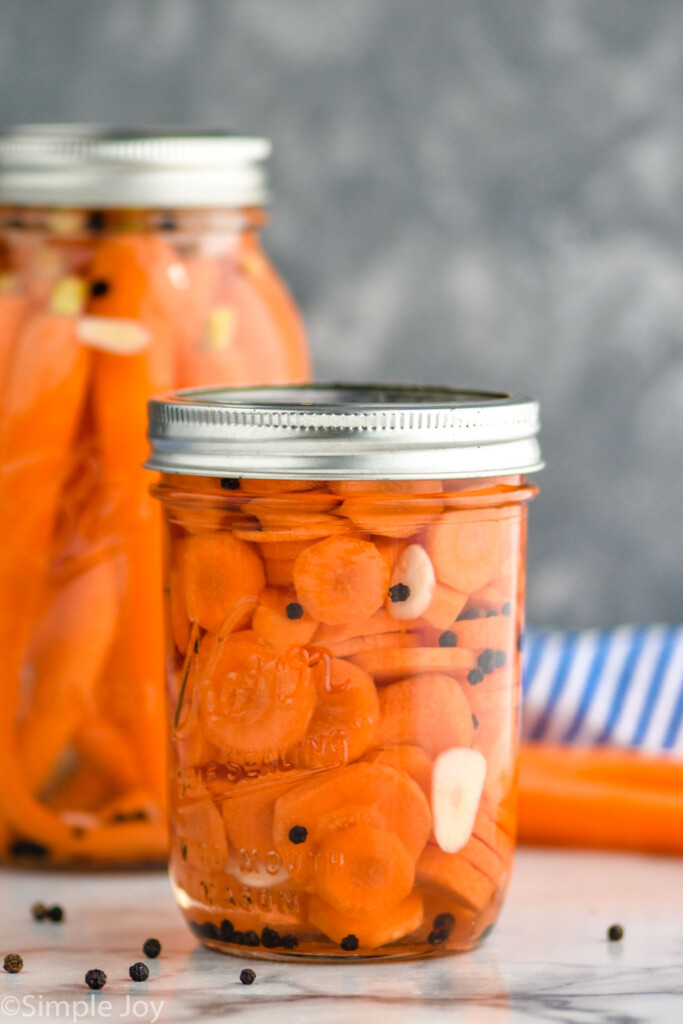 Other Great Condiments
No matter what you are making, you need delicious condiments to go with it. Here some of our favorites.
If you make this quick pickled carrots recipe or any of my other recipes, please leave me a comment and let me know what you you think.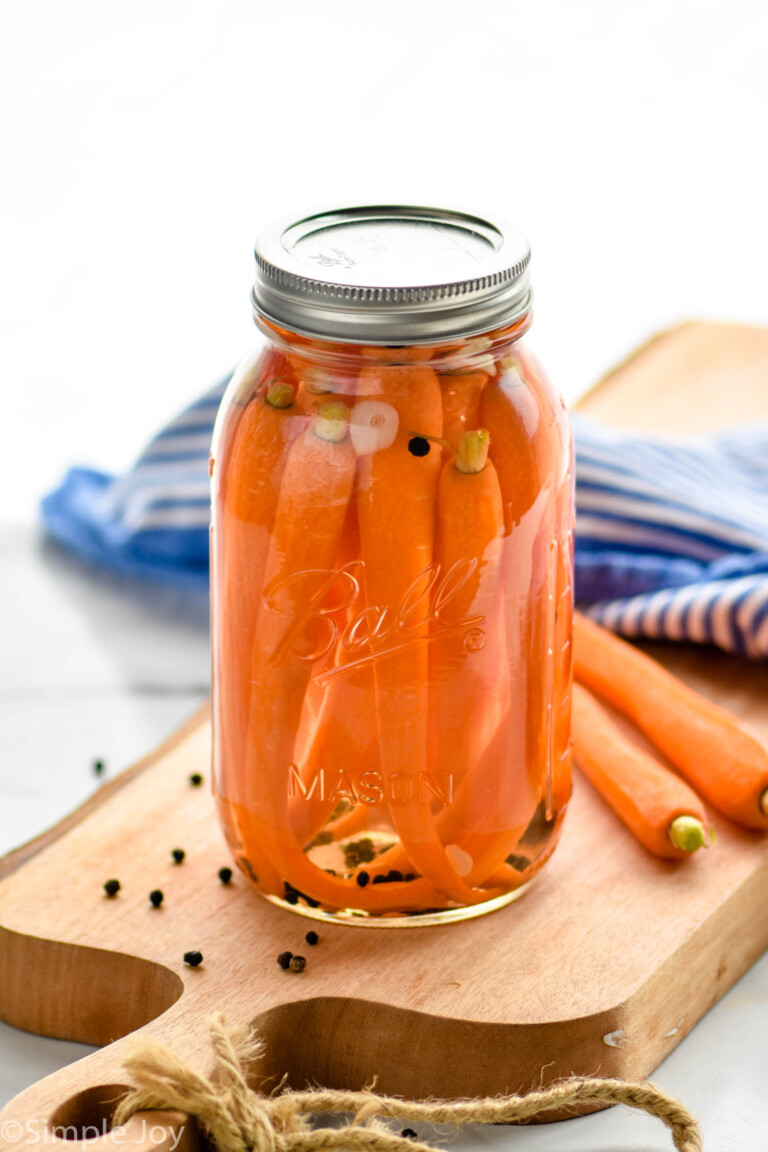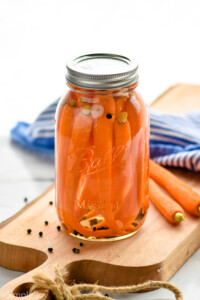 Pickled Carrots
Pickled Carrots are easy to whip up and make for a fun topping on sandwiches, nachos, and so much else.
Ingredients
12

ounces

carrots

see note

1

cup

hot water

1

tablespoon

sugar

2

teaspoons

kosher salt

1 1/2

cup

white vinegar

2

garlic cloves

sliced

1

teaspoon

peppercorns
Instructions
Pack the carrots into a mason jar with the sliced garlic and peppercorns.

Whisk together the hot water, vinegar, salt and sugar until the salt and sugar are dissolved.

Cover the carrots in the water and vinegar mixture. Cover the jar and let rest for 30 minutes.

Enjoy or store in the refrigerator for up to 4 weeks.
Notes
If you are pickling the whole carrots, you will need 12 ounces and you will need a quart mason jar. If you are doing the slices you will need 8 ounces of carrots (by weight) and the 8 ounce (by liquid) sized mason jar.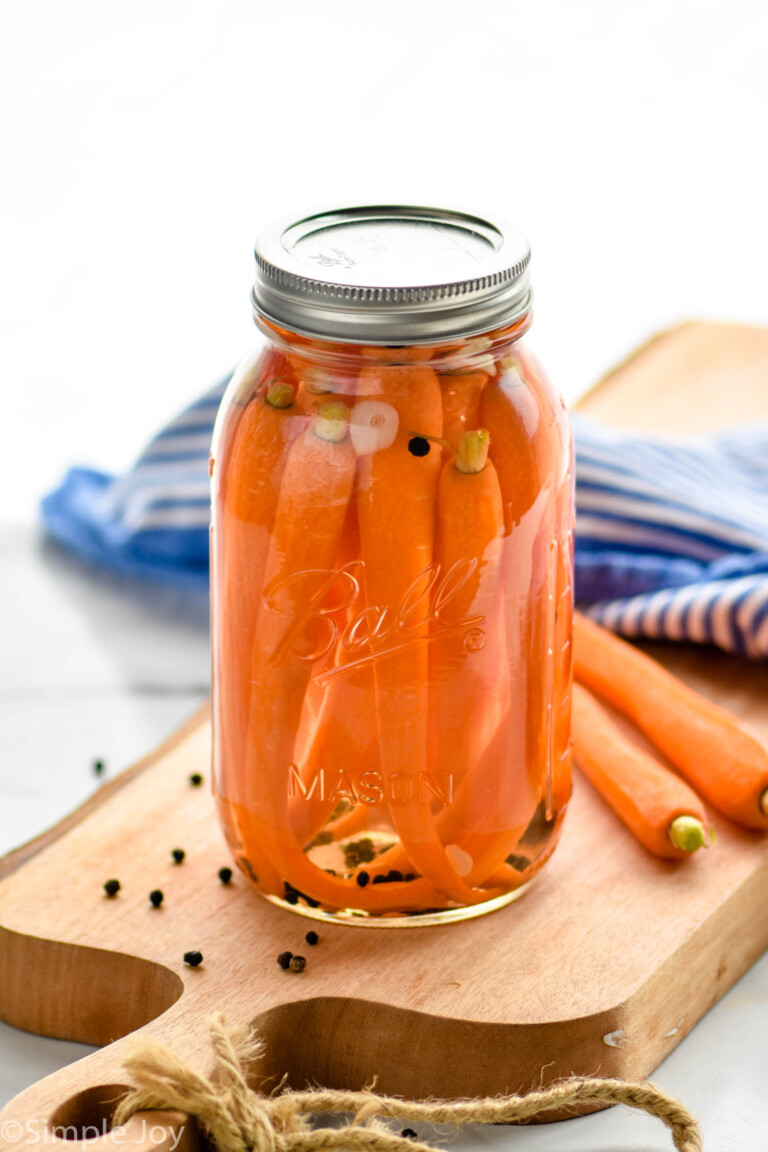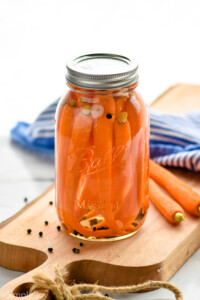 did you make this
Pickled Carrots