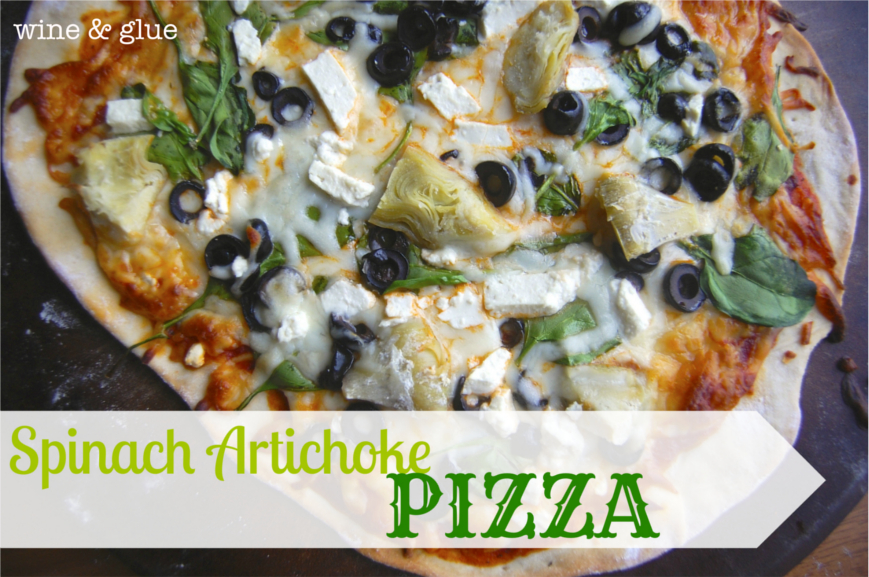 Let me paint a little picture for you. It involves me in a sundress as big as a house and in my final three months of pregnancy with Quinn.
Wait. You don't like the picture I'm painting so far??
Hang in there, it gets better.

Quinn was born in August, so the end of my pregnancy was hotter than Ryan Gosling standing on the sun. (Did you like that? As you read it could you hear Nathan letting out a huge sigh and rolling his eyes??)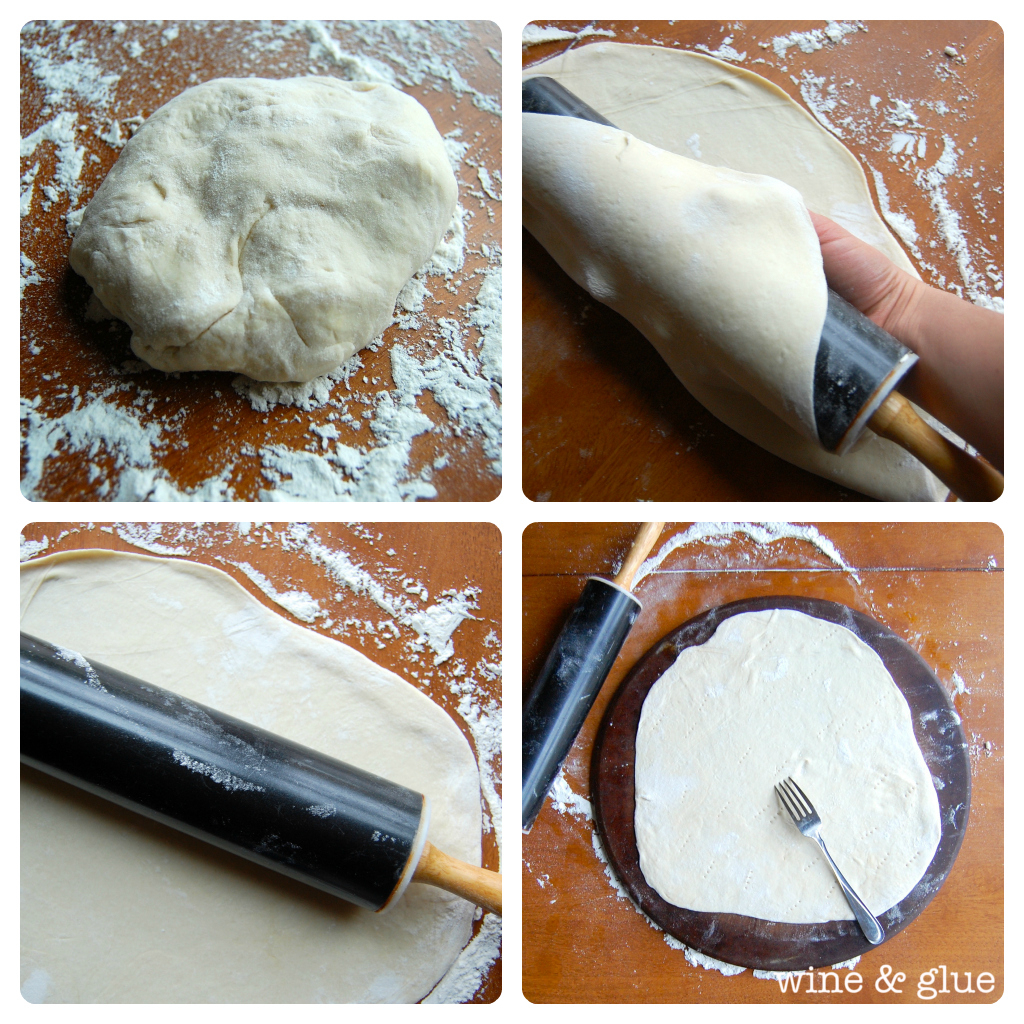 Anyway.
One of the things that pacified my heat exhausted, sore back, super crabby, pregnant for almost two years straight self was eating. And not just eating anywhere, eating at this amazing restaurant, Classic Slice. It's this super yummy pizza place with all sorts of unique creations and we went there approximately  . . . ahem . . . ahhh . . once a week in the summer of 2011. Seriously, just thinking of eating there is making me salivate.
My favorite thing to get there is a giant slice (and when I say giant slice, I mean like classic NY style HUGE slice) of their "I'm Feta Up!!" Which now that I think about it, it speaks to the compassion of the employees of Classic Slice that they didn't snicker at me every time I ordered it in my giant pregnant bloated state.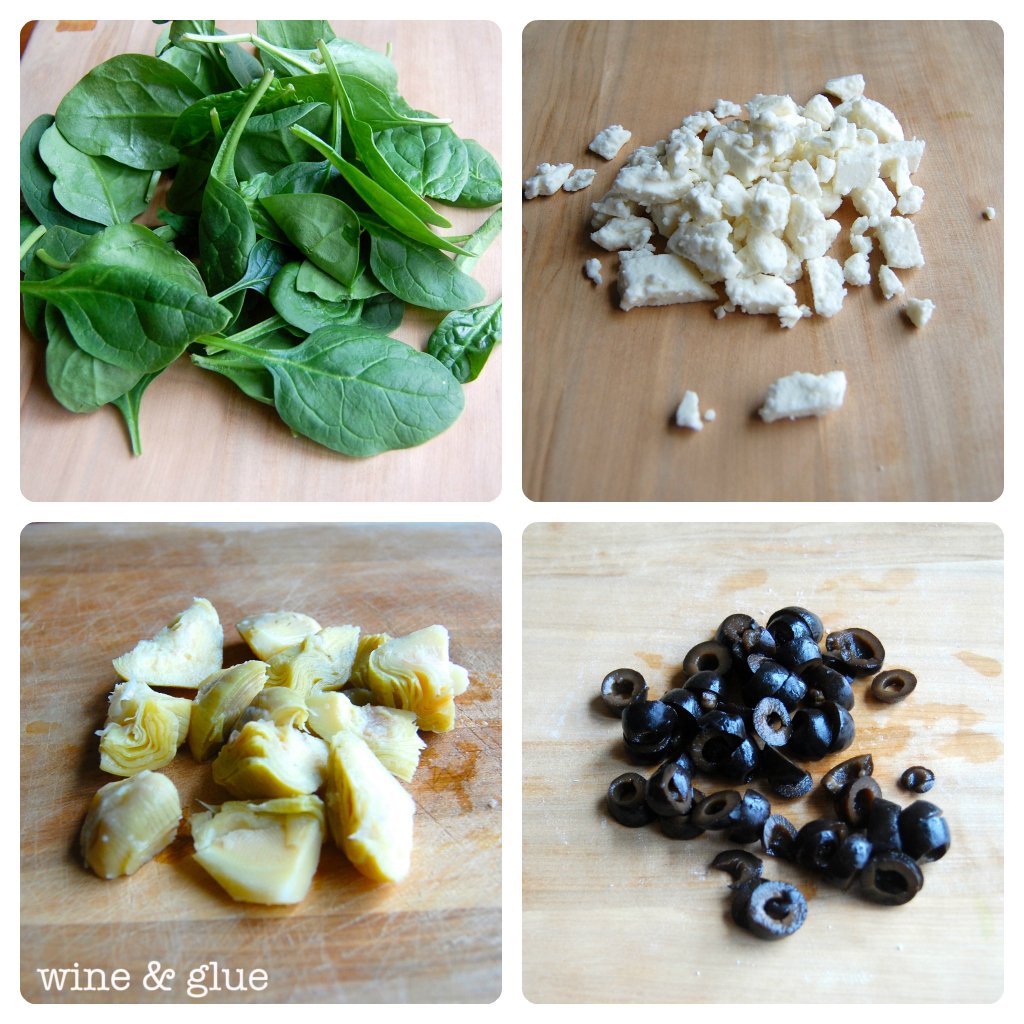 It is covered in the most delicious combination of black olives (which I could eat an entire bowl of in one sitting), spinach, artichokes, and feta. Why does the combination of spinach and artichokes with cheese have to be so irresistible??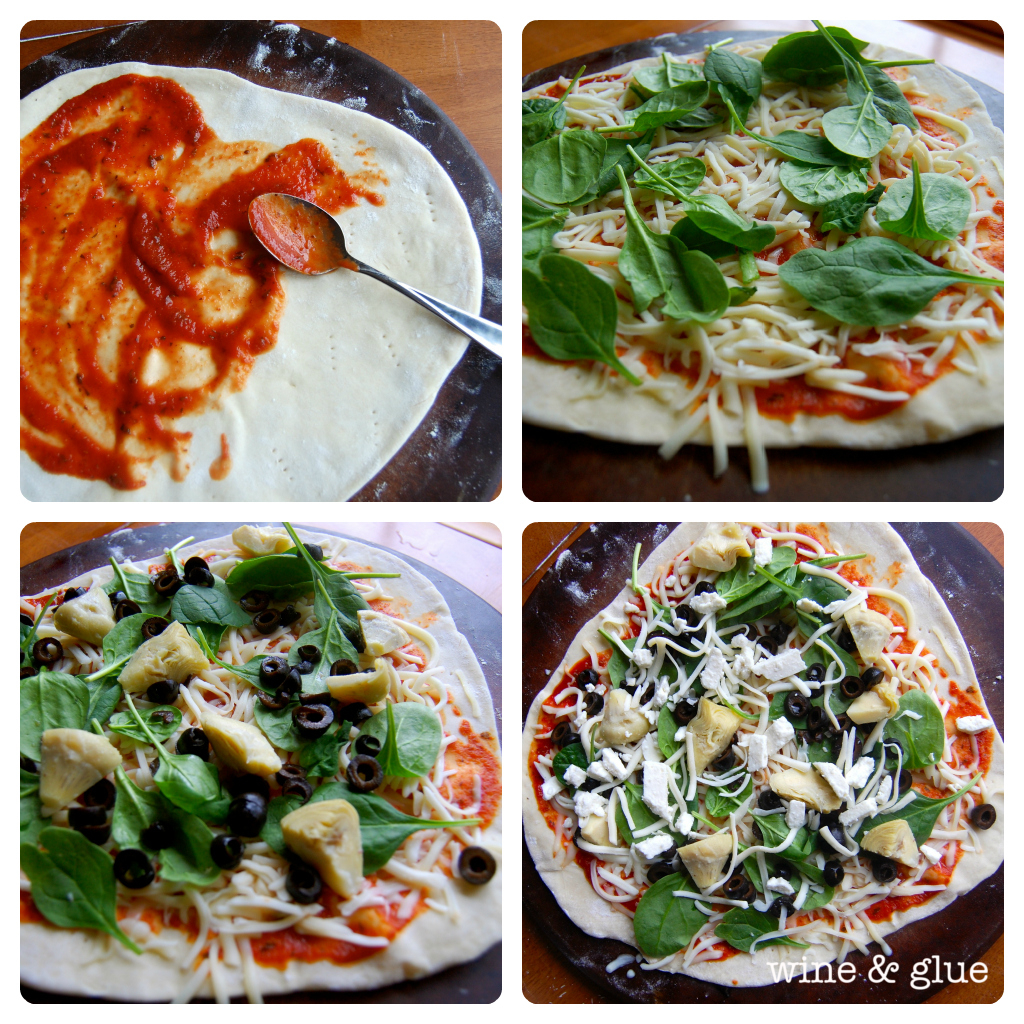 I made some the other day with this great homemade pizza dough. Do you make your own dough? It could not be simpler or cheaper! Flour, yeast, sugar, water, oil. Done. And the recipe that I make is enough for two crusts!! So while I'm devouring my artichoke pizza, Nathan can eat whatever nonsense he wants on his. If, on the other hand, your family all likes artichokes, just pop the other half in an air tight container and throw it in the fridge for the next night. Just be sure to leave it out on the counter for a good 10 minutes before you start to roll it out.
This pizza turned out awwwwwesome! And it was similar enough to the Classic Slice version that I was transported back to the summer of 2011. I swear I even felt a kick. Though that could have just been my hungry stomach leaping for joy as it was given Spinach Artichoke Pizza.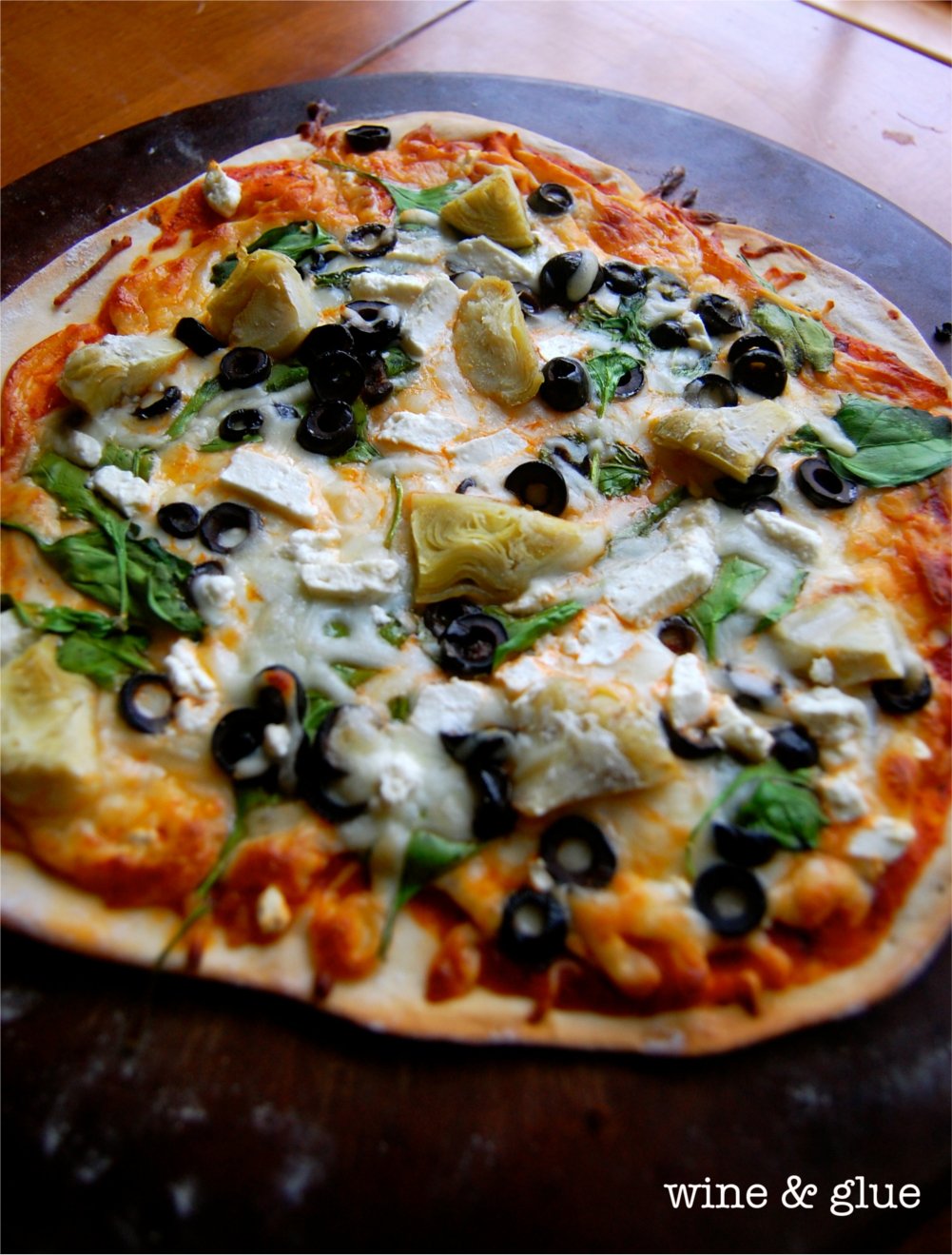 Another great thing about this pizza? It's so flavorful, that if you want to vegan on your Meatless Mondays, you can skip out on the cheese, and it would still be super delicious!
What's your favorite kind of pizza??
Spinach Artichoke Pizza

For the Crust
3 cups all purpose flour
1 (.25 ounce) package active dry yeast
2 TBSPs olive oil
1 tsp of salt
1 tsp of sugar
1 cup water at 110 degrees (plus more 1 TBPS at a time as needed)
The Good Stuff on Top
1/3 of a cup of jarred pizza sauce (we are Ragu people)
2 1/4 cups shredded mozzarella, divided (in other words, save some for the top)
1 cup baby spinach
1/2 cup of quartered artichoke hearts
1/4 cup sliced olives
1/3 cup of crumbled feta (FYI I used reduced fat and it was as awesome as the original, but like a third of the calories)
Heat the cup of water for about 30 seconds in the microwave (you don't want it too hot or too cold, get your Goldilocks on, and get it just right). Stir in the sugar and pour the yeast on top of the water. Gently mix the yeast into the water and let it sit while you do the other prepping.
Put the flour and salt into a food processor, and mix it up. Once the yeast as started to grow (it begins to look all foamy), run the food processor, and slowly add the water and oil.
If the dough doesn't begin to form into a ball, slowly add additional water 1 TBSP at a time until it does. (When I did it, I added another 1/4 cup of water.)
Let your dough rest in a greased bowl that is covered with plastic wrap for about an hour on your counter top.
When the dough is ready (after about an hour, it should have grown noticeably), divide it in half. If you are only making one pizza, put the extra dough in the refrigerator in an air tight container and use within the next three days.
Preheat the oven to 375 degrees.
Roll out your dough on a lightly floured surface, and using your rolling pin, place it on a baking stone or cookie sheet. Prick it lightly with a fork so it doesn't bubble up. Cook the dough for 8 minutes.
Spread out the sauce (add more if you like your pizzas saucier). Next add your mozzarella, then your spinach, artichokes, olives, and feta. Sprinkle more mozzarella on top at the end.
Cook your pizza for 15 to 20 minutes or until it is to your desired pizza doneness!
Looking for some other Meatless Monday options?