White Pizza Sauce is a simple and creamy white sauce that is perfect for white pizza!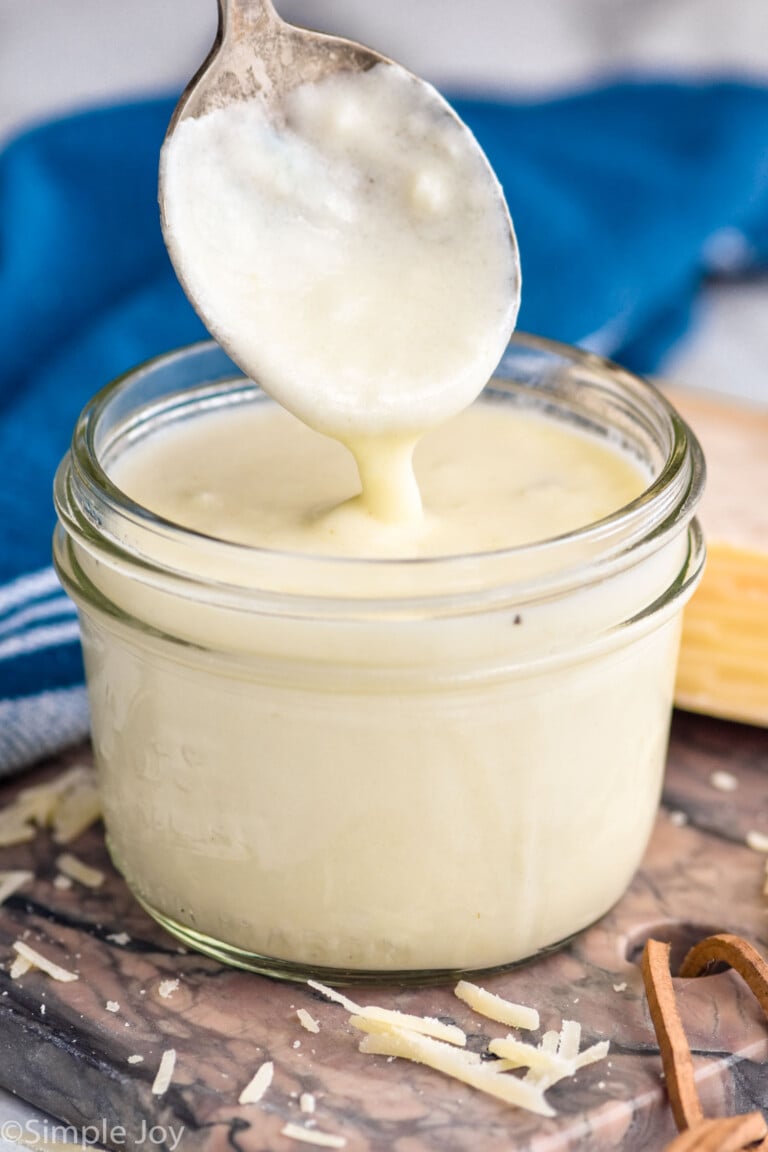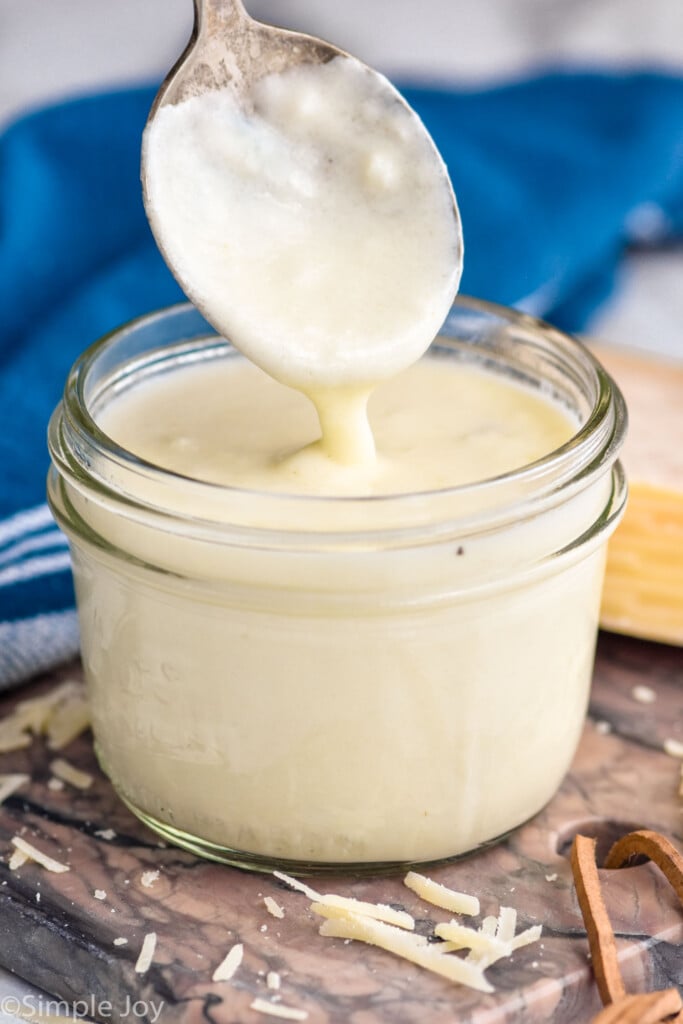 White Pizza is one of my very favorites. As much as I love a traditional pizza, white pizza is like a delicious special pizza treat. It starts with a white pizza sauce, and with my homemade recipe, you will be able to make this unicorn of the pizza world right at home.
Garlic White Sauce Ingredients
The list of what is in white pizza sauce is quite simple, but the combination is full of flavor and creamy perfection.
Unsalted butter: If you have salted butter on hand, that will work but taste the sauce before adding any more salt.
Garlic cloves: Adds a savory flavor to the sauce.
All-purpose flour: A key part of making a roux, which thickens cream-based sauces and holds the sauce together while it bakes on the pizza.
Whole milk: I do not recommend using a lesser-fat milk.
Heavy cream: Makes the sauce thick and creamy.
Parmesan cheese: Freshly grated will work best. I share more on this below.
Salt and pepper: For taste.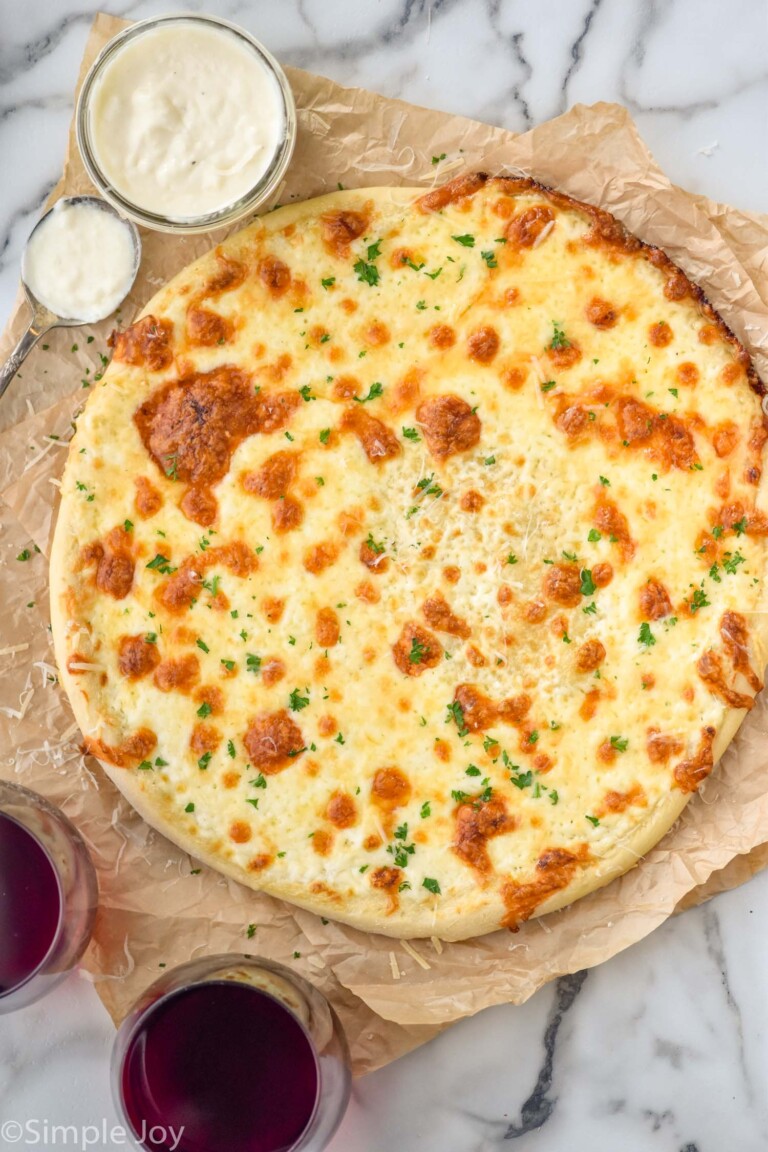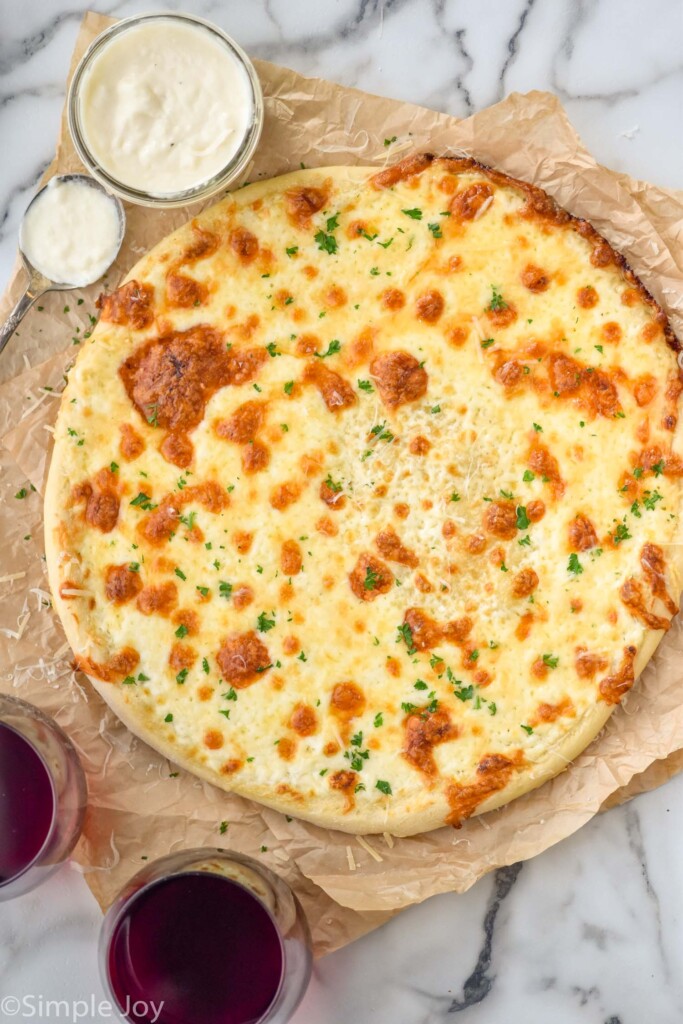 How to Make White Pizza Sauce
This is a brief overview of how this white pizza sauce recipe comes together. For the full recipe with all ingredients and measurements, scroll to the recipe card at the bottom of the post.
Sauté the garlic. Cook it in melted butter just until it's soft. Then whisk in the flour.
Create a roux. Very slowly whisk in the milk followed by the heavy cream. The more you add, the quicker you can add the liquid.
Add the cheese. Simmer the sauce and stir in the parmesan cheese. Season with salt and pepper.
Add it to the pizza crust. Read more on how to make a pizza with white sauce below.
TOP PICK
Pizza Stone
Using a pizza stone makes for the most crisp crust on a pizza. You will love it!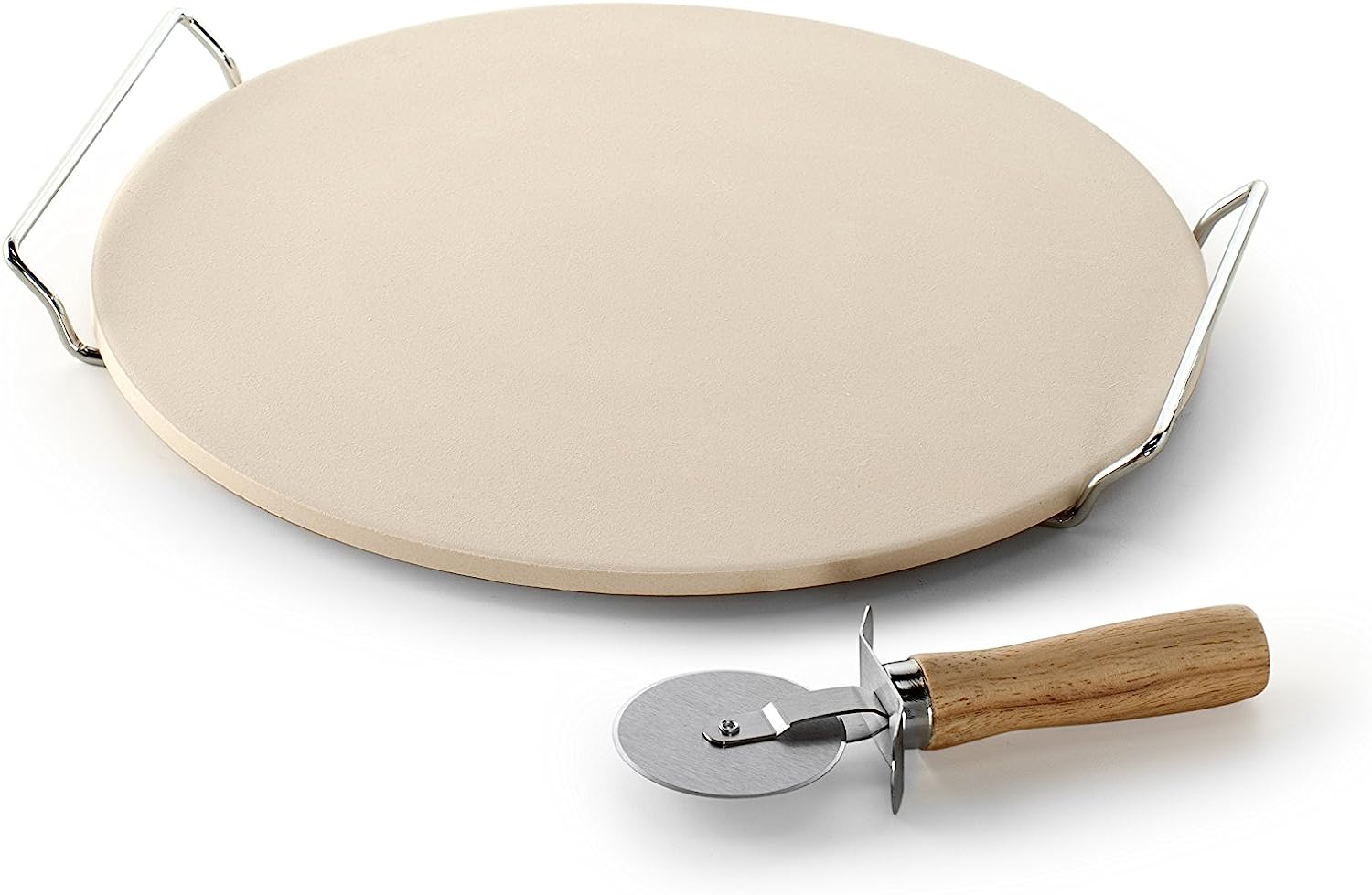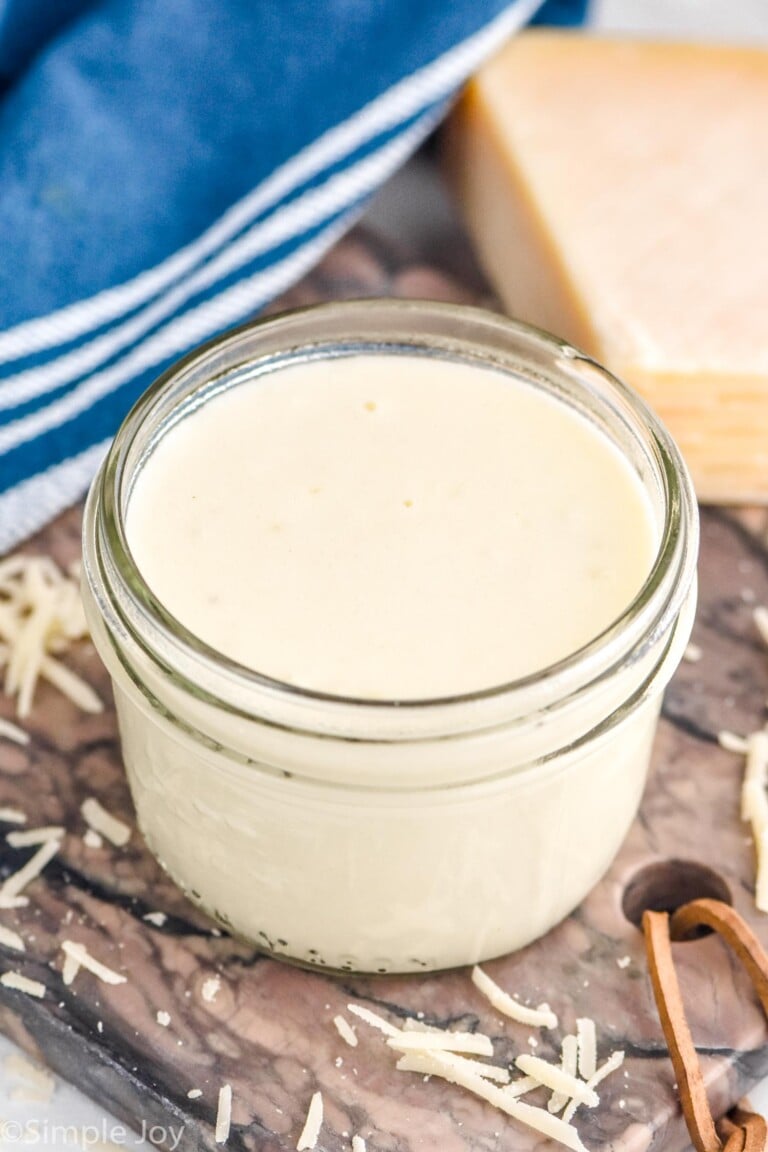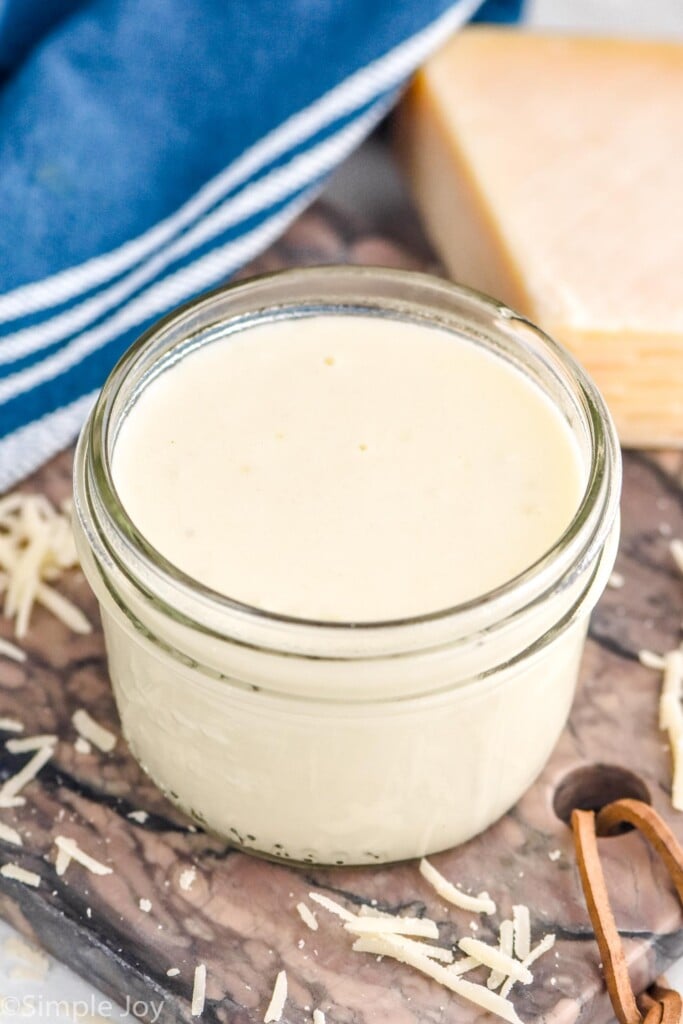 Making a Roux
The key to this sauce holding up in the oven is to make a roux, which is a combination of fat and flour. The combination of flour and butter in this recipe is essential in holding the cream-based sauce together while the pizza bakes.
To make a successful roux, two things are important in my opinion. First, make sure to fully whisk the flour and butter together at the beginning. This will ensure that your sauce doesn't have a flour taste. Second, make sure to add the liquid (both the milk and heavy cream) very slowly. The roux must be able to absorb the liquid and distribute it evenly before you add more. This process only takes a minute or so, but may require some patience.
Grating Parmesan From a Block
Shredded parmesan cheese adds flavor and creaminess to this white sauce for pizza. For this recipe and any recipe that calls for shredded cheese, I highly recommend buying a block of cheese and grating it yourself. Pre-shredded cheese is covered in preservatives that keep it from clumping in the bag, but this also prevents it from melting well. Trust me on this and take the extra couple of minutes to grate it yourself.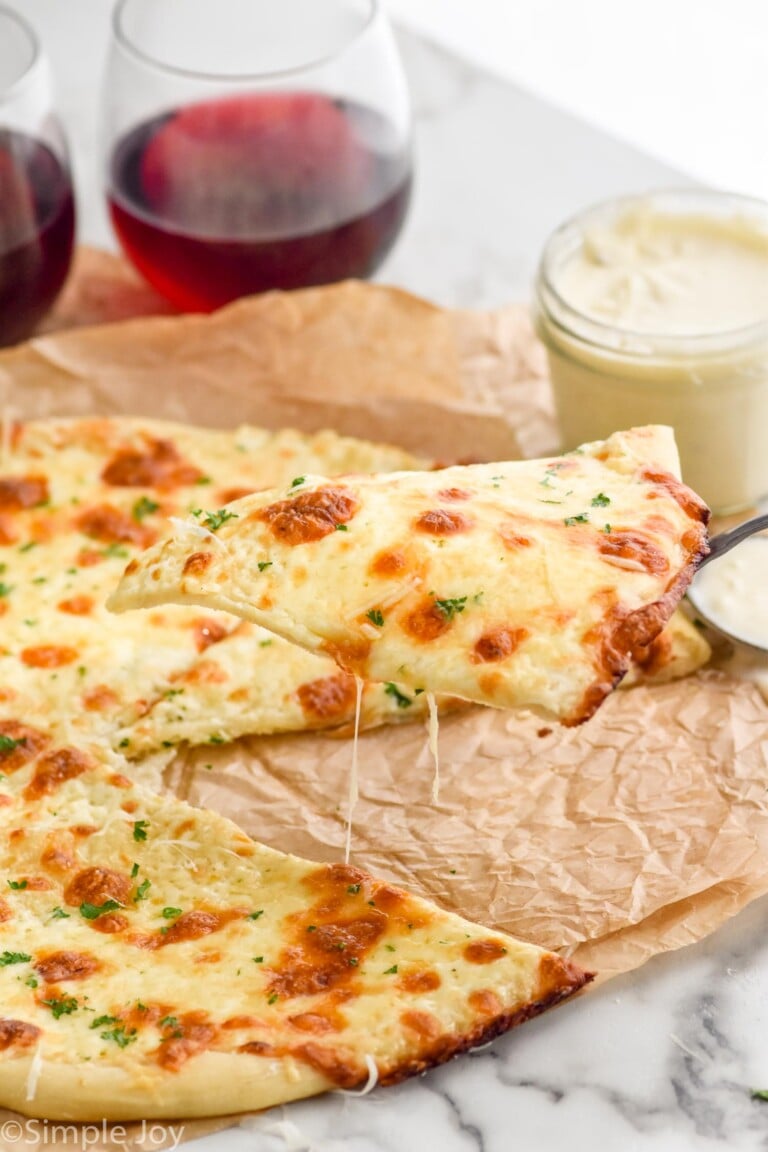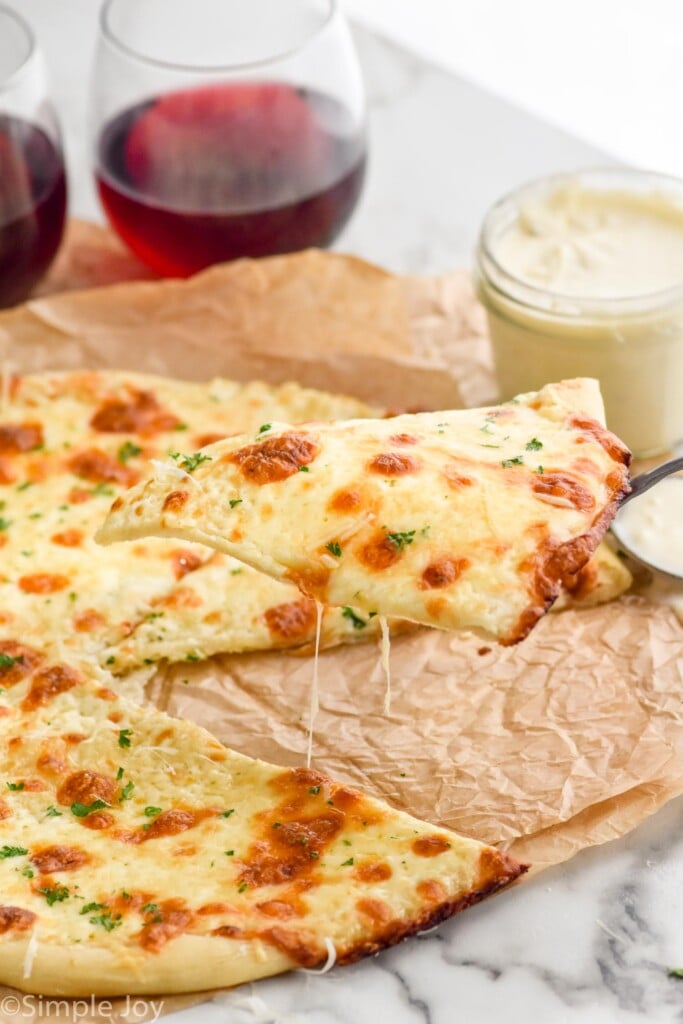 How to Use White Pizza Sauce
You can use this white garlic pizza sauce any way you want to on your favorite homemade pizza. It can be as simple as crust, sauce, and cheese! No matter what, I recommend that you start with my Homemade Pizza Dough. I give step-by-step instructions and photos that make it super easy to follow. Here are a few ideas:
Add cheese. Start with my homemade pizza dough, add some white pizza sauce, followed by two cups mozzarella cheese and one-fourth cup Parmesan. Bake the pizza at 400 degrees Fahrenheit for 20 minutes.
Add sausage and vegetables. Another way I love to use this sauce is in my White Pizza recipe. In addition to the sauce, Italian sausage, green olives, mushrooms, and artichokes are topped on the crust to create a hearty and flavorful homemade pizza. Warning, this may become your new pizza obsession.
Spinach Artichoke Pizza: Add some spinach to the white sauce in this combination of pizza and spinach artichoke dip.
The Secret To The Perfect Pizza Dough Recipe
This pizza dough is the BEST for homemade pizza. It makes enough for two pizzas and is simple to make with my detailed instructions and step-by-step photos.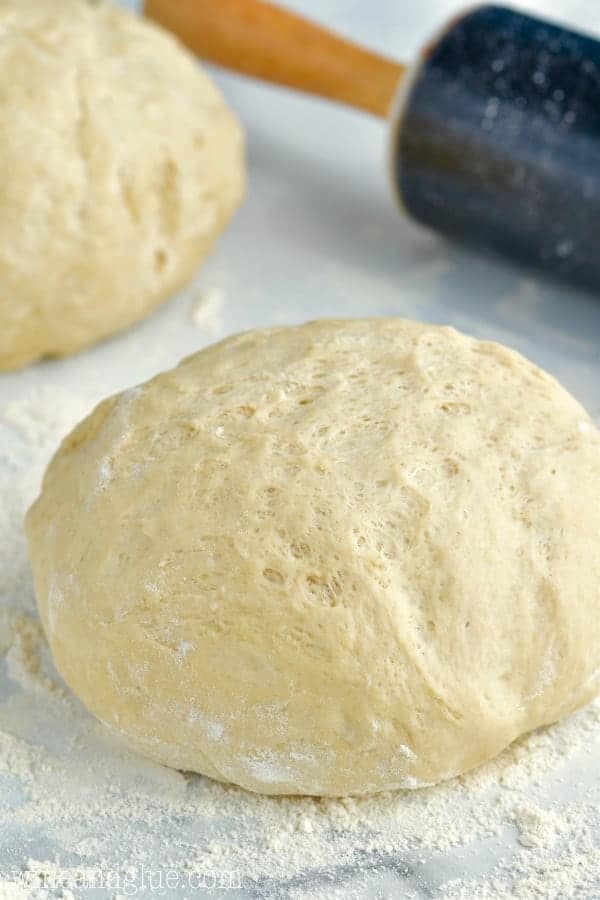 Storing White Sauce
This sauce is best to use while it is fresh so I recommend making it when you are ready to make a pizza. That being said, you can make it up to 24 hours in advance to use on your pizza. Always use your best judgment with leftovers.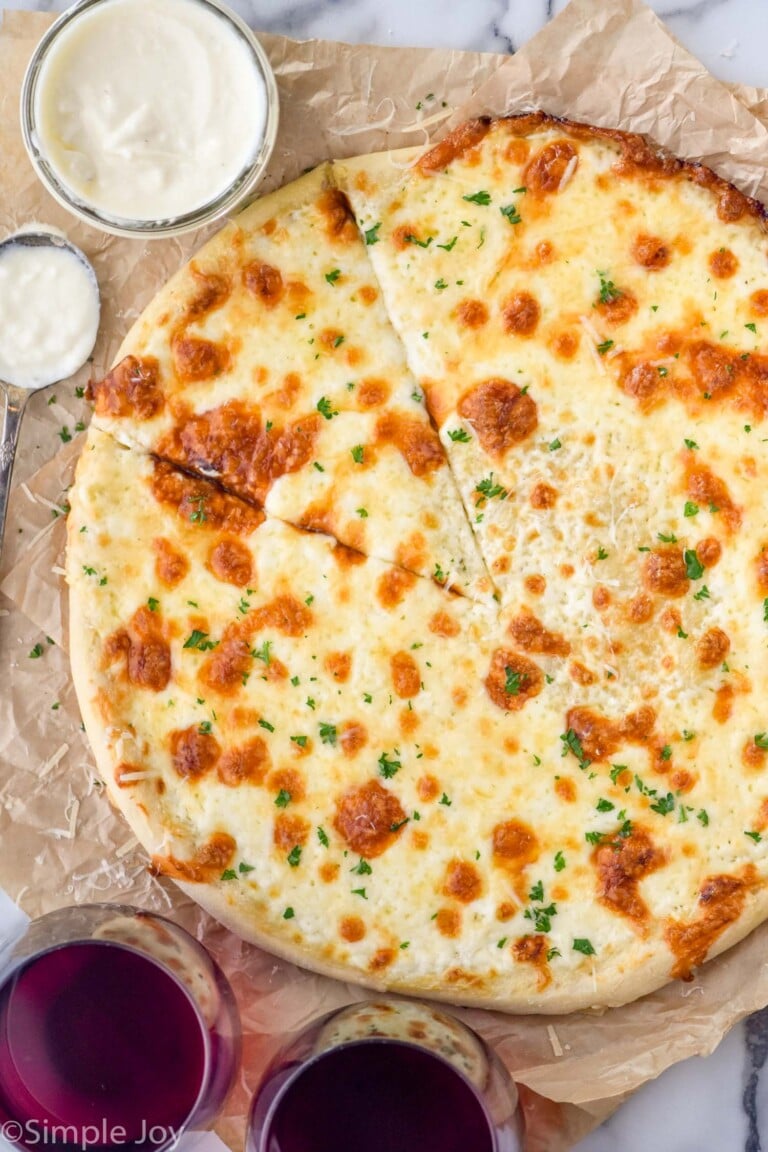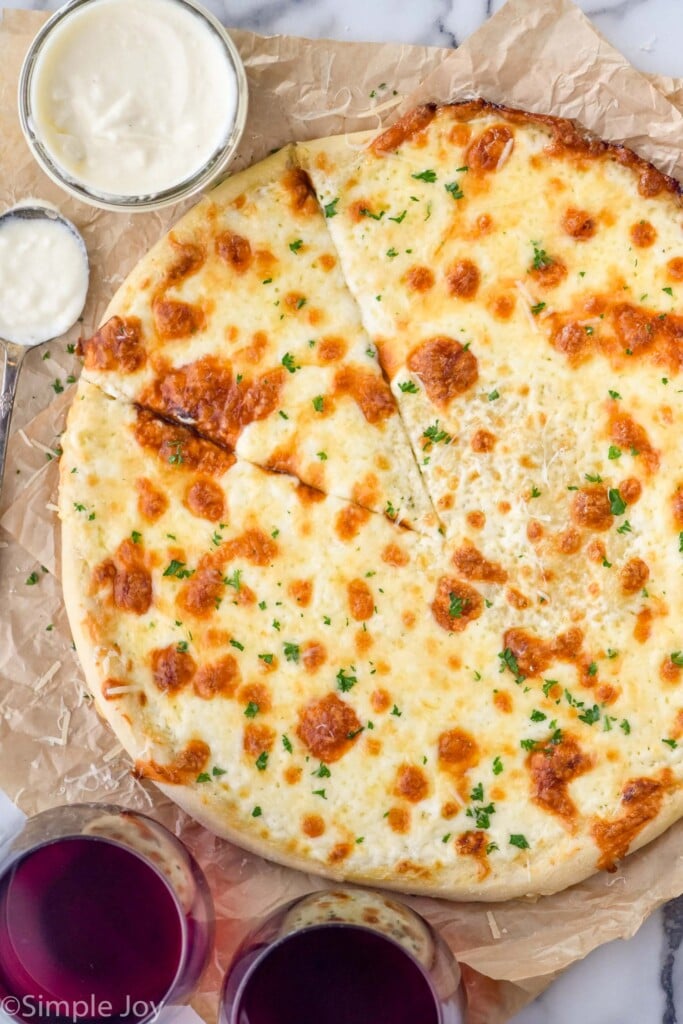 Other Pizza Recipes
If you love pizza night and all its fixings, try some of my other pizza recipes! You are sure to find your next favorite.
This BLT Pizza is all of the best parts of a BLT in pizza form.
These Pizza Sliders are perfect bites of pizza on a bun. They are a great easy dinner or appetizer!
A combination of pizza and tacos, Taco Pizza is the answer to your dinner rut!
If you make this white pizza sauce recipe or any of my other recipes, leave a comment and let me know what you think. I love hearing from you!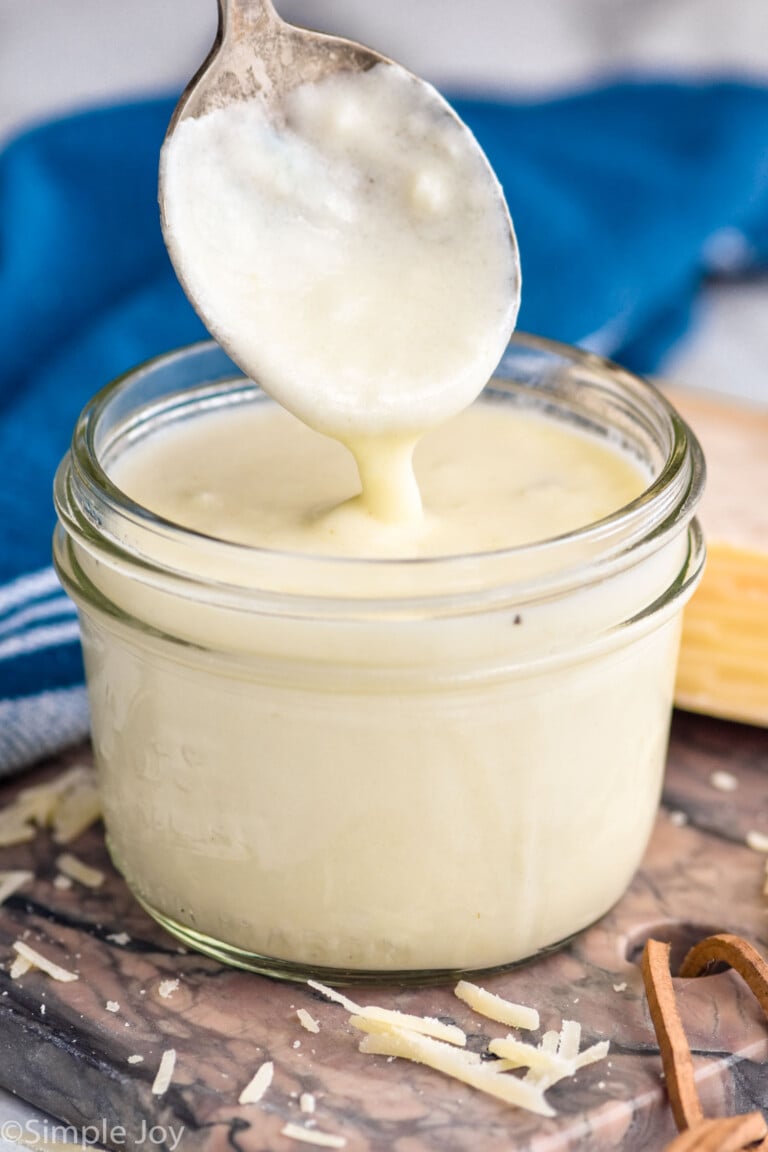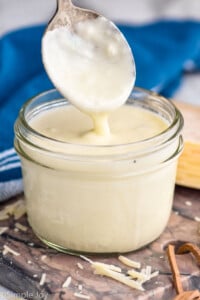 White Pizza Sauce
White Pizza Sauce is a simple and creamy white sauce that is perfect for white pizza!
Ingredients
1

tablespoon

unsalted butter

3

garlic cloves

minced

1/2

tablespoon

all-purpose flour

3/4

cup

whole milk

1/4

cup

heavy cream

1/4

cup

parmesan cheese

freshly grated will work best

salt and pepper

to taste
Instructions
Melt the butter over medium heat in a medium-sized skillet.

1 tablespoon unsalted butter

Add in the garlic and sauté until just soft. Then whisk in the flour.

3 garlic cloves,

1/2 tablespoon all-purpose flour

Turn the heat to medium-low and very slowly (starting with just a tablespoon or 2 at a time), whisk in the whole milk and then the heavy cream. The more you add, the more quickly you can add it.

3/4 cup whole milk,

1/4 cup heavy cream

Bring to a simmer and stir in 1/4 cup freshly grated parmesan cheese. Continue stirring until it melts. Season with salt and pepper to taste (I used about 3/4 kosher salt and 1/8 freshly ground black pepper).

To use on a pizza, pour over rolled out pizza crust, top with 2 cups mozzarella cheese and 1/4 cup parmesan and bake at 400 degrees Fahrenheit for 20 minutes.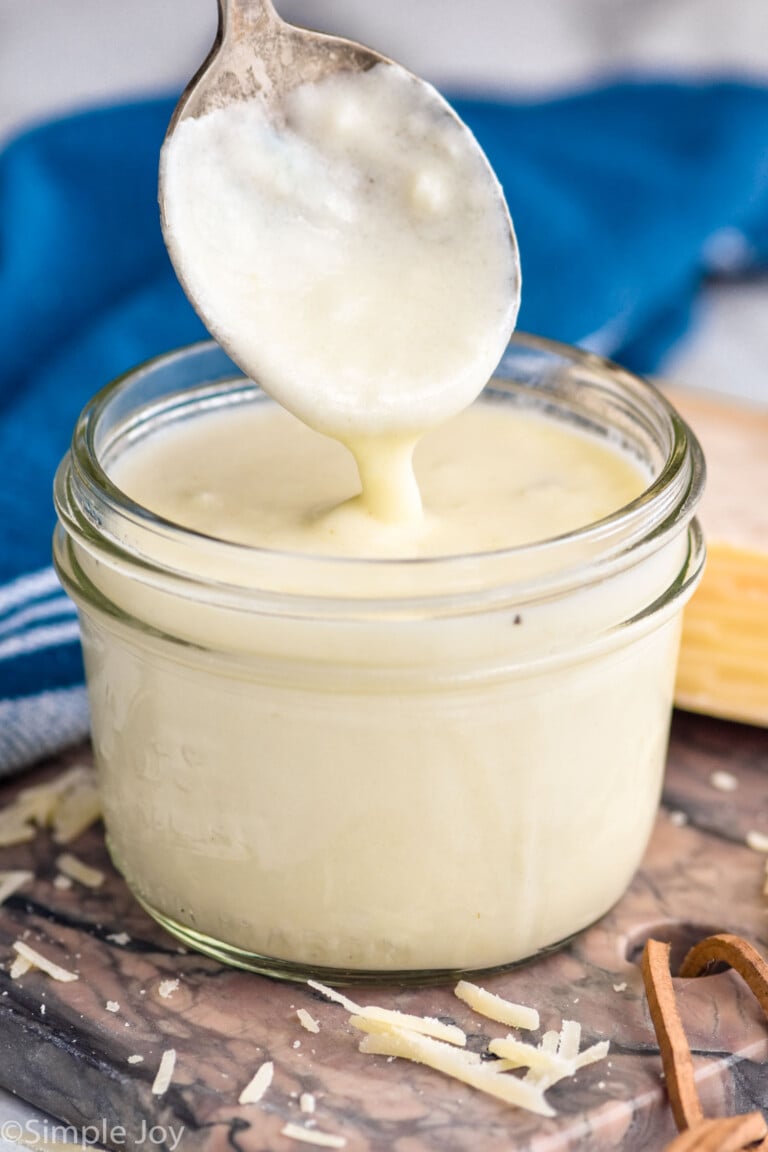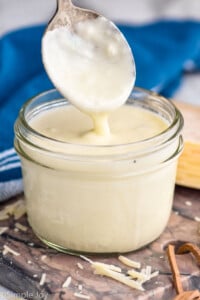 did you make this
White Pizza Sauce