Spinach Artichoke Pizza is going to become your go to pizza recipe. Made with a delicious white sauce, this easy artichoke pizza with spinach aims to please.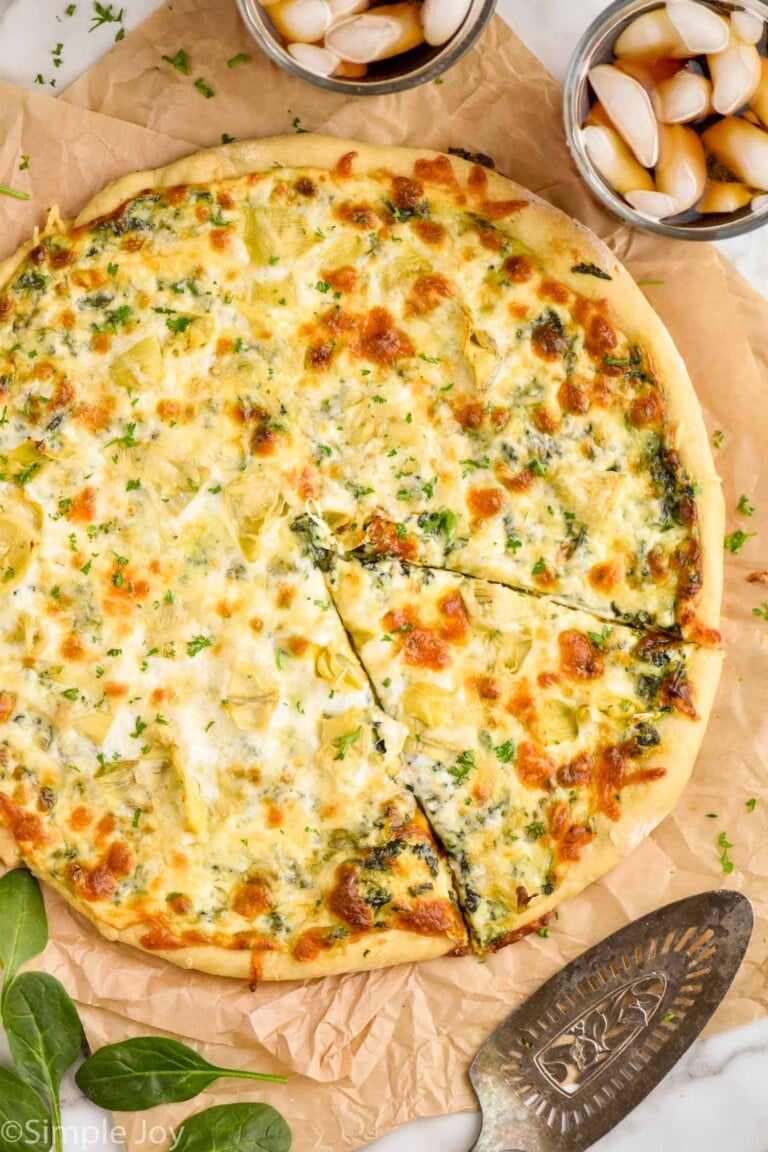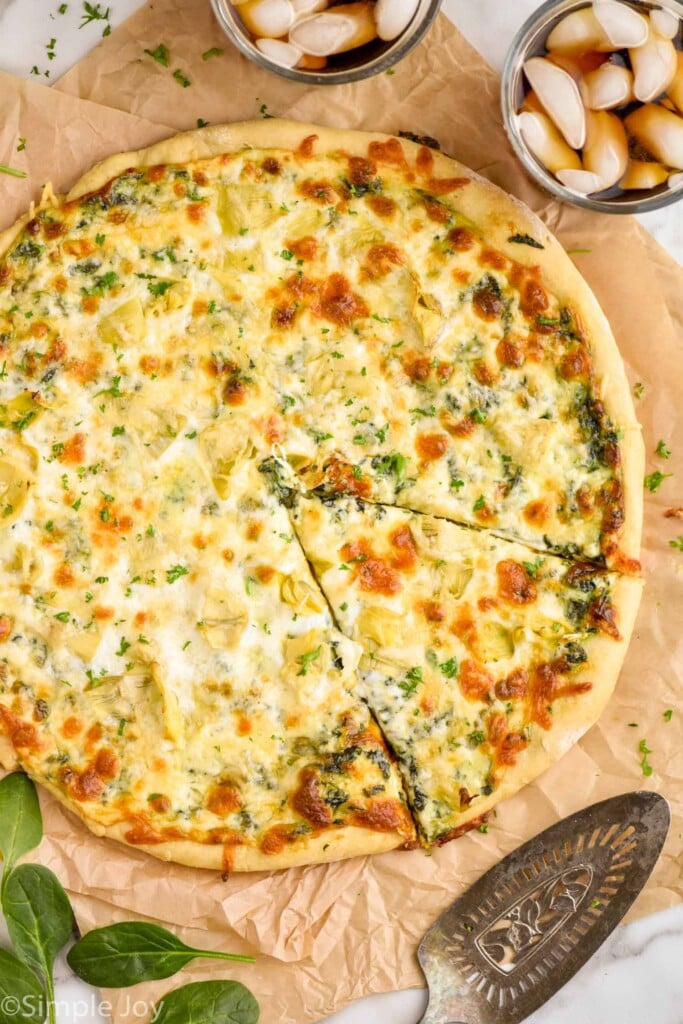 Spinach and artichokes together are one of my very favorite flavor combos. Probably one of the reasons I love my Spinach Artichoke Dip so much and could make a meal out of it.
In this pizza recipe, we are making that spinach artichoke combo shine by making a white pizza sauce with wilted spinach and topping it with cheese, and artichokes. This easy to make pizza will win over crowds and it is a great vegetarian dinner option.
How to Make Artichoke Pizza
This is a brief overview of how to make this delicious pizza recipe. For the full recipe with all of the instructions, see the recipe card at the bottom of the post.
Make the dough. I highly recommend referring to our pizza dough post. There are step by step photos to ensure that your homemade pizza dough will come out perfect.
Make the béchamel sauce. Make a roux and saute some garlic. Then add in whole milk, heavy cream, spinach, and Parmesan cheese. You can read more on this below.
Put together the pizza. After rolling out the dough, spread the sauce on top. Then add the shredded mozzarella, artichoke hearts, and Parmesan cheese.
Bake the pizza. The pizza should cook in a 400 degree oven for 20 to 25 minutes.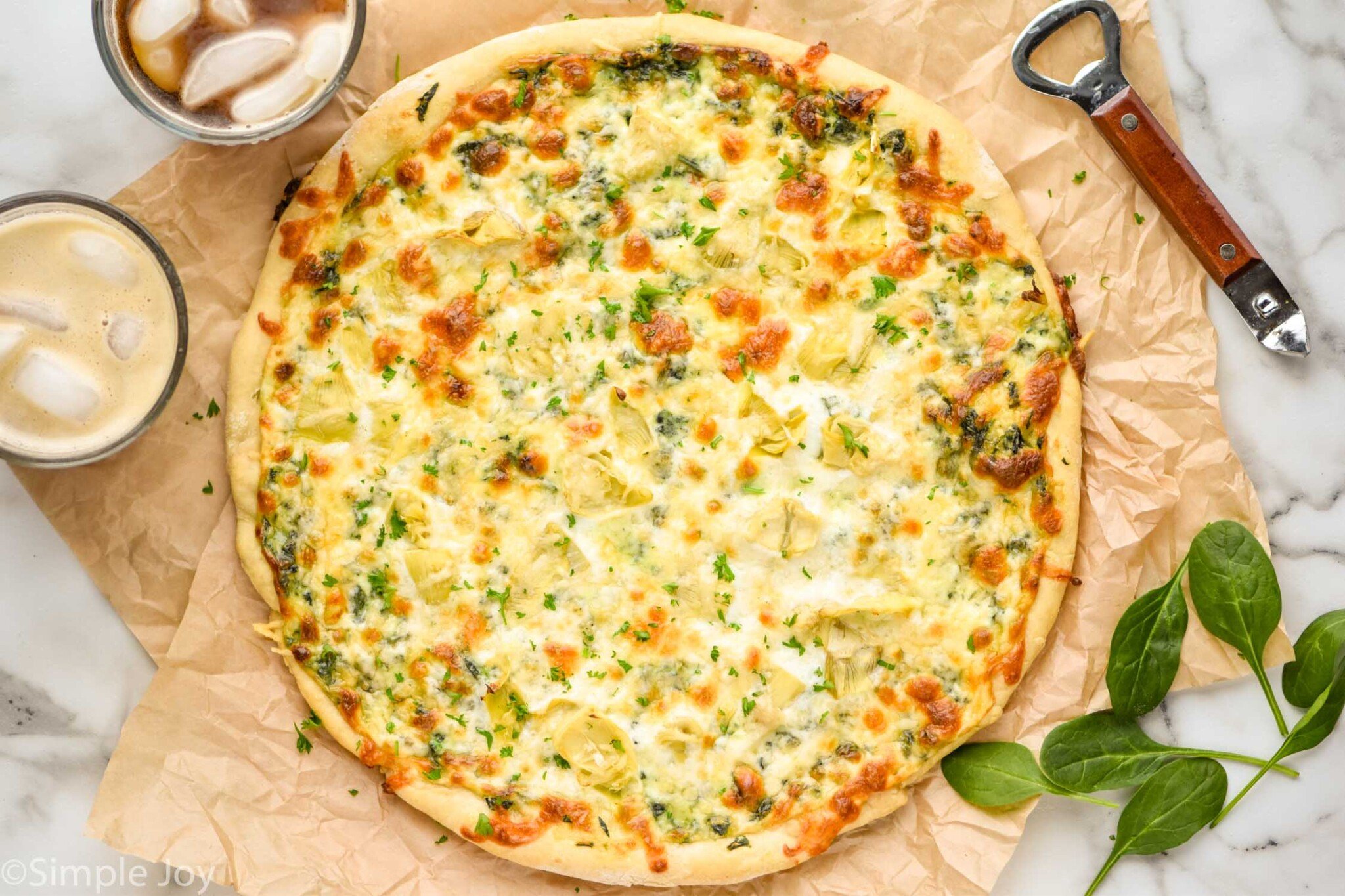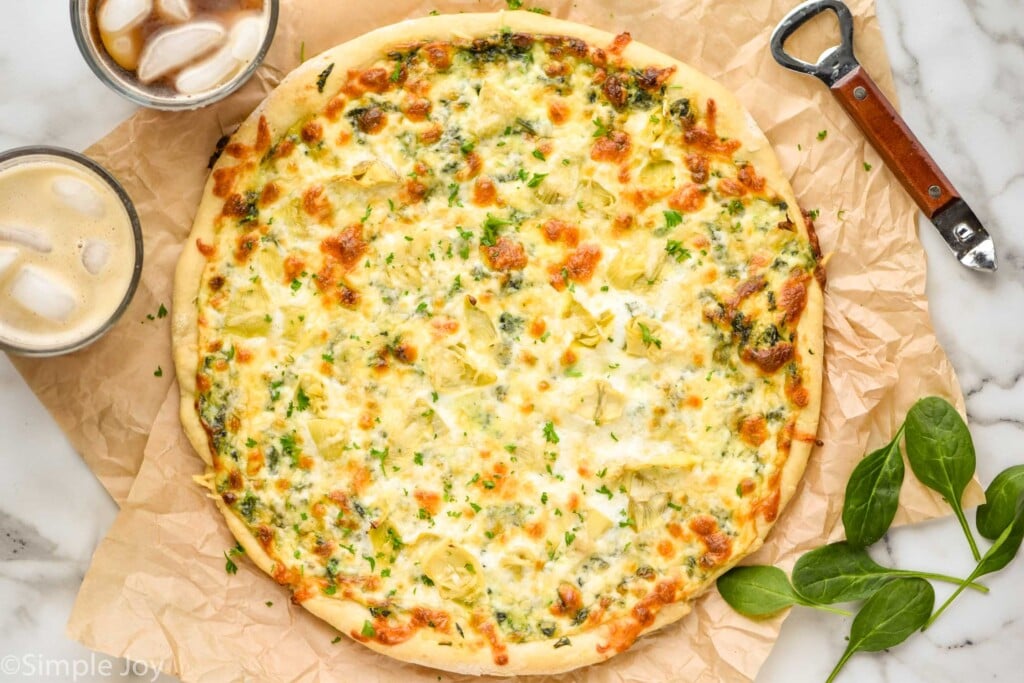 Making White Sauce for Pizza
I love having pizza with white sauce. It's a different spin than red, and it feels like such a treat. White Pizza Sauce is very easy to make. It starts with a roux and then we add in cream and milk. In this version, we are also going to wilt spinach in it and melt Parmesan cheese.
A key to a white pizza sauce is a roux. The combination of the flour and the butter is what will hold the sauce together while it bakes. If you were to use my Alfredo Sauce, for example, it wouldn't hold up in the oven because it doesn't start with a roux.
Making a Roux
A roux is the base of a cream sauce. It is the combination of fat and flour. The butter coats the flour molecules and allows them to be evenly distributed throughout the sauce.
The key, in my humble opinion, to a good roux is two fold. First, make sure to fully whisk together the butter and flour to start. If you don't, your sauce will have a distinct flour taste. Second, add the liquid (milk and heavy cream here) slowly. You want the roux to slowly absorb the liquid and evenly distribute in it before you add more. Though, this isn't something that should take you more than a minute or two.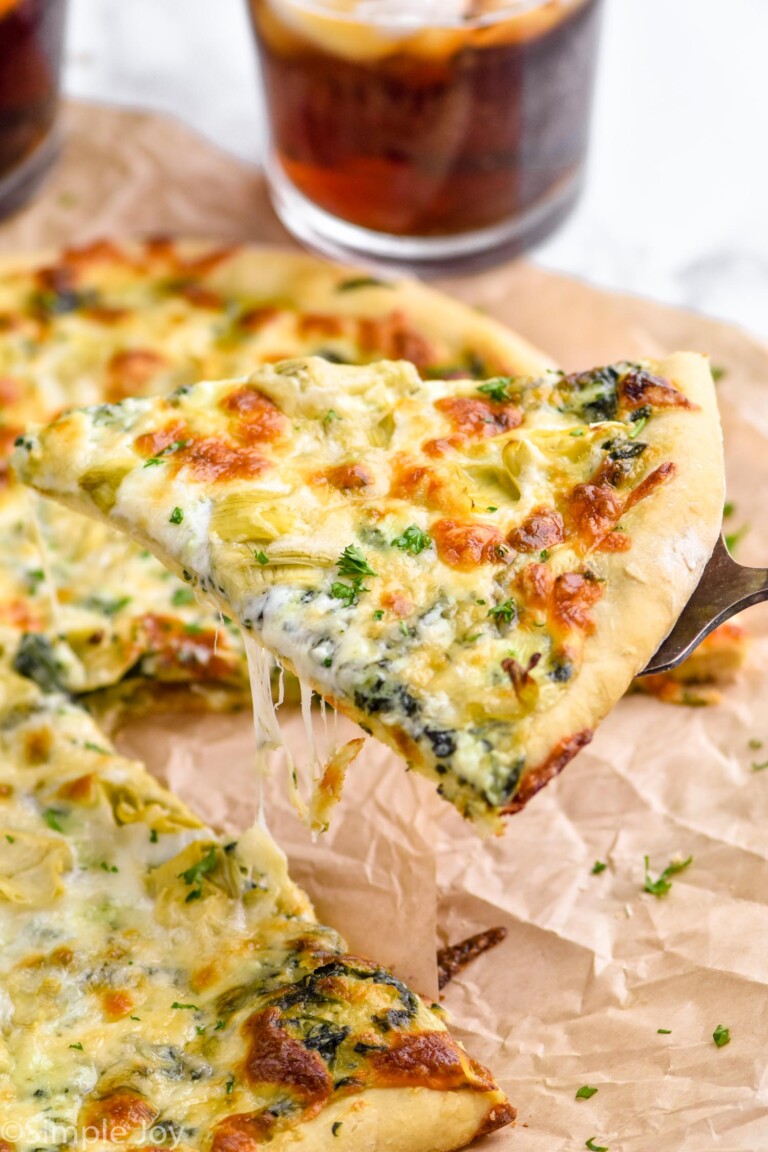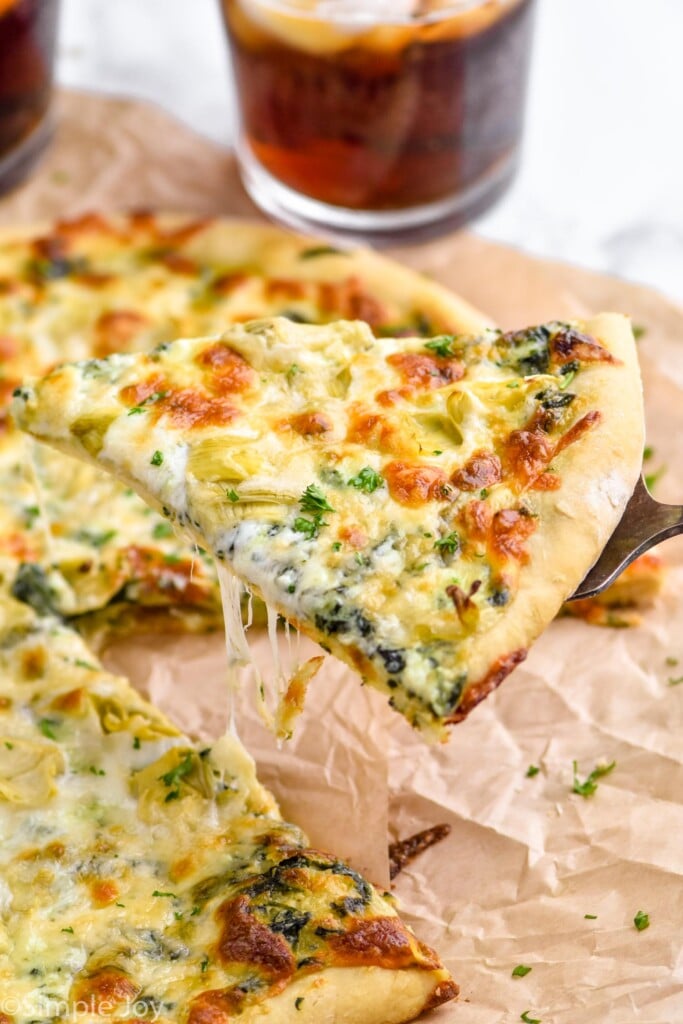 Pizza Dough
If you are tight on time, you can absolutely use store-bought pizza dough. That being said, I highly suggest using my homemade pizza dough recipe. It is very easy to make, and is fail proof. This recipe will make enough dough for two 12 inch pizzas.
The Best Homemade Pizza Dough
This will become the only pizza dough recipe you use! Easy to follow step by step photos that will give you the perfect pizza dough!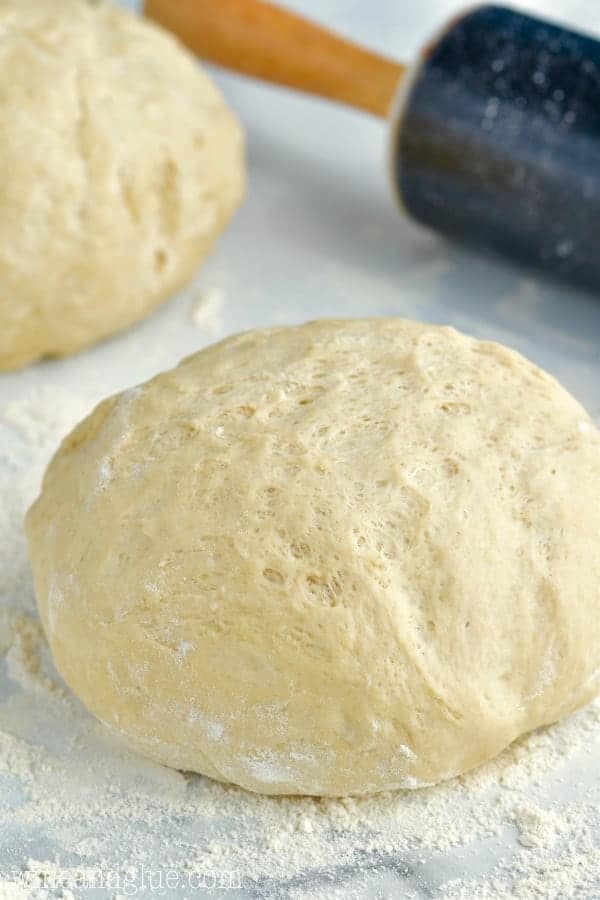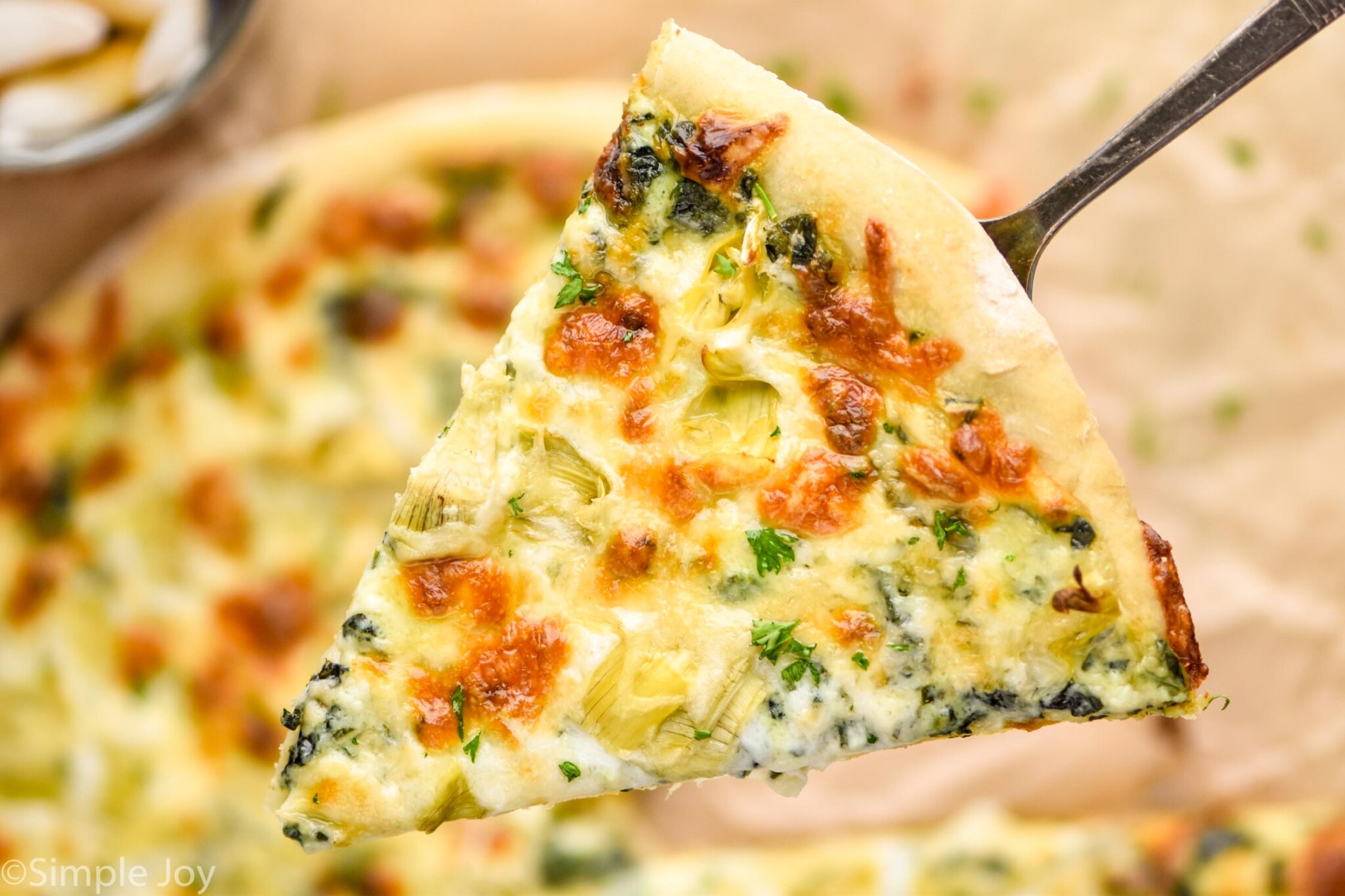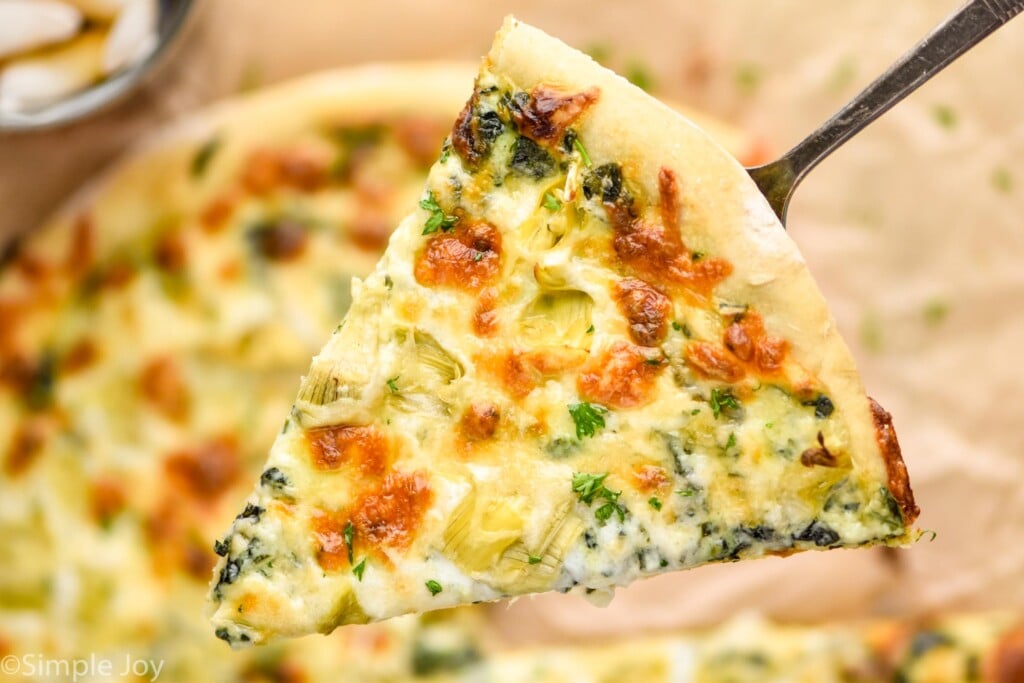 Artichokes for Spinach Artichoke Pizza
I love using canned quartered artichoke hearts. They are so easy to use, because it is just a matter of opening the can, draining the liquid, and in this case giving them a rough chop. You may want to pick through them a little and discard any tough outer leaves from the artichoke hearts.
You can also use frozen artichoke hearts. Make sure to fully thaw them before you prepare them for the pizza.
Grating Your Own Cheese
It's the cheese police, back again, to really insist that you grate your own cheese when making this recipe. Pre-shredded cheese that you can buy at the store is covered in preservatives that make it not melt as well. Taking the extra five minutes to melt your own cheese will be well worth it.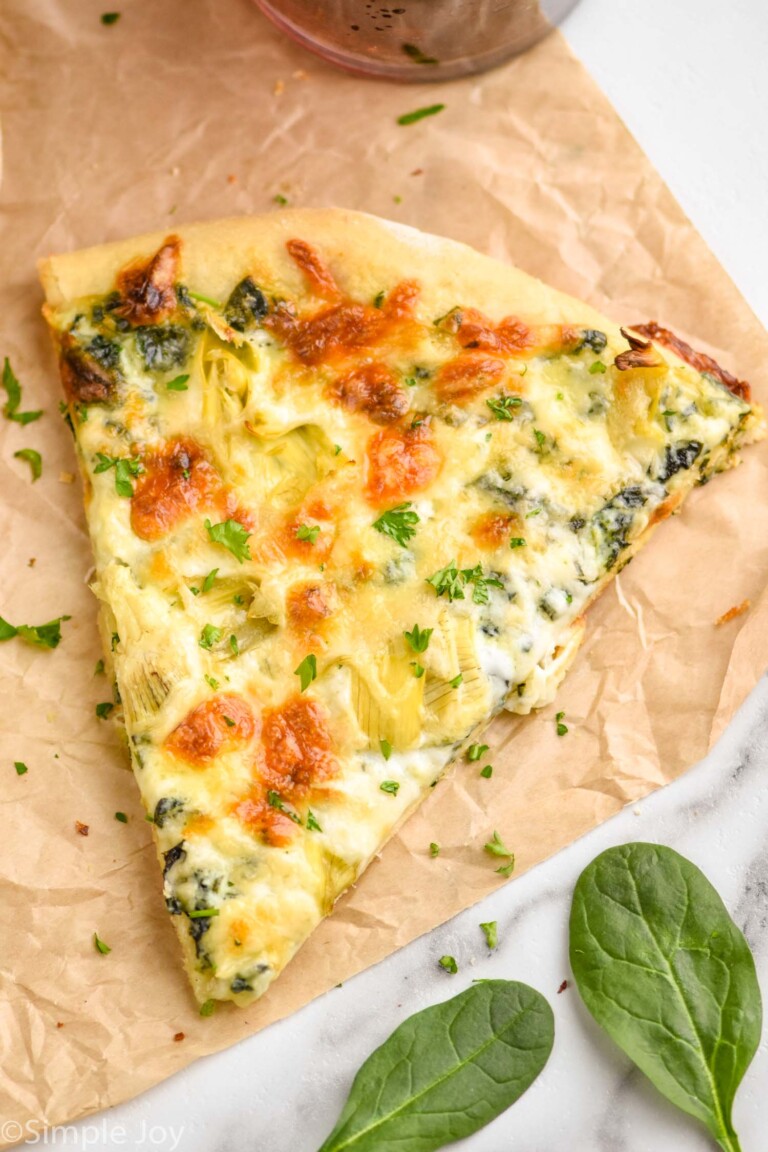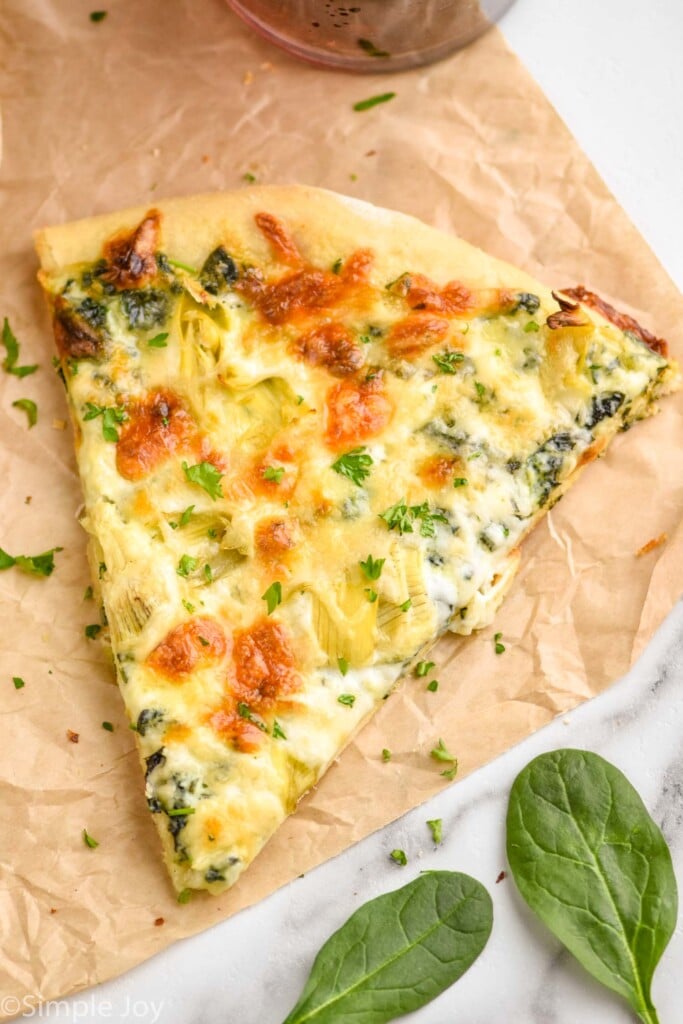 What to Serve with Spinach Artichoke Pizza
This recipe is great on it's own, but if you want to fill out your table with a few sides, here are some of my suggestions.
If you make this Spinach Artichoke Pizza or any of my other recipes, leave me a comment and let me know what you think!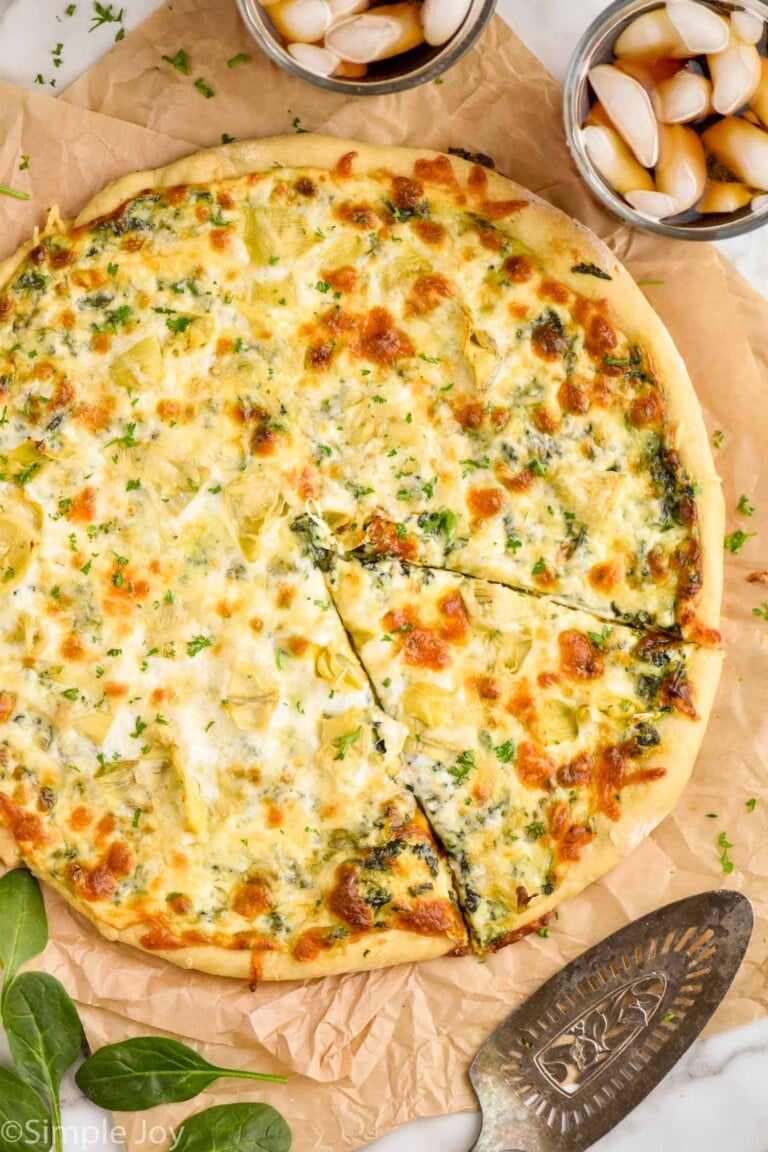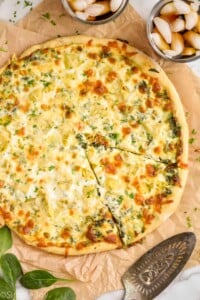 Spinach Artichoke Pizza
Spinach Artichoke Pizza is going to become your go to pizza recipe. Made with a delicious white béchamel sauce, this easy pizza aims to please.
Ingredients
For White Pizza Sauce
1

tablespoon

unsalted butter

3

garlic cloves

minced

1/2

tablespoon

all purpose flour

3/4

cup

whole milk

1/4

cup

heavy cream

3

cups

baby spinach

chopped

1/4

cup

parmesan cheese

freshly grated will work best

salt and pepper

to taste
For Pizza
1 1/4

cups

shedded mozzarella cheese

1/2

cup

artichoke hearts

go through and discard and tough layer

1/4

cup

shredded Parmesan cheese
Instructions
Preheat your oven to 400 degrees.
To Make the White Pizza Sauce
Melt the butter over medium heat in a medium sized skillet.

Add in the garlic and sauté until just soft. Then whisk in the flour.

Turn the heat to low and very slowly (starting with just a tablespoon or two at a time), whisk in the whole milk and then the heavy cream.

Bring to a simmer and add the chopped spinach a little at a time, stirring, until all of it is wilted.

Stir in 1/4 cup freshly grated parmesan cheese. Continue stirring until it melts. Season with salt and pepper to taste.
Constructing the Spinach Artichoke Pizza
Roll out your pizza dough and put it on a prebaked pizza stone or a 12 inch pizza tray. Spread the sauce over the dough.

Top with the mozzarella cheese. Then add the artichokes and finally top with the Parmesan cheese.

Bake for 20 to 25 minutes or until the edges of your pizza are golden and the cheese is well melted.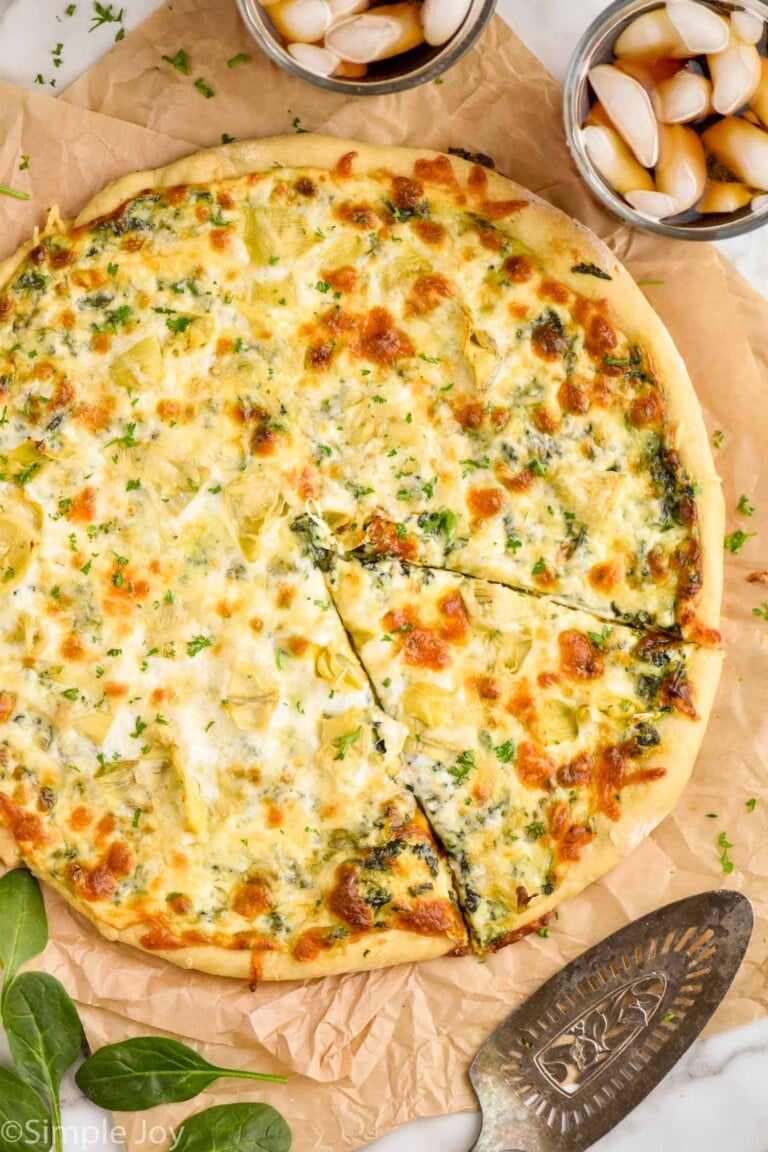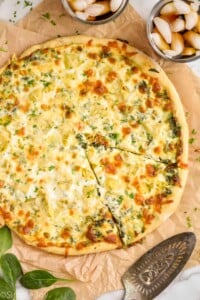 did you make this
Spinach Artichoke Pizza