Zucchini Lasagna is a delicious way to make a low carb dinner. In this version we are also making it vegetarian while still loading it with incredible flavor. With our tried ant true method, you won't end up with watery zucchini lasagna!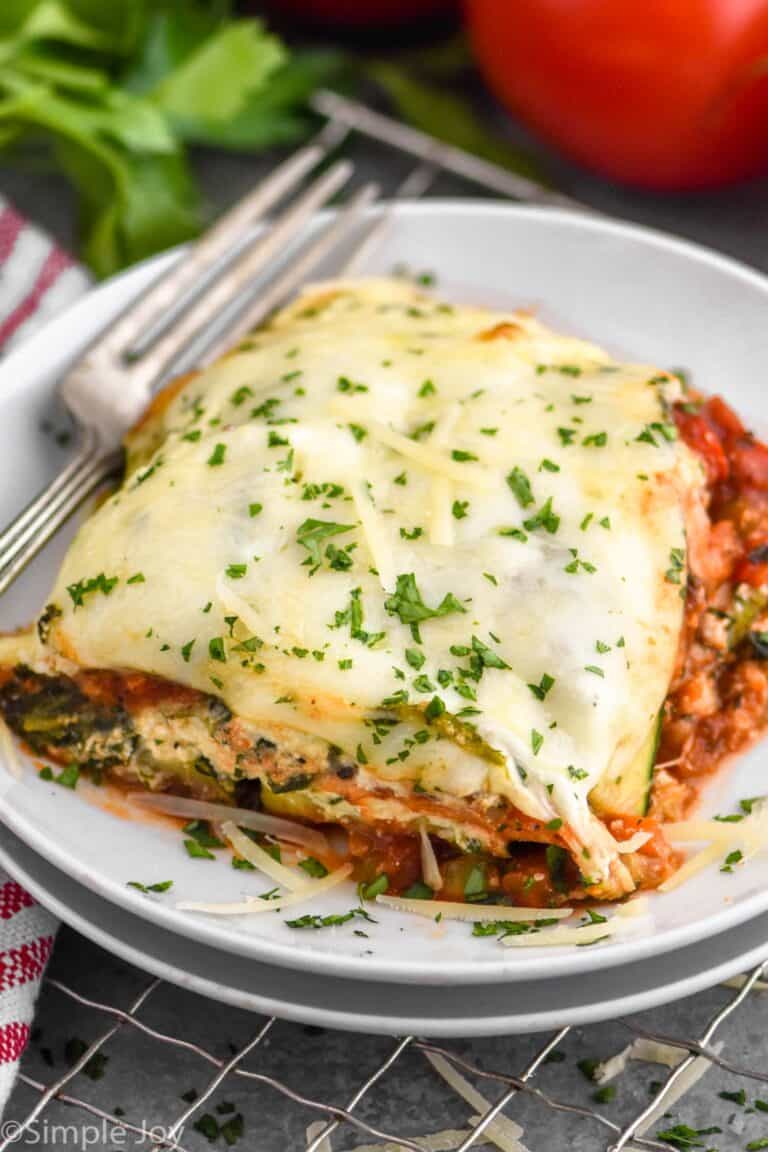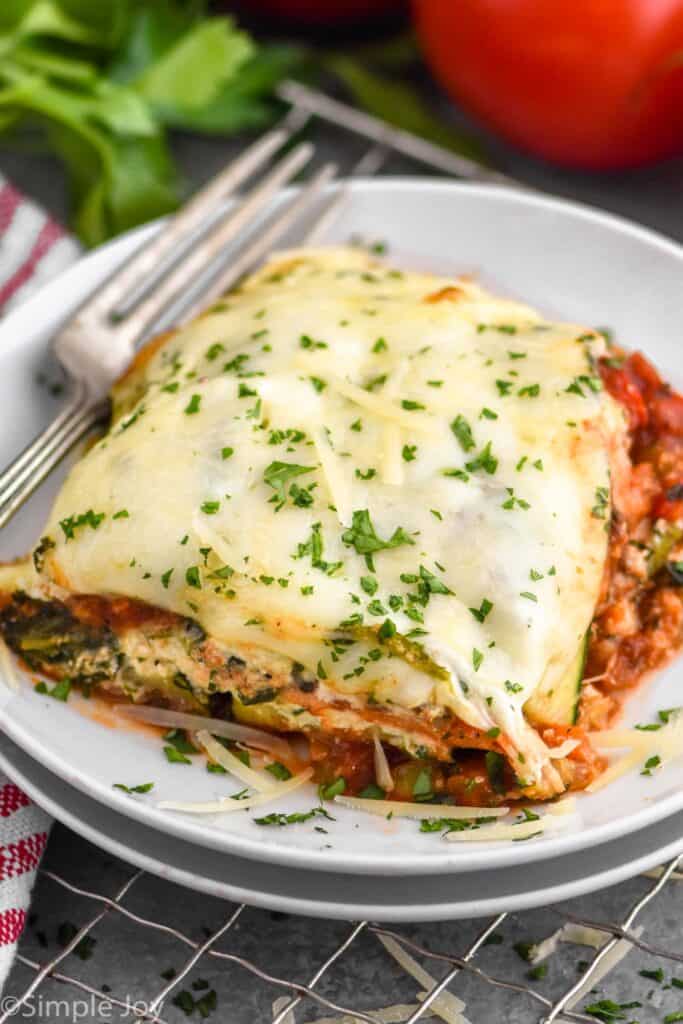 One request I've been getting from readers lately is for more vegetarian recipes. I grew up vegetarian, so I have a wealth of recipes that will be headed your way here and there. Even if you aren't a dedicated vegetarian, adding a vegetarian meal to your menu once or twice a month can be great for your diet!
The first up on the list is this delicious Zucchini Lasagna. What I love about this recipe is that even though we are taking out traditional noodles and meat, we aren't losing any flavor! This recipe is full of vegetables and loaded with seasonings that will make your heart sing.
READER REVIEW
I've tried many veggie lasagna recipes and this is my new favorite!
How to Make Zucchini Lasagna
This recipe has a few steps to it, but it can either be made the night before or it can be frozen and baked at a later date. I promise it is well worth the effort.
You'll notice that I often say, "while this is happening, do this." This recipe goes faster if you multi-task. Make sure that you see the recipe card at the bottom of the post for all of the measurements and the full printable instructions.
Roast zucchini slices: This recipe starts by roasting thinly sliced zucchini we've seasoned with salt and pepper. Doing this gets rid of a lot of extra moisture, making it a key step.
Prepare the sauce: While the zucchini is roasting, sauté vegetables to make the sauce. Once they are soft add in the tomato sauce, tomato paste, basil and oregano.
Make the ricotta mixture: While the vegetables are sautéing, mix together the ricotta cheese, egg, and fresh parsley.
Assemble the lasagna: Start with half the sauce, then add zucchini, then half of the ricotta mixture, and top that with all of the spinach. Top all of that with half of the mozzarella. Repeat all of this with the remaining sauce, zucchini, ricotta mixture, and finally the rest of the mozzarella and some Parmesan cheese.
Bake: Put the lasagna in the oven covered for 30 minutes and then uncovered for 15 minutes.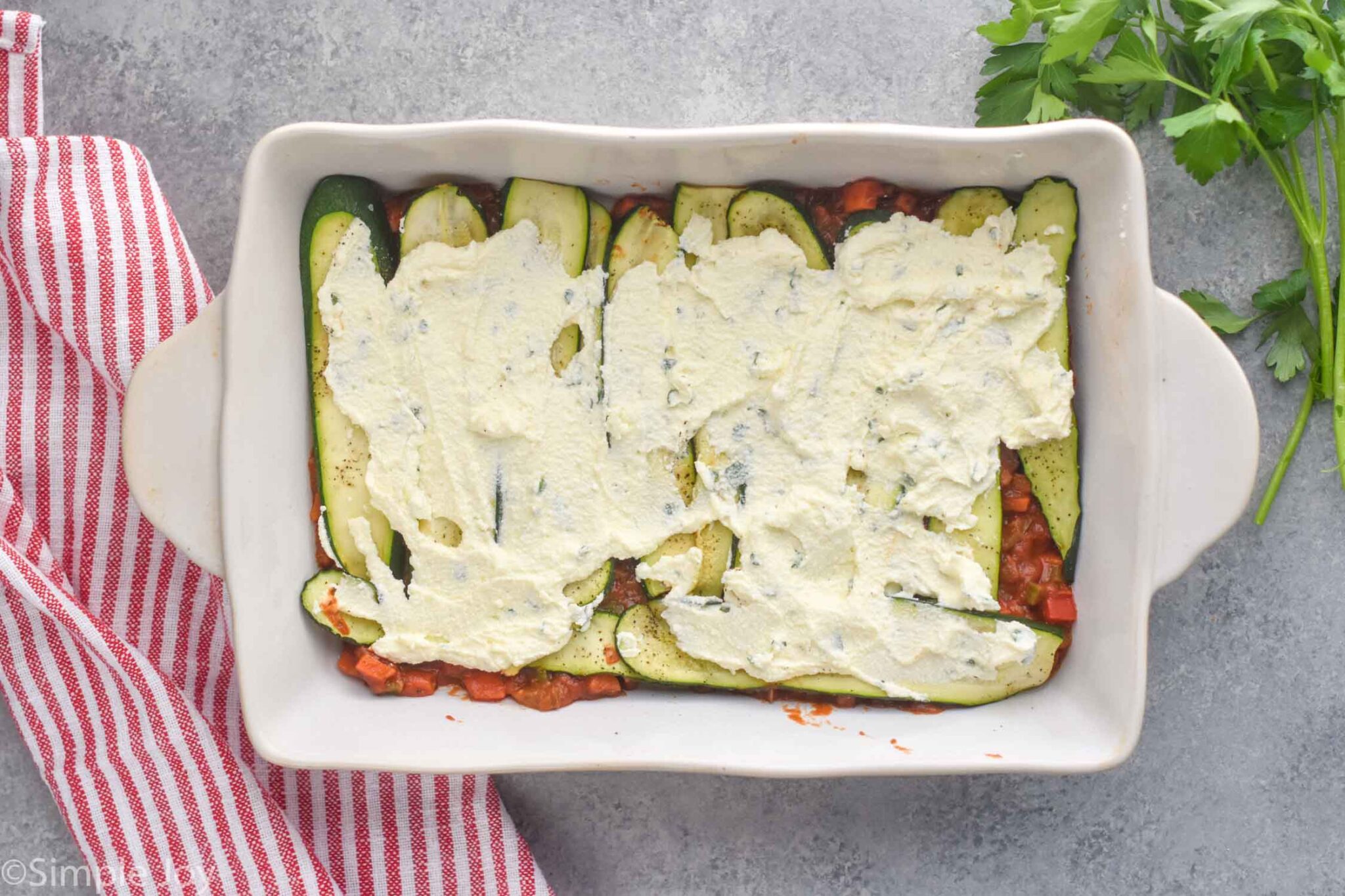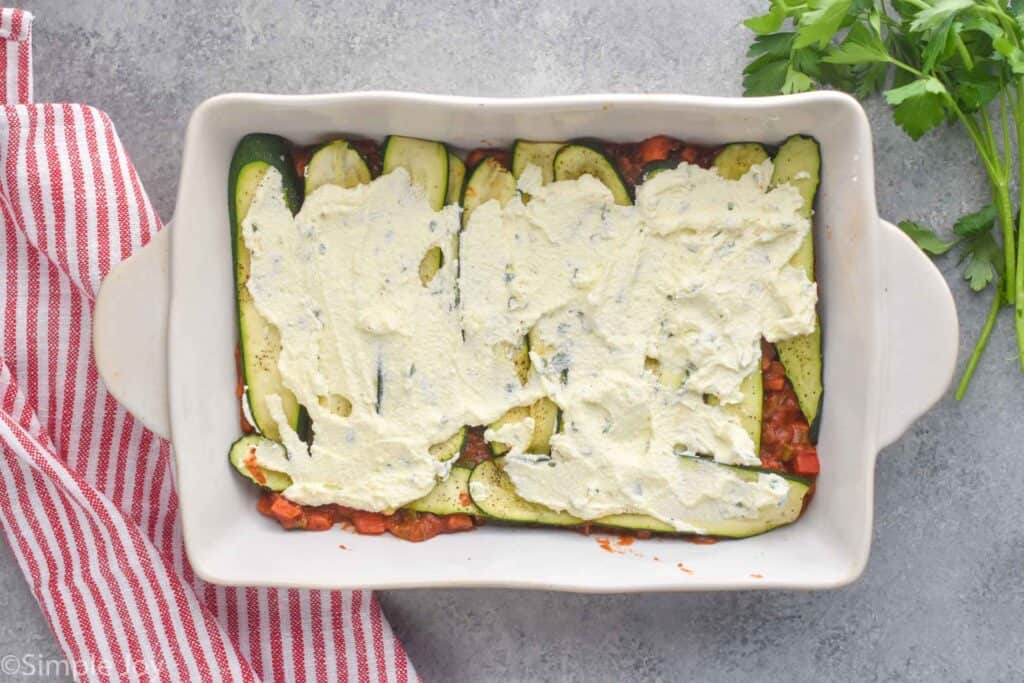 Roasting Zucchini
As mentioned above, we start this recipe by roasting the zucchini. It isn't that the zucchini needs to be softened before it goes in the lasagna.
The reason we roast the zucchini first is because it is so full of moisture. That is great in recipes like my Zucchini Muffins. But in a casserole it can literally bring pools of water to the dish.
Roasting first, especially when you first season with salt, can take care of that problem. I suggest that you even pat the zucchini down after roasting if you see puddles.
Shredding Cheese
I strongly encourage you to shred your own cheese for this recipe, as opposed to buying pre shredded cheese. Cheese that has been shredded right from the block in your kitchen will always melt better than a bag of pre shredded cheese. In some recipes it may make the difference in how much your family likes a recipe.
Using Meat in Zucchini Lasagna
This recipe does work with meat. If you want to add meat to this recipe, you will need to:
Remove the bell peppers and carrot from the recipe.
Use either ground beef or ground turkey. If you are using ground beef, you can remove the olive oil from this recipe and then sauté the onion and garlic with it, draining the fat from the pan before adding the tomato sauce.
All of this is done during step four of the recipe as written below.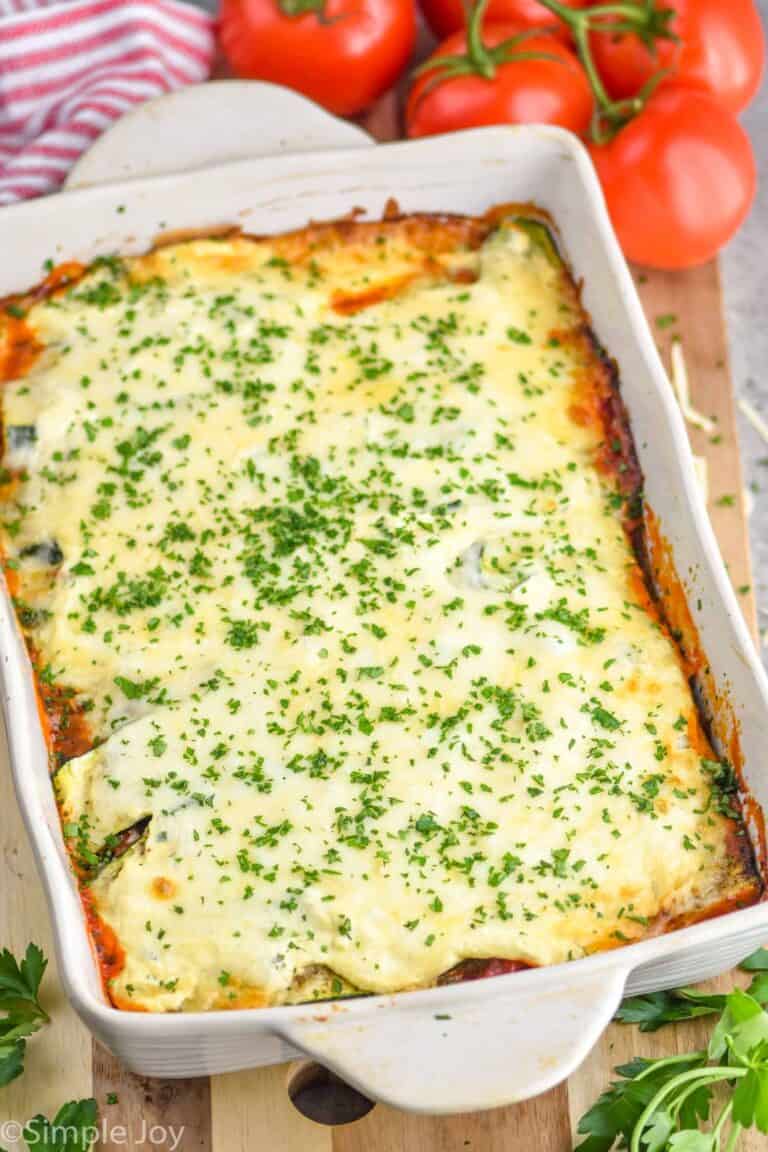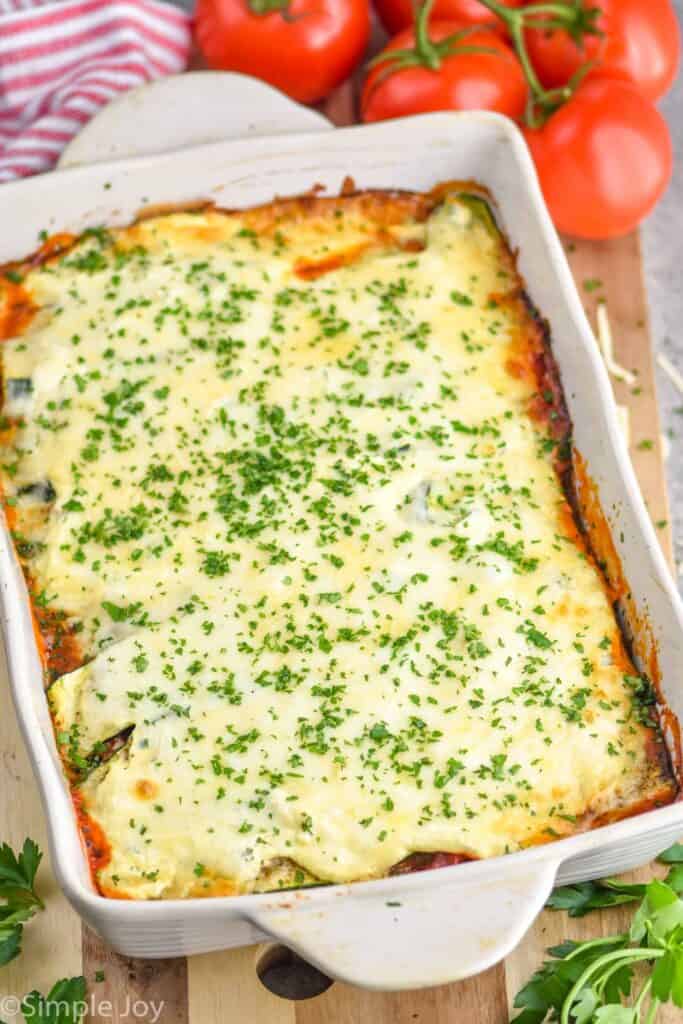 Making Zucchini Lasagna the Day Before
This great vegetable lasagna can be made ahead of time. Just make it up until you would put it in the oven. Wrap it and put it in the refrigerator. Pull it out and bake when you are read to serve it.
Freezing Zucchini Noodle Lasagna
This recipe can also be made in advance and frozen. I suggest making this in a disposable casserole dish so you can take it right from your freezer and put it into your oven without worrying about your dish breaking.
Make the recipe up to the point of baking. Wrap it three times with plastic wrap or aluminum foil. Freeze up to three months. When ready to bake, remove the wrapping and just cover it with a single layer of aluminum foil. Bake it at 350 degrees for 45 minutes covered and then 15 minutes uncovered.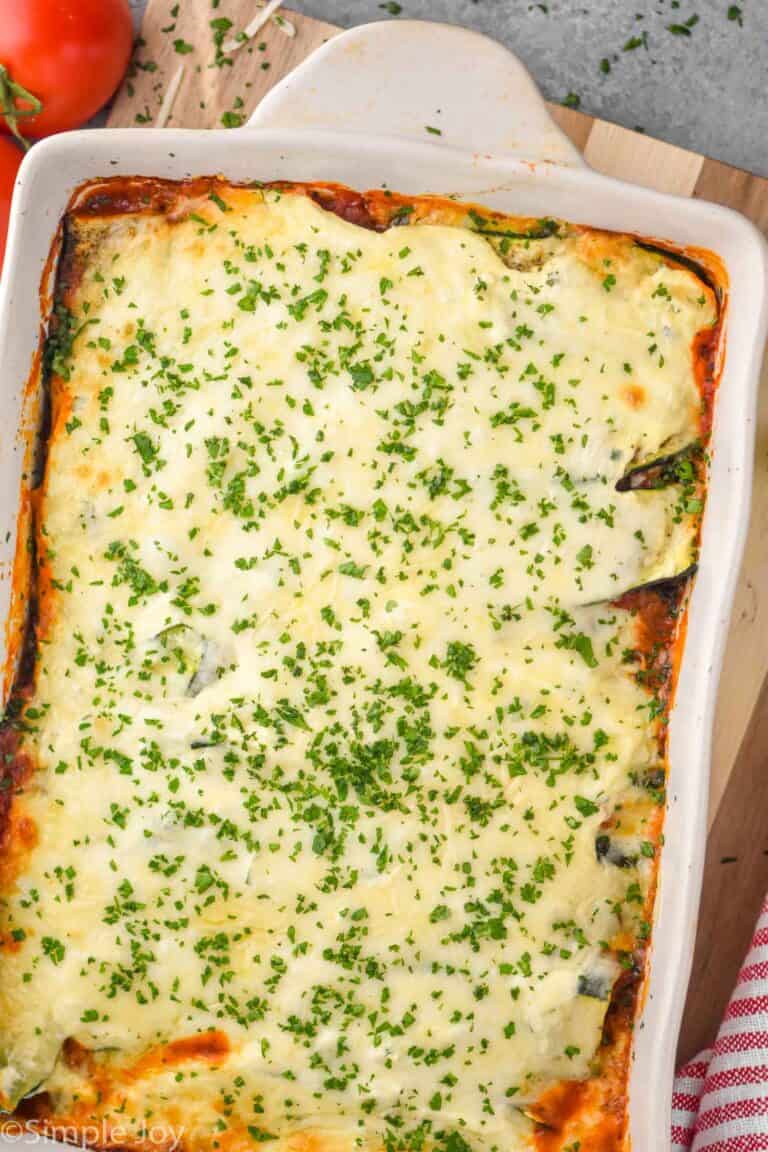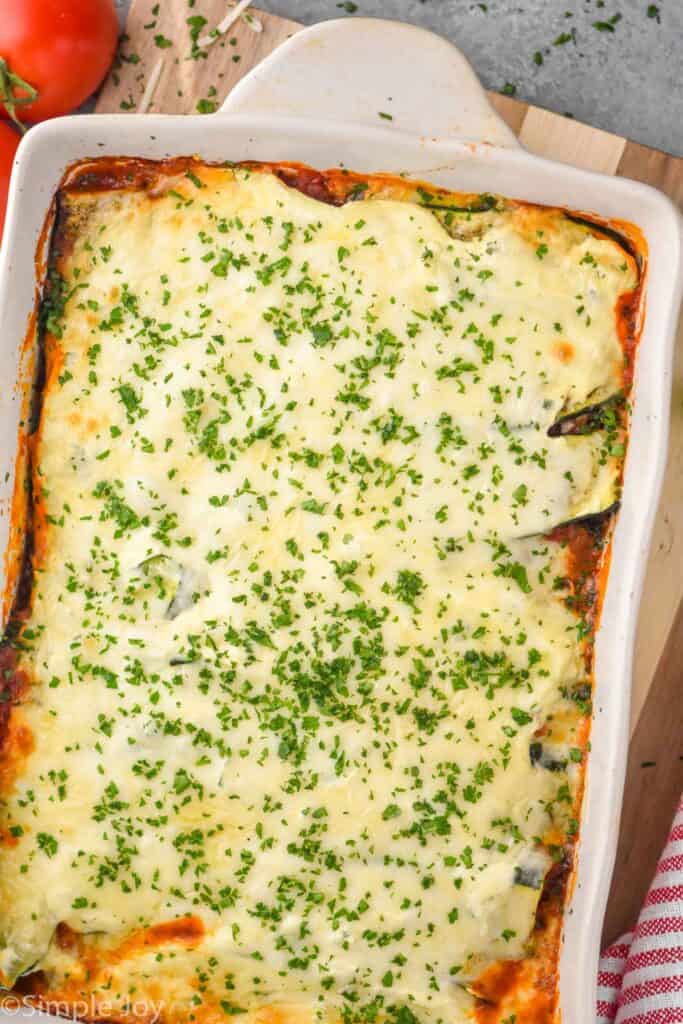 FAQ
Do I need a mandolin to cut the zucchini?
I do not think that is necessary. In fact, having them a little bit thicker adds more structure to the lasagna.
Do I need to boil the zucchini (like noodles) first?
No, but I do recommend roasting them to remove excess water.
Is this recipe gluten free?
Yes! You can make this recipe exactly as w
Can I add meat to this recipe?
Absolutely. Please refer to the section above entitled Using Meat.
Other Vegetarian Dinners
If you are looking for other great vegetarian options, here are some of my favorites.
Broccoli Pasta: Made in just 25 minutes, this is a personal favorite of mine.
Black Bean Tacos: I absolutely love this recipe. It is full of flavor and so simple to make.
Greek Quinoa Salad: This is great to make on a Sunday and take it to work throughout the week!
If you make any of these delicious recipes or my Zucchini Lasagna recipe, please leave me a comment and let me know what you think!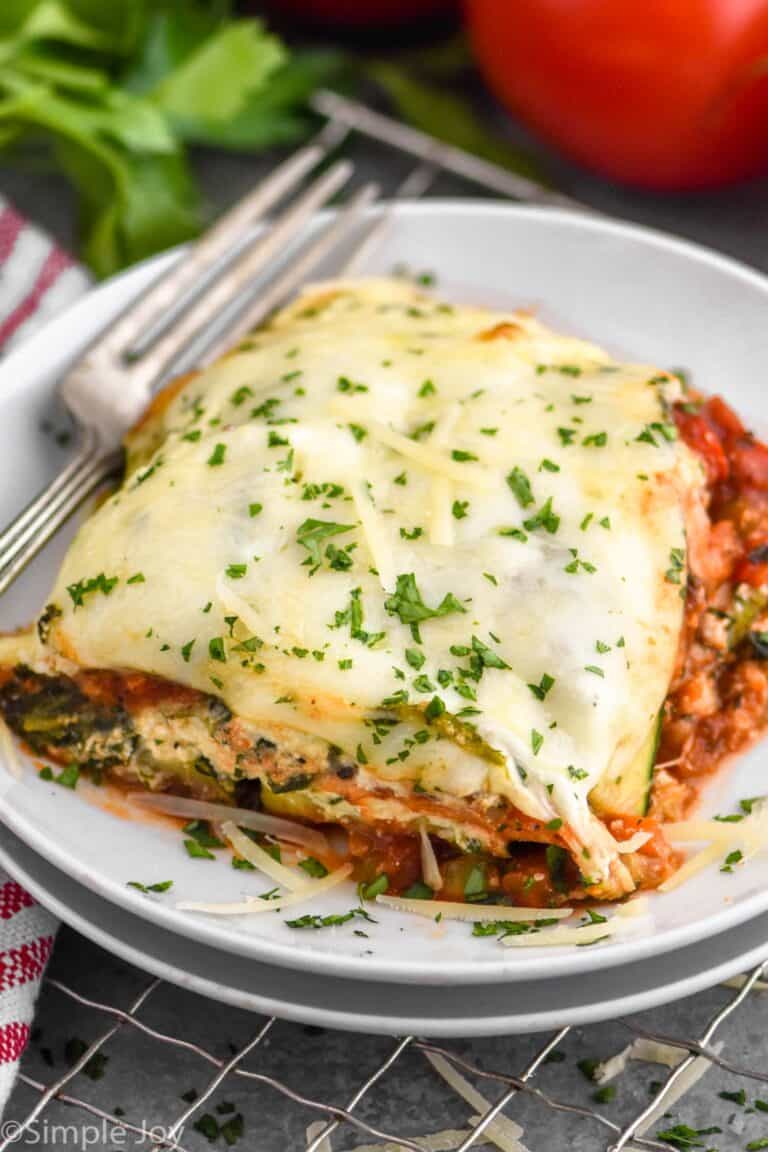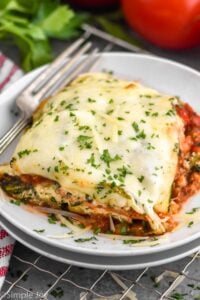 Zucchini Lasagna
Zucchini Lasagna is a delicious way to make a low carb dinner. In this version we are also making it vegetarian while still loading it with incredible flavor.
Ingredients
3

medium zucchini

sliced into thin pieces

1

tablespoon

salt

1

teaspoons

black pepper

2

tablespoons

olive oil

2

garlic cloves

minced

1

green bell pepper

diced fine

1

red bell pepper

diced fine

1

carrot

diced fine

1

onion

diced

6

ounces

tomato paste

15

ounces

tomato sauce

1

tablespoon

dried basil

1/2

tablespoon

dried oregano

1

egg

15

ounces

low fat ricotta cheese

2

tablespoons

fresh parsley

minced

10

ounces

frozen spinach

thawed and fully squeezed of all the water

8

ounces

mozzarella cheese

shredded

1/2

cup

Parmesan cheese

shredded
Instructions
Preheat your oven 425 degrees. Spray a 9 by 13 inch baking sheet with cooking spray and set aside.

Line a rimmed baking sheet with parchment paper. Add the zucchini slices and top with salt and pepper on both sides.

Bake the zucchini for 5 minutes. Flip and bake for 5 more minutes. If any pools of water remain after baking, use a paper towel to blot them away.

Lower the oven temperature to 350 degrees.

While the zucchini is baking, prepare the sauce. Heat the olive oil in a large skillet. Add in the onion, carrot, garlic, and bell peppers. Cook until the vegetables are soft.

While the vegetables are sauteing, stir together the egg, ricotta, and parsley. Set aside.

Stir the tomato sauce, tomato paste, basil, and oregano into the vegetables. The sauce will be thick.

To assemble pour half of the sauce in the bottom of the baking dish. Layer in half of the zucchini. Add half of the ricotta mixture and then all of the spinach. Top that with half of the mozzarella. Add the remaining sauce, then remaining zucchini slices, followed by the reamaining ricotta mixture and what is left of the mozzarella. Top with the Parmesan cheese.

Cover with foil and bake for 30 minutes. Uncover and bake for an additional 15 minutes. Let stand for 5 minutes before slicing and serving.
Serving:
1
slice
Calories:
359
kcal
(18%)
Carbohydrates:
27
g
(9%)
Protein:
26
g
(52%)
Fat:
18
g
(28%)
Saturated Fat:
4
g
(25%)
Polyunsaturated Fat:
1
g
Monounsaturated Fat:
5
g
Cholesterol:
56
mg
(19%)
Sodium:
1948
mg
(85%)
Potassium:
829
mg
(24%)
Fiber:
6
g
(25%)
Sugar:
14
g
(16%)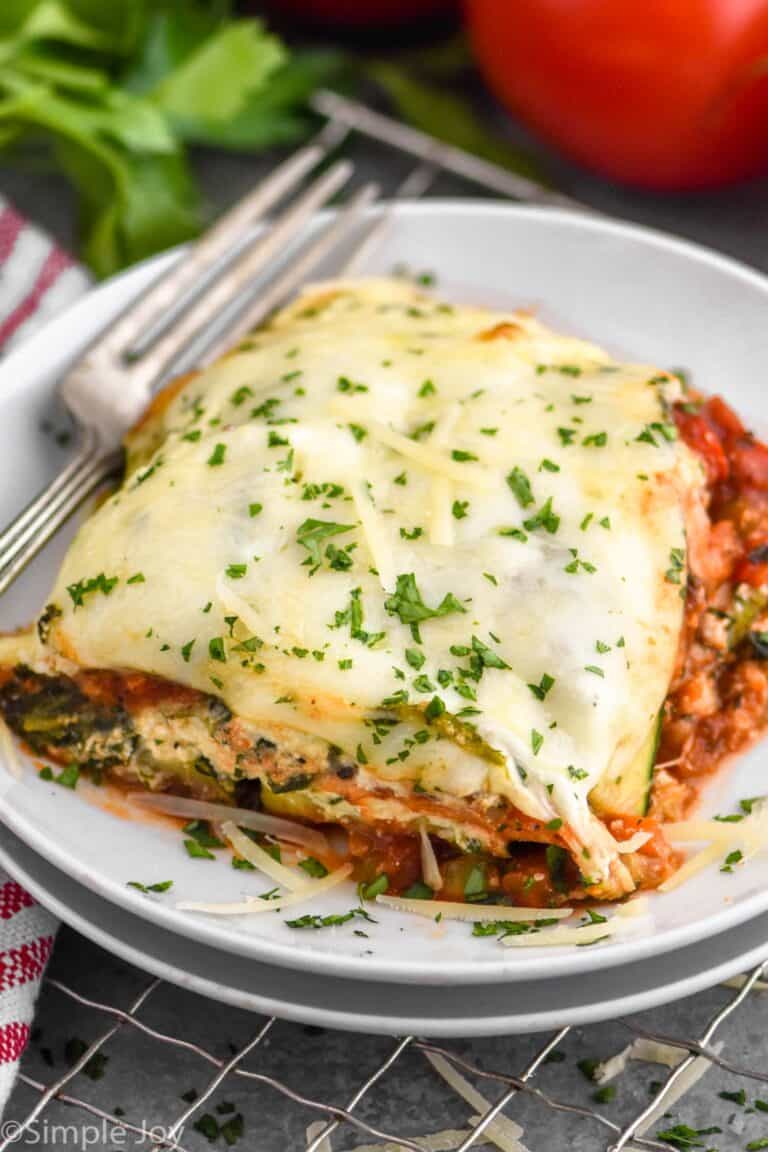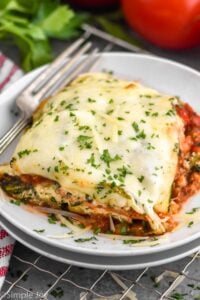 did you make this
Zucchini Lasagna