There isn't a type of recipe that I love quite as much as I love Game Day Recipes. They are the best kind of party food and come in all different shapes and sizes. Here we have a great list of recipes including appetizers, main dishes, desserts, and drinks. You can build the perfect menu from this list.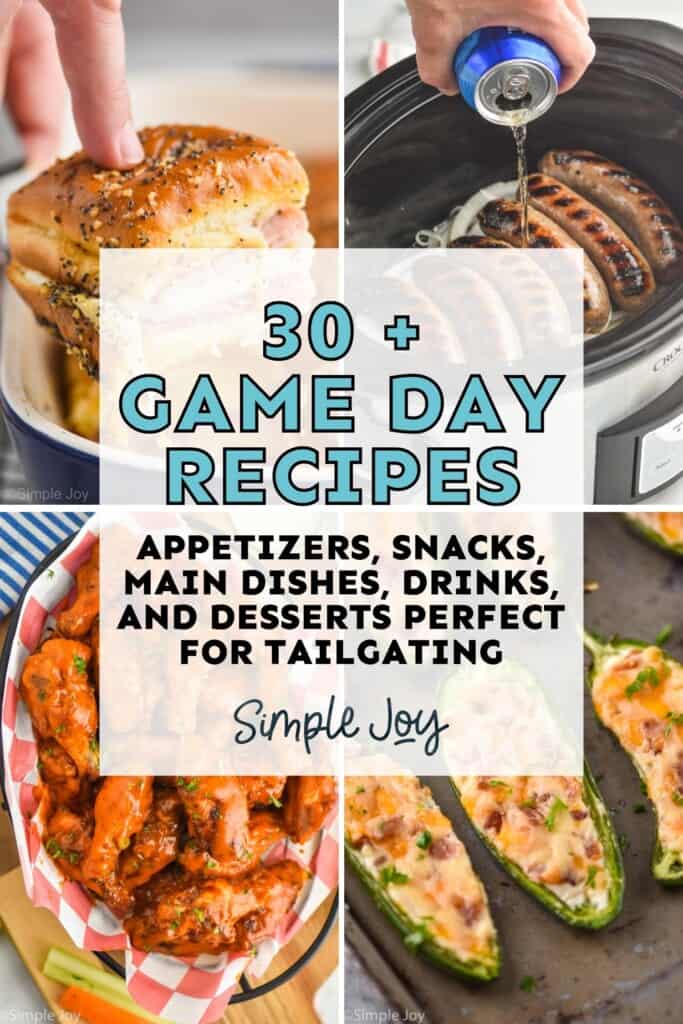 Game Day Appetizers
If you are like me, you could make an entire spread just out of appetizers. With dips and finger foods, there will be plenty for people to fill up on.
Finger Foods
Snacky finger food is one of my favorite kind of appetizers. These recipes are made with easy to find ingredients, and many of them have instructions for making the day before. Save time the day of your tailgate party by making appetizers in advance!
Dip Recipes
If you are like me, you can never get enough dip recipes.These dip recipes are perfect because they can be whipped up in advance and set out right as your guests arrive.
Game Day Main Dishes
Slow Cooker Recipes
These crockpot ideas are perfect to throw in your slow cooker and let people feast on throughout the party. We have great dishes that include tacos, sandwiches, and chili.
Slider Recipes
I'm not sure there is a recipe better for a tailgate party than sliders. They are so easy to make and they can feed a hungry crowd. We have sliders in so many different flavors, you are sure to find a recipe you love.
Pizza Recipes
Homemade pizza is easy to make, and so much better than take out. These pizza recipes will be perfect for your party. They are different, delicious, and amazing party food.
Game Day Drink Recipes
A great party needs great drink recipes. These cocktails are all big batch recipes so they are sure to work for your whole crowd. Even better, they pair perfectly with the recipes that we have listed here.
Game Day Dessert Recipes
You can't have a party without some good dessert recipes. I love these recipes because they come together fast, and they are easy to set out for a crowd.