Stuffed shells with meat are the ultimate comfort food, absolutely delicious. These can be made ahead and frozen. They are the perfect dinner recipe.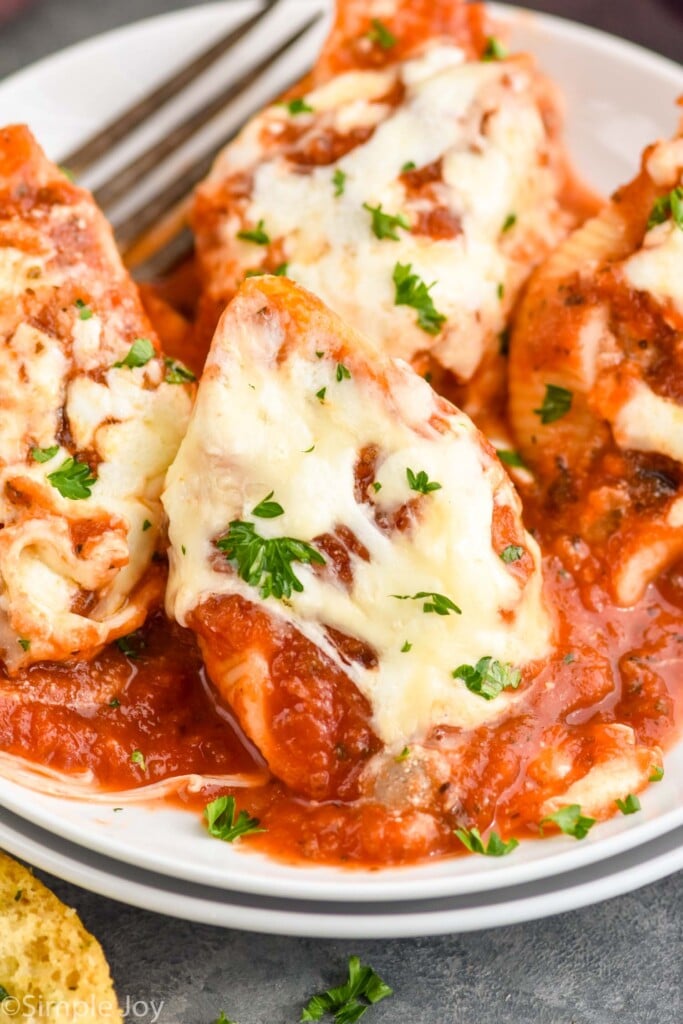 Last year I gave you my recipe for stuffed shells after getting lots of requests for recipes without meat. It was a favorite growing up in my vegetarian household and often served as the main dish on holidays in place of a baked ham or prime rib.
Every single time I share it on social media, someone asks my why I didn't include any meat. So I'm here today with the meat version. It is just as delicious as its vegetarian cousin with that extra punch of protein.
This great dinner recipe makes for perfect comfort food and gets all the thumbs up from my kiddos. Even better, you can make this recipe the night before. You can also make it far in advance and freeze it, taking it right from the freezer to your hot preheated oven. This is going to be a huge hit with your whole family.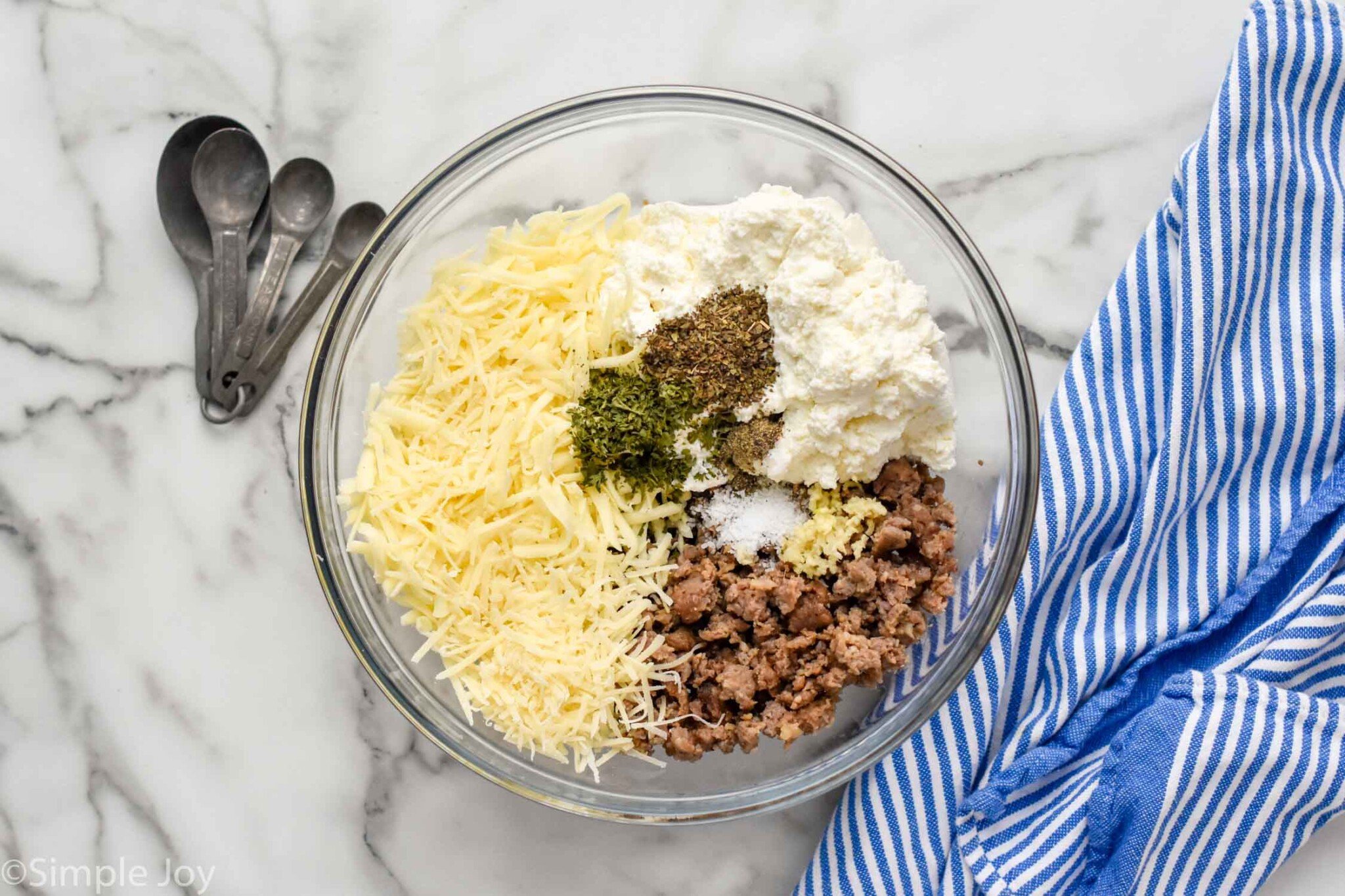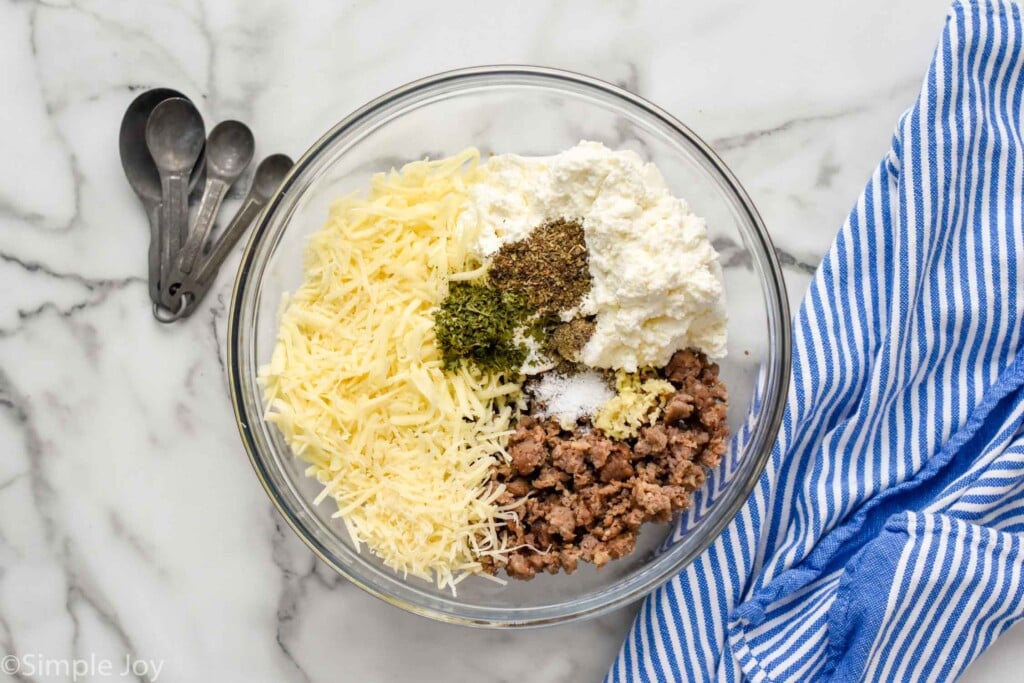 How to Make Stuffed Shells With Meat
This recipe for stuffed shells with meat comes together in a few easy steps and results in a hearty and flavorful meal your whole family will love. Here is a brief overview of how to make it. For the full recipe and all of the ingredients and measurements, scroll to the recipe card at the bottom of the page.
Cook the shells. See my tips below for the very best cooked pasta. While your pasta is cooking, also cook your sausage.
Make the filling. Mix together the cooked sausage, egg, ricotta cheese, one cup of mozzarella cheese, garlic, parsley, basil, salt, and black pepper.
Fill the shells. Spoon the filling into the cooked shells. You may have some filling left over.
Put it together and bake. Coat the bottom of the baking dish with some sauce and then place the stuffed pasta shells, seam side up, in the pan. Top with the remaining sauce and cheese. Then bake.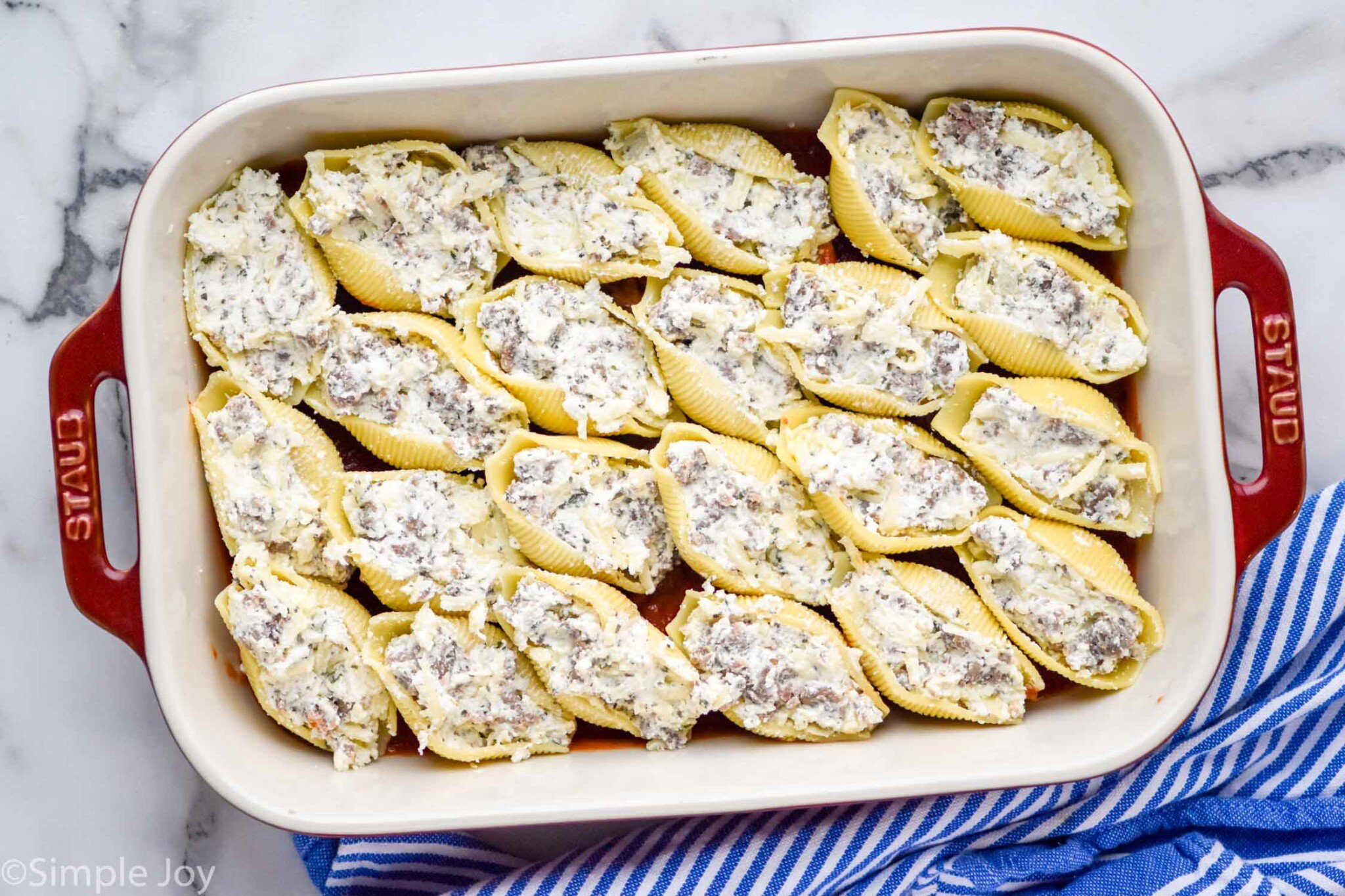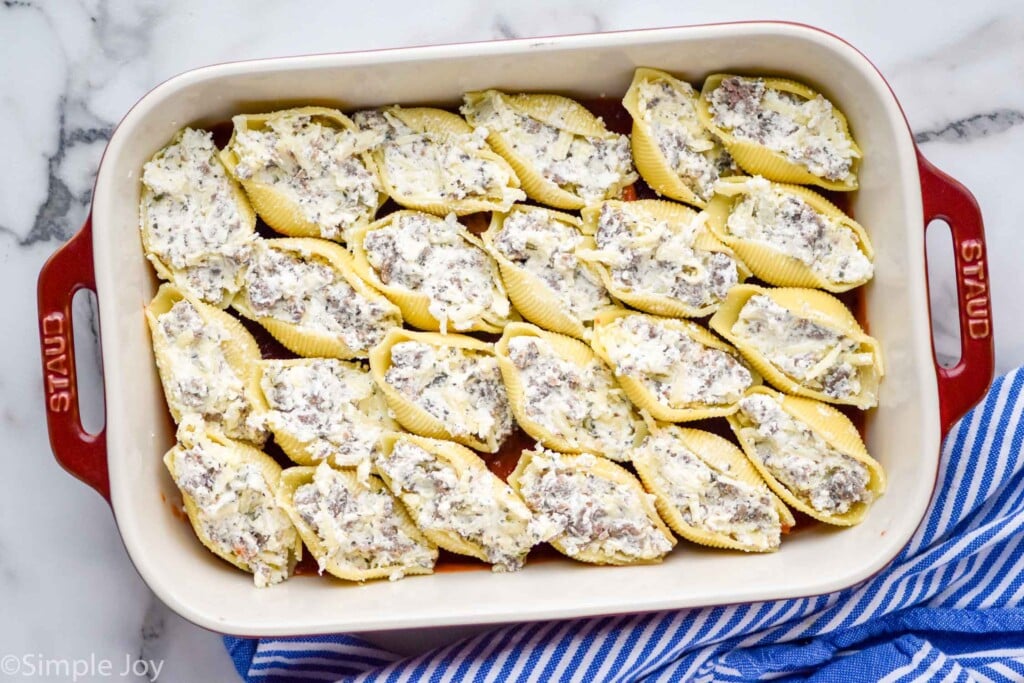 Cooking Pasta
While cooking pasta may seem really simple, there are a few things that can make it perfect. Follow these tips when making your stuffed shells recipe:
Use plenty of water. We are going to be cooking quite a few of the giant shells so you want to use between 4 and 6 quarts (16 to 24 cups) of water.
Bring the water to a raging boil. You should see really big bubbles in the pot before you add the uncooked shells.
Cook all of the shells. We are only using 35, but I like to cook the whole box because it is easier and if any rip, I have backups. Plus my kids like to munch on the extras.
Salt the water. When you add the uncooked pasta to the water, add a teaspoon of kosher salt with it.
Cook the pasta for the time indicated on the box. Since this is going in the oven after boiling, you want to aim for the lower end of the cooking time if there is a range.
Using Homemade Spaghetti Sauce
If you have the time, I highly recommend you make my homemade spaghetti sauce for this stuffed shells recipe with meat. It only takes 25 minutes and uses canned tomatoes. It works great to make the sauce the night before so it is ready to go when you want to make your shells.
Though the recipe calls for diced and crushed tomatoes, I encourage you to use just crushed for this recipe. While you only need four cups of sauce and this recipe makes six, I encourage you to make the whole recipe so that the ratio of ingredients is correct and so you get to have extra.
If you don't have time to make homemade sauce, grab a jar of your favorite spaghetti sauce. You will still love these stuffed pasta shells.
Easy Homemade Spaghetti Sauce Recipe
This easy homemade spaghetti sauce recipe comes together in about 25 minutes from scratch!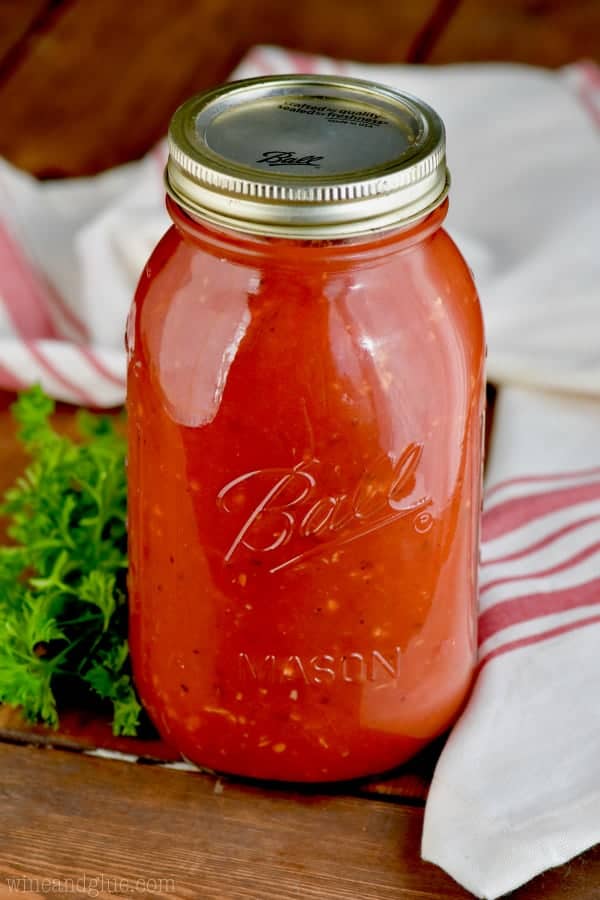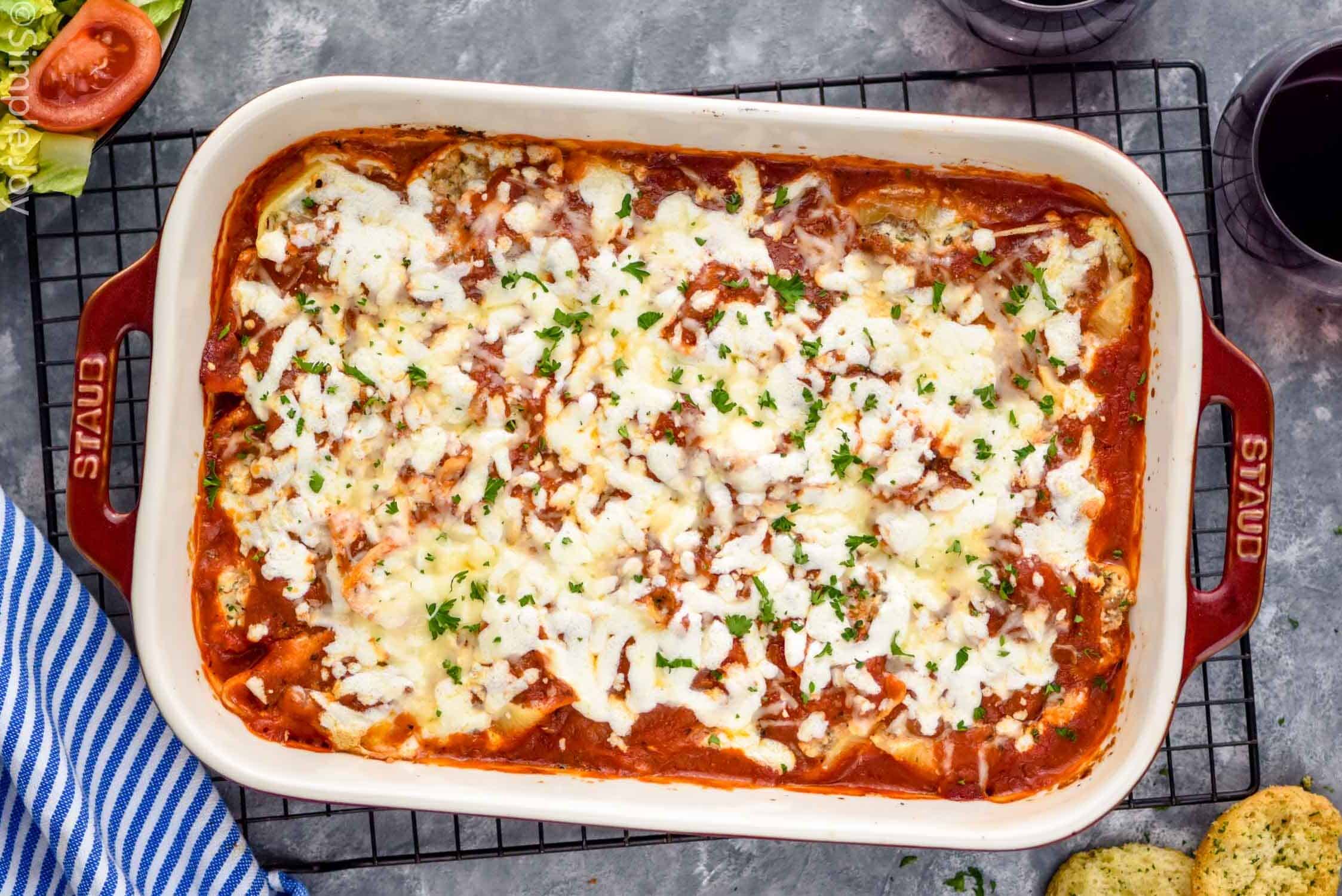 Grating Cheese
Shredding your cheese adds just a few extra minutes to your prep time but will truly make a difference in how the recipe turns out. Pre-shredded cheese is coated in preservatives that help it hold its shape, but make it difficult to melt. By shredding your own cheese from a block, you ensure that the cheese is perfectly melted and delicious.
TOP PICK
Grater
I absolutely love this grater. It has been in our kitchen for over a decade. It has four sizes of grating, and comes with this grate container that fits right on the bottom for mess-free grating.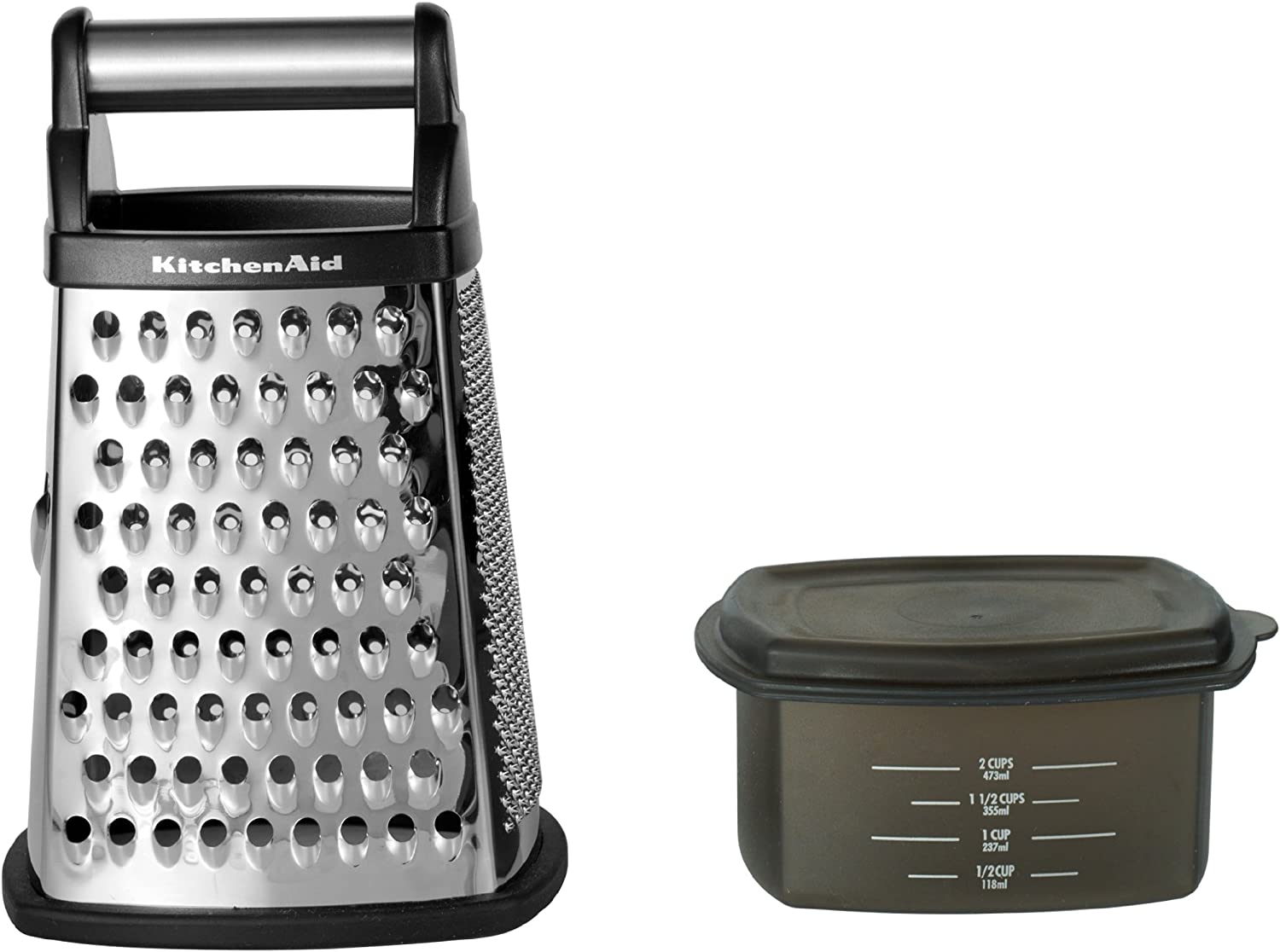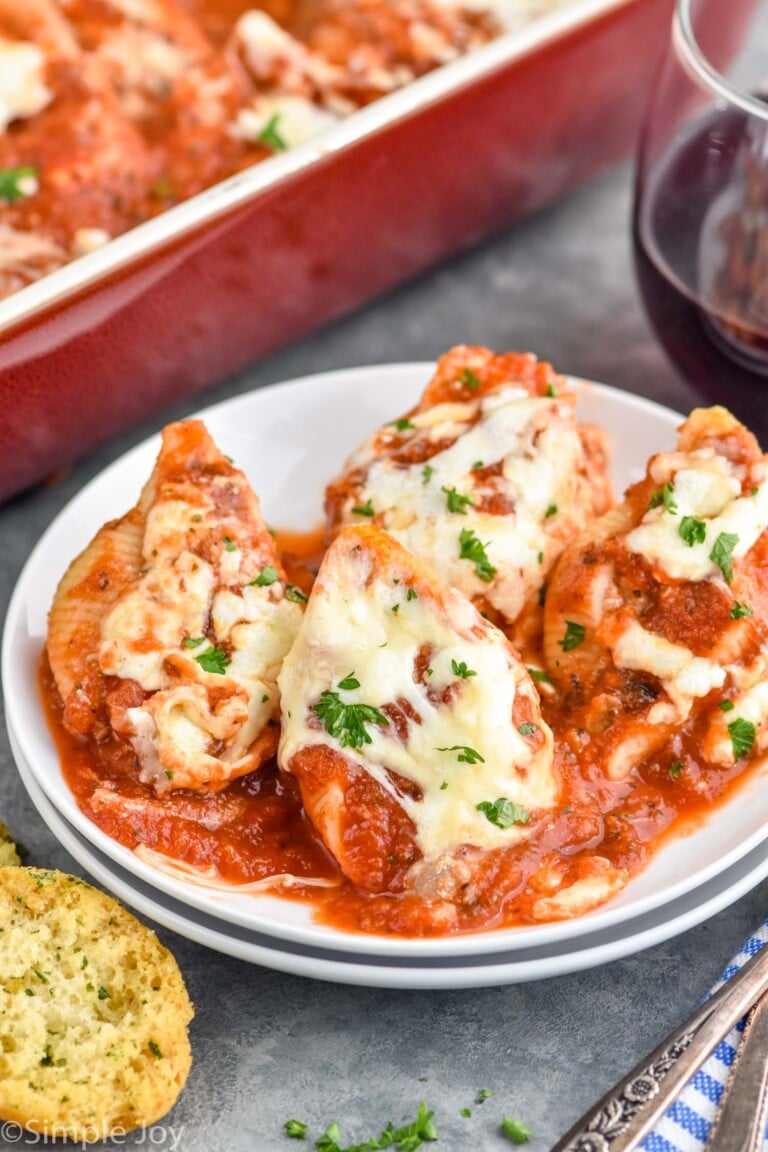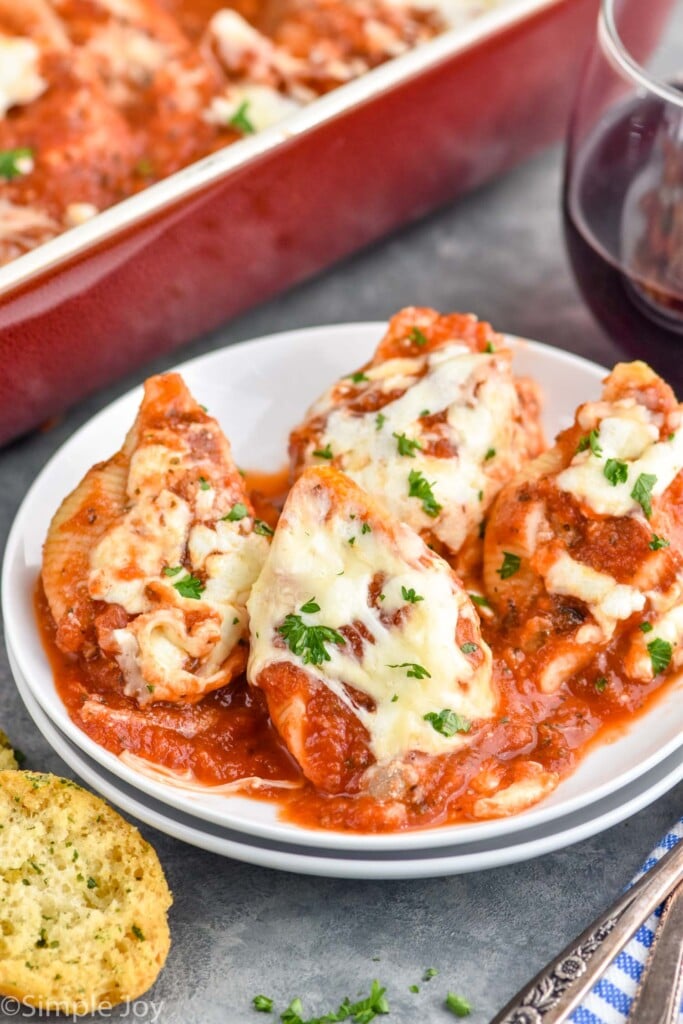 Finding Jumbo Shells
At the moment, finding jumbo shells to make stuffed shells can be really tricky. We have been keeping an eye out every time we go to the store (whether these are on the menu or not) and grabbing a box when we see them. Another great option is Amazon. They seem to always have them in stock.
TOP PICK
Jumbo Stuffed Shells
This is a set of 12 boxes, but they have such a long shelf life, it is worth it to us. They come out to roughly $3 a box.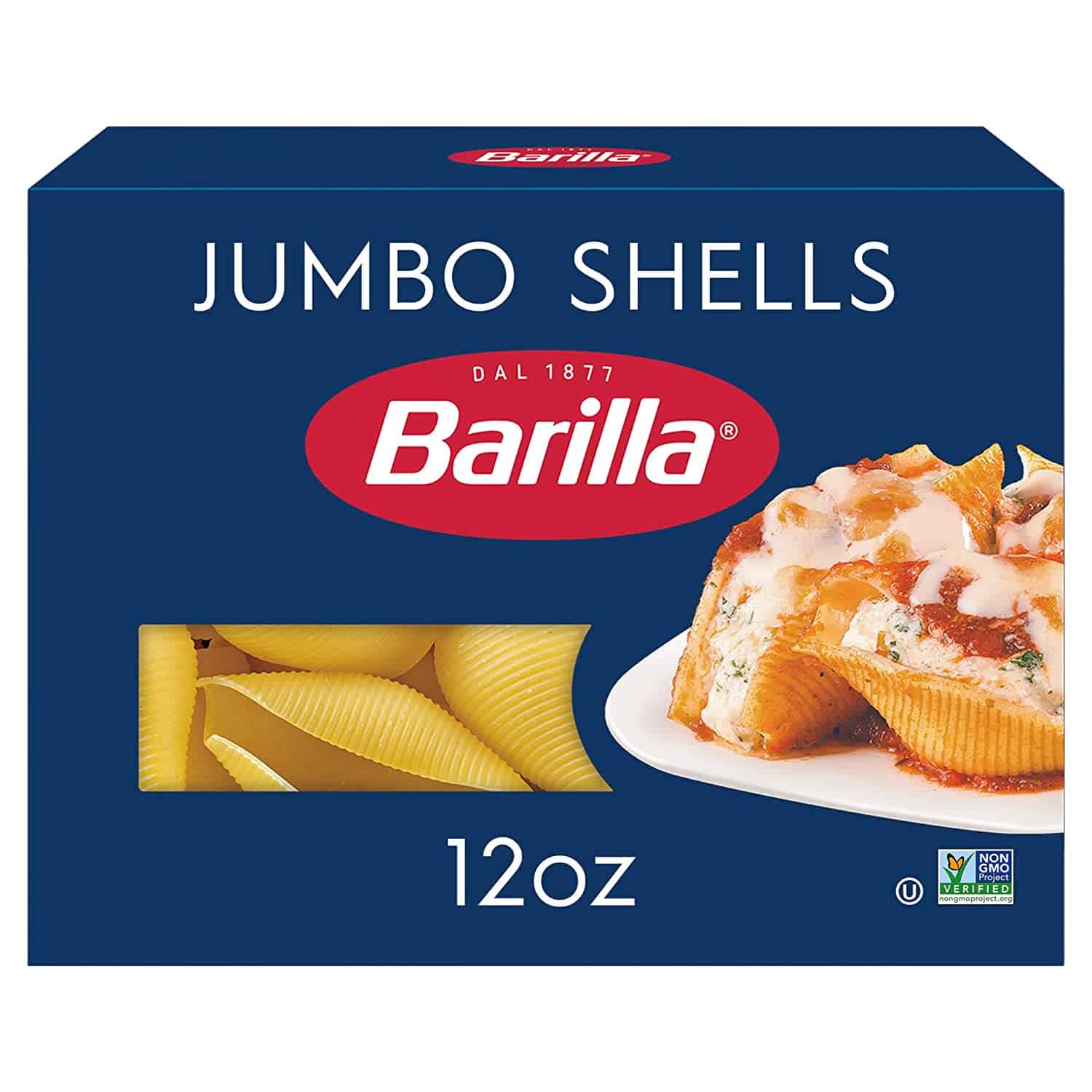 How Long to Bake Stuffed Shells
These stuffed pasta shells bake for just 35 minutes in total. Bake them at 375 degrees Fahrenheit for 30 minutes covered with foil, and an additional 5 minutes without foil to give the cheese just enough time and heat to get bubbly.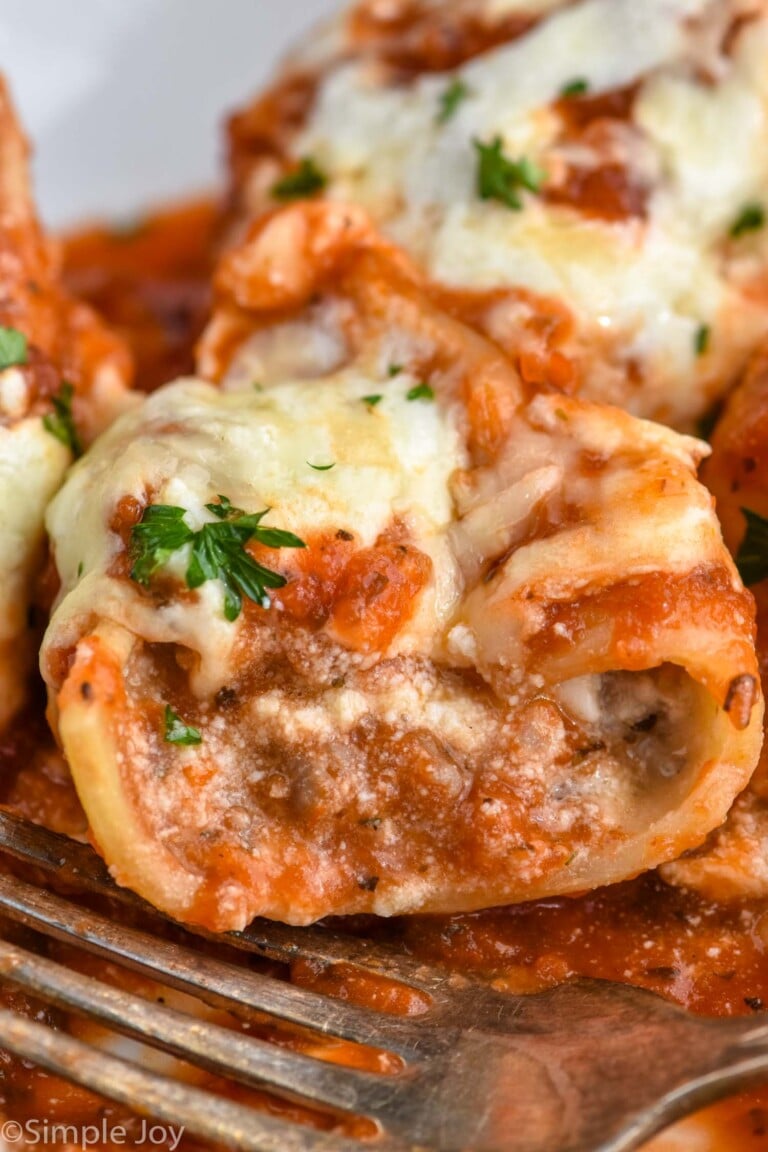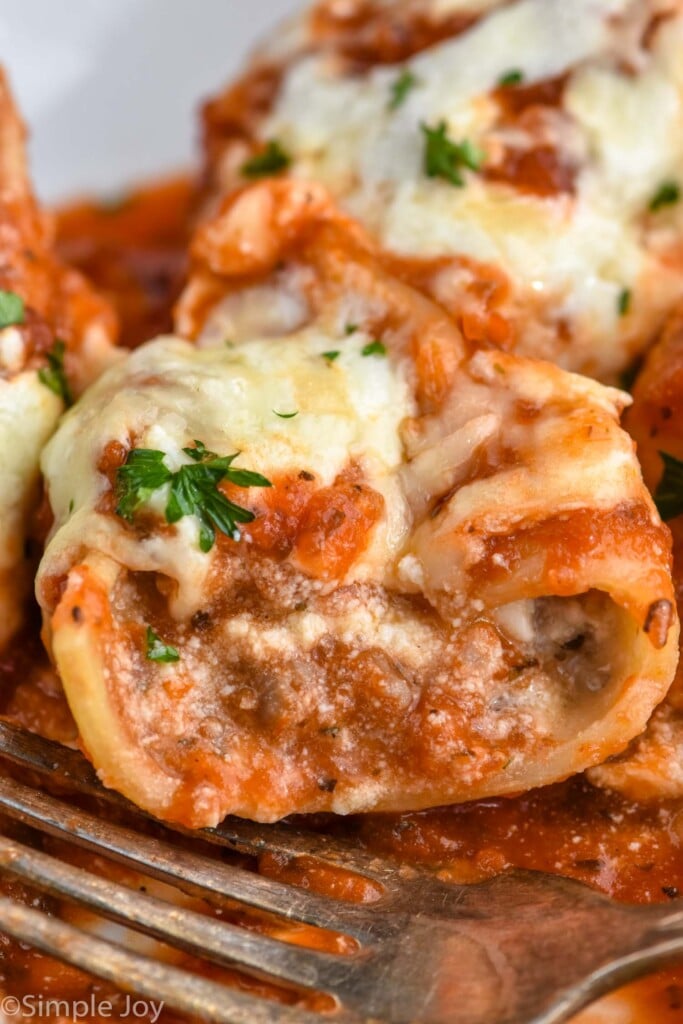 Making Stuffed Shells Ahead
These stuffed shells with meat can be made up to 24 hours in advance. To make them ahead, assemble them following the recipe through step four. Then cover them and store them in the refrigerator until you are ready to bake them. Keep in mind that because they are coming out of a cold refrigerator, you are going to want to bake them for 5 to 10 minutes longer.
Freezing Stuffed Shells with Meat
To freeze this stuffed shells recipe, prepare it in a disposable baking dish. This will allow you to take them right from the cold freezer to the hot oven without worrying about the baking dish cracking or shattering in the oven.
Make the shells through step four. Cover with aluminum foil, then wrap three times with plastic wrap. Store in the freezer for up to three months. When you are ready to bake, remove the plastic wrap, keep the shells covered, and bake at 375 degrees Fahrenheit for 45 minutes. Remove the aluminum foil and bake for an additional 5 to 10 minutes.
FAQ
Can I make this gluten free?
Yes! There are several gluten-free shells on the market. Since there is no other source of gluten in this recipe, this is an easy one to make gluten-free.
Can I replace the ricotta with cottage cheese?
While that is not my favorite swap, it is definitely an option if you don't like ricotta or can't find it. Cottage cheese will work as a replacement in this recipe.
Can I make this with ground beef?
Yes! If your family prefers ground beef to Italian sausage or that is what you have on hand, you can use one pound of cooked ground beef instead of the Italian sausage. You could also use ground turkey. You might want to consider adding some Italian Seasoning since you will lose a little flavor with that swap; one or two teaspoons would be perfect while the meat cooks.
Other Stuffed Shells Variations
Try these other stuffed shell recipes that take spins on this one. They each have their own delicious flavor packed into shells that your family will love.
Stuffed Shells is a vegetarian pasta recipe loaded with cheese and a delicious sauce.
Once you make Taco Stuffed Shells, your family will request them regularly. It is your favorite part of tacos stuffed into pasta shells.
These Chicken Stuffed Shells are filled to the brim with chicken, broccoli, and cheese and then smothered in a rich garlic Alfredo sauce.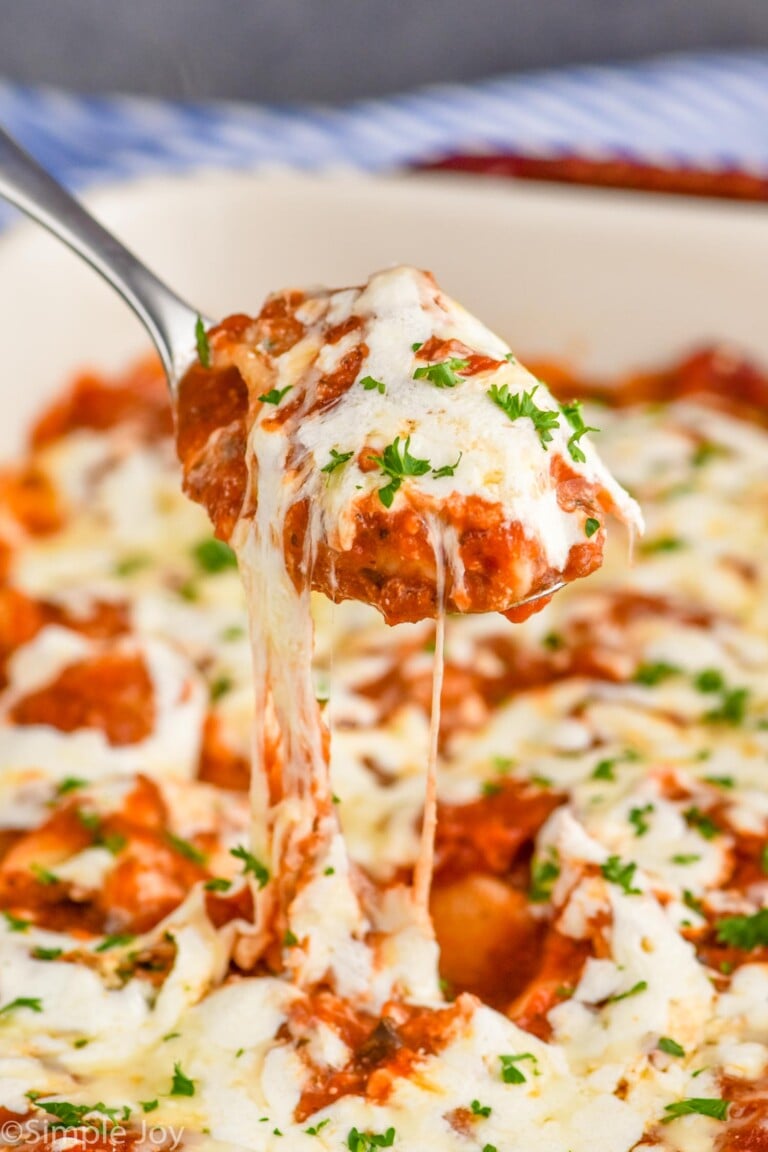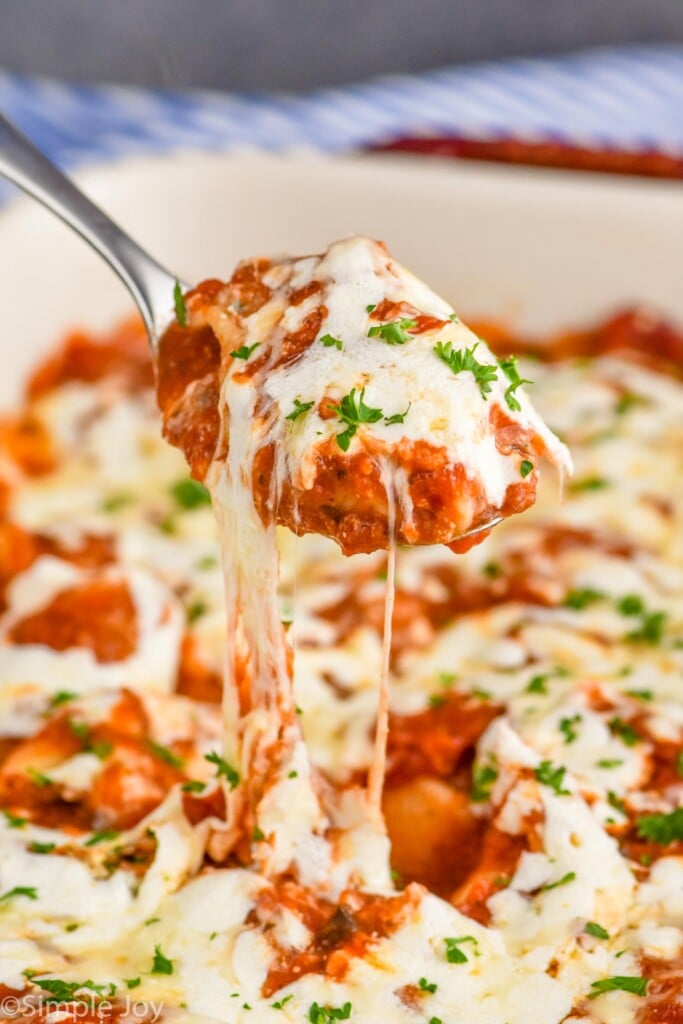 What to Serve with Stuffed Pasta Shells
If you try this recipe for stuffed shells with meat or any of my others, please leave a comment and let me know what you think. I love hearing from you!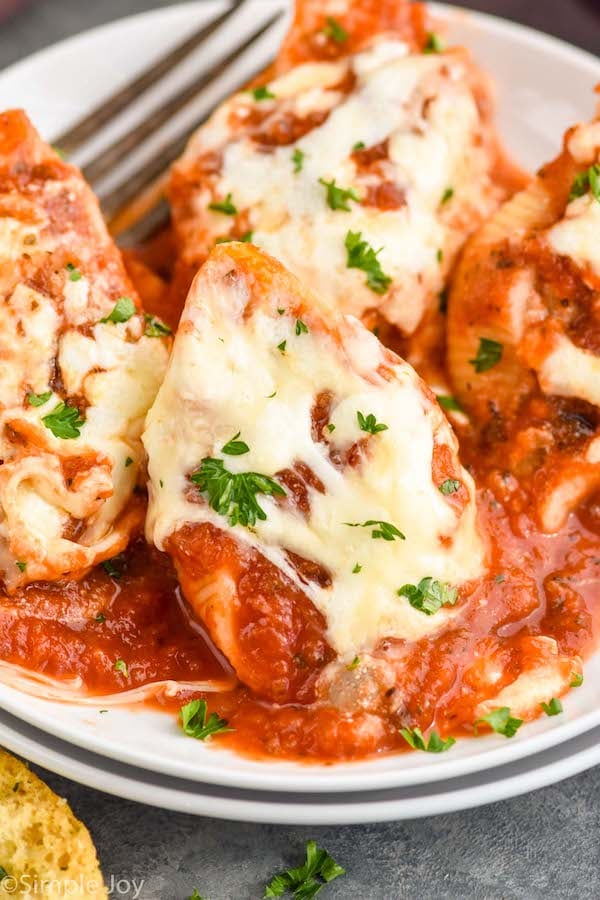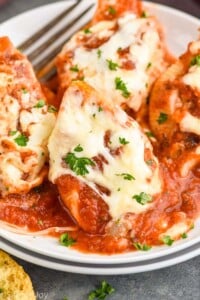 Stuffed Shells with Meat
Ingredients
35

jumbo shells

see my notes in the post for how to cook them and how to find jumbo shells

1

pound

ground Italian sausage

cooked, broken up, and drained of fat

1

large egg

15

ounces

ricotta cheese

2

cups

mozzarella cheese

shredded and divided

1/4

cup

Parmesan cheese

grated and divided

2

garlic cloves

minced

1/2

tablespoon

dried parsley

1/2

tablespoon

dried basil

1

teaspoon

kosher salt

(if using table salt, cut this to 1/2 a teaspoon)

1/4

teaspoon

black pepper

28

ounces

spaghetti sauce divided (read here about using homemade sauce)
Instructions
Preheat your oven to 375 degrees Fahrenheit. Spray a 9 by 13 inch baking dish with cooking spray.

Cook the shells according to package instructions. Make sure the water is at a full boil before you put in the uncooked shells. Add 1 teaspoon of kosher salt to the water and set a timer so that the pasta is drained just before it is al dente.

While the pasta is cooking, in a large bowl combine the cooked sausage, egg, ricotta cheese, 1 cup of mozzarella cheese, garlic, parsley, basil, salt, and black pepper. Spoon the mixture into the shells.

Pour 1 cup of sauce onto the prepared casserole dish to coat the bottom. Place the filled shells, seam side up, in the pan. Top with the remaining sauce, 1 cup of mozzarella cheese, and 1/4 cup of Parmesan. You may have some filling left over. We typically stuff the extra shells and cook them in a smaller casserole dish.

Cover and bake for 30 minutes. Uncover and bake for an additional 5 minutes. Serve, and enjoy.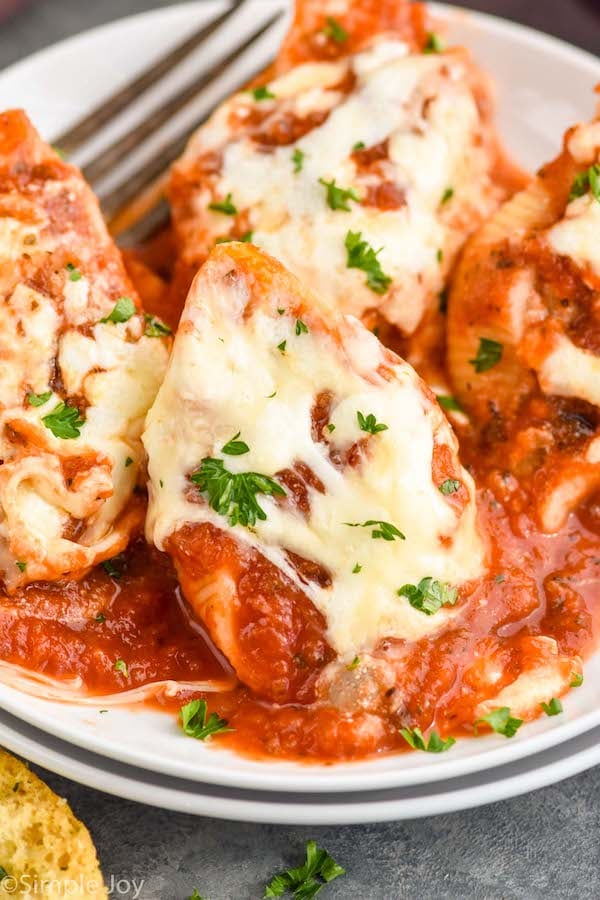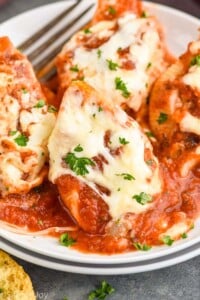 did you make this
Stuffed Shells with Meat