Avocado Egg Salad makes the perfect sandwich. Easy to throw together with the perfect flavors, you will love this spin on the classic egg salad.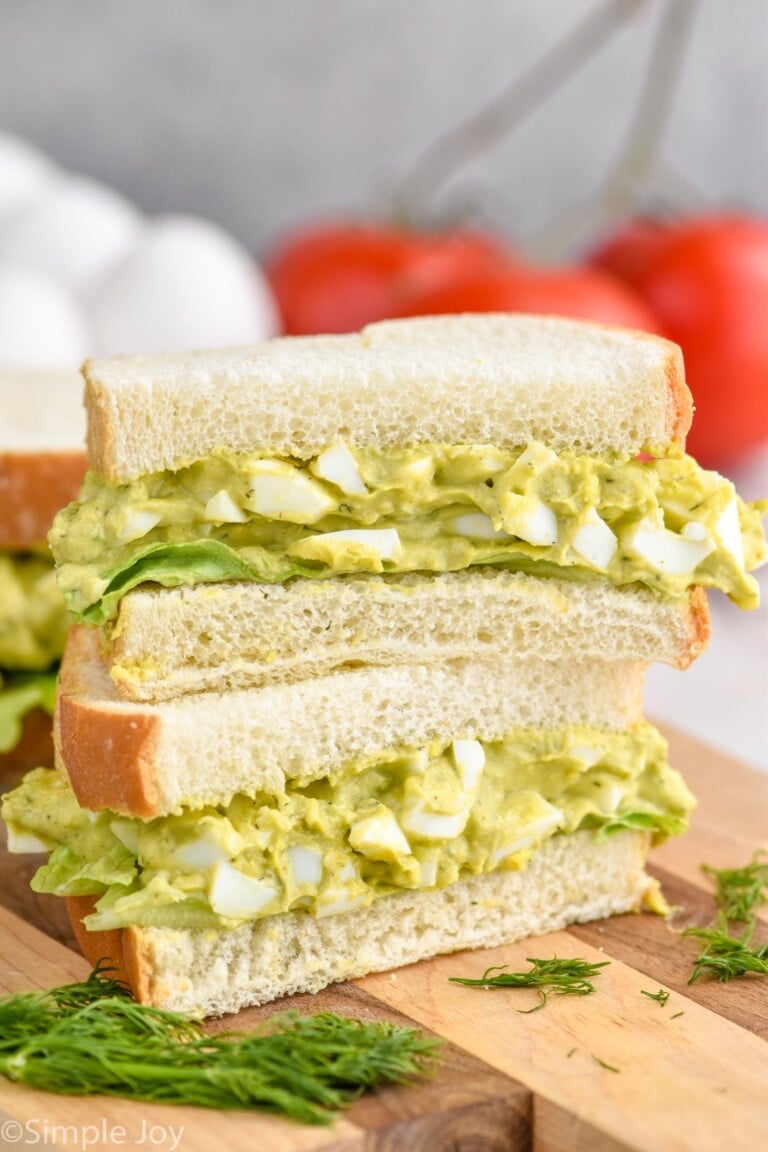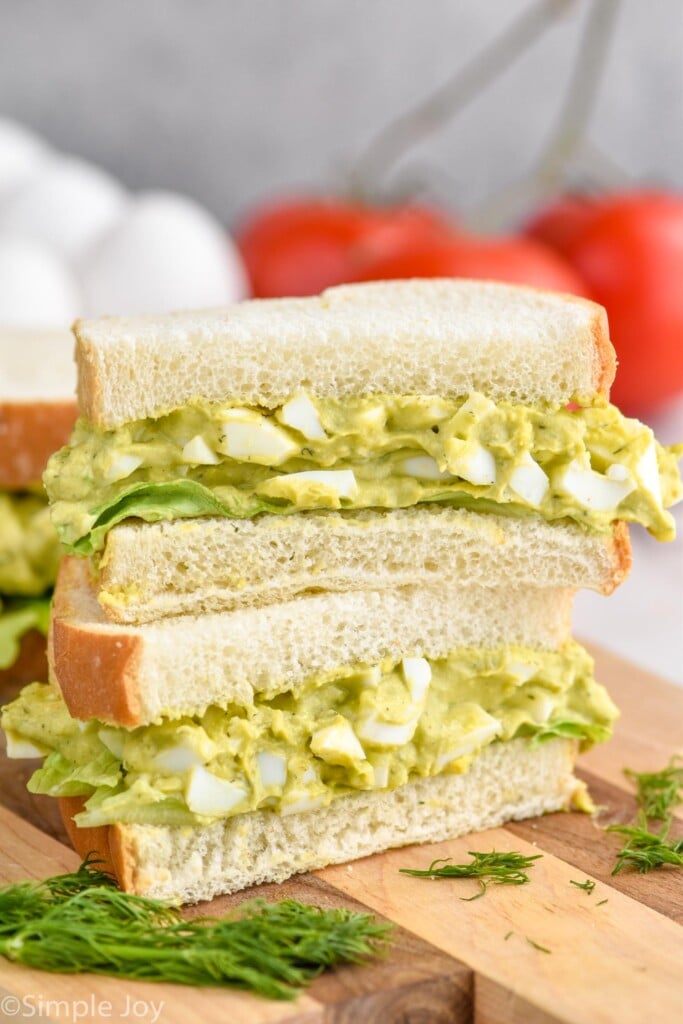 My Egg Salad has been one of my most popular recipes since it was published. It has the perfect combination of flavors with a sauce that just can't be beat. Additionally, we separate the egg whites from the egg yolks and use those yolks to make that perfect creamy sauce. It's a recipe that really can't be beat.
Forever, I've had readers ask me to throw some avocado into the recipe. I am a huge avocado lover, so this was a natural next step for this great sandwich salad. Because avocado brings so much creaminess, we are cutting back on the amount of mayo used. The end result is an avocado lovers dream come true.
Egg Salad
This simple egg salad recipe is the perfect ratio of ingredients and is so simple and delicious!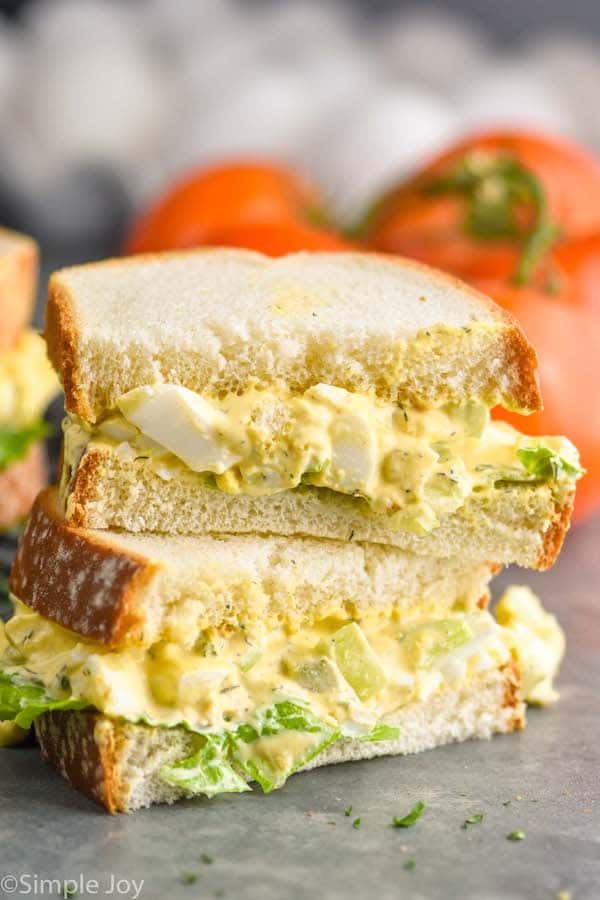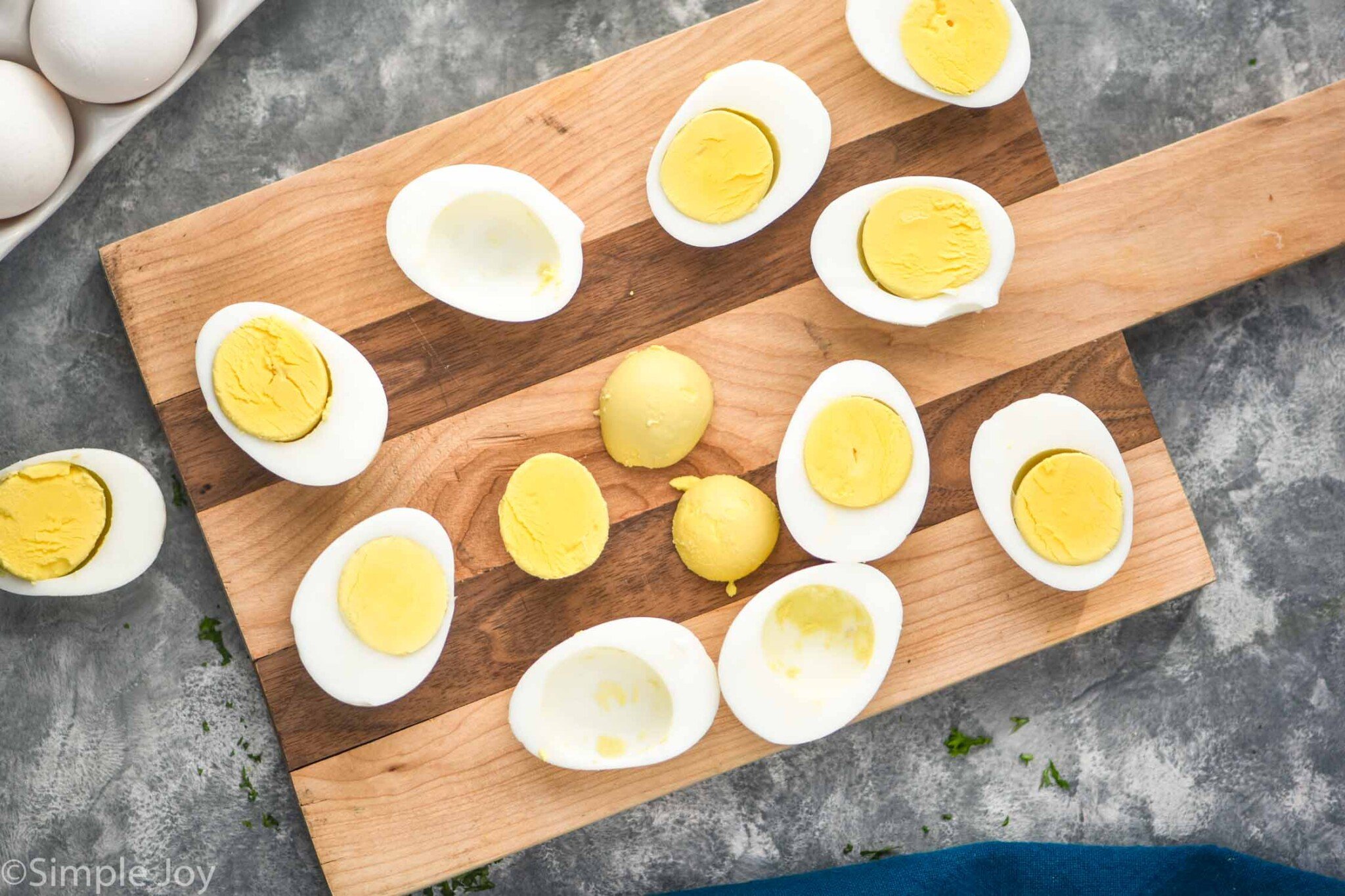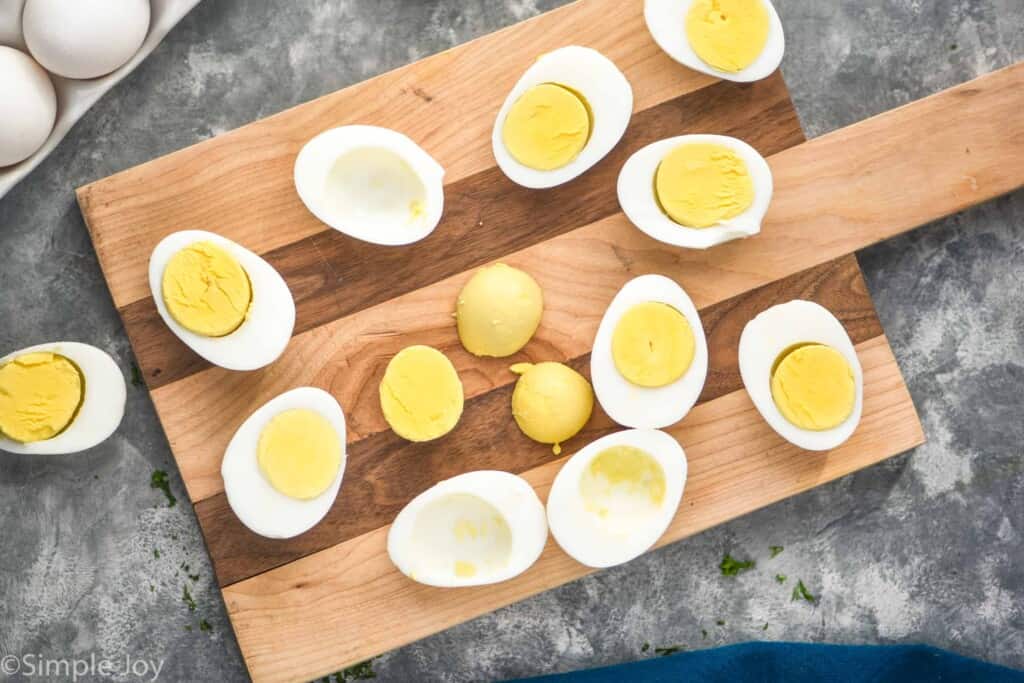 How to Make Egg Salad with Avocado
This egg avocado salad recipe is such a yummy lunch or dinner. It is creamy and has a hearty flavor, making the perfect sandwich to fill you up. Here is a brief overview of how it comes together. For the full recipe including all measurements, please scroll to the recipe card at the bottom of the post.
Make hard-boiled eggs. I have instructions to do that on the stovetop listed below, but you can also make hard boiled eggs in the instant pot. I highly recommend doing them in the instant pot for easy peeling.
Peel and separate the eggs. Take the yolks out of the whites and put them in a bowl. I love this step for making a super creamy base.
Mix the yolks. Mash up the avocado with the egg yolks. Add the mayonnaise and seasonings. Taste to adjust the seasonings.
Stir everything together. Add in the chopped egg whites and the celery.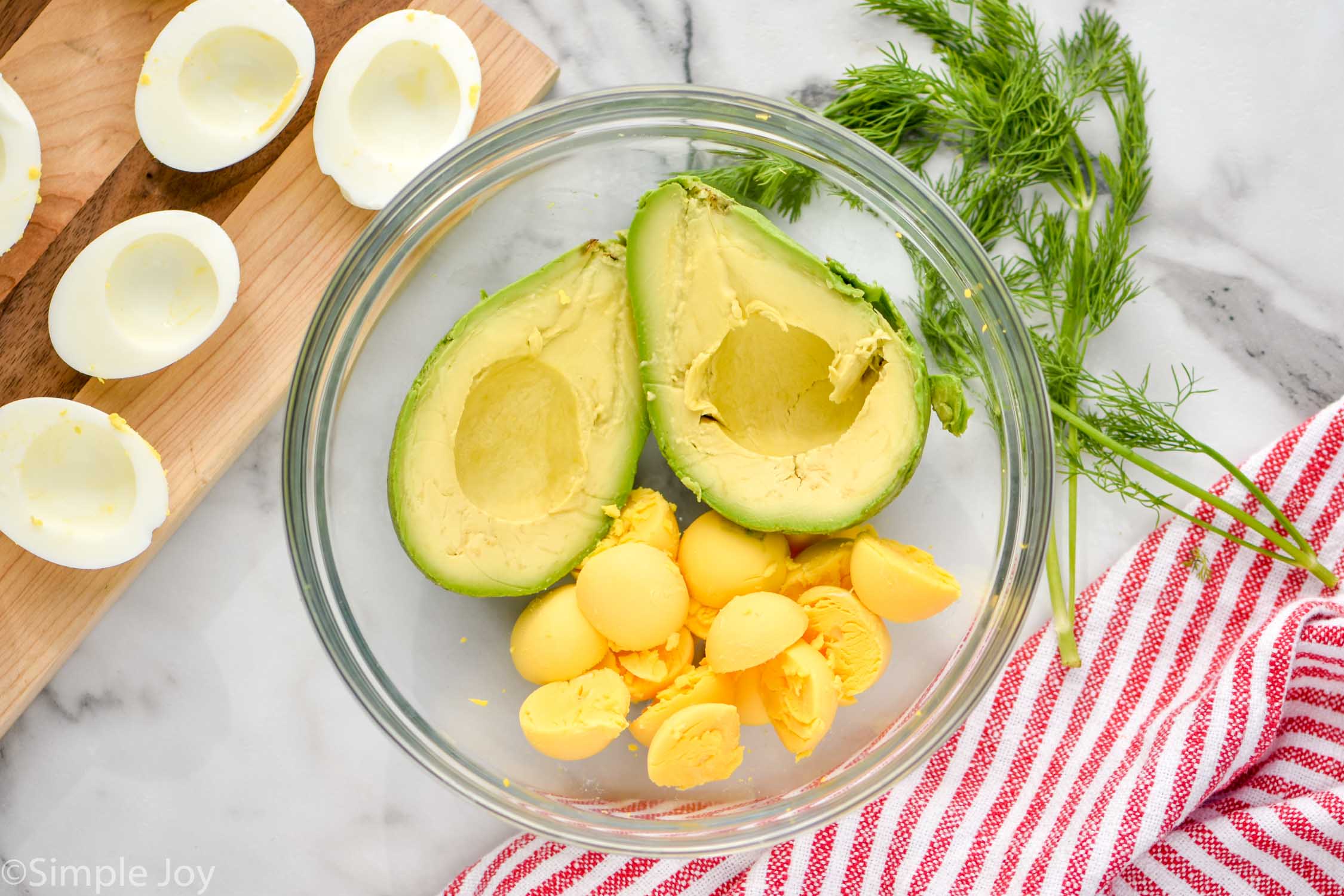 How to Hard Boil Eggs
Hard boiled eggs can be easily made on the stovetop. You can check out my How to Make Hard Boiled Eggs post for some tips and tricks.
But my very favorite way to make them is in the instant pot. They peel like an absolute dream when done this way. You can see the link for that below.
To hard boil eggs on the stovetop:
Add eggs in a single layer to a saucepan.
Cover with water.
Bring to a boil, then turn the heat off and cover for 12 minutes.
Transfer to a bowl filled with ice for five minutes.
Instant Pot Hard Boiled Eggs
Making hard boiled eggs in the Instant Pot is so easy. They are hands off and the shell slips right off.
How to Pick a Ripe Avocado
When picking out avocados for this recipe, here are a few tips for what to look for to get an avocado that is just right:
Skin color: The skin on the avocado should be dark green, or almost black.
Skin texture: The avocado's skin should be bumpy rather than smooth.
Softness: When you gently squeeze the avocado, it should have just a slight give. It shouldn't feel overly soft or hard as a rock.
Pro tip: If you pick an avocado that is underripe, throw it in a paper bag for one to two days and it will ripen perfectly.
Browning Avocado
Avocado does brown relatively quickly. If you are making this salad in advance, you could prep everything (keeping the chopped egg whites separate) and then stir in the avocado to the sauce just before serving.
How to Serve
Serve your avocado egg salad on sandwich bread or a bun. It is delicious alone on bread. If you want some other ideas, add lettuce, tomato, pickled red onions, or cucumbers.
If you are eating low-carb or gluten free, you could eat these out of lettuce cups, like pictured in my Seafood Salad. Another great way to keep this recipe low carb is to eat it on some low carb tortilla shells as a wrap.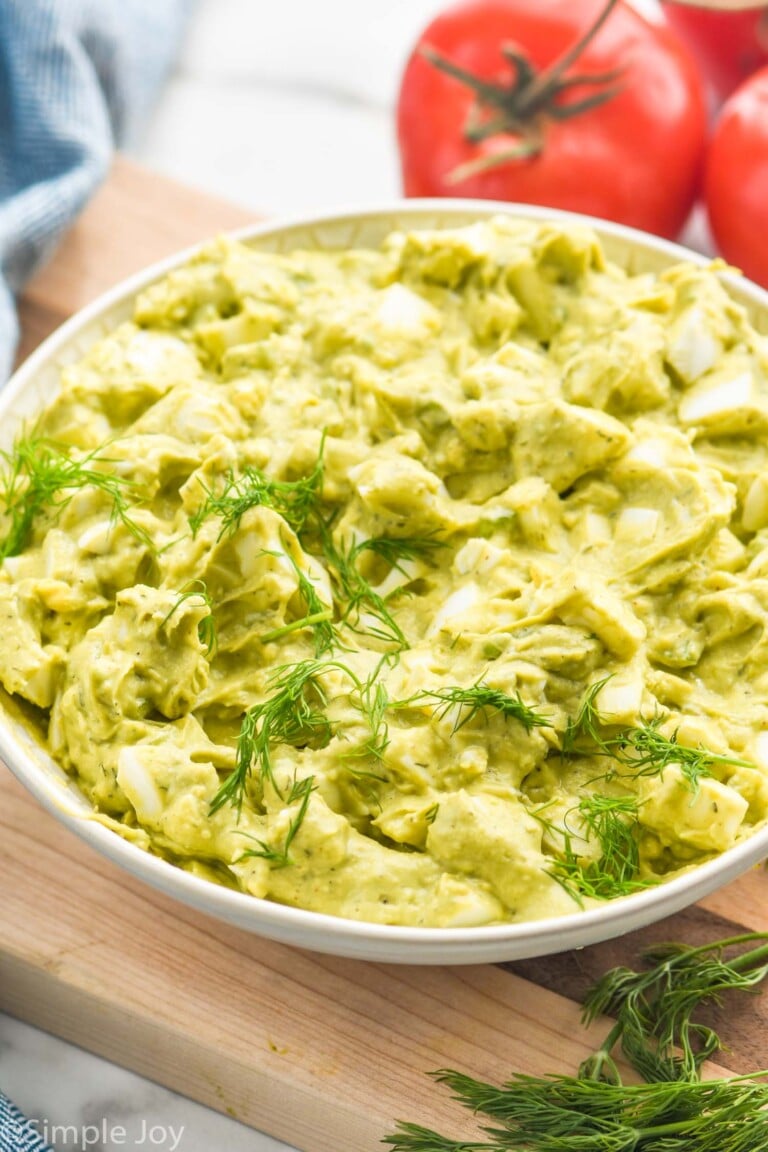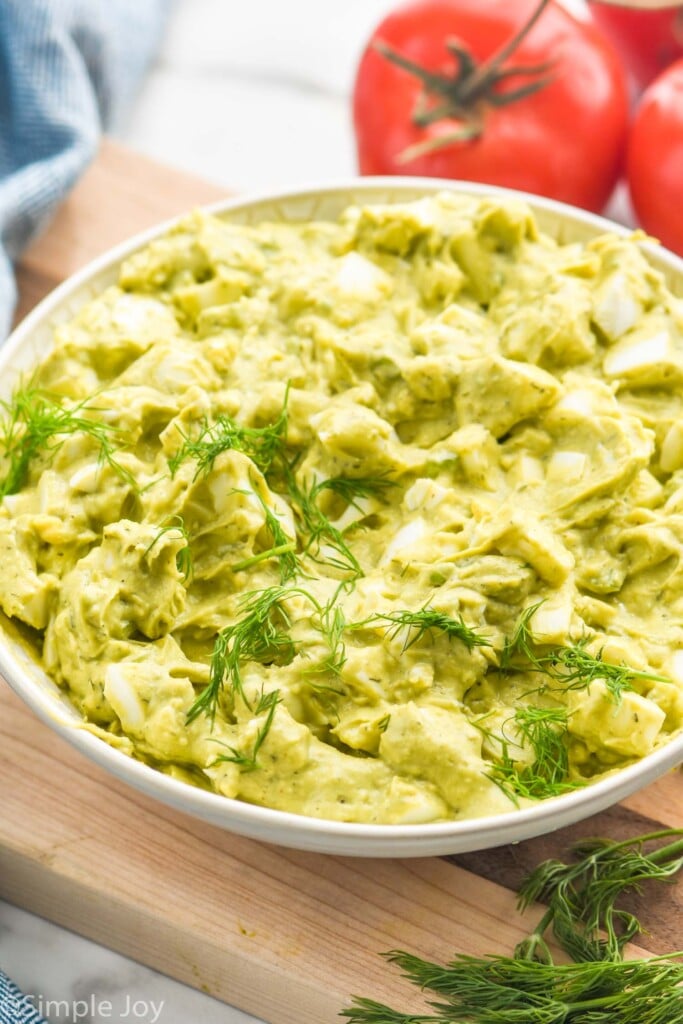 FAQ
How many does this recipe serve?
This recipe makes three cups of egg salad, which is enough for four hearty sandwiches.
Can you freeze egg salad?
I would not recommend freezing this recipe. Because this recipe contains mayo, I don't think you will like the consistency of the recipe after it thaws.
Can I use Miracle Whip?
I wouldn't recommend using Miracle Whip as a replacement for the mayonnaise in this. It is a really different flavor, and you are likely going to need to tweak the recipe quite a bit to balance the sweetness of the Miracle Whip.
Storing Egg Salad
Store any leftover avocado egg salad in an airtight container in the refrigerator for up to three days. To avoid browning, store in a container that allows little to no room for extra air in it, or pack the salad down in the container and then press plastic wrap into the top. Always use your best discretion with leftovers. If it smells funky or sits out at a picnic for more than two hours, toss it.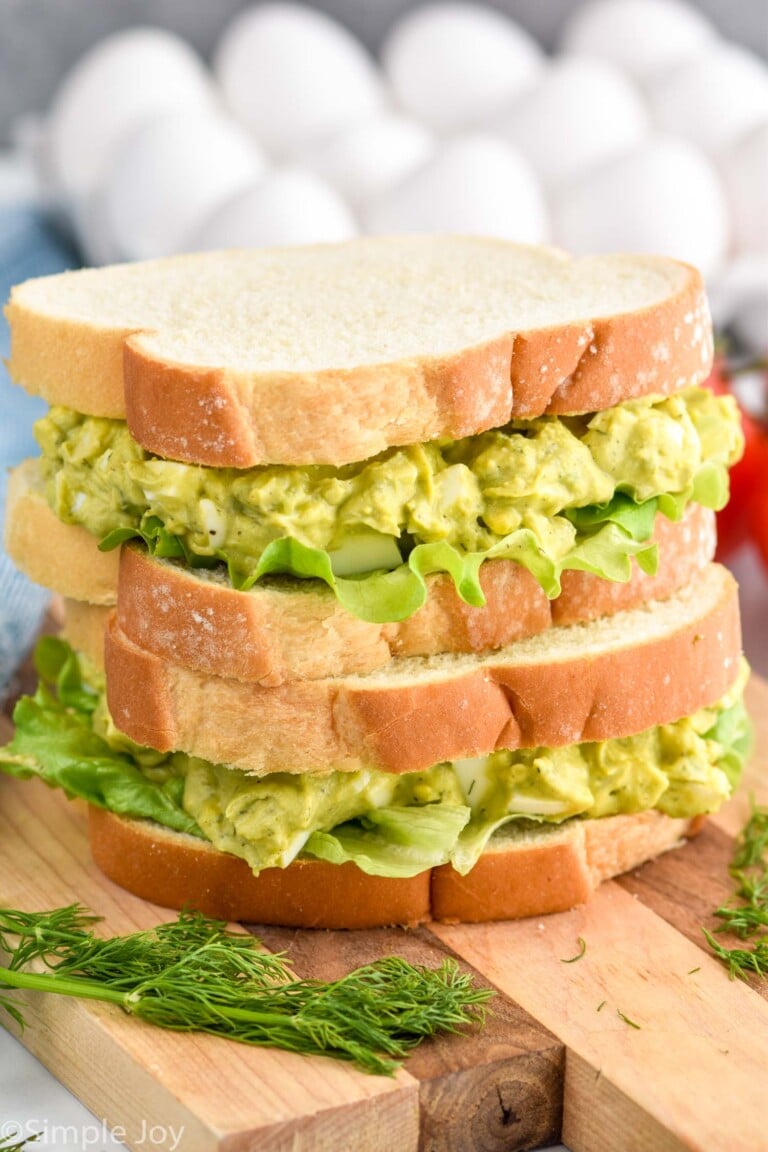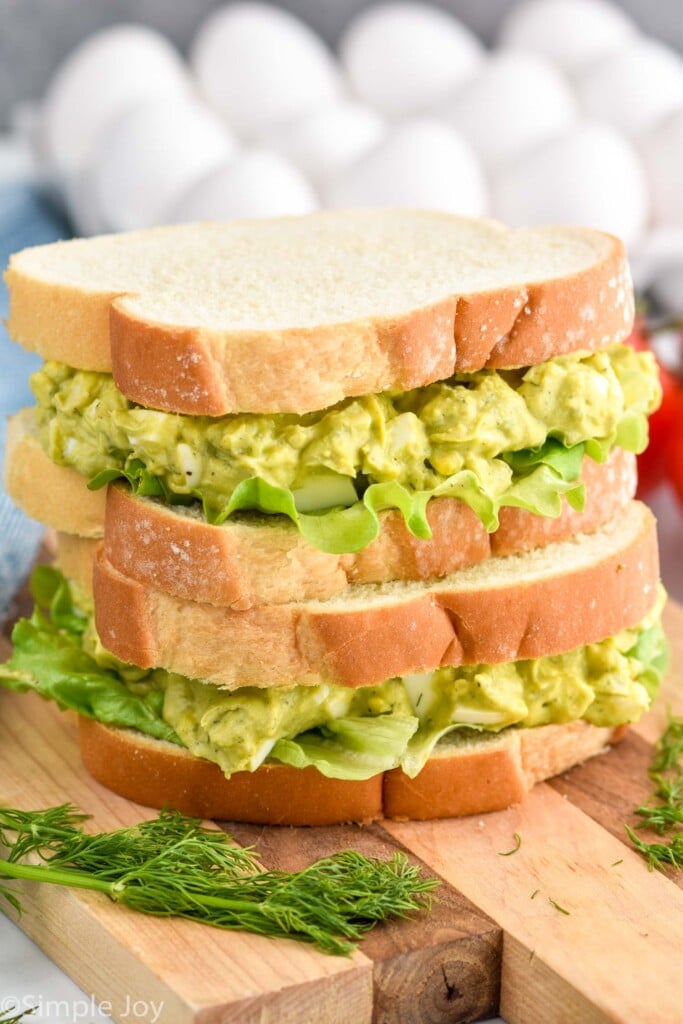 What to Serve With Egg Salad With Avocado
A refreshing Fruit Salad is a sweet complement to the hearty flavors.
This Summer Salad Recipe is filled with bright colors and flavors making it the perfect side salad.
Serve your egg avocado salad with a side of Sweet Potato Fries for your new favorite lunch combination.
Please let me know by leaving a comment if you try this avocado egg salad and what you think. I love hearing from you!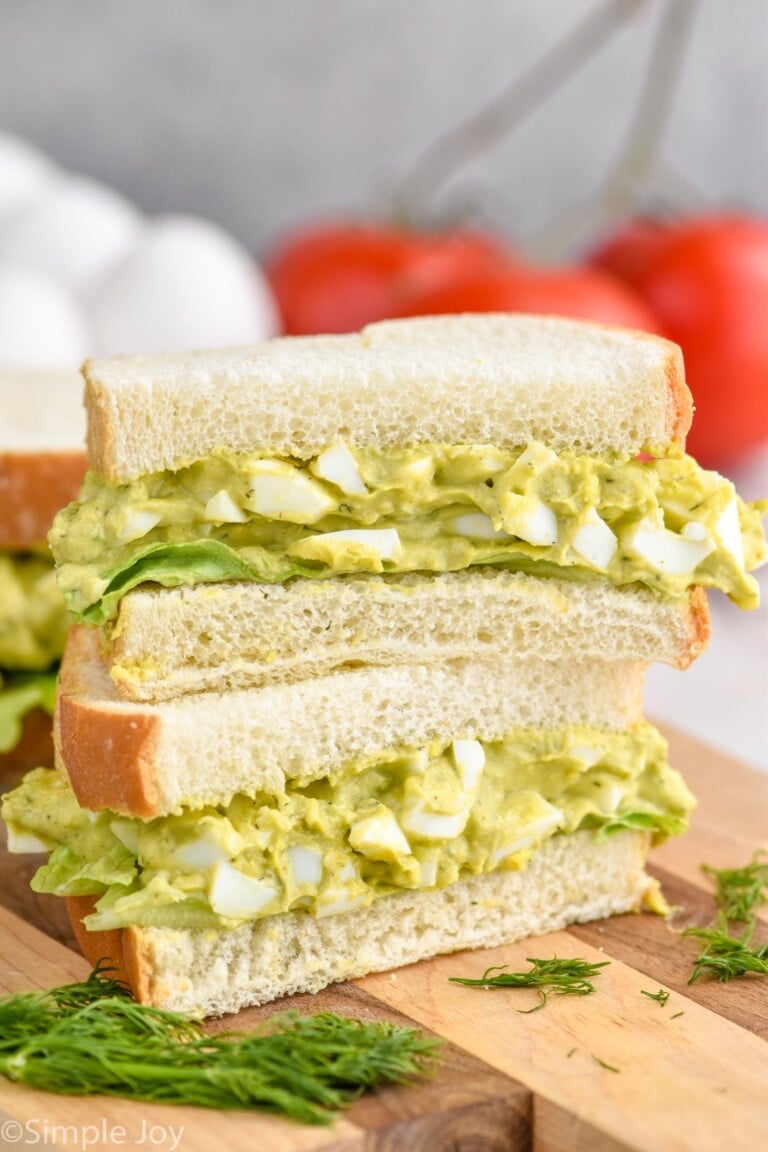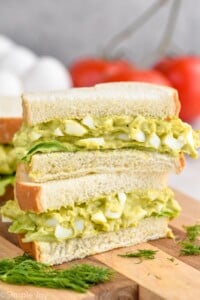 Avocado Egg Salad
Ingredients
1

avocado

1/3

cup

mayonnaise

(I used light, but full fat will work)

1

teaspoon

dill weed

1

teaspoon

Dijon mustard

1

teaspoon

lemon juice

1/2

teaspoon

onion powder

1/2

teaspoon

garlic powder

1/2

teaspoon

table salt

1/4

teaspoon

black pepper

1/4

teaspoon

paprika

1

celery stalk

diced small
Instructions
To hard boil eggs: Place eggs in a single layer in a saucepan. Add enough water to cover them completely. Bring to a roaring boil. Turn off heat and cover pan. Let sit for 12 minutes. Transfer to a bowl filled with ice water for 5 minutes. (Alternatively, make Instant Pot Hard Boiled Eggs.)

Peel the eggs and separate out the yolks. Chop the egg whites and set aside.

In a small bowl, mash up the avocado with the egg yolks. Then whisk in the mayonnaise, dill, Dijon mustard, onion powder, garlic powder, salt, black pepper, and paprika until creamy. Taste and adjust seasonings as desired.

1 avocado,

1/3 cup mayonnaise,

1 teaspoon dill weed,

1 teaspoon Dijon mustard,

1/2 teaspoon onion powder,

1/2 teaspoon garlic powder,

1/2 teaspoon table salt,

1/4 teaspoon black pepper,

1/4 teaspoon paprika

Stir the chopped egg whites and celery into the mixture. Serve on buns with lettuce and sliced tomatoes and enjoy!
Notes
Nutritional information is based on using light mayonnaise.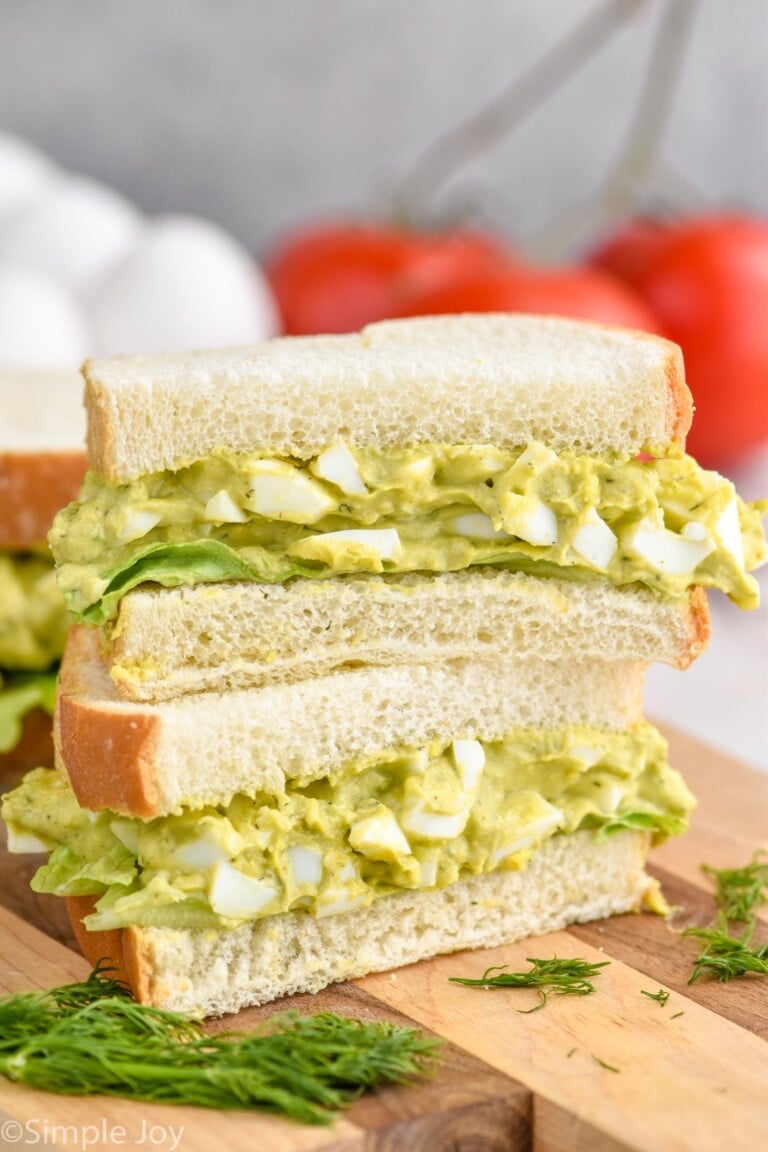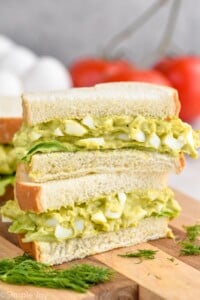 did you make this
Avocado Egg Salad