Blackened Salmon is an easy dinner that is ready in less than 25 minutes. The flavors of our Cajun seasoning put this recipe over the top!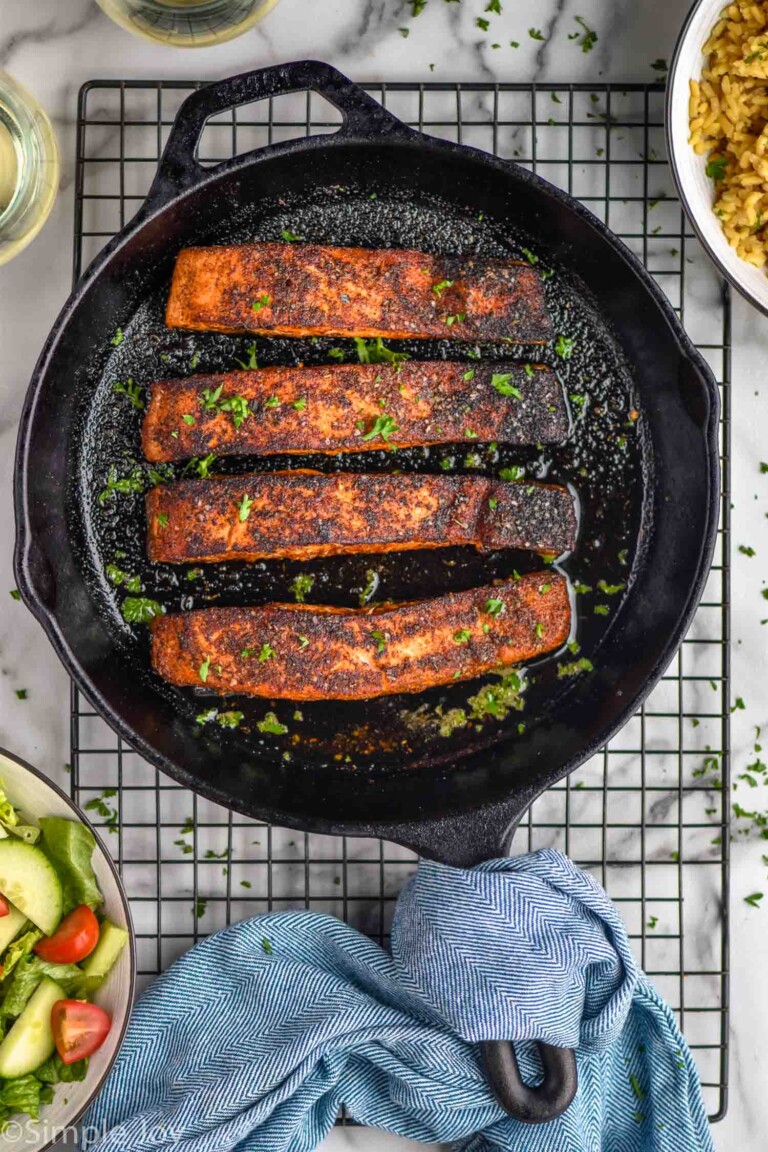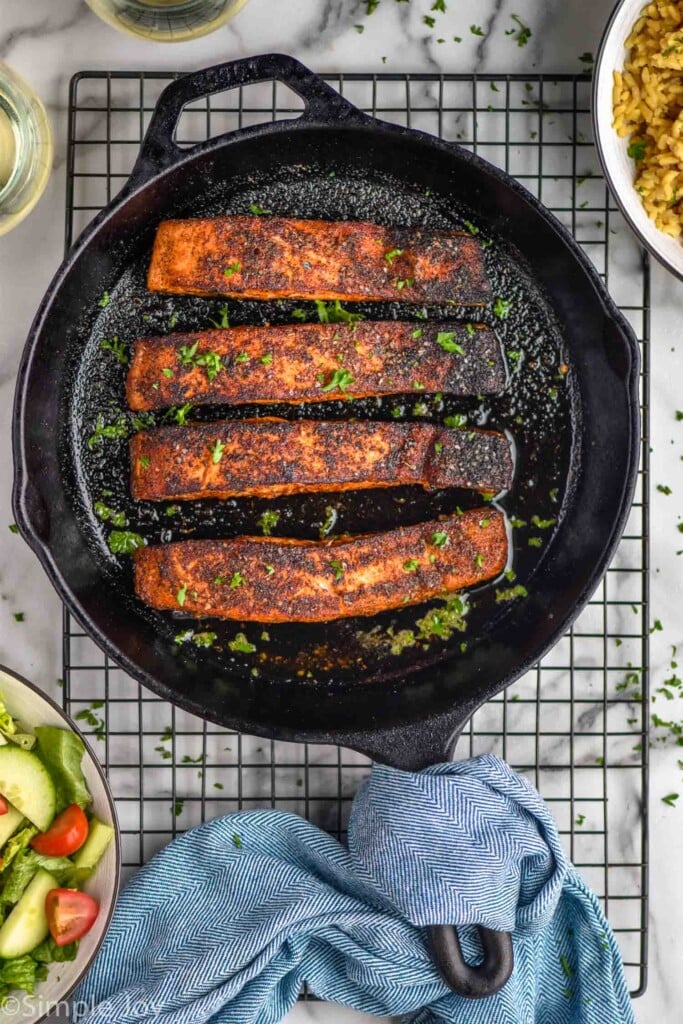 My kids are not huge fans of fish, which is such a bummer to me. I could eat fish several times a week, especially salmon. It is so good for you and there so many different and flavorful ways to cook it.
I asked my daughter to take a bite of this recipe without her knowing what it was. She said, "OMG! That's really really good." And then I told her it was fish and she denied she ever liked it. Kids. Am I right?
This is a magical recipe. It will turn fish haters into fish lovers. Beyond that, it is done in less than 30 minutes and is less than 300 calories per serving. Absolute perfection.
What is Blackened Salmon
Blackened refers to the method of cooking the salmon. Despite the deep color, the salmon isn't burnt. The fish is coated in oil and seasonings and cooked with high heat which blackens the seasonings on the outside of the salmon, giving it a dark brown or black appearance. It creates a delicious flavor that can be eaten as is or in recipes such as with pasta, rice, or on salads.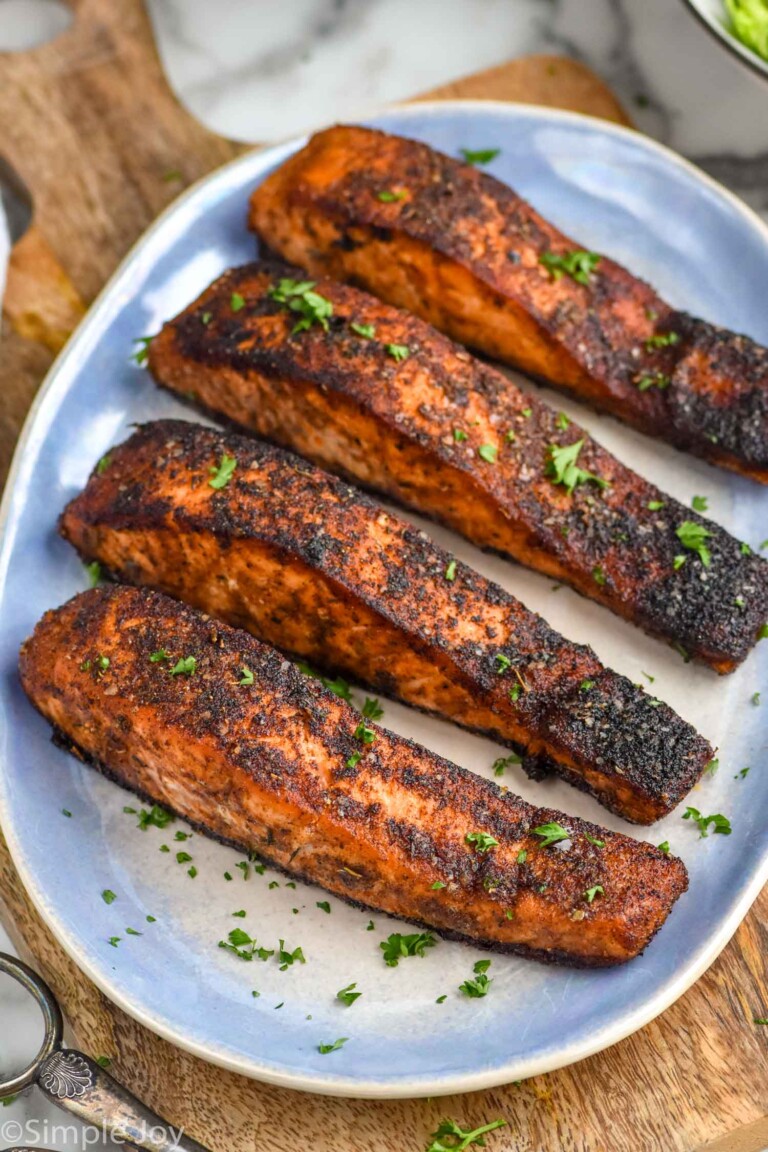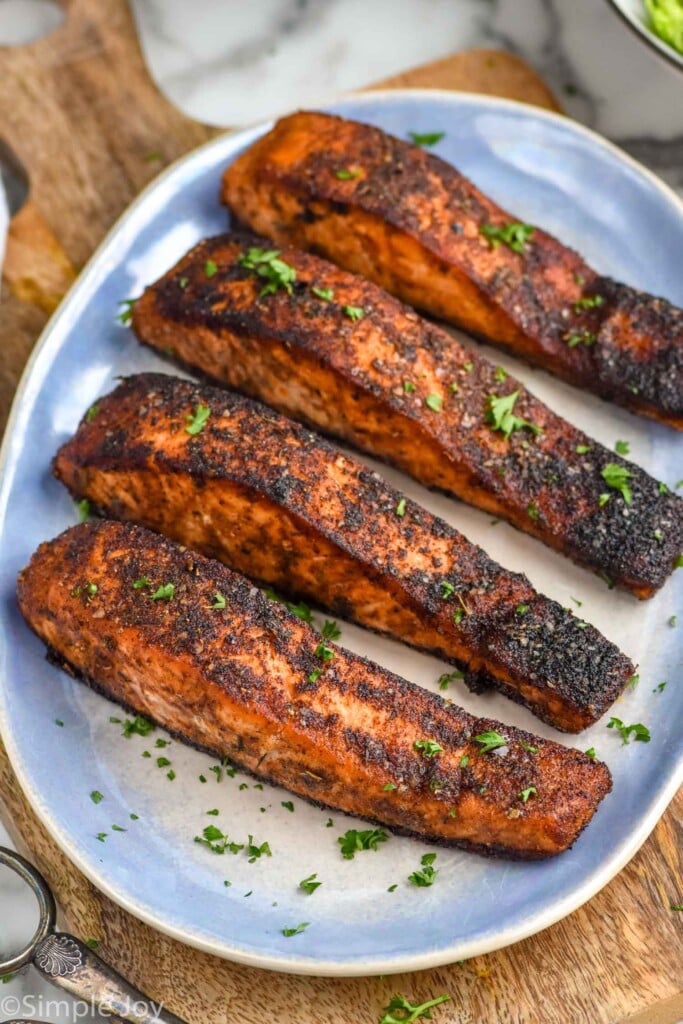 How to Make Blackened Salmon
This blackened salmon recipe comes together in a few simple steps listed below. For the full recipe and all of the measurements, scroll to the recipe card at the bottom of the post.
Heat the skillet. Do not add anything to the skillet while it is preheating. It should be smoking when ready. Again, no oil should be added.
Season the salmon. Mix the Cajun seasoning with the oil. Rub it all over the salmon filets.
Fry the salmon. Add the seasoned filets to the hot skillet, cooking for one to two minutes on each side.
Bake the salmon. Transfer the skillet to the oven bake them until cooked through. Use a meat thermometer to ensure they are done.
Cajun Seasoning Recipe
Homemade Cajun Seasoning is easy to make and adds zesty flavor to so many recipes!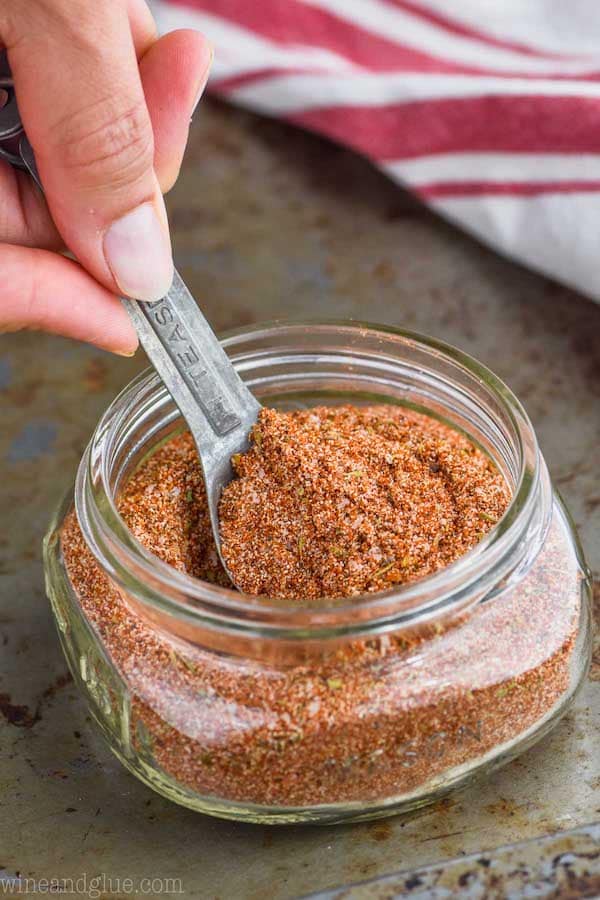 Blackened Salmon Seasoning
I have a whole post that goes through homemade Cajun Seasoning and why I love making seasonings from scratch. The benefits of making your own seasonings range from saving money to being able to control sodium and heat levels. Here are the basics:
Paprika
Salt
Onion Powder
Garlic Powder
Black Pepper
Thyme
Oregano
Cayenne Pepper
Red Pepper Flakes
I love that I typically always have these seasonings on hand. When combined they make such a great seasoning that I use in so many different recipes. Find the full measurements in the recipe card below.
Buying Salmon
You will need about one pound of salmon for this recipe, which breaks down into four four-ounce filets. It is ideal for them to be about the same size so that they will be done cooking at the same time. Most stores sell salmon in the freezer section that is already cut into portioned filets, which at times can be less expensive. If you buy your salmon this way, it will need to thaw in your refrigerator overnight before making this recipe.
Another great option is to go to the fish counter of your grocery store and ask them to cut four four-ounce filets for you. This is a good way to get pieces that are even in thickness and size and get the exact amount you need.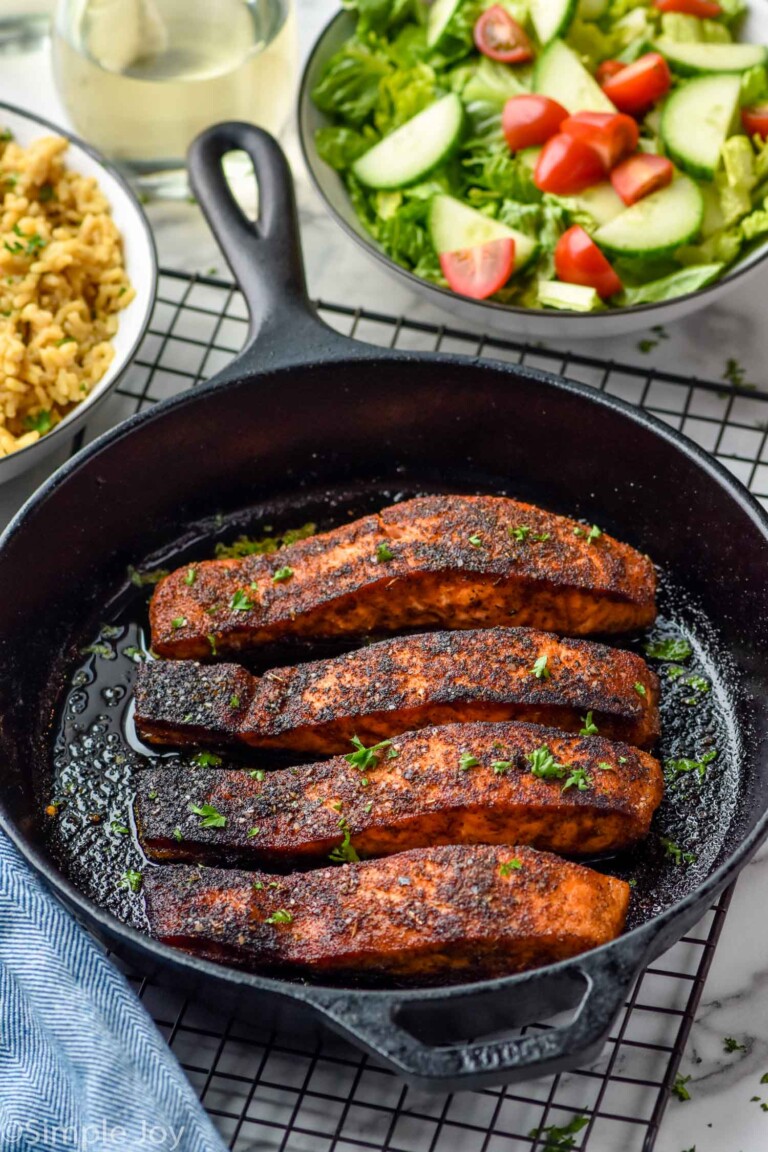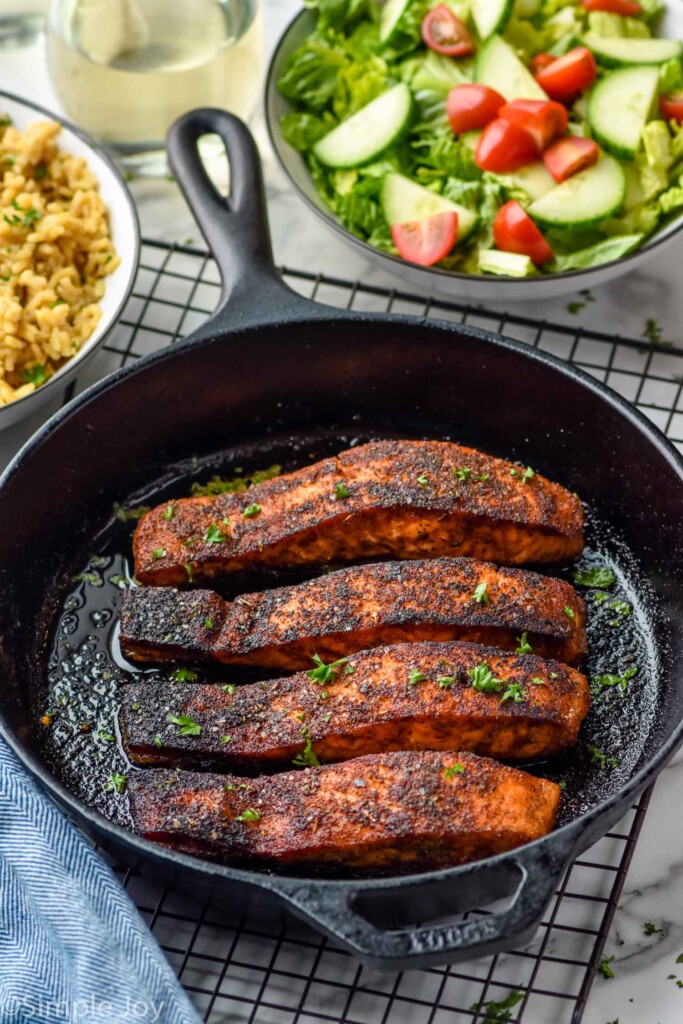 Cooking Salmon
I know that salmon can be really intimidating to cook, but I think you will find this blackened salmon easy and delicious. While the salmon starts cooking on the stove, it finishes in the oven and is done when the internal temperature reaches 145 degrees Fahrenheit.
The best way to cook salmon is to invest in an instant read thermometer. At the 10 minute mark, you can start checking the temperature of the salmon and pull it out right at 145 degrees Fahrenheit. This is my favorite instant read thermometer which can be left in the oven with the salmon while it bakes.
You can also tell salmon is done by its texture. When you push down very gently with a fork, it should flake apart easily.
TOP PICK
Instant Read Thermometer
This instant read thermometer can be left in the oven and is great for cooking any kind of meat.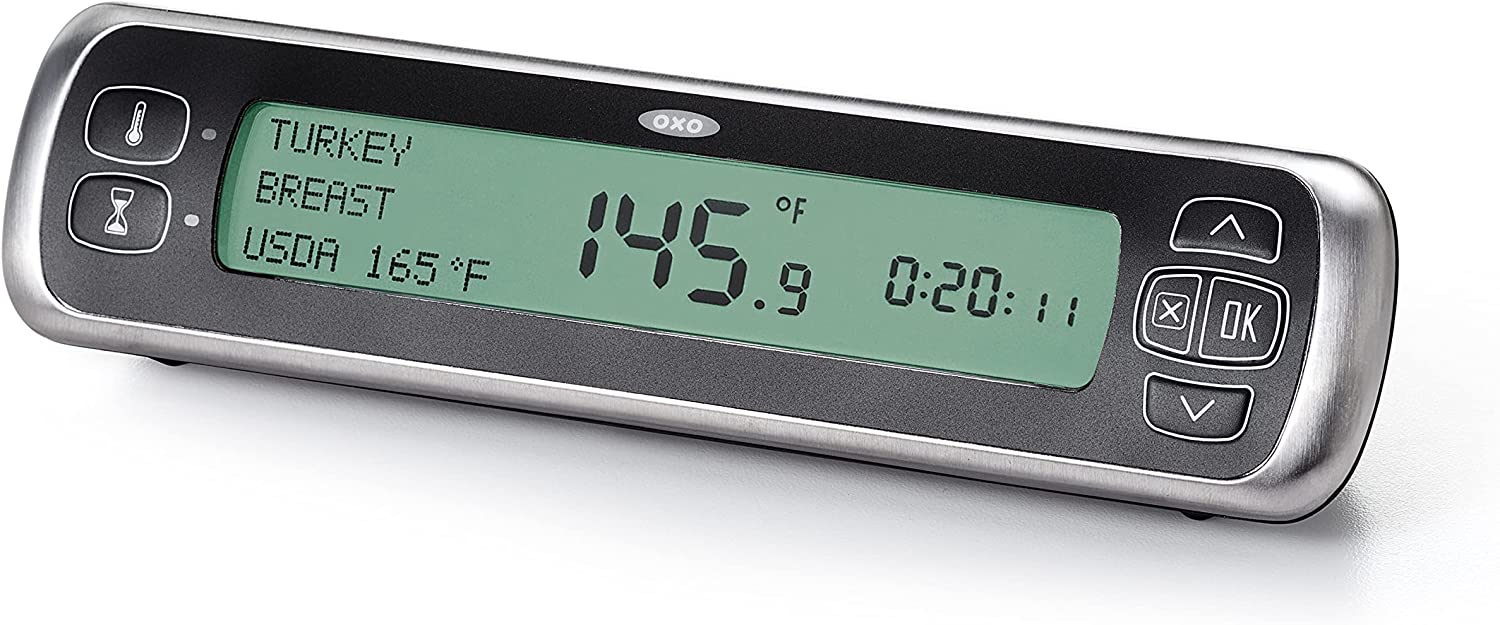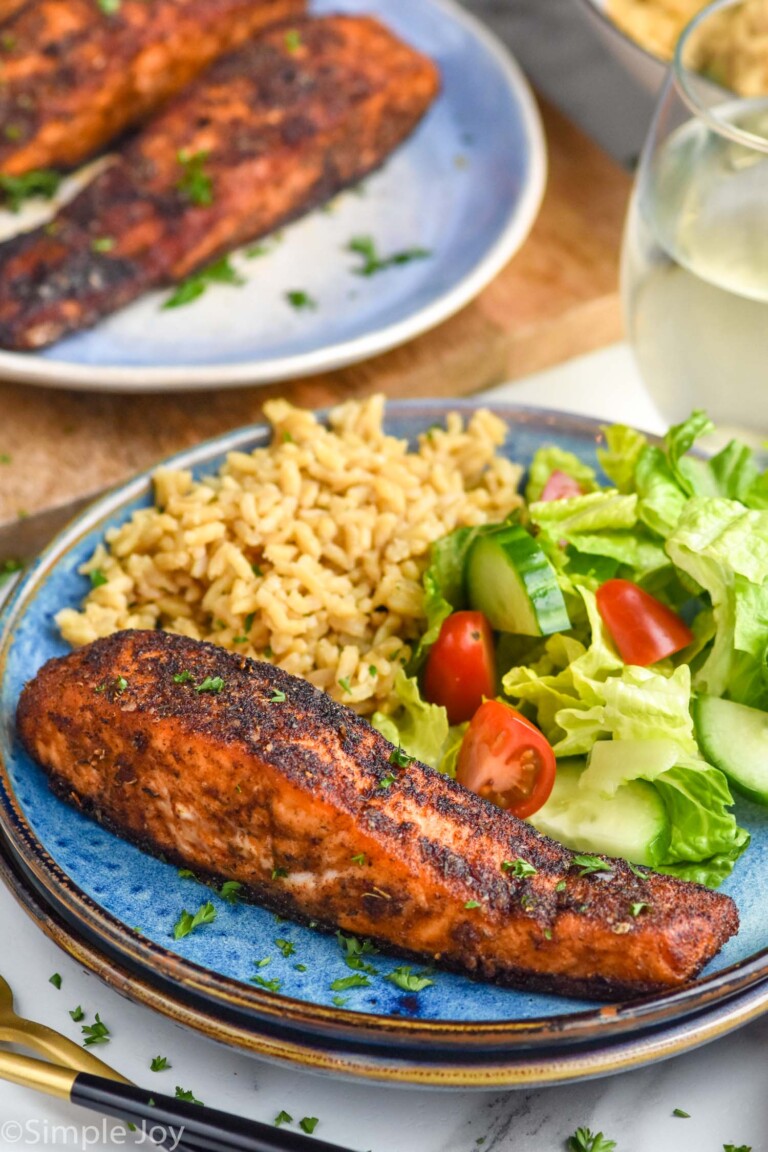 How to Eat Blackened Salmon
There are so many options for how to enjoy this baked blackened salmon. Try any (or all!) of these delicious combinations.
Storing and Reheating Leftovers
This recipe is best when enjoyed fresh out of the oven. If you do want to reheat leftovers, please take a look at the following tips.
Eat any leftovers within 24 hours of making them.
Note that reheated salmon will not be as delicious as the original.
Reheat the salmon in the oven, not the microwave.
Use low heat when reheating. This salmon should be reheated at 250 degrees in the oven for 20 to 25 minutes or until it reaches 125 degrees.
This leftover salmon can be eaten cold. This is how I prefer to eat any leftovers of this recipe.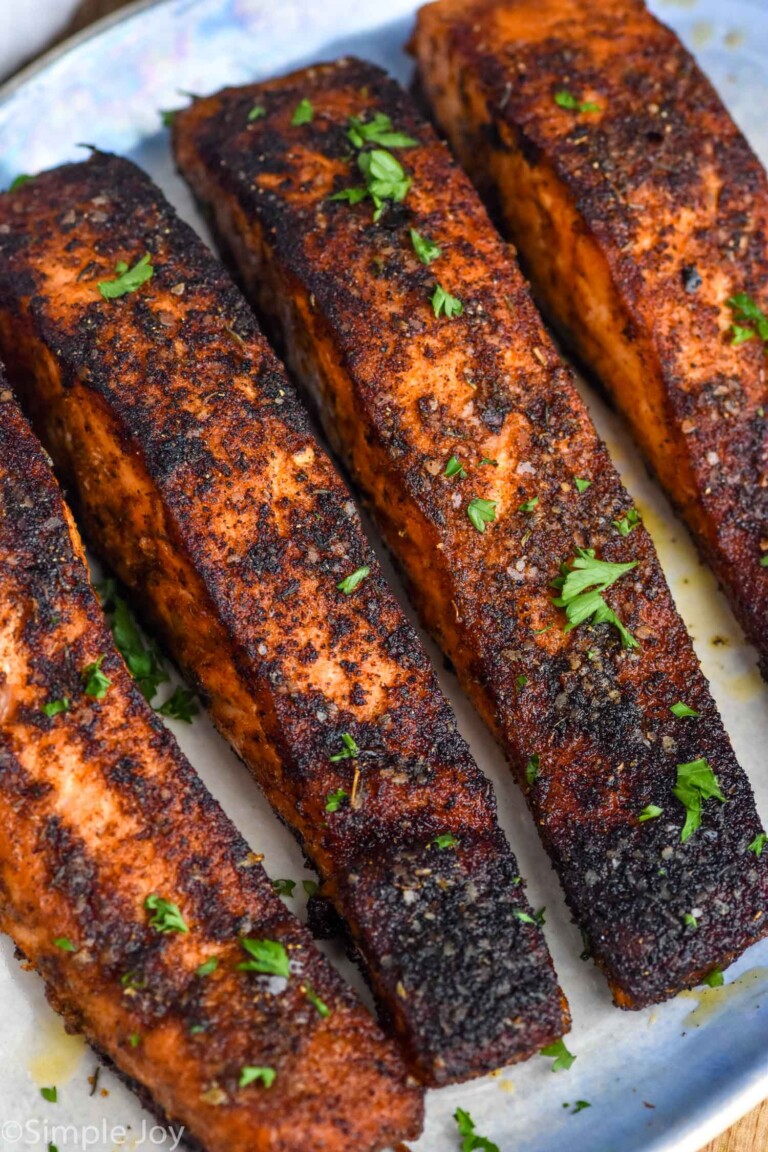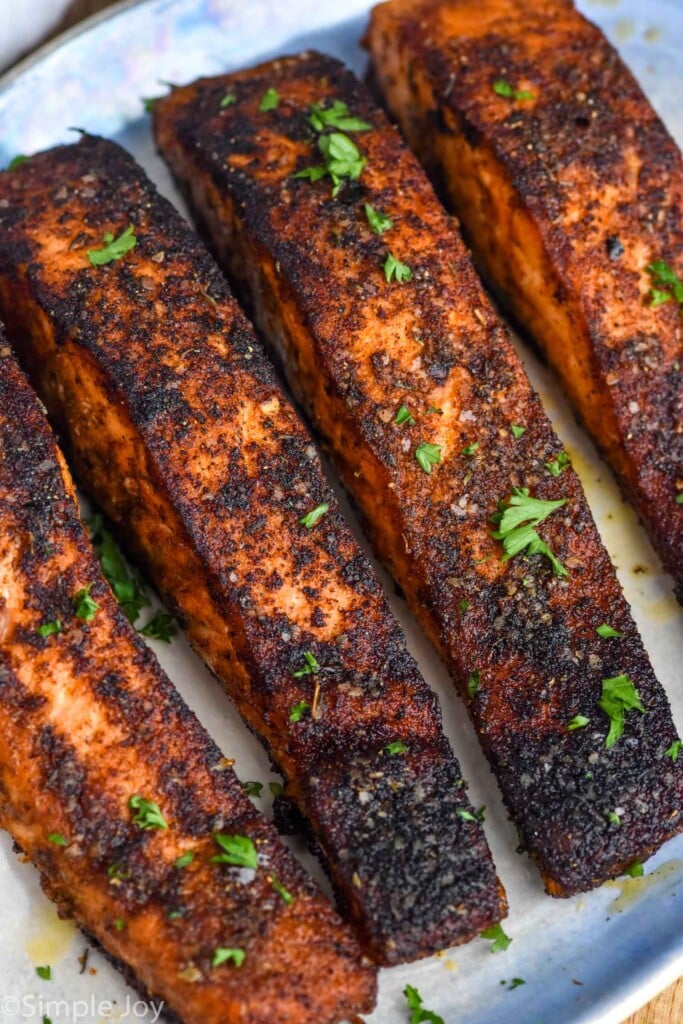 Other Salmon Recipes
If you try this blackened salmon recipe or any of my others, please leave a comment and let me know what you think!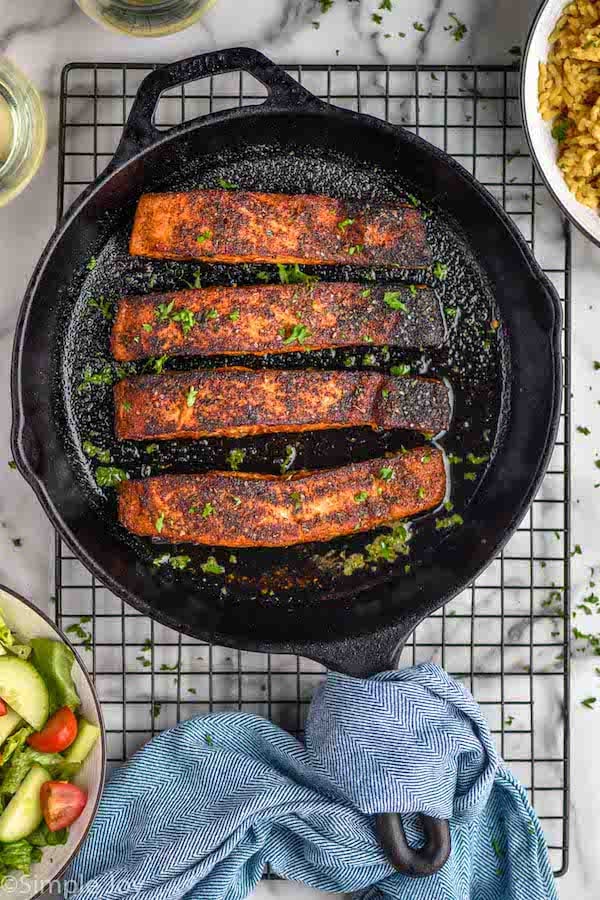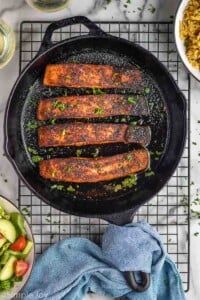 Blackened Salmon
Blackened Salmon is an easy dinner that is ready in less than 25 minutes. The flavors of our Cajun seasoning put this recipe over the top!
Ingredients
3

tablespoons

Cajun seasoning

(see notes for the breakdown of spices)

1

pound

salmon

(it is best to buy four 4-ounce filets that are equal in thickness – read more about this in the post here)

1/4

cup

vegetable oil
Instructions
Preheat the oven to 375 degrees Fahrenheit.

Heat a cast iron skillet over high heat until it is smoking. This will take about 5 minutes. Please note that you are not adding anything to this skillet while it is preheating.

Mix the Cajun seasoning with the oil. Rub it all over the salmon filets. I like to do this on a plate, pouring a little more than a tablespoon over each filet. It will be messy, and there will be a bit left over. Make sure to rub it on all sides of the salmon.

Add the prepared salmon to the skillet. Cook for 2 minutes on each side. (You may need to do this in batches depending on the size of your skillet.) Transfer the salmon in the skillet to the preheated oven. Bake for 10 minutes or until the salmon reaches an internal temperature of 145 degrees Fahrenheit. Read more about the cooking temperature of salmon here and why an instant read thermometer is so helpful.
Notes
The 3 tablespoons of Cajun seasoning can be replaced with:
1 tablespoon paprika
1/2 tablespoon kosher salt
1/2 tablespoon onion powder
1/2 tablespoon garlic powder
3/4 teaspoon black pepper
1/2 teaspoon thyme
1/2 teaspoon oregano
dash cayenne pepper
pinch red pepper flakes
Calories:
296
kcal
(15%)
Carbohydrates:
3
g
(1%)
Protein:
23
g
(46%)
Fat:
21
g
(32%)
Saturated Fat:
3
g
(19%)
Polyunsaturated Fat:
11
g
Monounsaturated Fat:
6
g
Trans Fat:
0.1
g
Cholesterol:
62
mg
(21%)
Sodium:
53
mg
(2%)
Potassium:
675
mg
(19%)
Fiber:
2
g
(8%)
Sugar:
1
g
(1%)
Vitamin A:
2631
IU
(53%)
Vitamin C:
0.05
mg
Calcium:
26
mg
(3%)
Iron:
2
mg
(11%)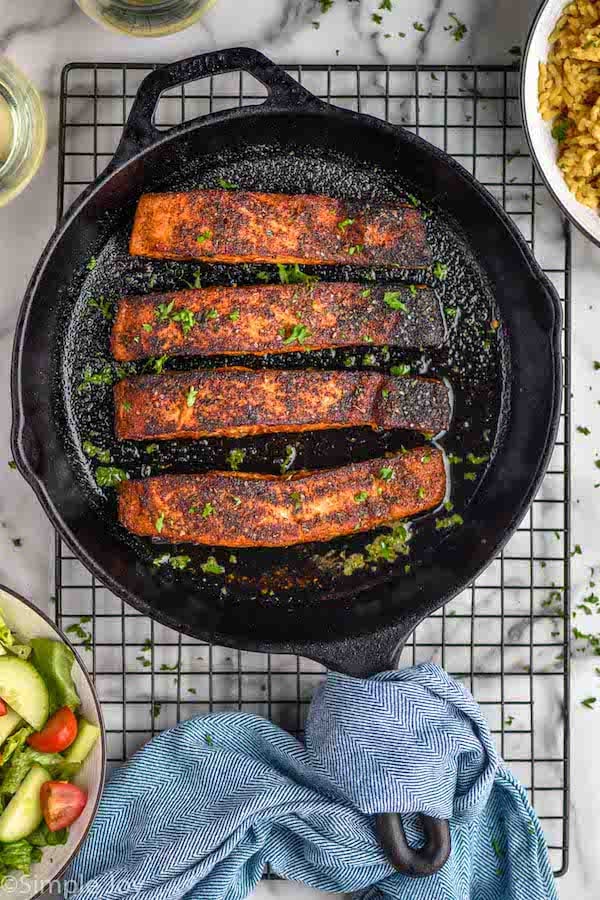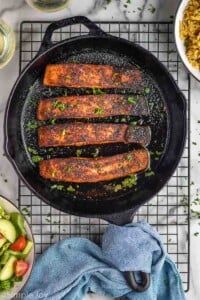 did you make this
Blackened Salmon