Crab Stuffed Salmon is an easy dinner recipe that is sure to impress. If you are nervous about cooking fish, follow our simple instructions for the perfect recipe.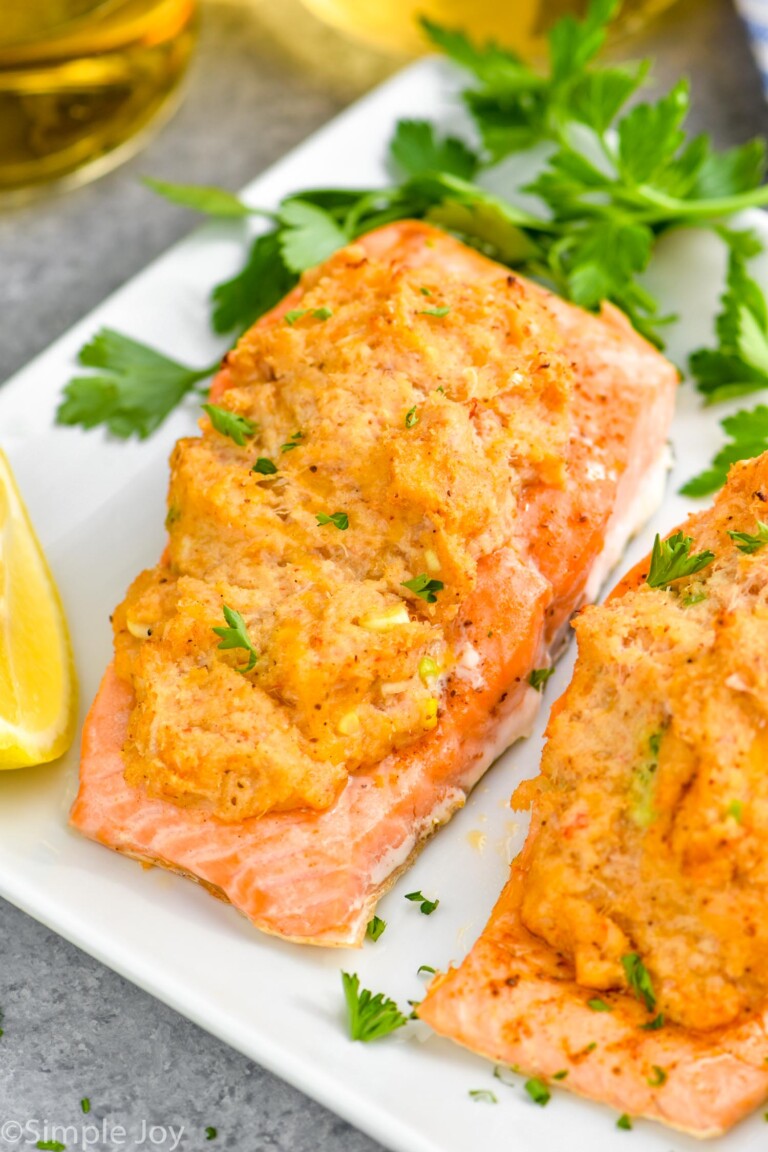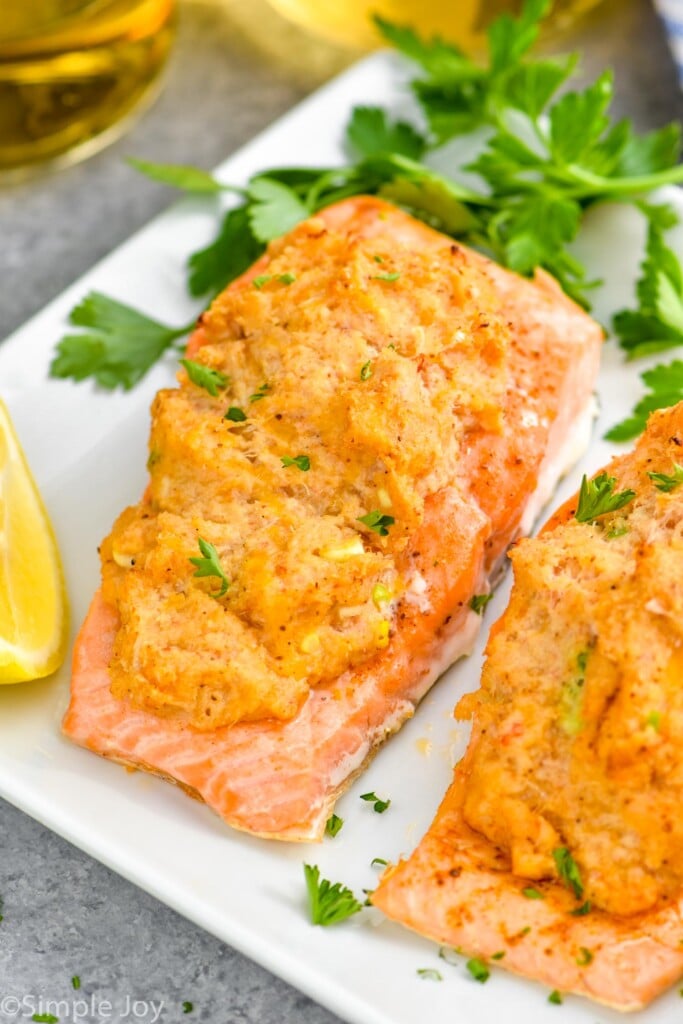 I could eat salmon almost every single day. It is delicious prepared so many different ways. And it is good for you too.
In this Salmon Stuffed with Crab recipe, we are making a really simple filling and then adding it to salmon filets. The recipe is done in less than 30 minutes, and tastes like it is from a high end restaurant. Not only that, but each serving is less than 350 calories.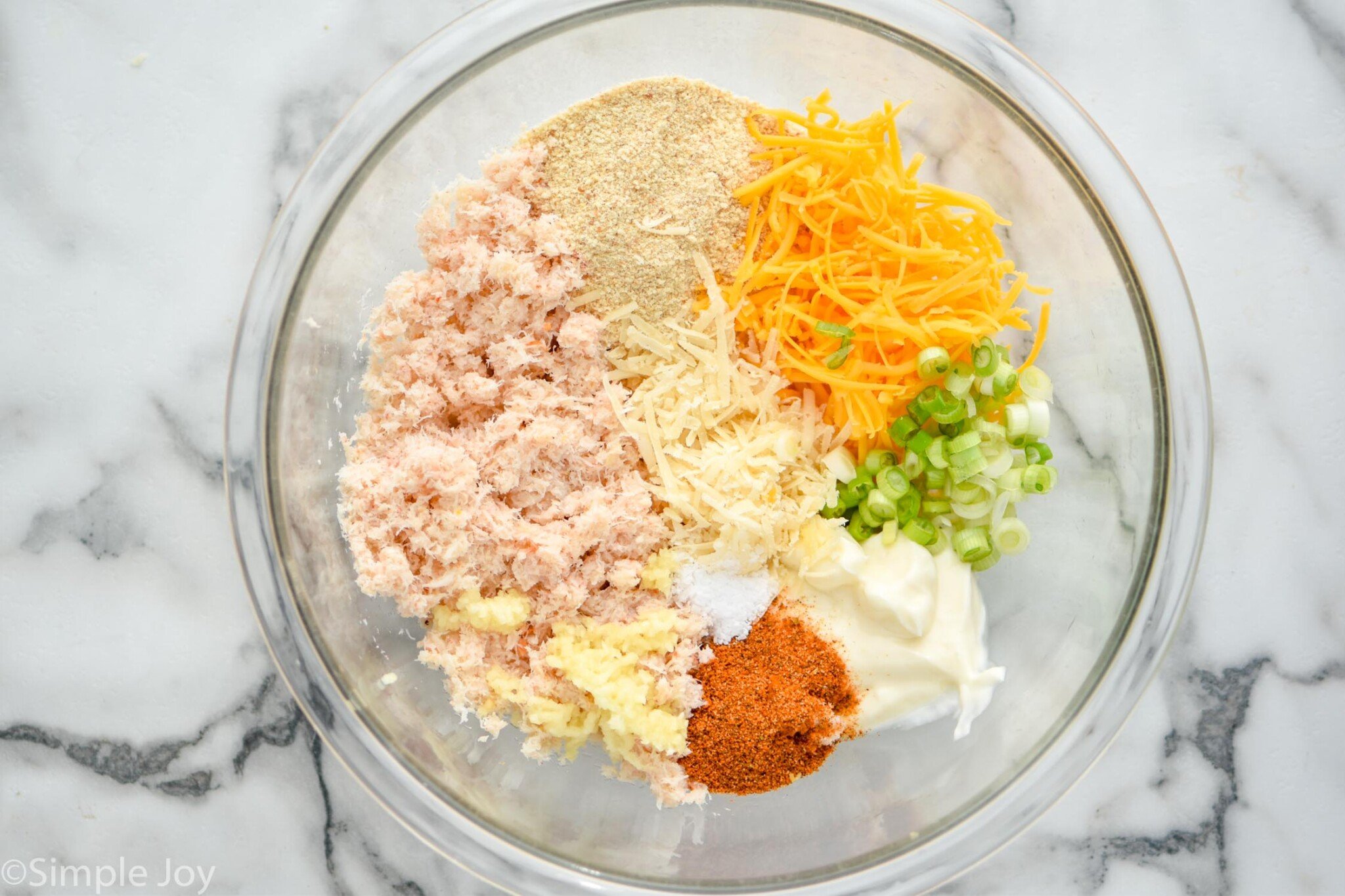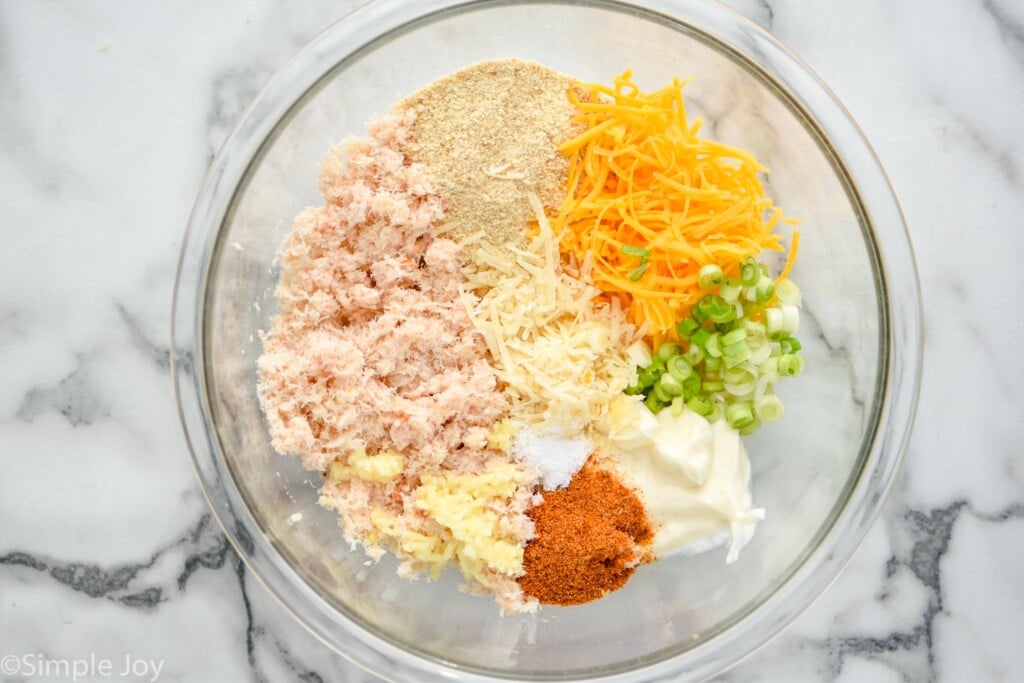 Crab Stuffing for Salmon
Crab Meat: Please see my notes below on using real vs. fake crab in this recipe.
Green Onions: These onions are the perfect ingredient for this recipe, adding just a bit of tang.
Garlic Cloves: We are using two fresh garlic cloves in this recipe because everything is better with garlic.
Bread Crumbs: I used plain bread crumbs in this recipe because it helps the filling crisp up a bit and hold together. See my notes below on making this recipe low carb.
Cheddar Cheese and Parmesan Cheese: The combination of these two cheeses add the perfect flavor and decadence to this recipe. Please note that you will enjoy this recipe more with freshly grated cheese.
Low Fat Mayonnaise: This will give the filling a creaminess. If you can't eat mayonnaise you could replace this with low fat sour cream.
Lemon juice: Lemon juice and seafood go together like peanut butter and jelly. You will love the freshness it brings to this recipe.
Old Bay Seasoning and Salt: Both of these bring flavor to the filling and make the other ingredients stand out. Please read below to learn more about Old Bay.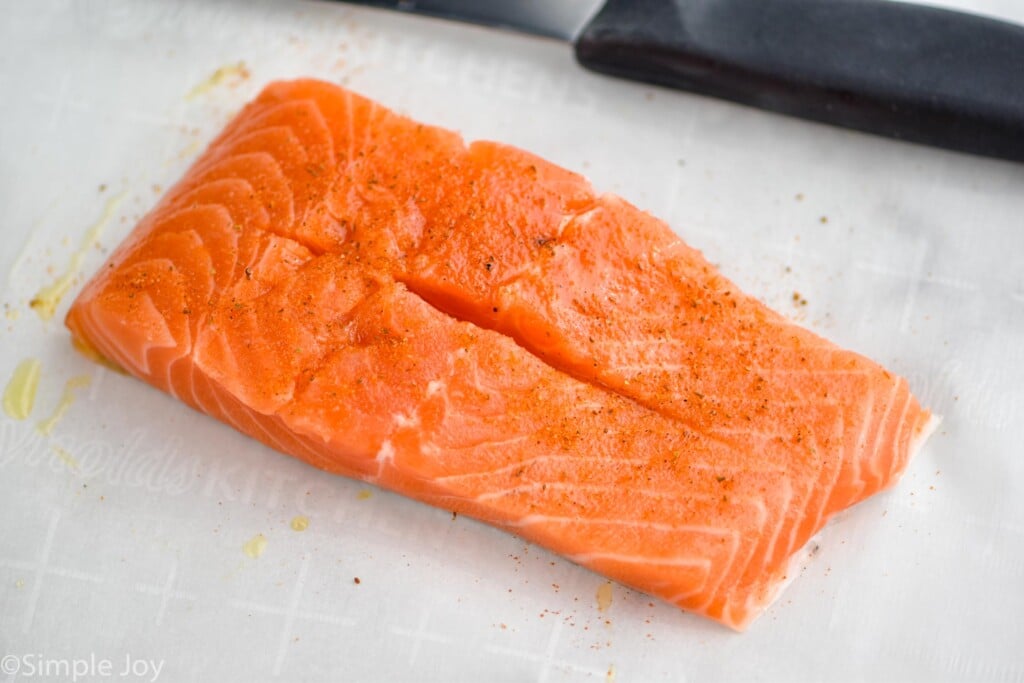 How to Make Crab Stuffed Salmon
Prepare the filling. In a bowl, mix together the crab meat, onions, garlic, bread crumbs, cheese, mayonnaise, lemon juice, Old Bay Seasoning, and salt.
Prepare the salmon. Working with a sharp knife, cut a slit down the middle of the salmon, leaving an inch on either end, and being careful not to cut the skin on the underside. Season the salmon with a little bit of olive oil, and some Old Bay Seasoning.
Stuff the salmon. Divide the stuffing into four, and place the stuffing in and on top of the salmon.
Bake the salmon. Salmon bakes quickly, so you will want to keep a close eye on it. Bake it for 15 to 20 minutes, until it is 125 degrees, or until it can flake apart easily when pushed down but is still translucent.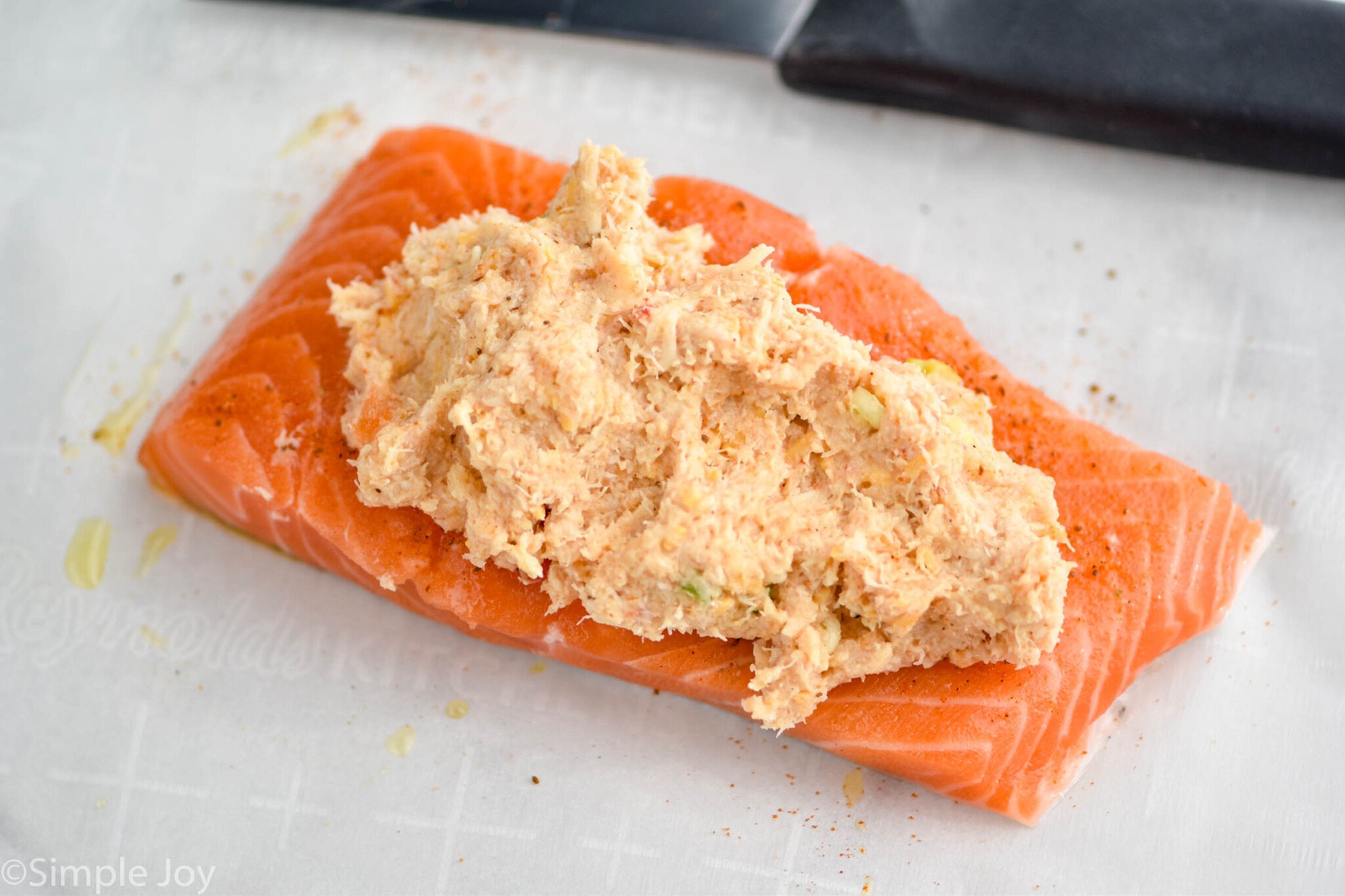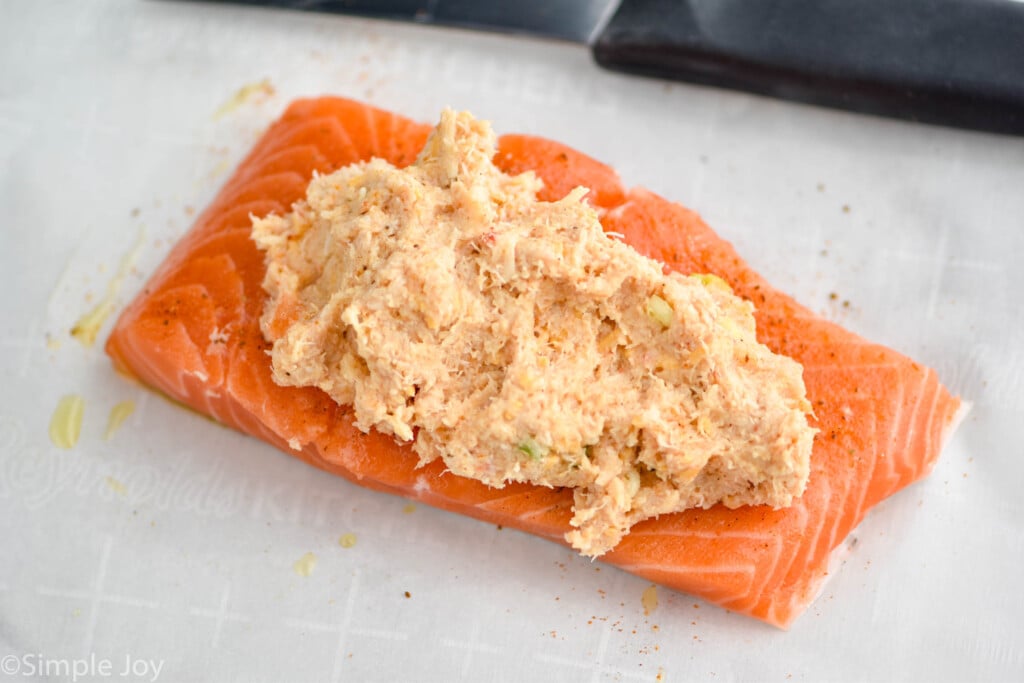 Cooking Salmon
As I mentioned above, I know that salmon can be really intimidating to cook, but I think you will find this salmon stuffed with crab easy and delicious. The best way to cook salmon is to invest in an instant read thermometer. At the 12 minute mark you can start checking the temperature of the salmon and pull it out right at 125 degrees. This is my favorite instant read thermometer.
If you don't have a thermometer, you can tell salmon is done by it's texture. When you push down very gently with a fork, it should flake apart easily. It will still be translucent when you pull it apart with the tip of the fork in the middle.
Buying and Thawing Salmon for Crab Stuffed Salmon
You will need about 1 pound of salmon for this recipe. That will allow each person to have a four ounce filet. That being said, filets of salmon that are wider are easier to work with in this recipe, and you may need to use 6 ounce filets to achieve that.
Most stores sell salmon in the freezer section that is already cut into portioned filets. At times it can be less expensive. If you buy salmon this way, be sure to thaw it in your refrigerator overnight before making this.
Another great option is to go to the fish counter of your grocery store and ask them to cut you four 4 ounce filets. That way you can get pieces that are even in thickness and size and get the exact amount you need. My experience is that butchers are more than happy to get their customers exactly what they need.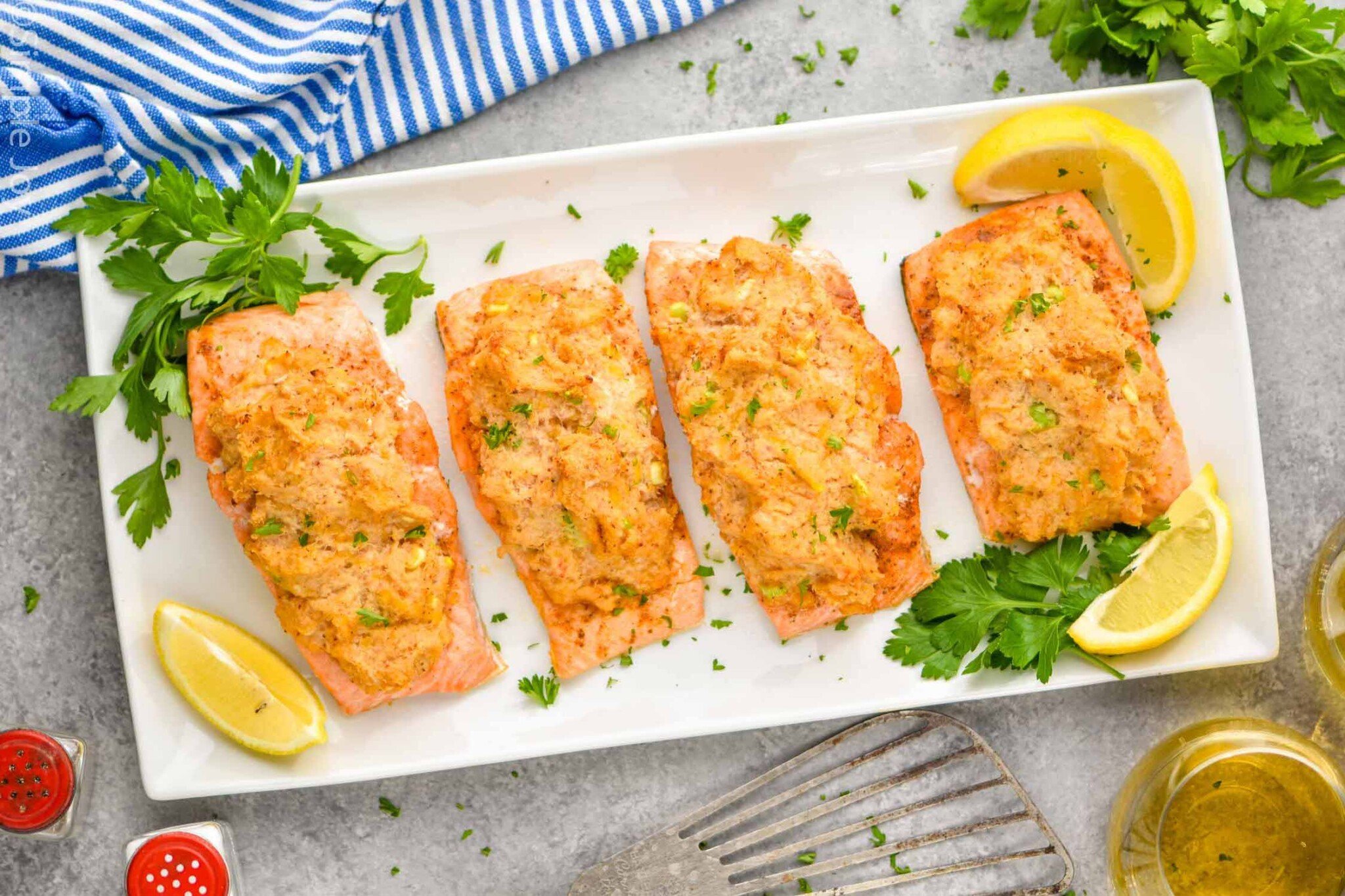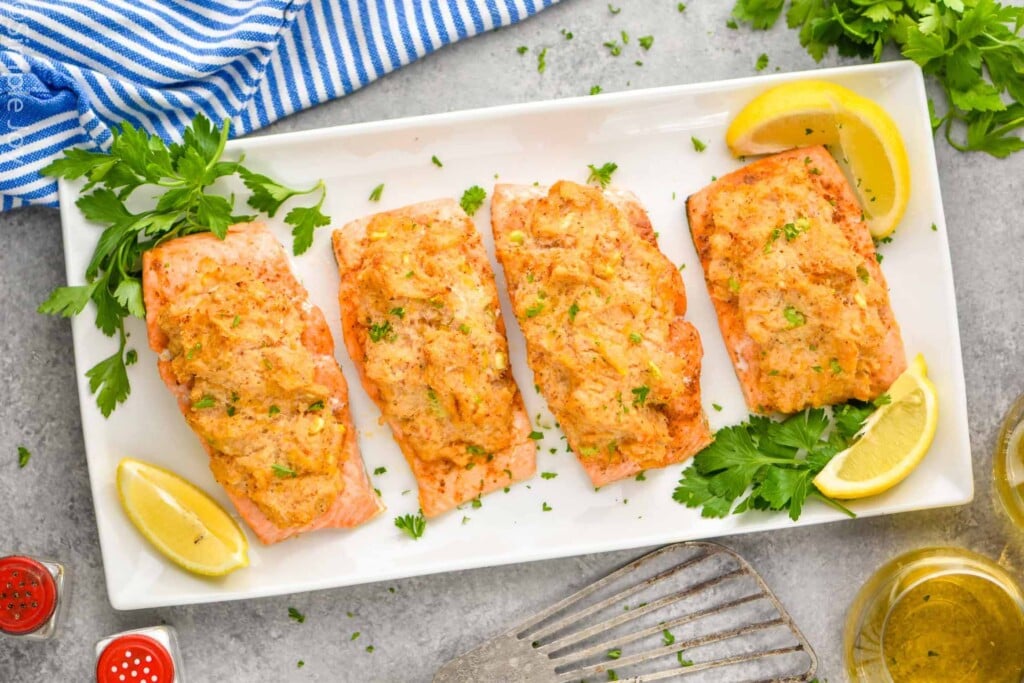 Imitation Crab vs. Real Crab
If you have been following me for some time, you know that I'm not shy when it comes to using imitation crab – despite the objections of half the internet. It is delicious in my mom's Crab Pasta Salad and in my Crab Salad.
That being said, in this recipe, I opted to use real lump crab meat. It is more expensive, but I decided that for this recipe – which feels like a fancy dinner – it is worth it. If real crab isn't in your budget, don't skip out on making this. Use the fake crab. You will still love it.
Old Bay Seasoning
Old Bay Seasoning is such a good season for salmon. In this recipe we are using it both in the filling and sprinkled over the salmon before stuffing. Store bought Old Bay is perfect for this recipe but if you live overseas or you know you are allergic to one of the ingredients, you can make your own Homemade Old Bay Seasoning and customize it as you need.
Homemade Old Bay Seasoning Recipe
This Homemade Old Bay Seasoning is easy to throw together! We have so many great recipes that uses this delicious seasoning mix.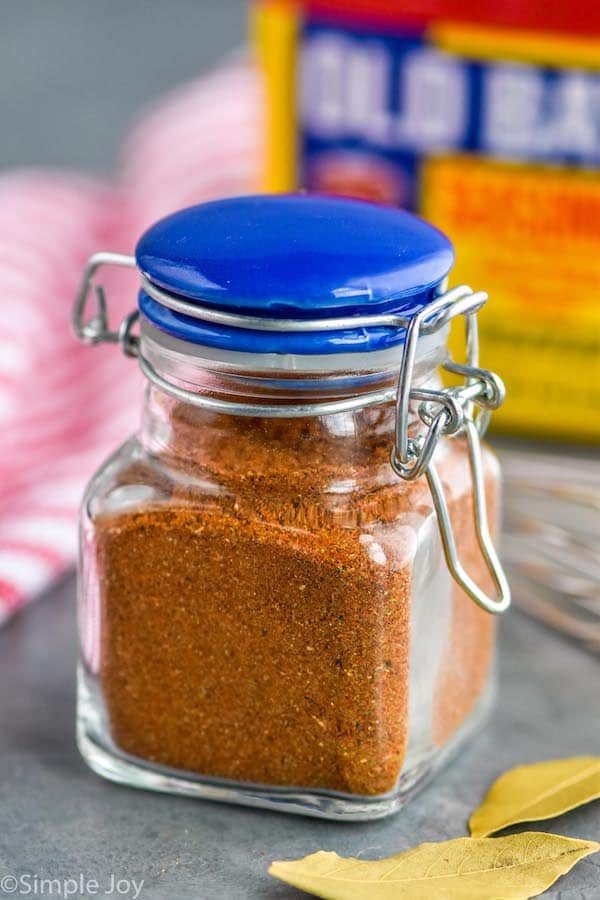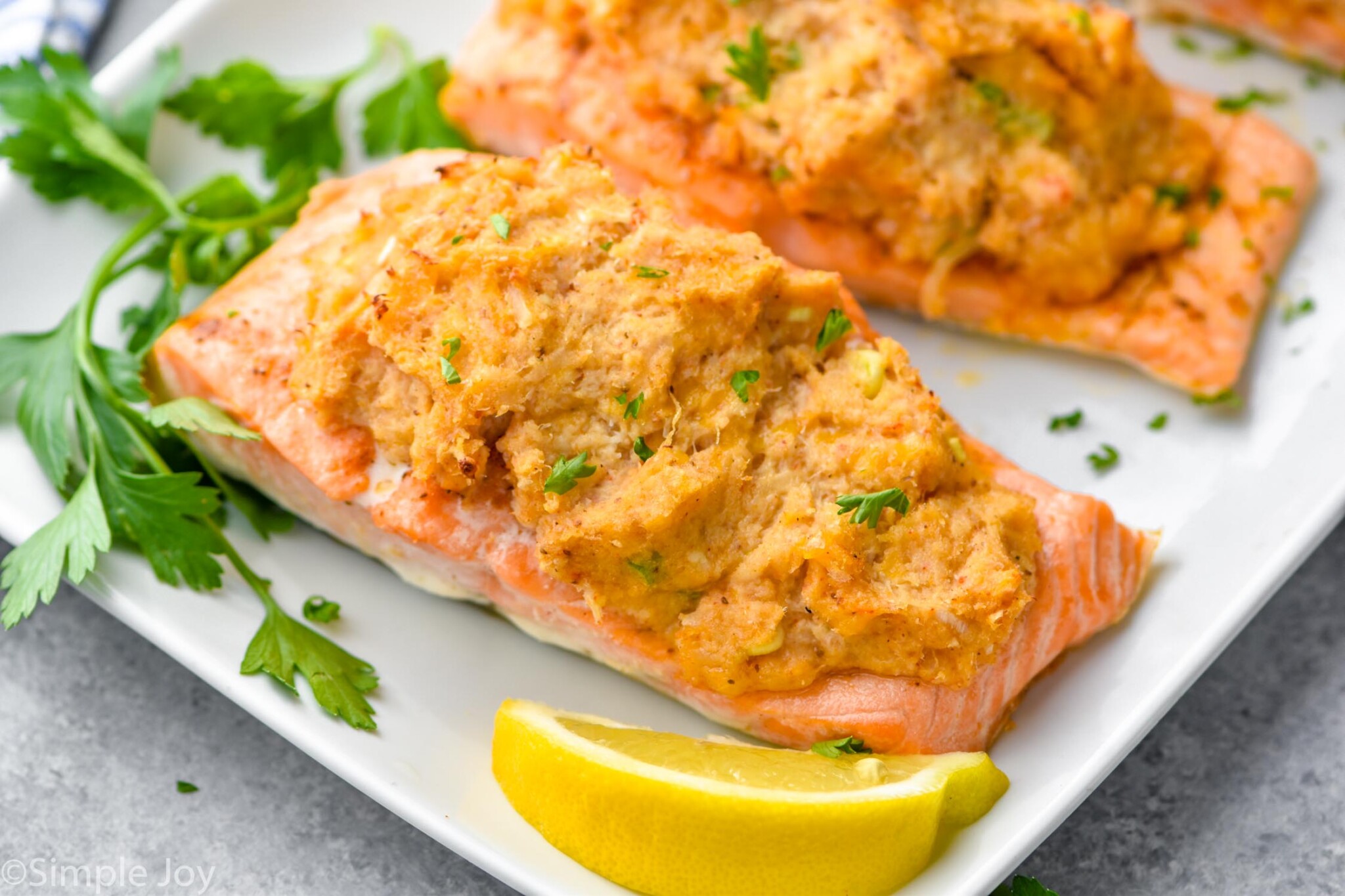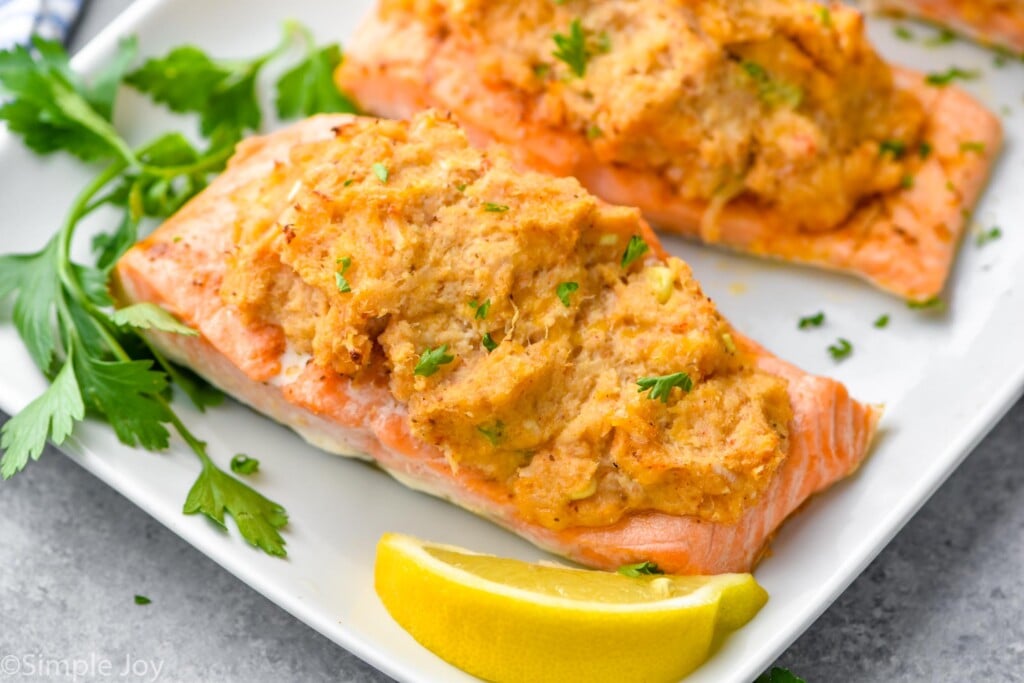 Making this Recipe Low Carb
If you want to skip the bread crumbs in this recipe for carb or dietary restriction reasons, you can replace them with pork rinds. Simply grind up pork rinds and use 1/4 cup in place of the bread crumbs.
Reheating Crab Stuffed Salmon
This recipe is best when eaten fresh out of the oven. If you do want to reheat leftovers, please take a look at the following tips.
Leftovers should be eaten within 24 hours of them being made.
Note that reheated salmon will not be as delicious as the original.
Reheat the salmon in the oven, not the microwave.
Use low heat when reheating. This salmon should be reheated at 250 degrees in the oven for 20 to 25 minutes or until it reaches 125 degrees.
Cover the salmon loosely with foil when reheating it.
Know that you can skip reheating it all together. I think this dish is perfectly tasty cold, and that is how I enjoy the leftovers.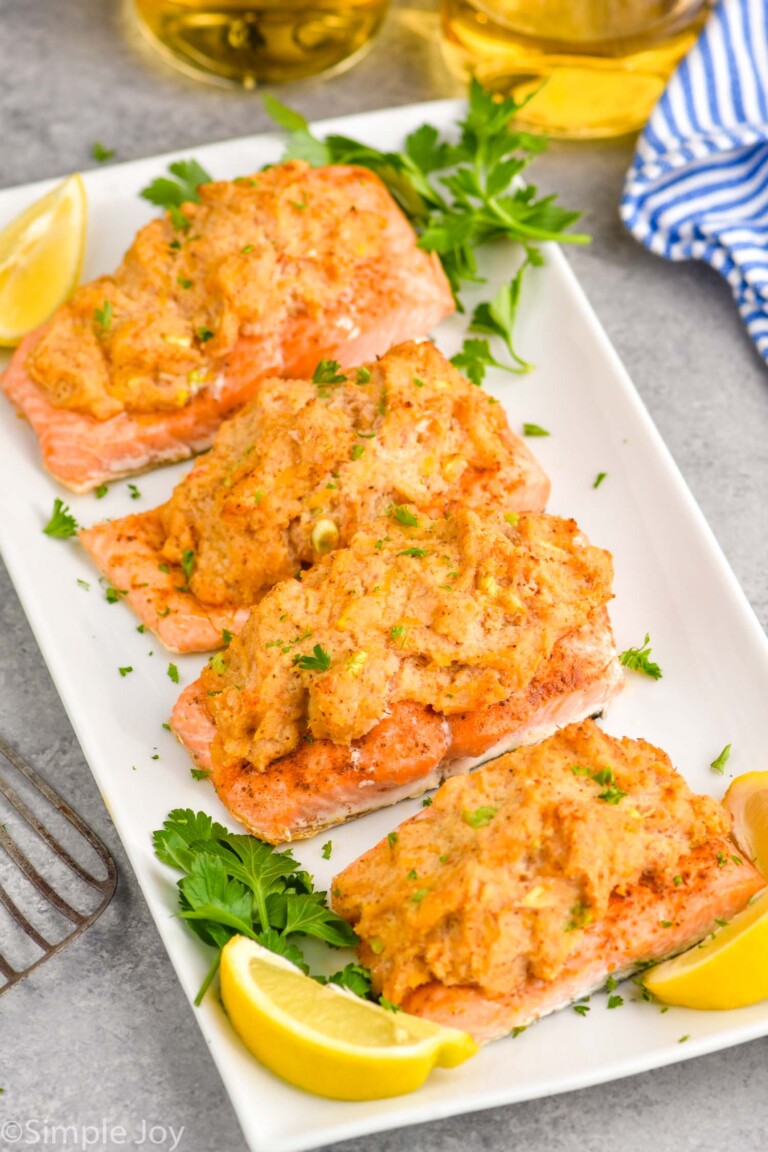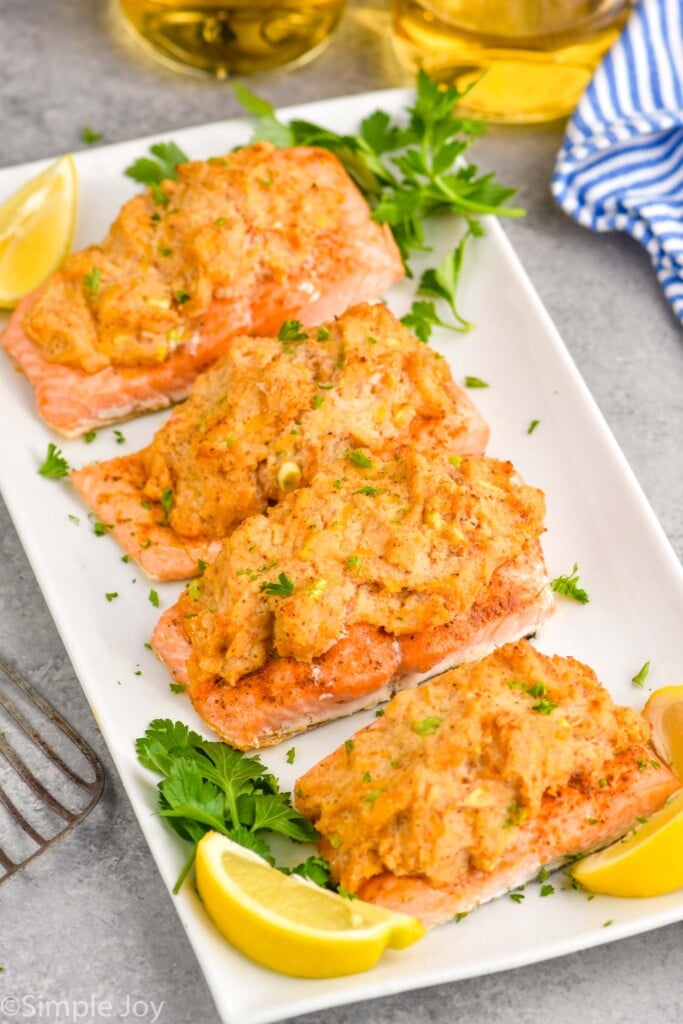 What to Serve with Crab Stuffed Salmon
There are so many easy side dishes that would be delicious with this recipe.
Other Salmon Recipes
If you make this Crab Stuffed Salmon or any of my other recipes, please leave me a comment and let me know what you think! I love hearing from you.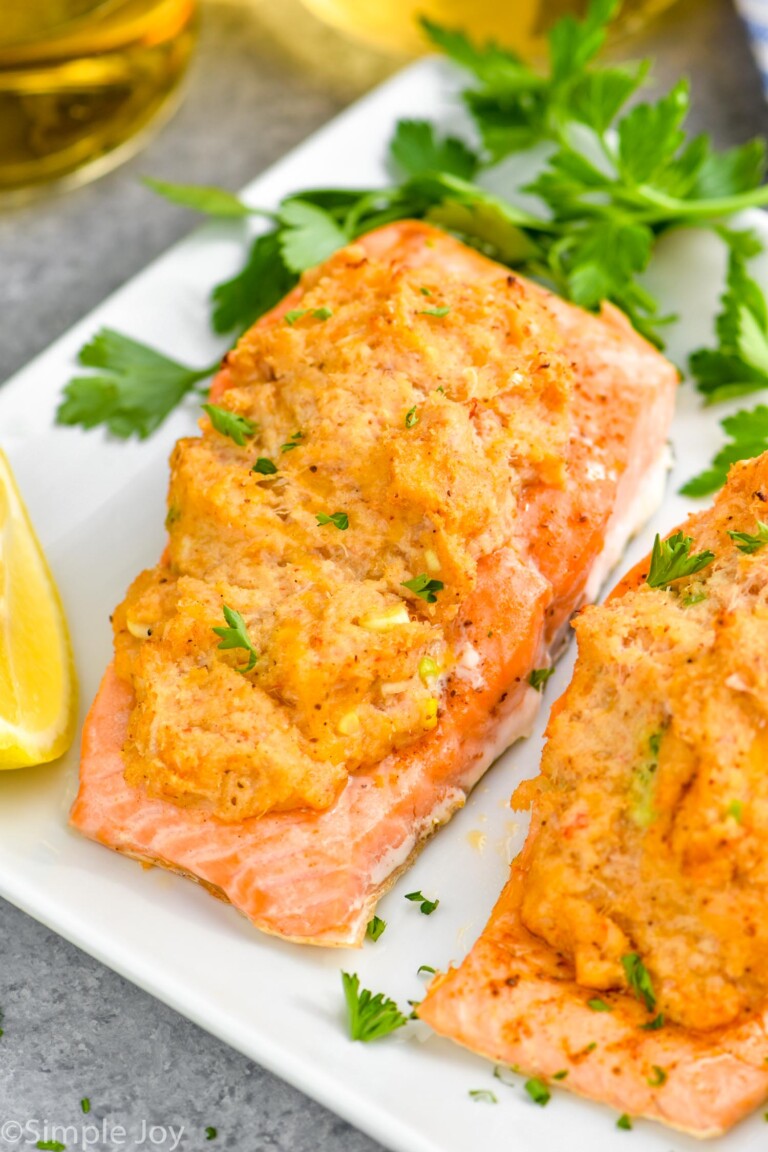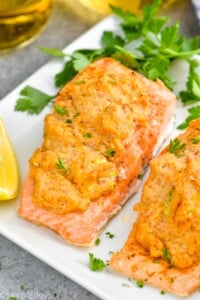 Crab Stuffed Salmon
Crab Salad is an easy recipe that works great as a side dish or a filler to make a crab salad sandwich. You will love this delicious and easy side dish recipe!
Ingredients
1

pound

salmon

cut into four equal pieces

1/2

tablespoon

olive oil

1

tablespoon

Old Bay Seasoning
For Crab Meat Filling
2

green onions

sliced one inch into the green

2

garlic cloves

minced

1/4

cup

plain bread crumbs

1/4

cup

shredded cheddar cheese

1/4

cup

mayonnaise

2

tablespoons

Parmesan cheese

2

teaspoons

lemon juice

1 1/2

teaspoons

Old Bay Seasoning learn more about Old Bay Seasoning

1/2

teaspoon

kosher salt
Instructions
Preheat your oven to 400 degrees. Line a rimmed baking sheet with parchment paper and set aside.

Cut a slit in the middle of each salmon piece (see the photo in the post). Rub each piece of salmon with oil and sprinkle with Old Bay Seasoning.

In a bowl mix together the ingredients for the crab meat filling. Stuff the filling into the prepared salmon and place them on the baking sheet. Spray lightly with cooking spray.

Bake for 15 to 20 minutes or until the salmon registers 125 degrees.
Serving:
1
fillet
Calories:
332
kcal
(17%)
Carbohydrates:
9
g
(3%)
Protein:
37
g
(74%)
Fat:
16
g
(25%)
Saturated Fat:
4
g
(25%)
Trans Fat:
1
g
Cholesterol:
98
mg
(33%)
Sodium:
1054
mg
(46%)
Potassium:
735
mg
(21%)
Fiber:
1
g
(4%)
Sugar:
1
g
(1%)
Vitamin A:
265
IU
(5%)
Vitamin C:
7
mg
(8%)
Calcium:
158
mg
(16%)
Iron:
2
mg
(11%)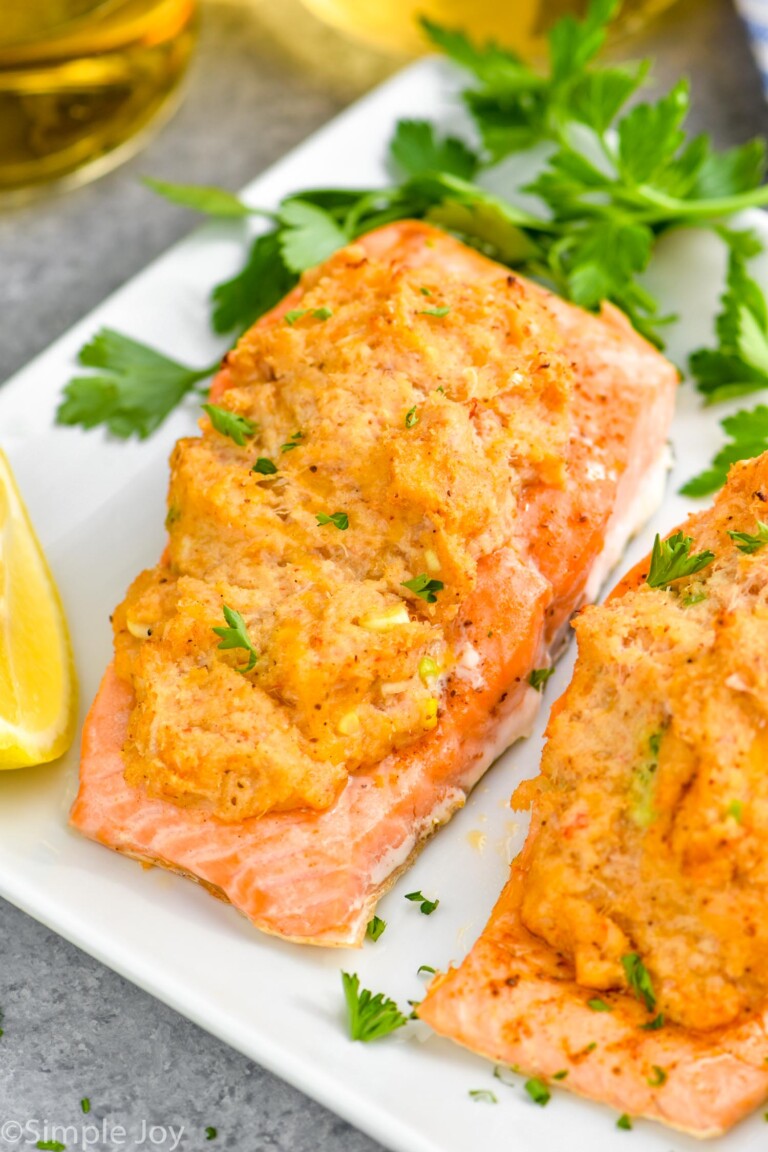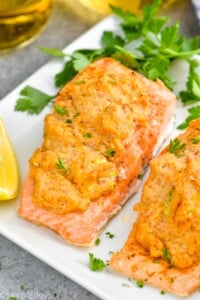 did you make this
Crab Stuffed Salmon