This Chicken Fajita Recipe are not only easy to make, but come with the most flavorful and tender pieces of chicken, thanks to my delicious Fajita Seasoning.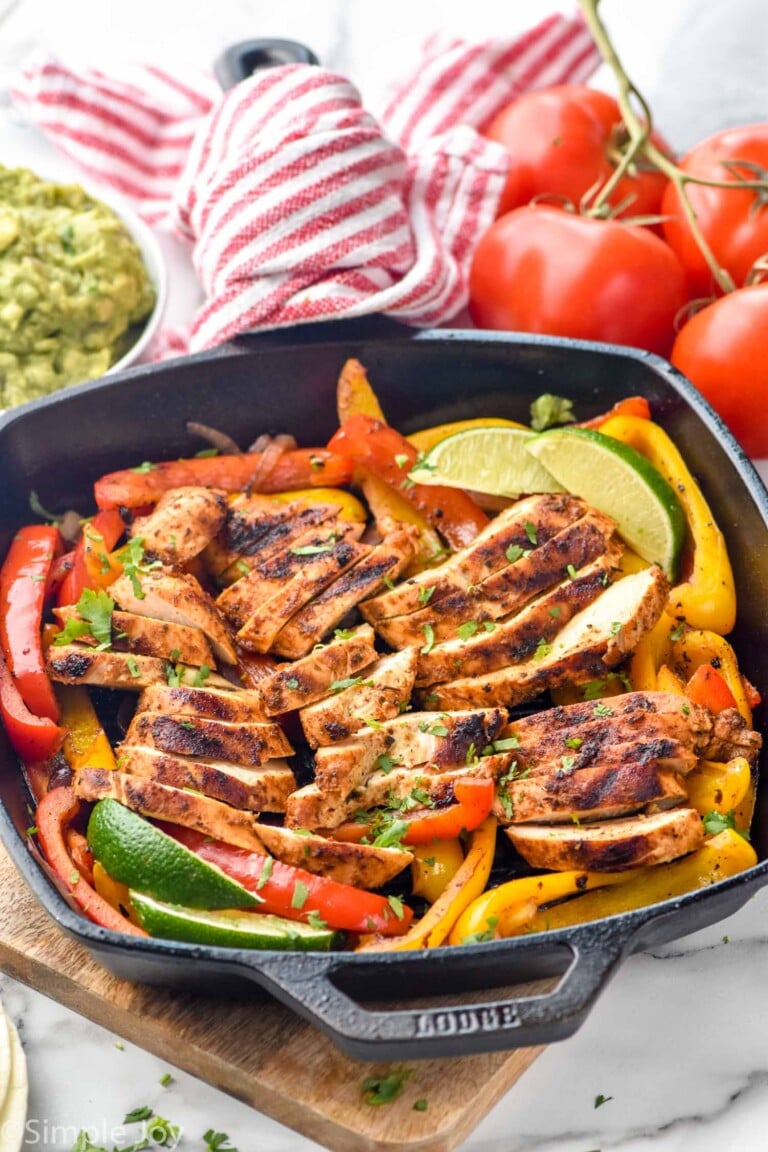 Homemade Fajita Seasoning
This seasoning is perfect on chicken, steak, or shrimp to make a delicious fajita meal your whole family will love. You could make a big batch and replace the chili powder, salt, paprika, oregano, garlic powder, and onion powder with two tablespoons of fajita seasoning. I love to keep a batch of it on hand so that I can make fajitas on busy weeknights. When combined with lime juice and olive oil, it turns into a delicious marinade perfect for flavoring the chicken.
Fajita Seasoning Recipe
I love this fajita seasoning recipe so much because the instructions give you measurements to make just enough for this one recipe OR enough to make a big batch so you can have it on hand all the time.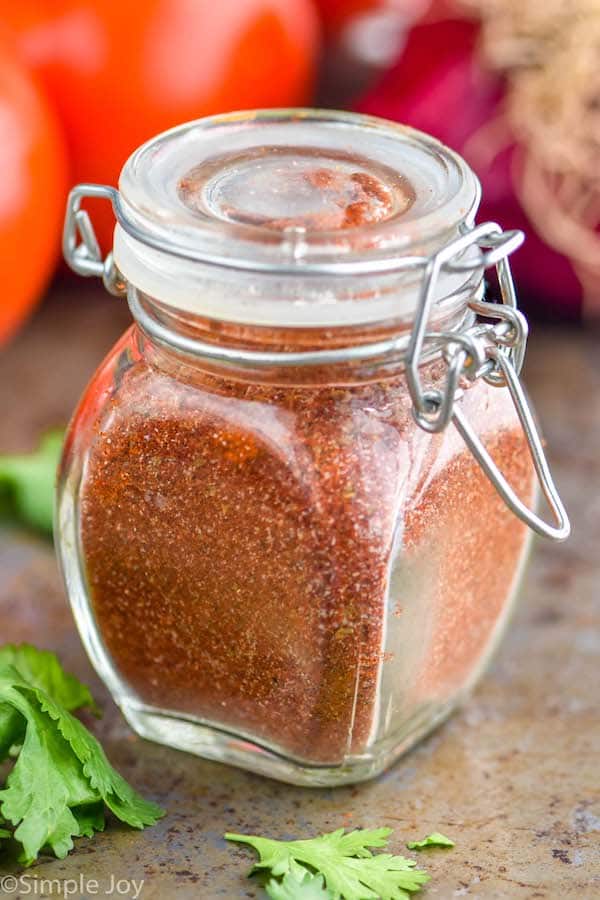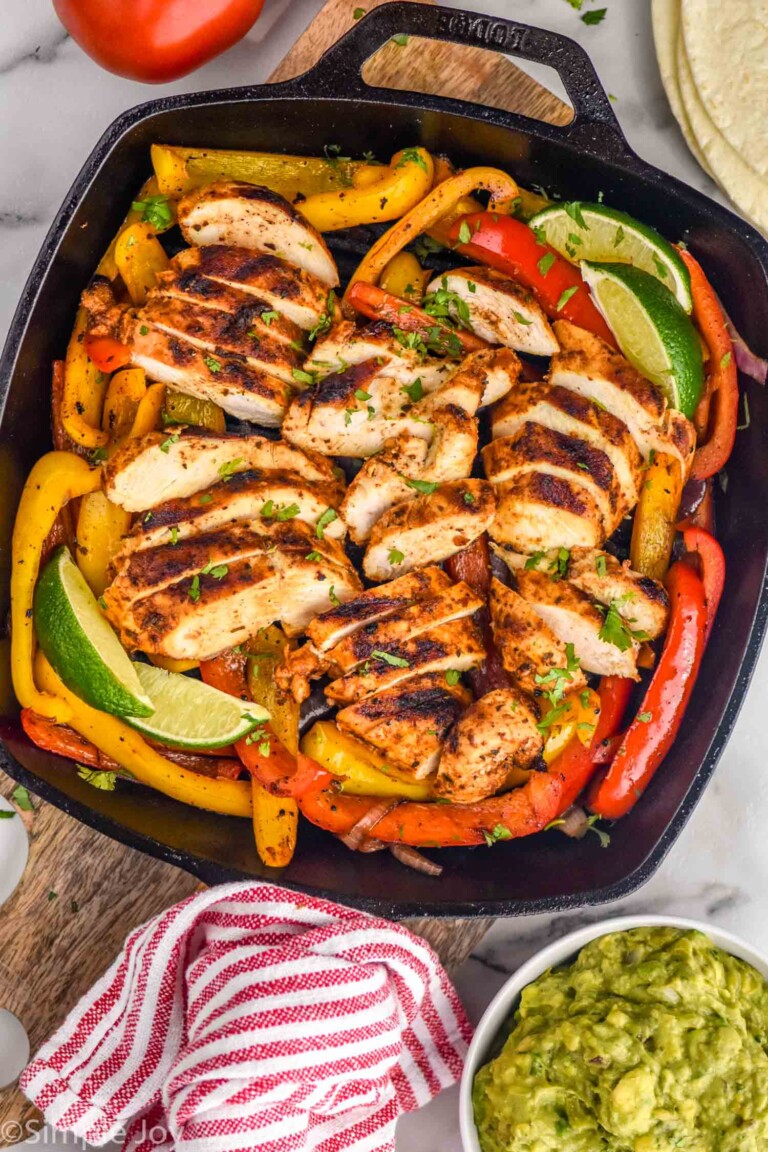 How to Make Chicken Fajitas
Here is a brief overview of how this easy chicken fajitas recipe comes together. For the full recipe including all measurements, please scroll to the recipe card at the bottom of the post. To make your chicken fajitas in the oven, check out my Baked Fajitas Recipe.
Make the chicken fajita marinade. Combine the fajita seasonings, lime juice, and oil in a large measuring cup.
Marinate the chicken. In a reusable container or a plastic bag that seals well, add the chicken. Then pour the marinade over it. Let marinate for at least 30 minutes, but no more than 24 hours. Read more on this below.
Cook the chicken. In a preheated cast iron skillet with oil or grill pan, cook the chicken until it is 165 degrees Fahrenheit, approximately six minutes on each side. Remove the meat to let it rest, and then cook the vegetables in the same skillet in batches until they are tender.
Put the fajitas together. Slice the cooked chicken and combine it with the vegetables. Serve in tortilla shells.
TOP PICK
Grill Pan
This small grill pan is perfect for making chicken indoors all year long!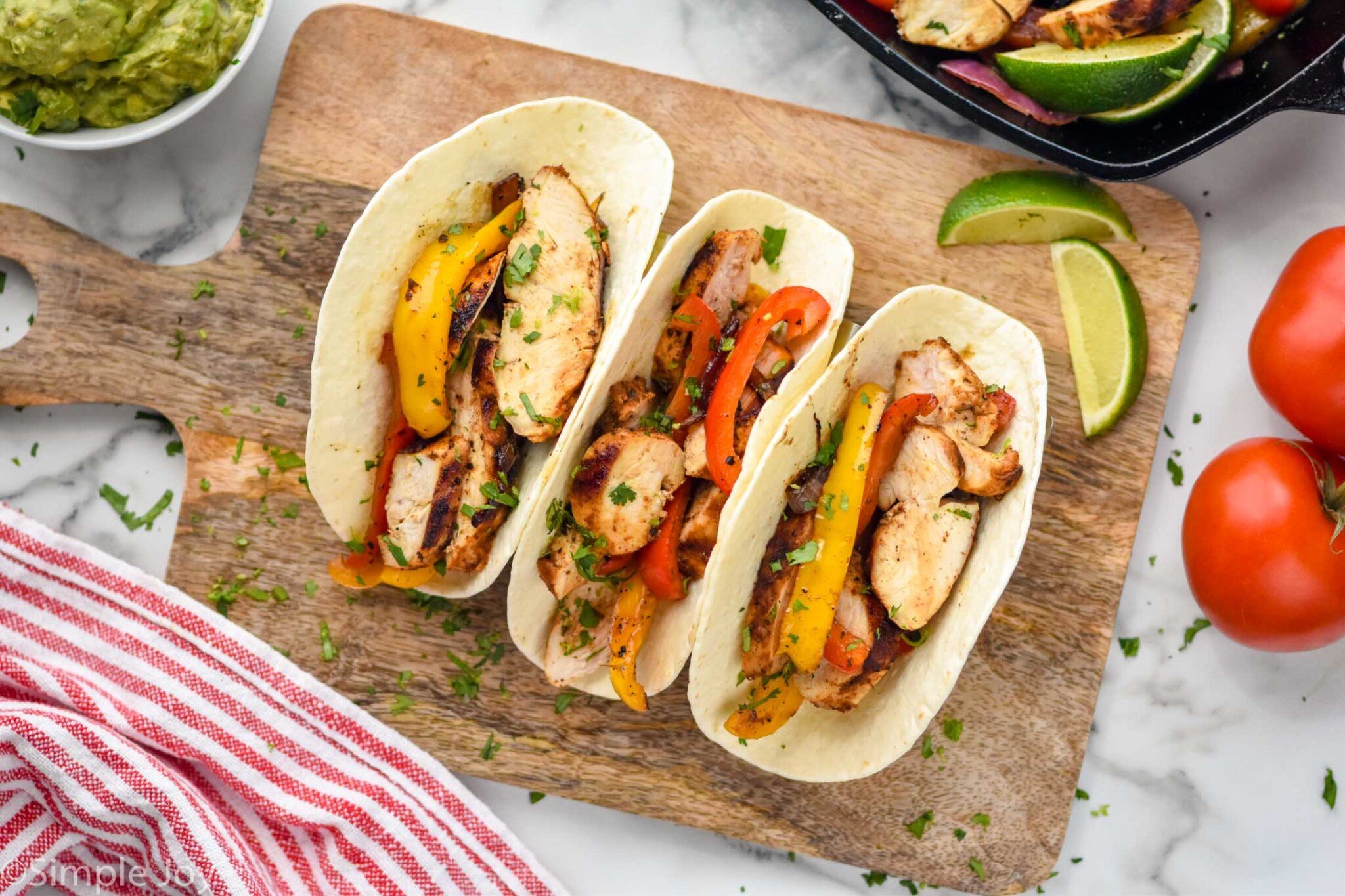 TOP PICK
Instant Read Thermometer
This instant read thermometer can be left in the meat while its cooking so you know exactly when it is done.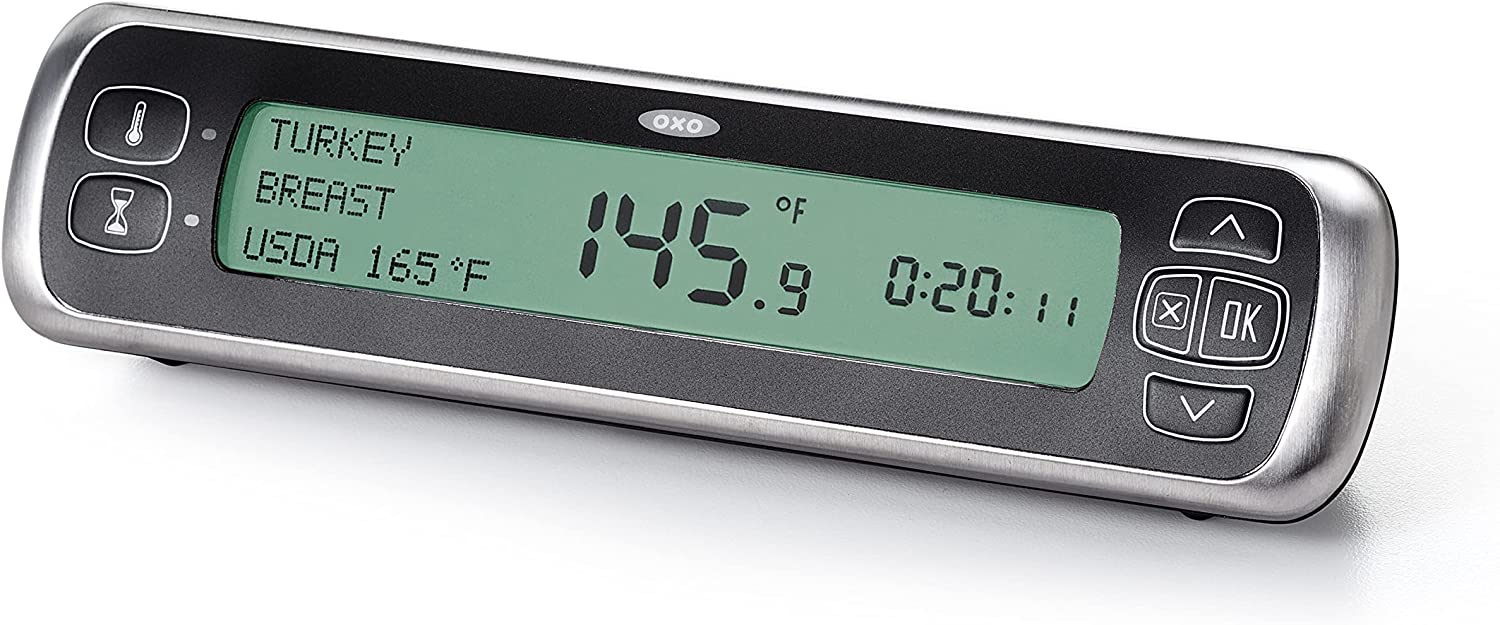 How to Cut Chicken For Fajitas
For this recipe, we marinate and cook the chicken as whole breasts and then slice it before serving. This keeps the meat moist and juicy, perfect for fajitas. Slice the chicken in one-inch strips and then in half so they are about two inches long.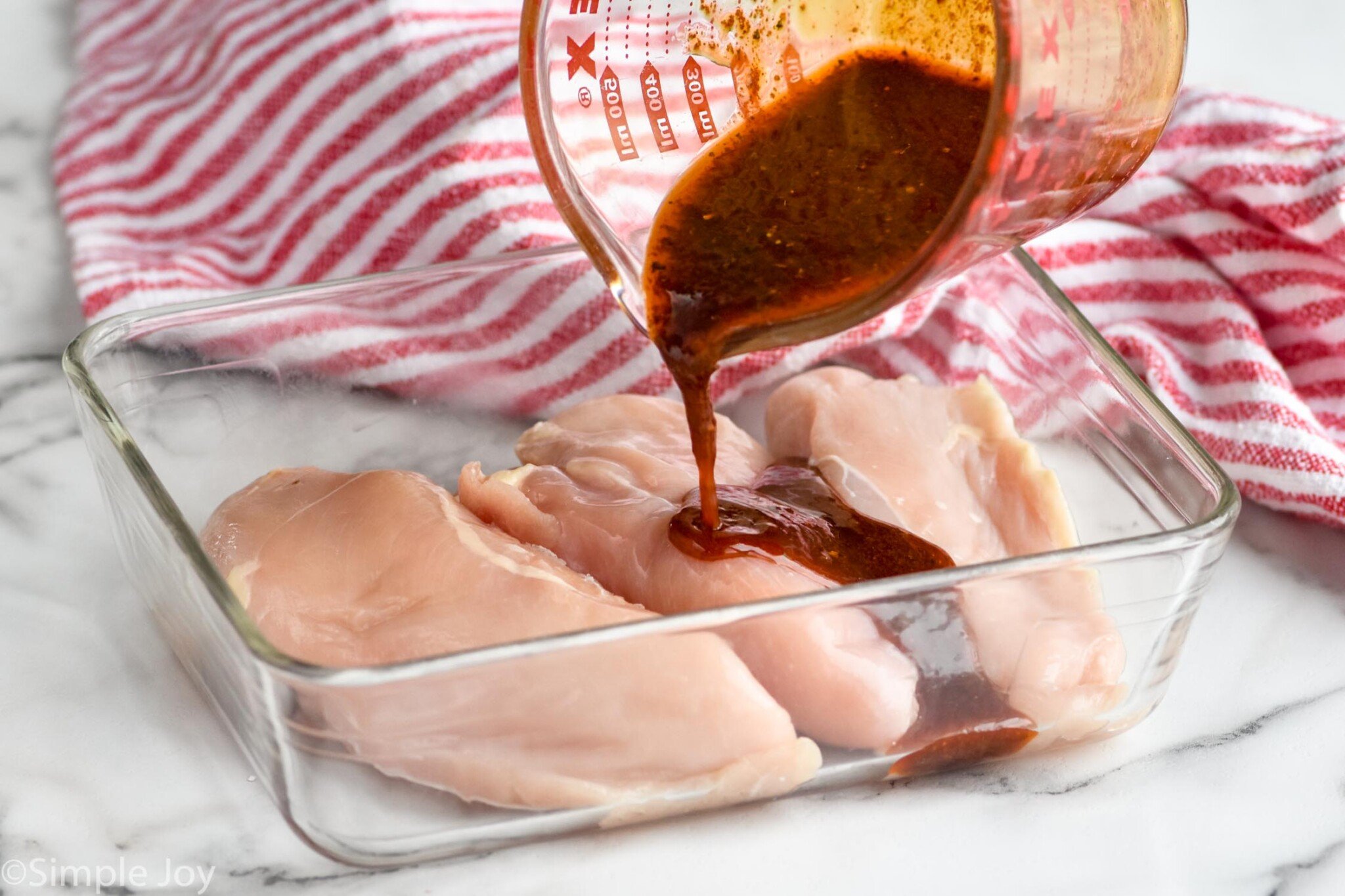 Chicken Fajita Marinade
Part of what makes this the best chicken fajita recipe is the marinade, which is how the chicken stays tender and gets its amazing flavor. My Fajita Seasoning is the base of this simple and delicious marinade. Here is a breakdown of what makes it:
Olive Oil: Its delicate and delicious flavor makes it the perfect base for marinades.
Lime Juice: A key part of a good marinade is an acid. This helps break down the meat a little so that the flavor of the marinade can get into the chicken.
Chili Powder: This is made from ground chili peppers. It brings a great flavor and very little heat to the recipe.
Salt: I prefer to use kosher salt in my marinades, but if you only have table salt, you should cut the amount in half.
Paprika: I typically keep regular paprika on hand, but smoked paprika would also work well in this recipe.
Oregano: This might not be the first spice you think of when you think of fajitas, but it adds such a great flavor.
Garlic Powder: This is essential in any fajita recipe. I like using the powder in this because we don't risk burning the garlic in high heat when we cook the chicken.
Onion Powder: Even though the fajitas have onion, onion powder adds to the flavor profile.
Marinating Chicken
A common misconception is that the longer meat marinates, the better. This isn't true. Marinating meat too long can break down its fibers which will make it mushy. The range you are going for is at least 30 minutes, but no longer than 24 hours.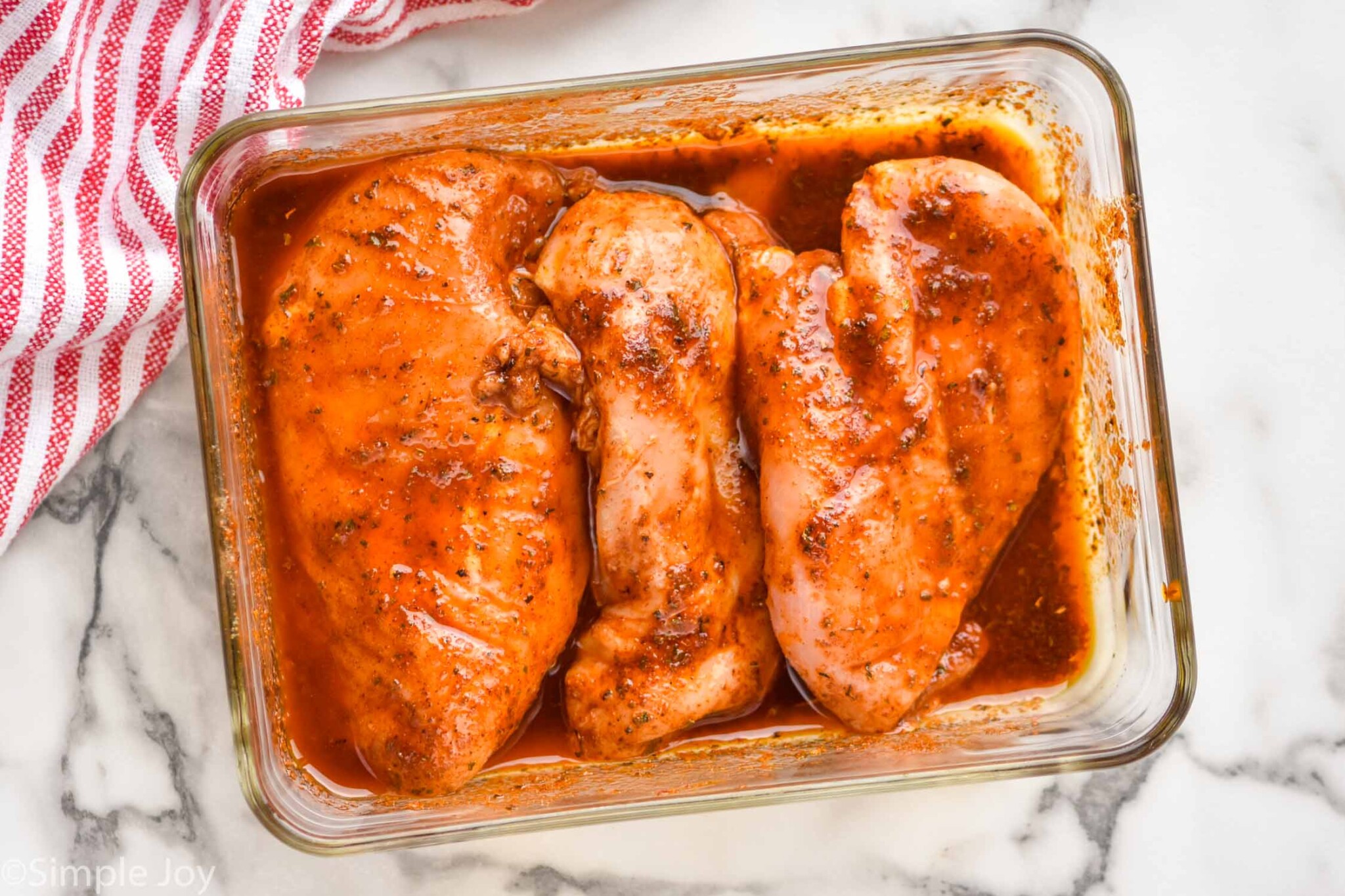 FAQ
Should I cut chicken for fajitas before cooking?
No, marinate and cook your chicken and then slice it.
Can I use chicken thighs?
Absolutely! Chicken thighs would work great in this recipe.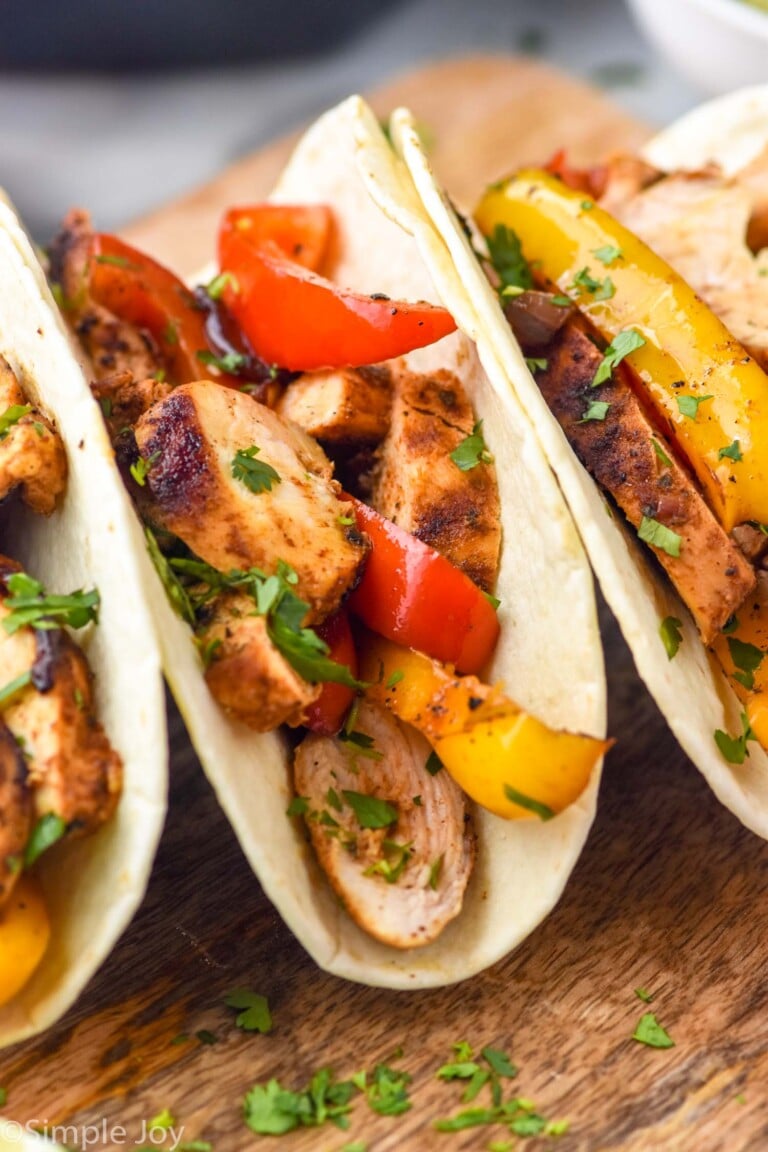 How to Serve
Serve your fajita chicken and vegetable mix in warm tortillas. You can use flour or corn tortillas, whichever you prefer the flavor of. If you want this recipe to be gluten-free, serve the fajitas on corn tortillas. These fajitas are perfectly delicious without toppings, but if you want to add something here are some ideas:
Sour cream
Sliced avocado or guacamole
Cilantro
Storing and Reheating Leftovers
Store any leftover chicken fajitas in an airtight container in the refrigerator for up to three days. Reheat over low heat. Always use your best discretion with leftovers.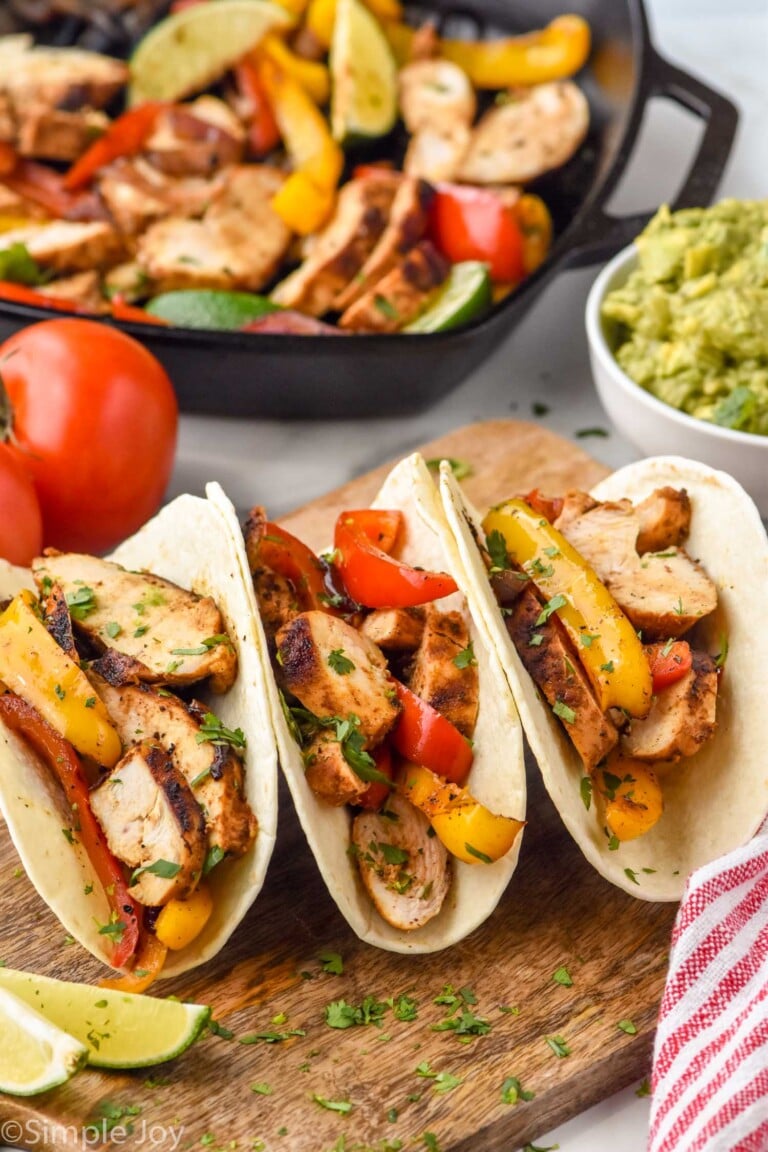 What to Serve with Chicken Fajitas
If you make this chicken fajita recipe or any of my others, please leave a comment letting me know what you think. I love hearing from you!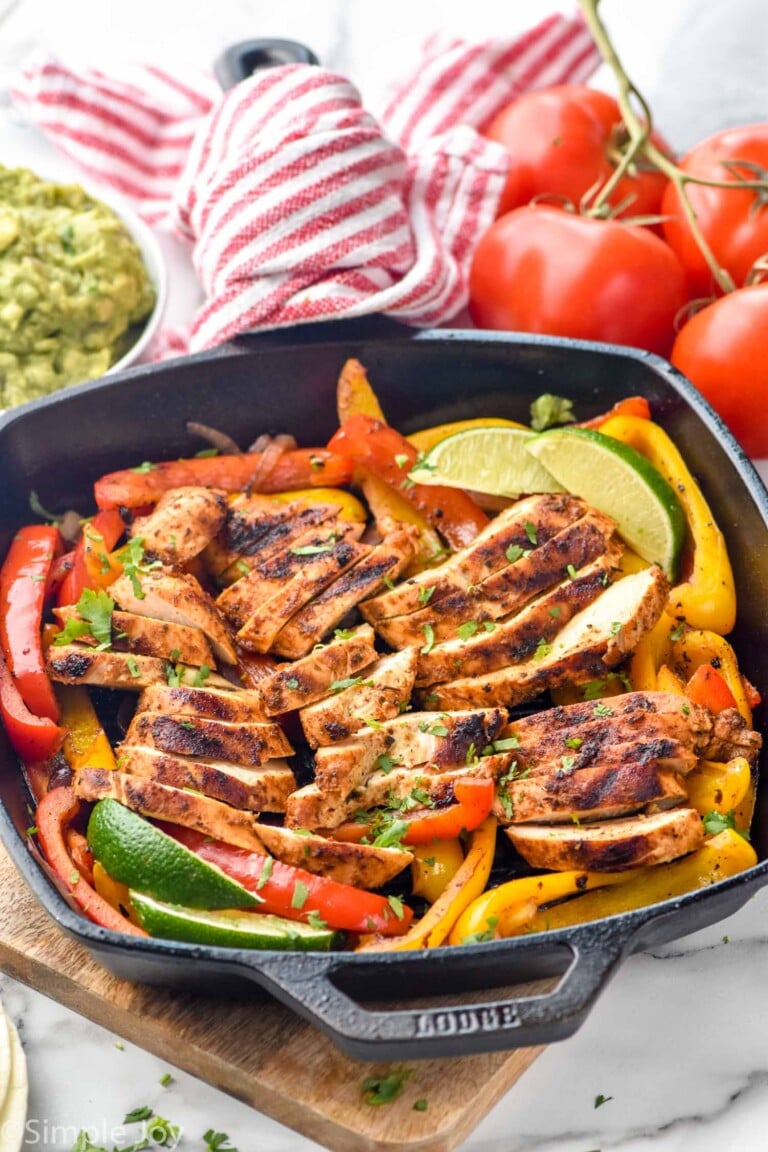 Chicken Fajitas
This Chicken Fajita Recipe are not only easy to make, but come with the most flavorful and tender pieces of chicken, thanks to my delicious Fajita Seasoning.
Ingredients
1/4

cup

extra virgin olive oil

1

tablespoon

lime juice

2

teaspoons

chili powder

1

teaspoon

salt

1

teaspoon

paprika

1

teaspoon

oregano

1/2

teaspoon

garlic powder

1/2

teaspoon

onion powder

1

pound

chicken breasts

1

red bell pepper

cut into strips

1

yellow bell pepper

cut into strips

1

small red onion

cut into strips

tortillas

for serving
Instructions
In a measuring cup mix together the oil, lime juice, chili powder, salt, paprika, oregano, garlic powder, and onion powder to make a marinade for the chicken. (Alternatively use 2 tablespoons of Fajita Seasoning with the oil and lime juice.)

1/4 cup extra virgin olive oil,

1 tablespoon lime juice,

2 teaspoons chili powder,

1 teaspoon salt,

1 teaspoon paprika,

1 teaspoon oregano,

1/2 teaspoon garlic powder,

1/2 teaspoon onion powder

Add the chicken to a reusable container. Pour the marinade over the chicken, and put in the refrigerator for at least 30 minutes but no longer than 24 hours.

Heat a grill pan or cast iron skillet over medium heat. Remove the chicken from the container and cook for 5 to 6 minutes on each side or until the chicken registers 165 degrees Fahrenheit on an instant read thermometer.

Remove the chicken from the skillet and cover with foil, letting it rest while you cook the vegetables.

Add the vegetables to the skillet and cook for 6 minutes or until the vegetables are tender, stirring occasionally. Repeat with the other half of the vegetables.

1 red bell pepper,

1 yellow bell pepper,

1 small red onion

Slice the chicken. Combine the chicken and vegetables in tortilla shells and enjoy!
Notes
Please note that the nutritional information does not include tortilla shells.
Serving:
3
fajitas
Calories:
283
kcal
(14%)
Carbohydrates:
8
g
(3%)
Protein:
25
g
(50%)
Fat:
17
g
(26%)
Saturated Fat:
3
g
(19%)
Polyunsaturated Fat:
2
g
Monounsaturated Fat:
11
g
Trans Fat:
0.01
g
Cholesterol:
73
mg
(24%)
Sodium:
733
mg
(32%)
Potassium:
626
mg
(18%)
Fiber:
2
g
(8%)
Sugar:
3
g
(3%)
Vitamin A:
1371
IU
(27%)
Vitamin C:
99
mg
(120%)
Calcium:
31
mg
(3%)
Iron:
1
mg
(6%)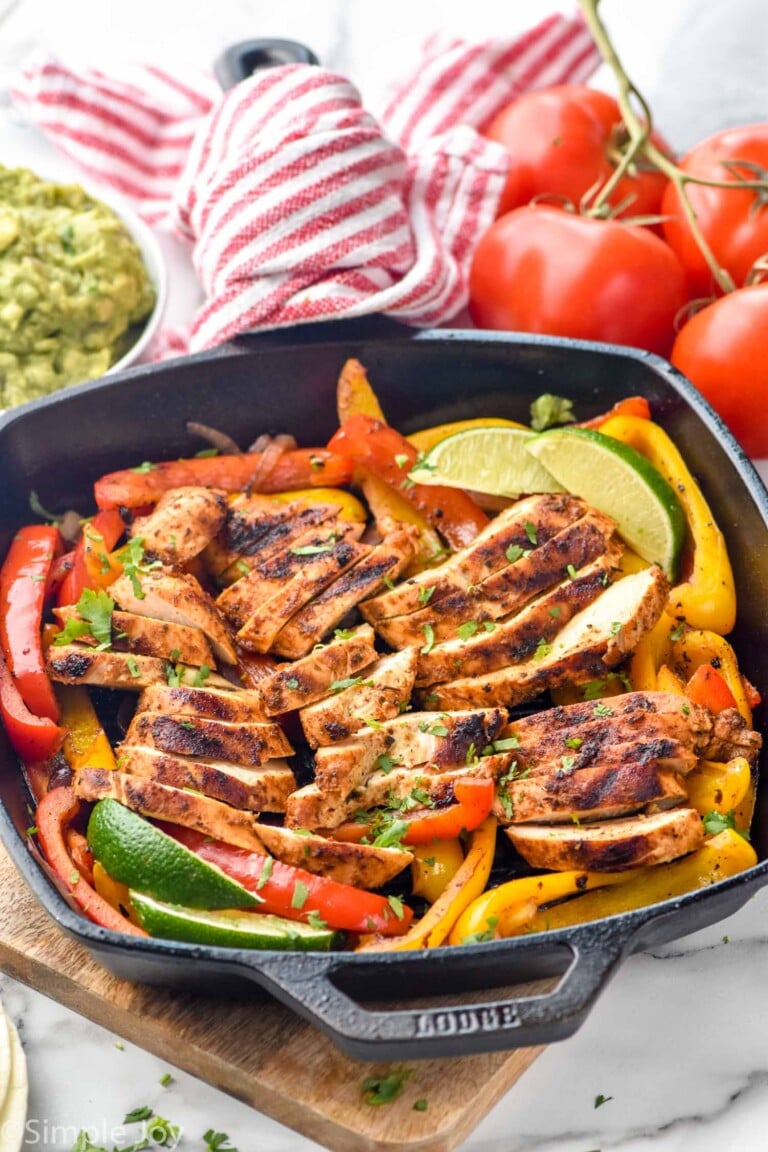 did you make this
Chicken Fajitas