This Turkey Gravy Recipe is so easy to make. It comes together with the drippings of your turkey and a few pantry ingredients in just about 15 minutes.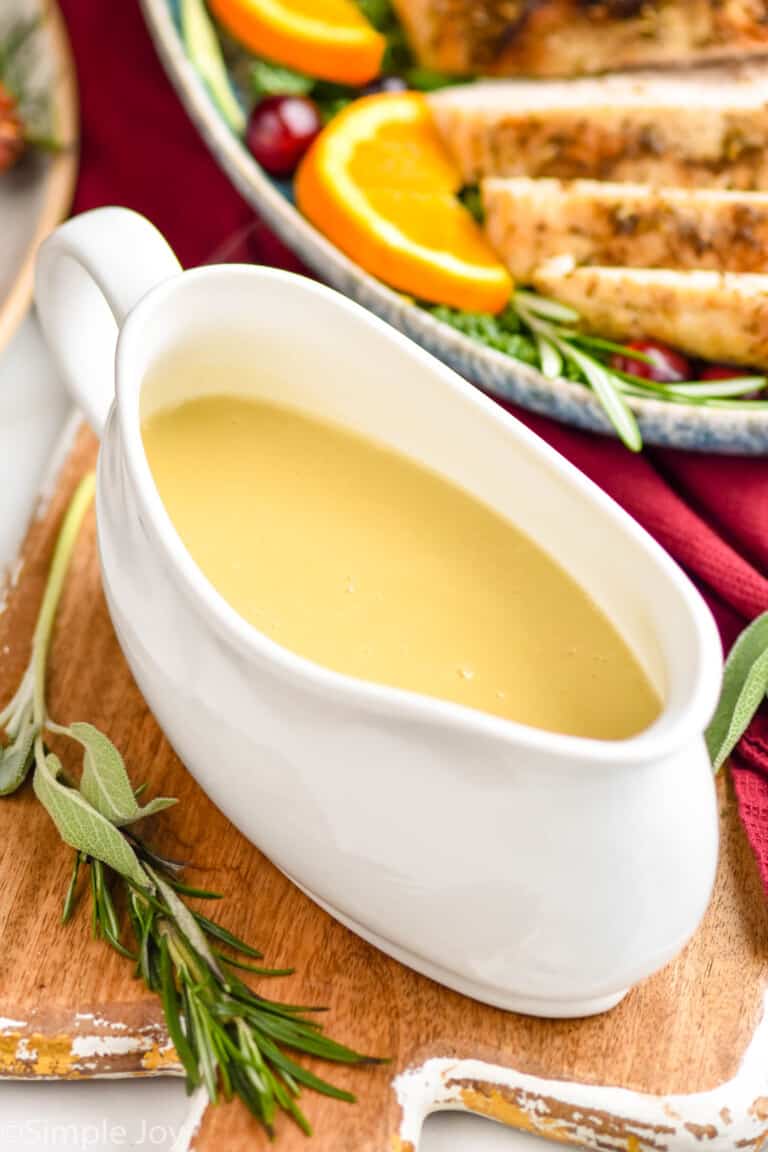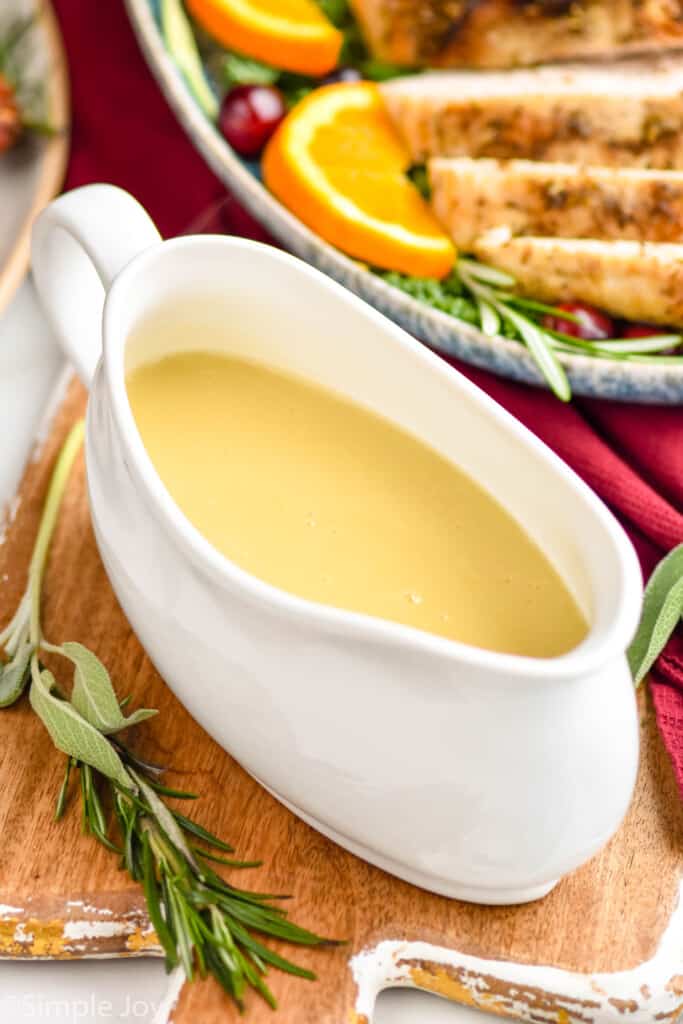 It is my humble opinion that if you have a good turkey recipe, you don't really need a gravy. There's no need to make a great turkey more moist with gravy, because it is already perfectly moist. My perfect Roast Turkey is one such recipe.
But! The perfect roast turkey also happens to make a perfect gravy. Those flavorful drippings combined with a few pantry ingredients will knock your socks off. They are also so delicious on your mashed potatoes.
The best news is that homemade gravy is incredibly easy to make.
How to Make Gravy
Reserve the turkey drippings from the pan after the turkey has finished cooking. You will need two cups of drippings, though you can of course increase this recipe to make more gravy.
Melt butter in a small sauce pan.
Whisk flour into the butter. We are making a roux. Once the flour and butter are fully combined, continue cooking for about 45 seconds or until the color of the roux deepens.
Slowly add in the drippings. The key to this process is to go slow, but adding the drippings should take less than a minute. Read more on this below.
Bring the liquid to a simmer. You want to see regular small bubbles, and stir intermittently. Continue cooking for four to six minutes. You know that the gravy is done when you are able to easily coat the back of a spoon.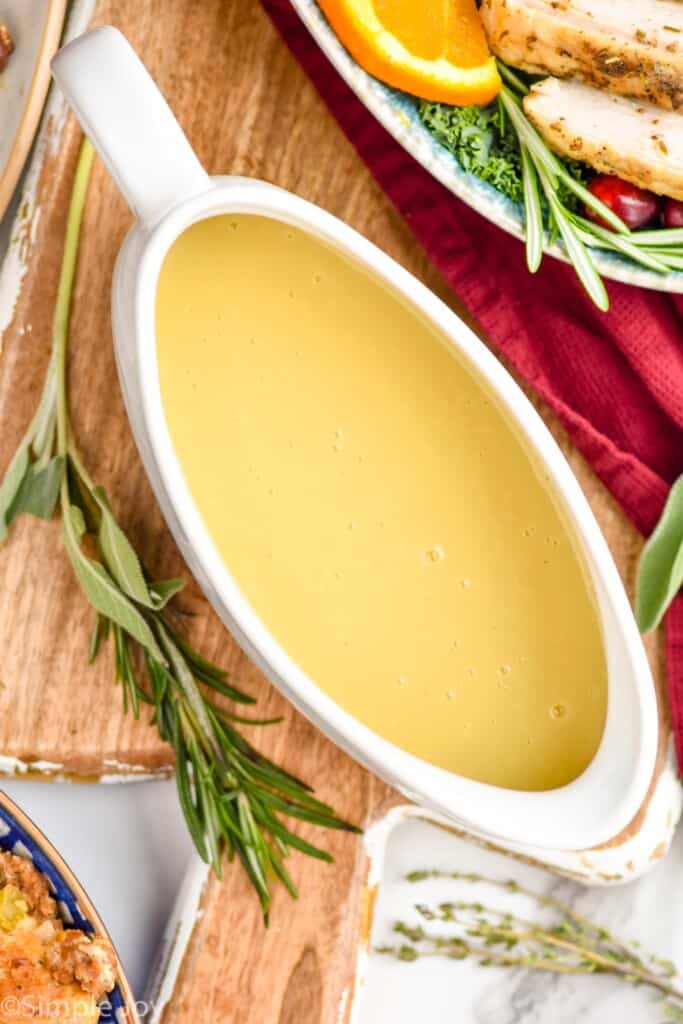 Making a Roux
The foundation of homemade gravy is a roux. If you've been making my recipes, you are no stranger to a good roux. It's the start of many great recipes from my Creamy Chicken Noodle Soup to my Cream of Mushroom Chicken. See a theme? Ah, yes, creamy. But it is even used in my Homemade Mac and Cheese.
A roux is the combination of all purpose flour and a fat. In this case we are using butter. The fat from the butter coats the starch molecules in the flour, which keeps them evenly distributed in your sauce – or in this case gravy – keeping it perfectly smooth and creamy.
The key to a good roux is to add in the liquid, after the fat and the flour are combined, slowly. Start by adding two tablespoons at a time (just eyeball it), and only add more liquid once what you've just added has been absorbed.
Good Gravy Comes from Good Turkey
You will notice that this recipe has little (in other words, none) seasoning. This is because the bulk of the flavor from this recipe comes from the turkey drippings. If you are working with a flavorful turkey recipe, you will not need anything extra.
If you finish this recipe and find that it is lacking, the first thing you should do is add a tiny bit more salt and a dash of pepper. Sometimes a little salt (like 1/4 – 1/2 teaspoon) really pulls a recipe together. If it is still lacking, you can try adding some dried rosemary, sage, and thyme and continue simmering for a bit until those flavors really become incorporated.
Removing Fat from Turkey Drippings
While fat is an important component in making this turkey gravy recipe, let's stick with the butter and not the fat from the bird. You will want to remove the fat from the drippings. This is easy to do.
Pour your drippings into a glass measuring cup, so that it is just above 2 cups. If you don't have two cups worth, use what you have, and proceed. Let the drippings settle, allowing the fat to rise to the top. Then carefully, without allowing the drippings to mix, spoon the fat off the top. Do your best to get most of it, but no need to spend much time on this. After you are done, top it off with chicken stock or turkey broth until you have 2 cups total.
FAQ
Can gravy be made gluten free?
Yes! You can swap the all purpose flour for almond flour. It will be just slightly less creamy, but will still work.
Can you freeze gravy?
Yes, you can. Be sure to thaw it in the refrigerator overnight when you are ready to use it, and reheat it in a small saucepan over low heat, stirring regularly.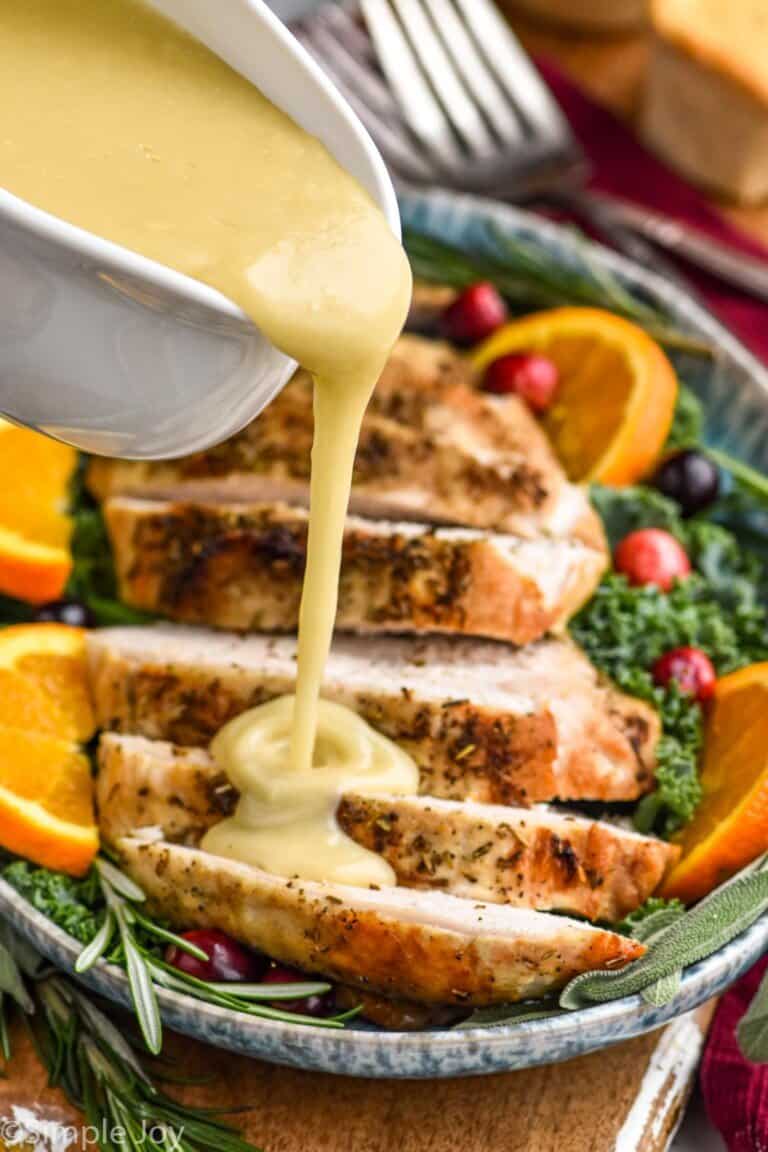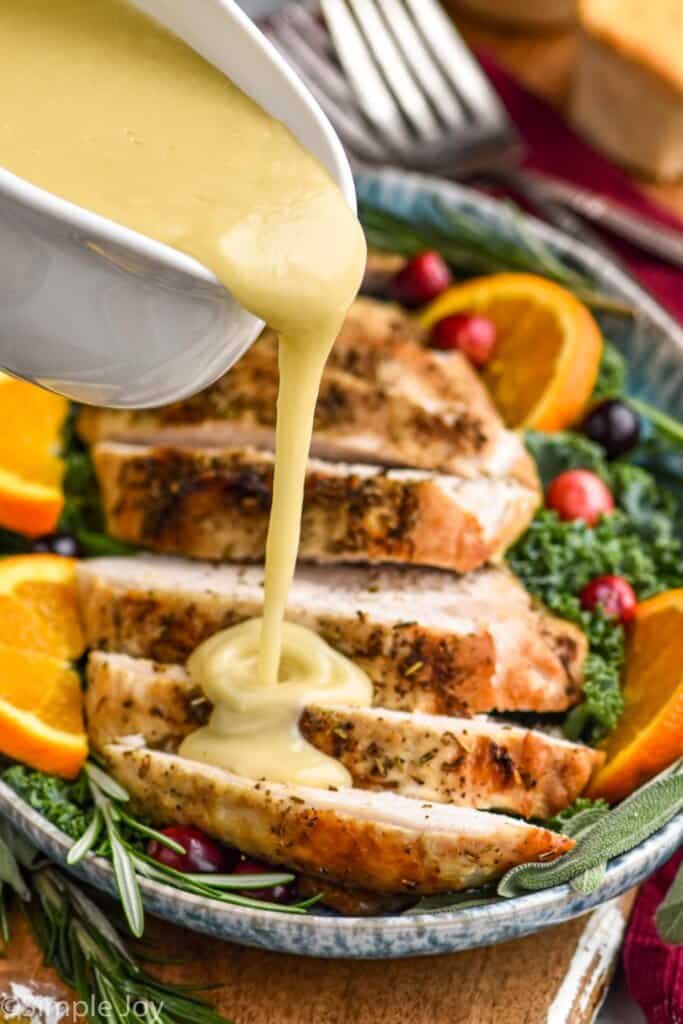 Other Thanksgiving Recipes
If you make this turkey gravy recipe or any of my other recipes, leave me a comment and let me know what you think. I love being part of your holidays, and I love hearing how my recipes worked for you.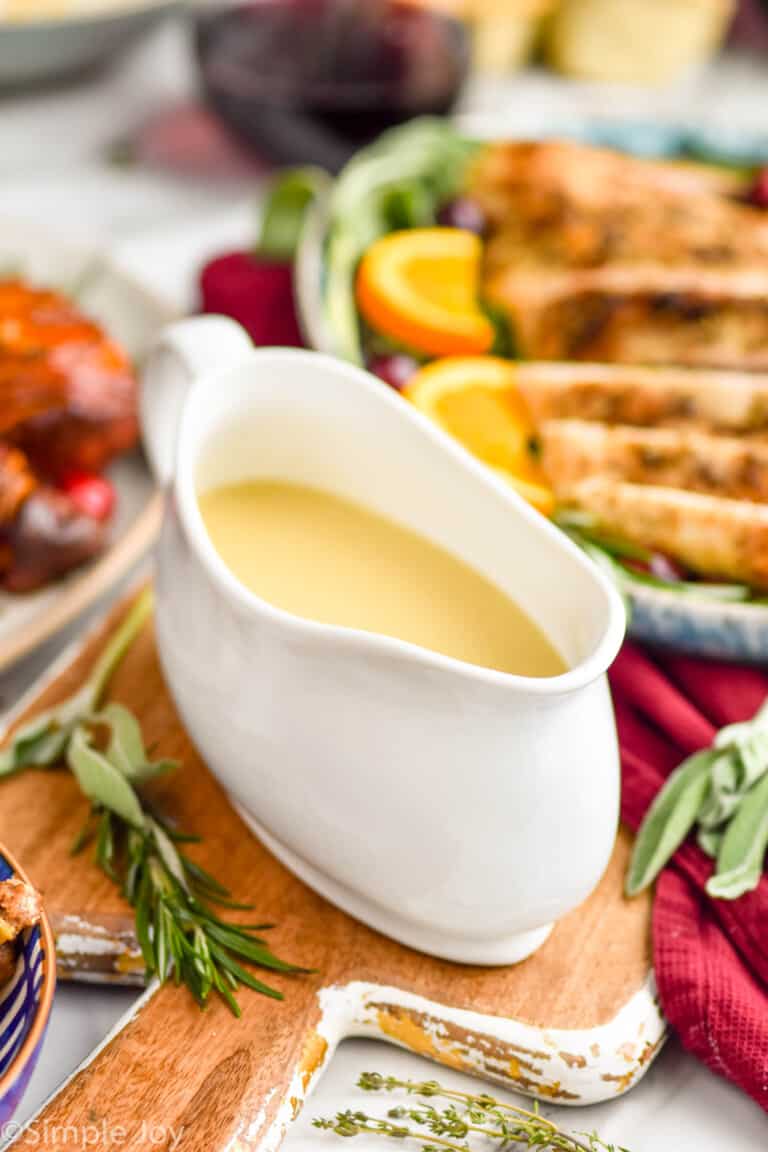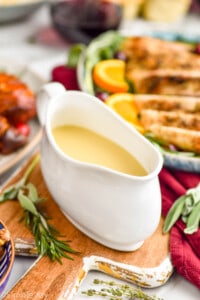 Gravy
This Turkey Gravy Recipe is so easy to make. It comes together with the drippings of your turkey and a few pantry ingredients in just about 15 minutes.
Ingredients
2

cups

turkey drippings and/or chicken stock

4

tablespoons

unsalted butter

1/4

cup

all purpose flour

salt and pepper to taste
Instructions
If you are using turkey drippings, strain them through a fine mesh sieve into a measuring cup. If there is less than 2 cups, you can add chicken stock until you have two cups. (Or you can use two cups chicken broth.) Before adding chicken stock, skim the fat off the top.

Melt the butter in a saucepan. Whisk in the flour until it is fully combined. Continue cooking until the color deepens to a brown color, about 45 seconds.

Slowly whisk in the drippings. Start by whisking in two tablespoons at a time. (No need to measure, just eye ball it.) Continue slowly adding the drippings, only adding more once the what you just added is fully absorbed. You can add it a little more quickly as you get further along. Continue whisking until all the liquid is absorbed. This should take less than two minutes.

Bring to a simmer and cook for 4 to 6 minutes or until the gravy is thick enough to coat the back of a spoon. Add salt and pepper to taste. (If you finish this recipe and find it lacking in flavor, read this.)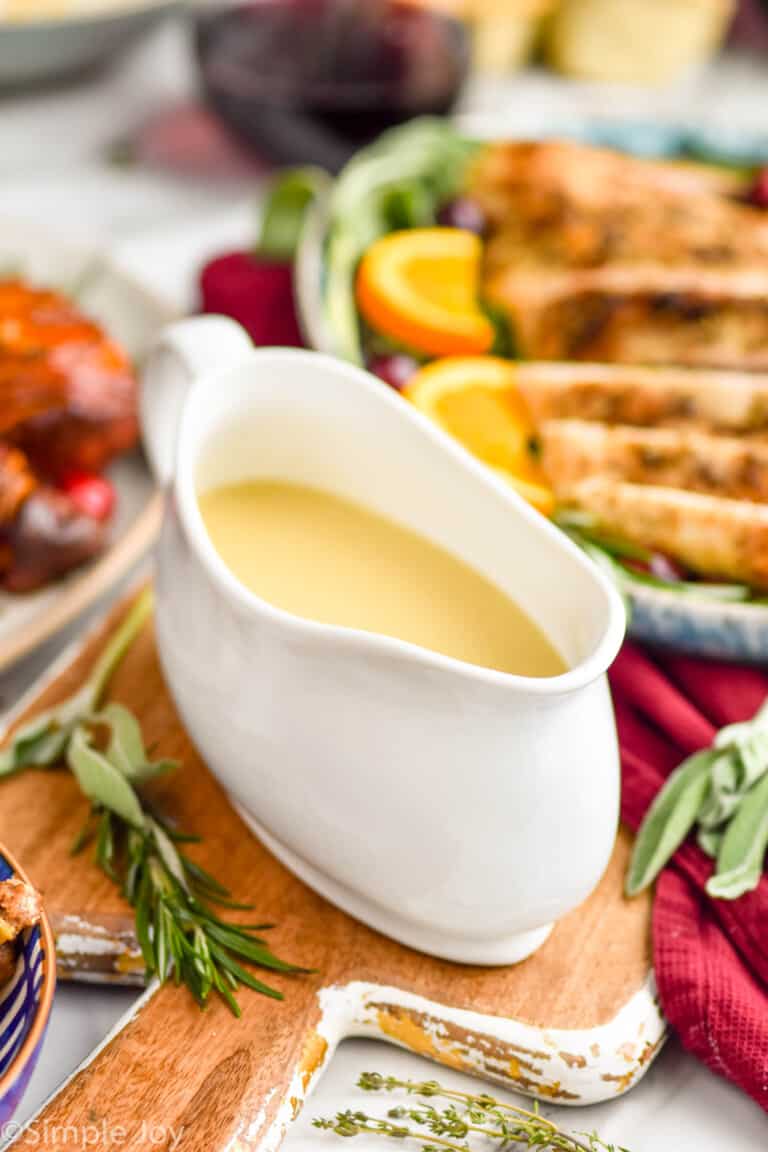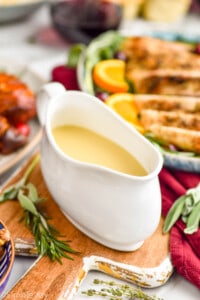 did you make this
Gravy
you might also like . . .